Mega-Funny Story))) Read necessarily!
As we know, rich people get richer and gets himself a yacht. Normal captain with a good salary does not want to take everything take so inexperienced, with purchased the documents from other cities and. t. e.
Businessman buys a new, 18-meter, yacht for 3 million euros and employs a person to the post of "Captain." Yacht one month, she arrived under its own power from the shores of England.
The owner departs for abroad. "Captain" invites his friends to the boat to thump on the matter. After a small feast, decided ride company reservoir. "Captain" starts the engine (2 pcs. 1250 liters. With. Each), and includes an upper helm (flybridge), all friends on the flybridge. Sam comes down to what would mooring (decouple) boat from the pier. Suggested aft mooring, gives the bow mooring and at this moment the yacht with a terrible roar away from the dock, "Captain" on the bank.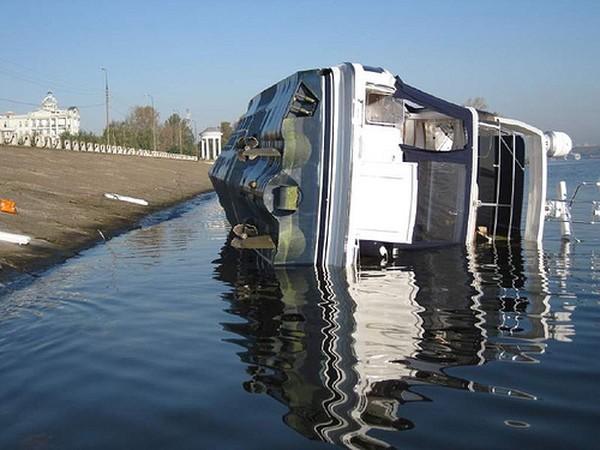 While Captain unties the boat, the company decided to be photographed. Girl with a cheerful mood posing in front of the steering wheel, a frame, then she looks at the camera looking for somewhere convenient to attach your ass is not the control panel with all the dope, and sits on the main engine control levers. Includes full speed, and with a terrible roar of the boat away from the dock.
Stay on track (after 50m) is another boat. Who of the guys on the flybridge, realizing what had happened, the boat starts obrulivat but still, there is a hit and the boat changed direction emerges from the waters of the marina. After another 50 meters on the way yacht is reinforced concrete dam.
Yacht at full speed jumps on the dam rests on the side and slide into the water.
People like peas pours into the water to save them witnesses of the incident from the same yacht club.
There were no casualties.
Propellers, rudders, propeller shafts - full pipets. When the boat slid into the water was flooding the engine compartment, the remaining part of the cabins and saloon. Main engines hammer and got jammed, it happened with a diesel generator. Eighty percent of the furniture (later) to be swollen and full replacement. And as for the replacement of carpet, video and audio equipment, home appliances and. t. e. During lifting yachts were used steel ropes, using them pulled mooring bollards, sometimes cut case and krenalin.
The result: a fig himself blurted?