Since I'm a big fan of knives, I decided to share his acquisition. This is the first instance of the personal weapons officer in my collection.
Historical and legal information: Daggers adopted the Resolution adopted by the Council of People's Commissars of the USSR on September 12, 1940 № 1673 "On the introduction into service for military dagger of the Navy" (declared by order of the People's Commissar of the Navy of the USSR on September 20, 1940 number 574).
15 photo.
That's actually very cutlass.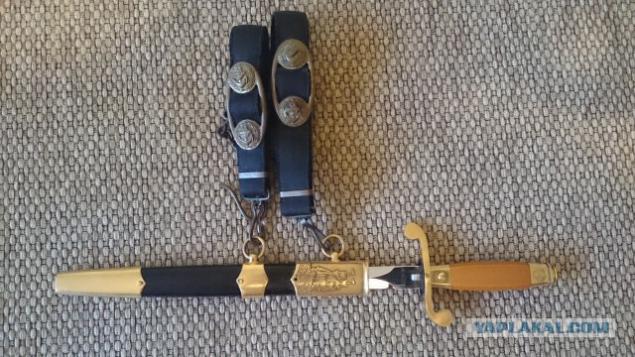 Sheath.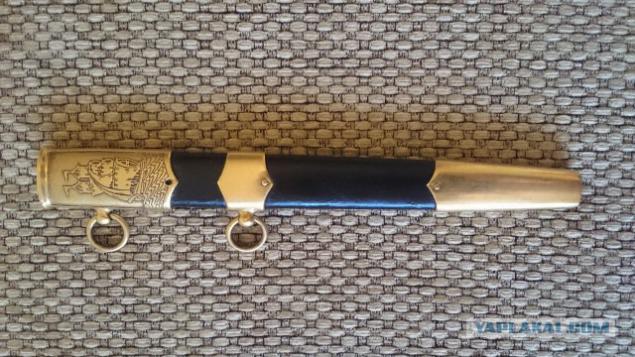 The upper glass sheath depicting a sailboat.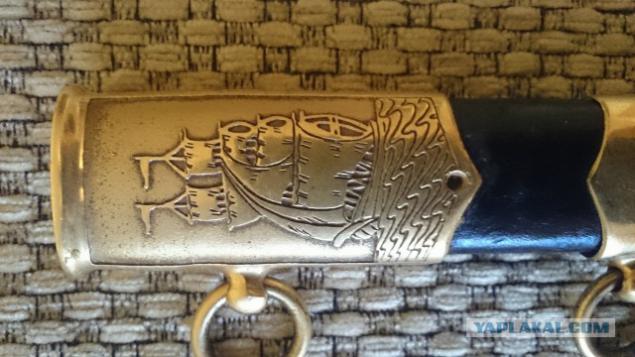 Again, the sheath with the other hand.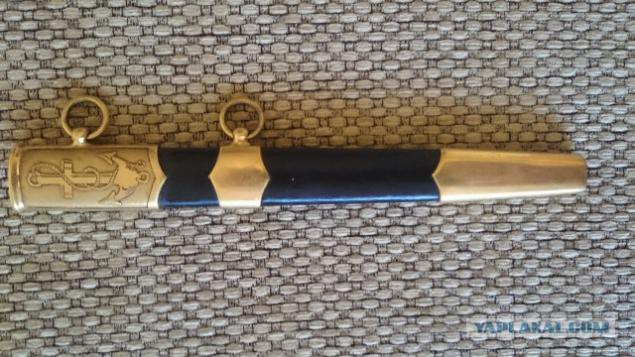 The image on the top glass on the other side in the form of an anchor.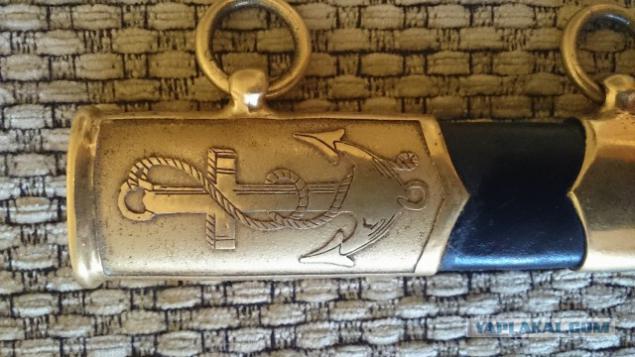 Suspensions for dirk, sorry no reemnya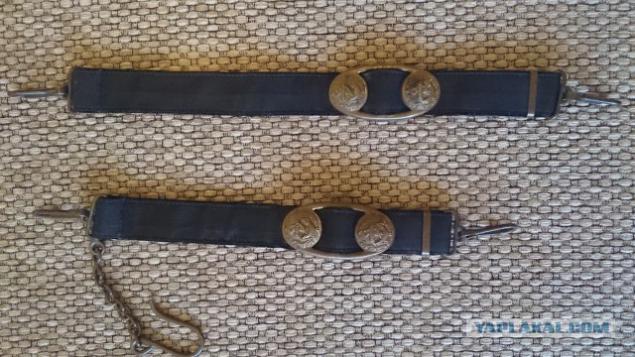 Brass buckle on the suspension, with the image of an anchor.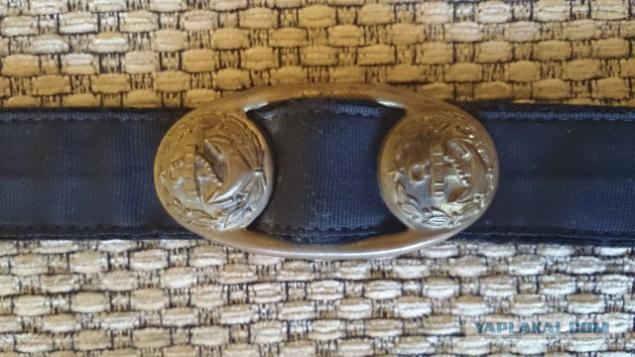 The blade itself!
Dimensions: Overall length: 340 mm, length without scabbard: 320 mm Blade length: 215 mm.
The blade is steel, straight, flat, rhombic section, Double-Bladed, nickel-plated.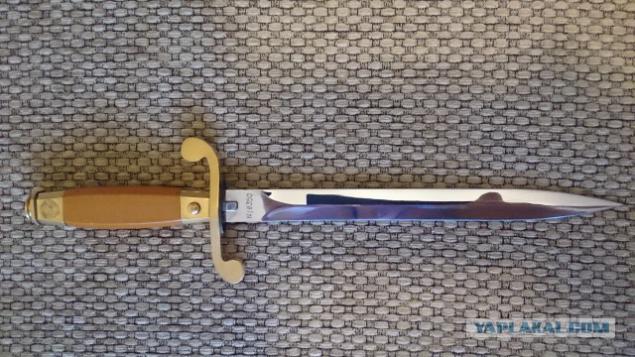 Stamp on the blade with a serial number.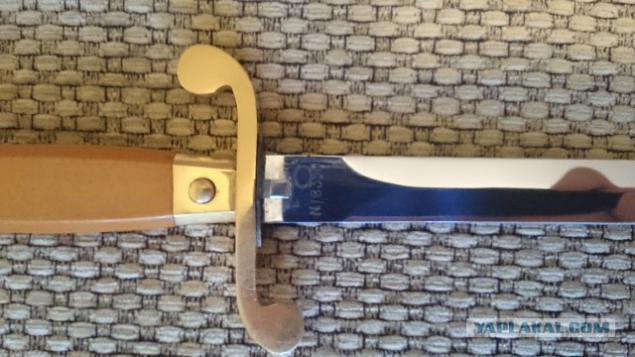 On the back of the heel of the blade is a brand of the manufacturer and year of manufacture. In this case, the blade with the stigma Zeke - Zlatoust Tool Works. Zlatoust arms factory - a factory for the production of cold steel for the needs of the Russian army and navy. And the year of manufacture 1955.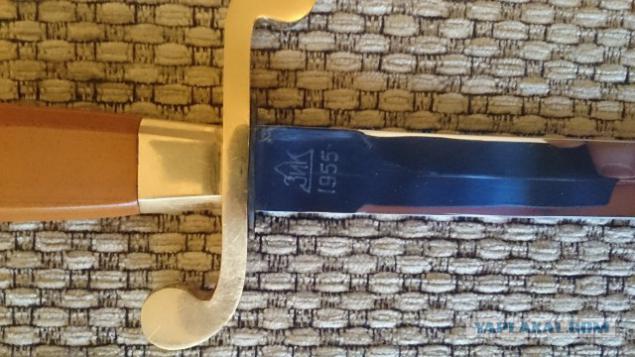 More full view of the blade.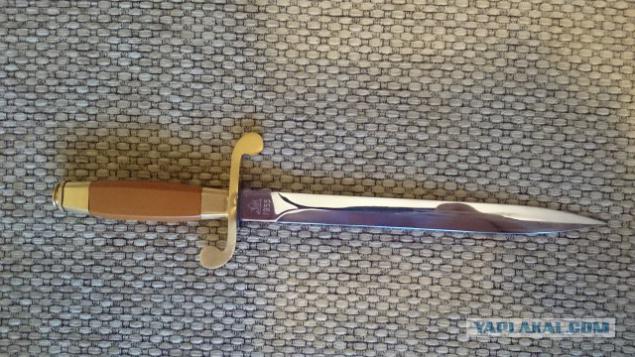 The top of the handle is made of brass with a coat of arms of the Soviet Union.
Nut stick with the five-pointed star of the invoice.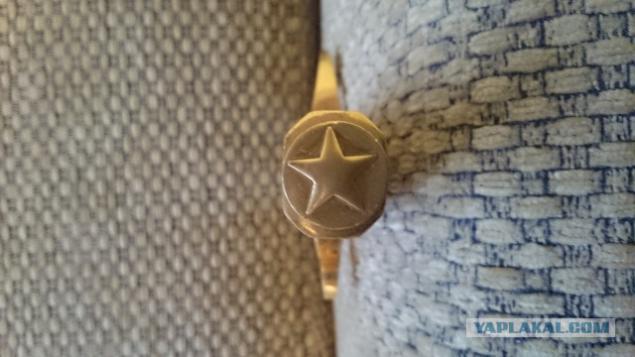 Dismantled handle. From left to right:
1. Handle wood.
2. locknut.
3. The nut under the glass for mounting on the shank of the blade.
4. A glass with the emblem of the Soviet Union.
5. The rectangular nut with a picture of five-pointed star.
Posted in [mergetime] 1407610709 [/ mergetime]
Last Photo dagger. Sheath, suspensions and the blade in the analysis.
Dirk was bought from an old friend. I begged to sell the whole year. And now he was my for a nominal fee and a liter of firewater own production.
Thank you for your attention!