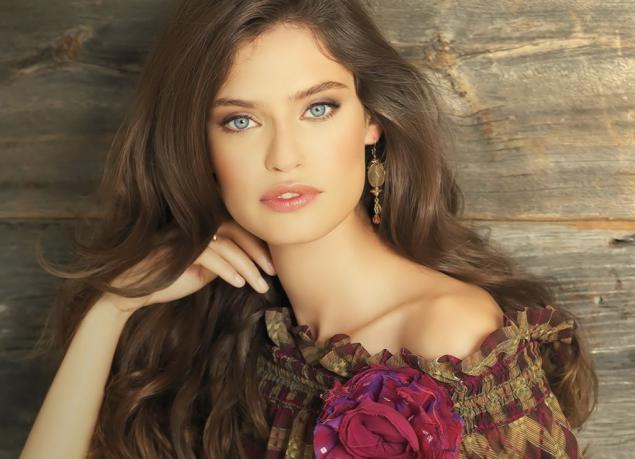 Bianca Balti is part of the "triad" highest paid models-Italians.
Italian beauty Bianca Balti was born May 25, 1984 in the picturesque village of Lodi in Lombardy. Father of the future stars of world podiums was Italian and his mother - a native of Azerbaijan. By the way, Mom model considers the standard of beauty:
Absolutely! This is my mom. She is still beautiful. It is inherent natural sophistication.
Before she noticed renowned fashion designer, Bianca had obbegat many castings and fashion shows. Its main "problem" was too "typical" Italian appearance. Oh, Bianca, we have your "problems": full lips, dark skin so long slim legs!
Repeated failures have forced our heroine to believe that she had no "highlights", and like it, "thousands". Bianca gave up trying to become a model and went to work as a clerk in one of the supermarkets.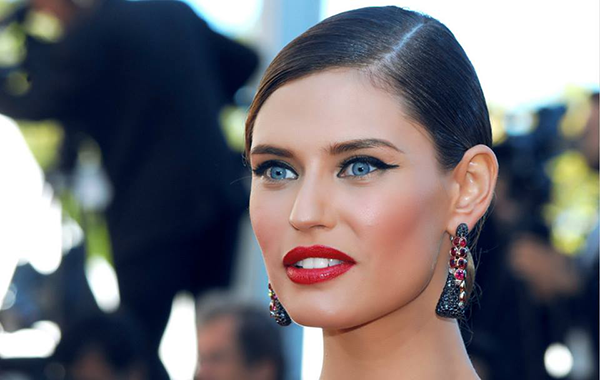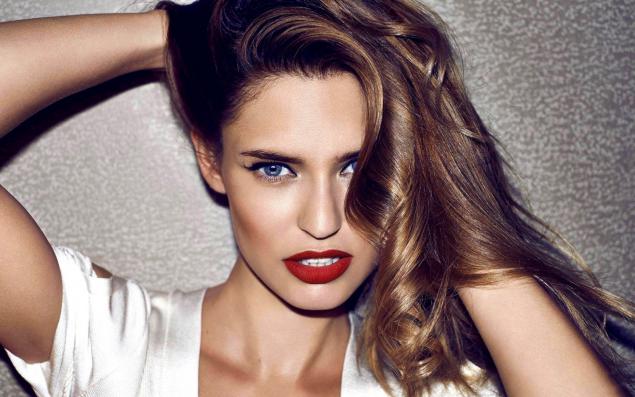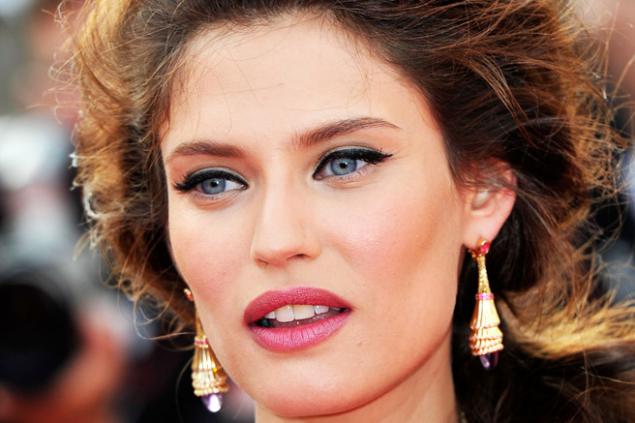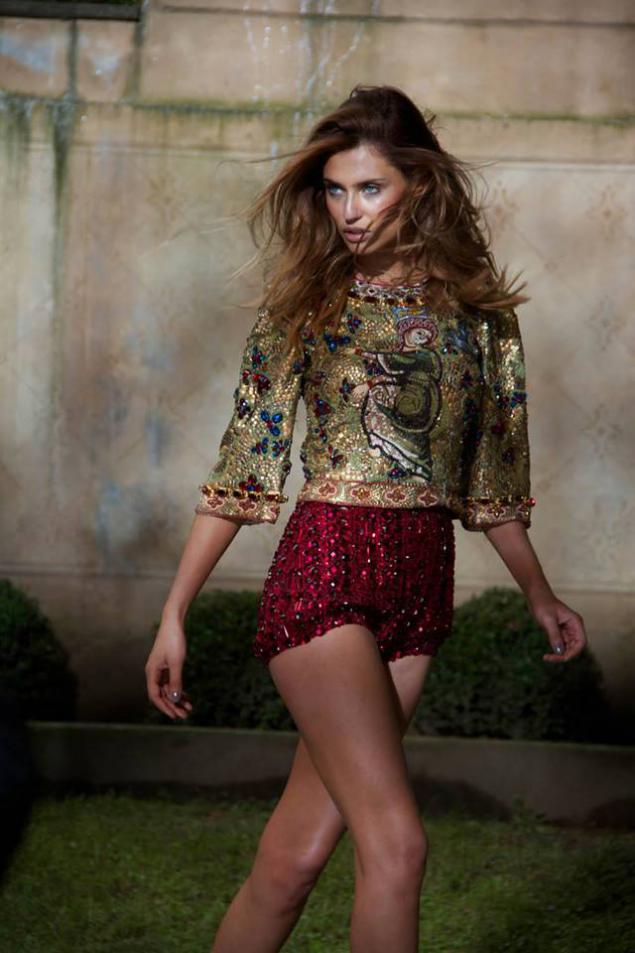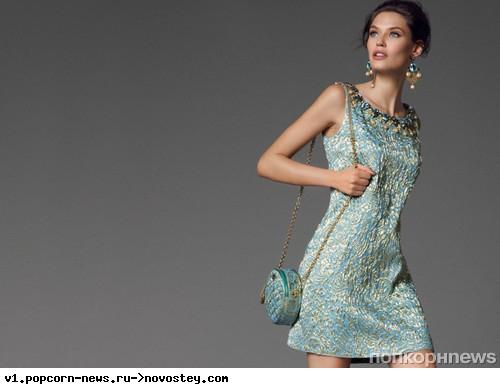 "If that - from a fate not go, and for study in college you have to pay" - wisely decided to Bianca, and she was right. In a department store noticed her Bruno Paulette, owner of modeling agency Brave Model Management. He was struck by the grace of the girl and quickly offered her a lucrative contract. Balti long could not believe that she is about to appear on the cover of L'Officiel (in general, every country has its own Natalia Vodianova).
A good start sets high bar modeling career. The next major contract for Bianchi was cooperation with the famous Italian duo Dolce & Gabbana. Designers, unlike short-sighted model recruiters, conversely praised classic beauty compatriot. No wonder, one of the major music of this duo was long thought Monica Bellucci.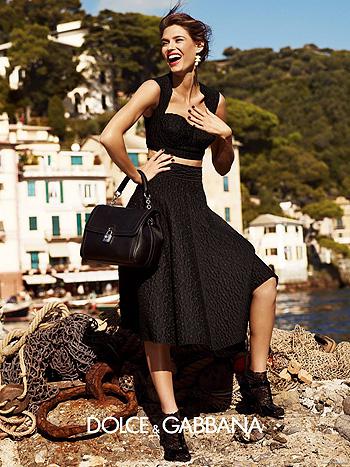 After this successful campaign orders fell at Balti in abundance. The model began to appear regularly in the pages of Vogue, Harper's Bazaar, Marie Claire, Cosmopolitan, Jalouse, Velvet, W.
In parallel with the fashion shots, Bianca wins the podium at fashion shows Roberto Cavalli, D & G, Valentino, Paco Rabanne, Christian Dior, Armani Jeans, Donna Karan, Guerlain, Missoni, La Perla, Rolex, Revlon, Guess, Anna Molinari and many, many others. And if before Bianca could not have dreamed of such contracts, but now she has become a recognizable pattern of "calling card" of many famous brands.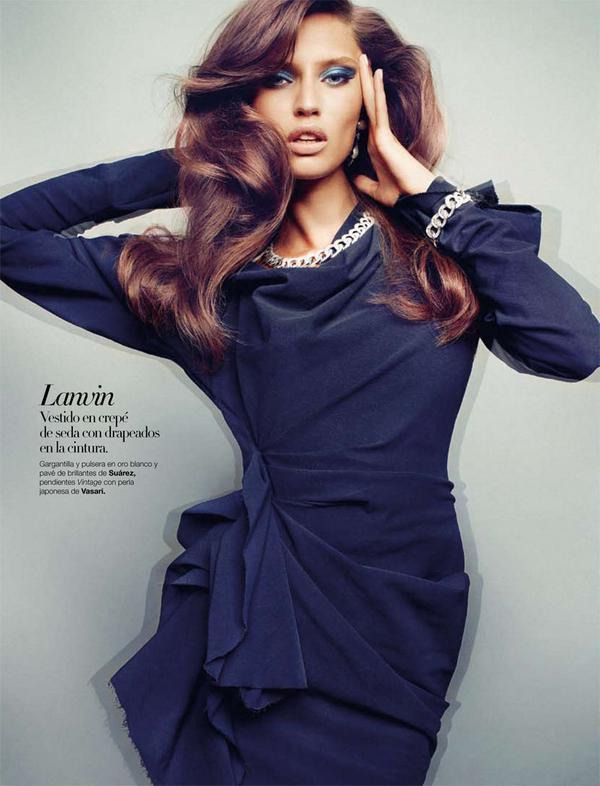 In 2005, Balti has become one of "angels" in the show Victoria's Secret, and then took part in a photo shoot for their catalog. It is known for showcasing underwear desired shape, which in the early career of Bianca also considered too "typical". Unlucky casting director who missed this gem of a business model, now biting his elbows. But it was too late.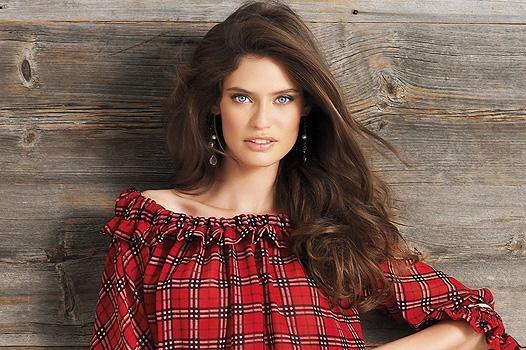 Also in the 2005th, in addition to "angelic" presentations, Balti participated in shows Gianfranco Ferre, Marc Jacobs, Prada, Alexander McQueen, John Galliano, Karl Lagerfeld, Givenchy, Hermes, Gucci, Valentino, Oscar de la Renta, Ralph Lauren , Christian Dior, Carolina Herrera, Bvlgari, Chanel, Versace and many, many others. Perhaps it would be easier to list those fashion houses, whose campaigns are not involved our heroine.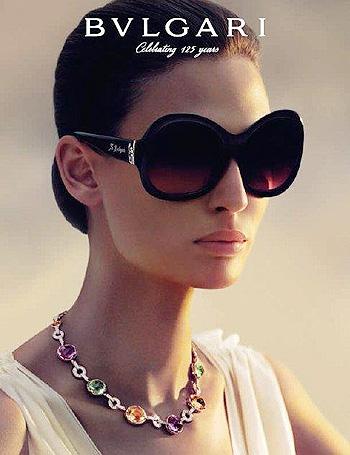 Without departing from the career, Bianca and built his personal life. In 2007, the model gave birth to daughter Matilda from the beloved Christian Lucido, quickly regained form and returned to the podium. Bianca herself explains the secret of his luxurious pieces of good genetics:
I have only once sat on a diet after birth to daughter Matilda. That was four years ago. Diet consisted in the fact that I ate every night at the Japanese restaurant. But in general I was lucky: I can eat as much as you want without gaining weight. And I love to eat!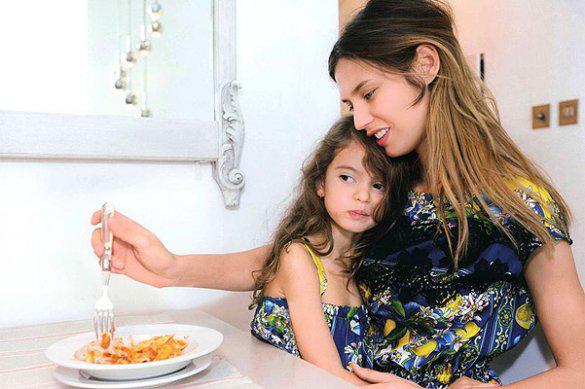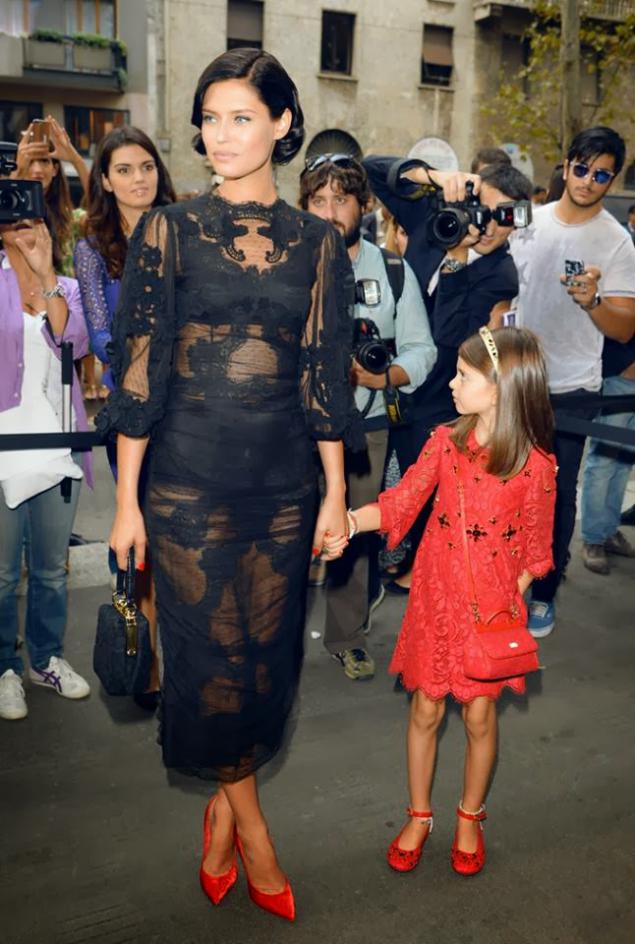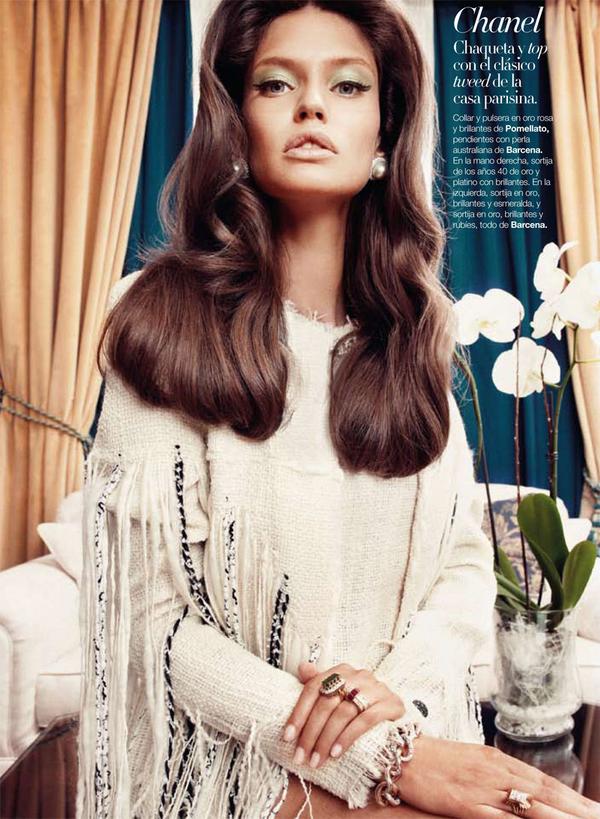 Bianca Balti - lucky girl that is not fattening
Skin care "I always stick to the rules - remove makeup before going to bed. This is very important. Also twice a day nanoshu intensive moisturizer and protects the skin from the sun. " About Hair "My only beauty secret for hair - oil which I apply after shampooing. My head with shampoo and balm Brilliant Brunette by John Frieda ».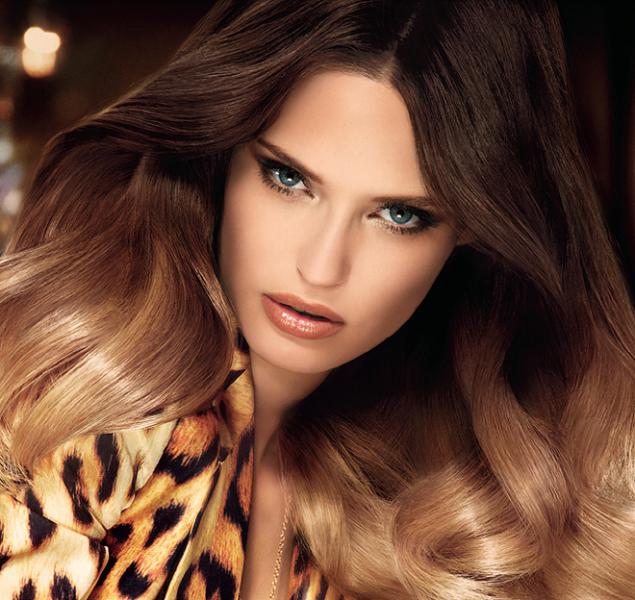 Sport is also not in favor of the model:
I am a real Italian - I do not like sports load. Around the same time on fitness is not enough: the shooting, traveling, fashion shows, and in fact I have my mother, to pay much attention to his daughter ... The only thing that I can afford - is home yoga classes, they are good that at the same time strengthen the muscles and relax the mind.
In 2008th Balti tried herself in a new role. The model was invited to shoot a picture of Abel Ferrara - Go Go Tales (she played a dancer shows). Perhaps it was the first acting experience helped her to become the face of the brand St.John, our heroine changed in this honorary position itself Angelina Jolie.
In addition, Bianca was invited to present at the international level brand Cesare Paciotti.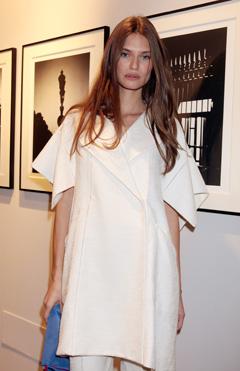 In 2010, Karl Lagerfeld invited the Italian diva for filming in the calendar Pirelli 2011. The designer was made as a photographer and has created album "Mythology", consisting of 36 shots. Celebrities, including Bianca Balti, tried on the sensual images of ancient deities.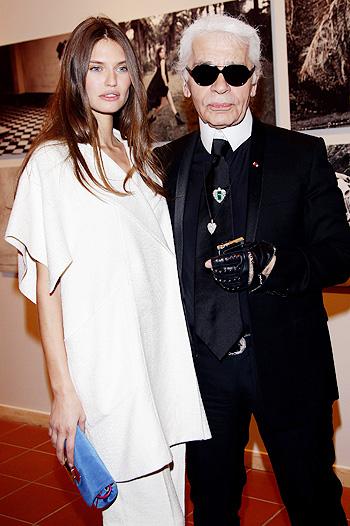 Career our heroine every year develops more successfully. Today Bianca Balti for a couple with Mariacarla Boscono and efa Riccobono is the "triad" highest-paid models in Italy. High status requires Bianchi always look flawless and elegant:
I love to wear intricate outfits complex cut. And never abused makeup and hairstyle, only emphasizes its natural beauty, highlighting the eyes or lips.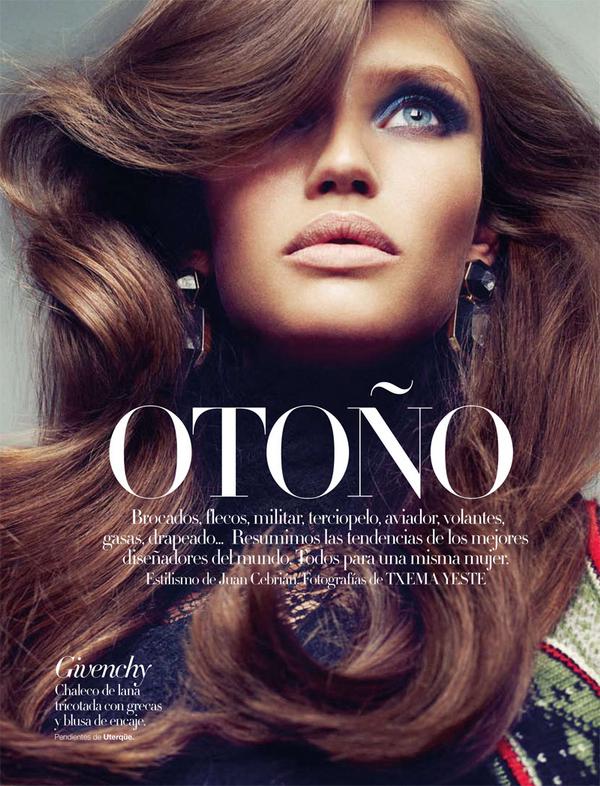 But sometimes it can Balti and hooliganism. Her boyfriend she made an unusual gift - a tattoo in the form of a cat:
I did it when she met her boyfriend, as he has his own rock band called Cats (Cats), and he has the tattoo on her stomach. Not being a fan of them, I made this tattoo because I love cats. In a sense, I think that I also cat, as they are very capricious. If they want, they can be sweet and cute, but sometimes you just want to be alone. I, too, it happens. Sometimes I want to be alone with myself, and then I can be cute and sweet.
Even with a very busy schedule model manages to charity:
Yes, I represent an international organization for the protection of children worldwide SOS VILLAGG1 DEI BAMBINI. I particularly actively involved in their activities within Italy. We build special settlements for children who have problems in the family. While there, they can lead a normal life, while remaining in touch with their family and friends, because it is so important for children. I am very concerned about the issue of child protection, as well as the issue of women's emancipation. So I always maintain organizations SMILE AGAIN, located in the Italian city of Udine, which provides assistance to women victims of violence, including domestic. I also collaborate with the medical group, which makes the operation of women in Pakistan, the injured.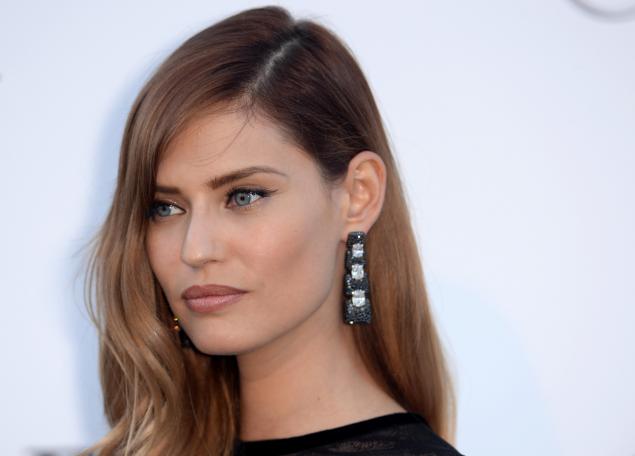 The clothes prefers convenience. Wearing T-shirts H & M, Zara jeans and dresses Topshop. Clutches, shoes and lingerie from Chanel, Dior and Balenciaga. Evening dresses - Salvatore Ferragamo. Favourite drink - mineral water. Do not leave home without lip balm and cigarettes.
Model appreciate the natural beauty. Never abuse the makeup and hairstyle.
Height - 176 cm, weight - 52 kg.