Every 15 minutes a person dies in an accident - child, adult, male, female - it does not matter in the face of death all are equal.
In high school, Sherwood in Sandy Springs, USA, Rally "Every 15 minutes" - every 15 minutes Students "died" in the simulated accident.
The purpose of this action - to draw public attention to the dangers of drunk driving.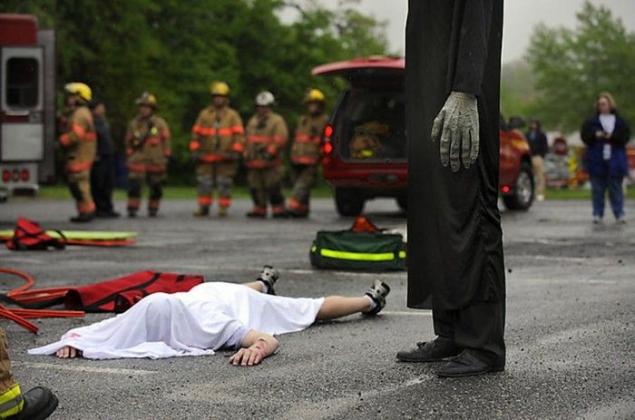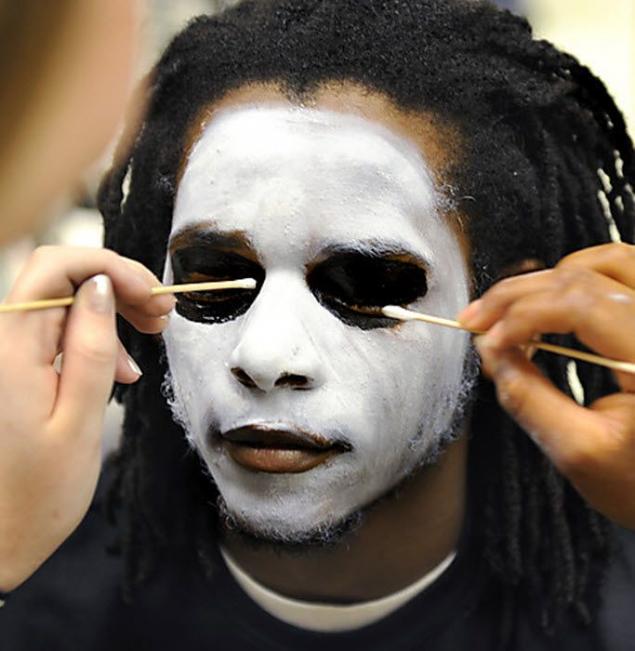 1. Steffina Snowden do one of the "living dead." For the rest of the day Steffin there will be no talk of any contact with his classmates. (Katherine Frey) 37,956,669
2. Billy Warren goes through the corridors of the school as a grim "Reaper of Death", taking every 15 minutes a new victim. The National Highway Traffic Safety Administration reports that in 2007, every 40 minutes in the accident died, at least one person. (Katherine Frey) 46,382,170
3. Death chooses a new victim. As long as the student is removed in the dressing room to make out of it "living dead," a police officer enters the classroom to read an obituary written by the parents of the student. (Katherine Frey) 28,414,395
4. Jackie Monroe makeup, t-shirt with the inscription "Every 15 minutes," and with a tag, which is usually attached to the corpses. (Katherine Frey) 74,797,293
5. In the school parking lot to create a scene of an accident. (Katherine Frey) 44,649,185
6. Rescuers also participate in the program, using a hydraulic rescue tool to remove the affected students from the crashed car. (Katherine Frey) 20,256,907
7. Once a student "die", the police notify his family. (Katherine Frey) 87,611,071
8. Students (left to right) Danielle make-up artist, Maxine Yaffi, Ylenia Gama and Cyrus Saurabh look at the simulated accident and rescue work. (Katherine Frey) 78,494,027
9. Robert Olsen failed a field sobriety test. A trip to the prison - another part of the action. (Katherine Frey) 38,950,755
10. Lizzie Elgin - "victim" of the accident - is taken to the intensive care unit. (Katherine Frey) 90,245,662
11. Brendan Allison at the funeral home in Leytonsville. The action "Every 15 Minutes" show high school students how far can a drunk driving. (Katherine Frey)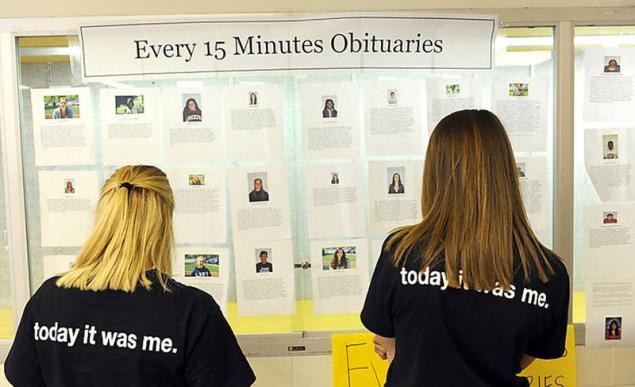 12. "Living Dead" read the obituaries that have written their parents. Students also spent the night away from home, to fully understand what it is - to be away from your family and friends. The inscription on the T-shirts: "Today it was me." (Katherine Frey)
Source