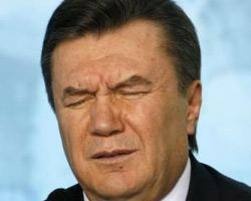 Yanukovych could not pronounce the word "totalitarianism»
President of Ukraine Viktor Yanukovych again publicly embarrass.
In a joint press conference with Polish President Bronislaw Komorowski he could not pronounce the word "totalitarianism", replacing it with "totalirizm", reports Rosbalt.
"Tomorrow we are together with the Polish delegation will participate in the opening of the memorial to those killed Poles and Ukrainians in the National Historical Park Bykivnia Graves" - said the President.
Yanukovych stressed that "this is a very important step for the memory and honor of the victims, to establish the truth of crimes Tota Tota ... ... totalirizma ... (pause) ... A decent respect him ... (pause) ... his victims».
Another blunder Ukrainian President noted not only journalists, but also Polish translator. He is translating it for Yanukovych Komorowski Polish, made a clear focus on this word, repeating it correctly.
Komorowski himself obviously ignored the clause Ukrainian colleagues.
san-anatol
that Che there, it habitual. it really is - not royal case to keep speech. Vitek real boy and such a complex (and therefore unnecessary) is not required to know the words. Simply need to be