Moscow Cats soared into the air
That night, when most people were sleeping peacefully in their beds, some residents of the center with the excitement of watching the flight of feline flock
In the center of Moscow last night flying cats. With wild howls, they swept over the earth (though it should be noted, very low), trying to fix itself in time and space, desperately clinging to the fences or trees.
Witness this picture became a correspondent XXX, where a gust of gale opened the balcony door locked. It was then that I remembered spread Tuesday night metropolitan meteorologists ordinary, in general, warning of an impending strong wind. However, in Gidrometeobyuro Moscow and Moscow region claimed that the wind will grow stronger only "to five in the evening until midnight».
However, according to eyewitnesses, flying cats appeared in the metro area "Belorusskaya" dead of night. By this time the advertised TCP strong wind grew into a hurricane unplanned local scale.
Residents of one of the houses of Georgian shaft as correspondent awake struggling with not closing windows and balcony doors, could observe how a gust of wind literally swept the cat article and carried the lightest of its members on the street, lifting and tossing. Males flight yelled, their cousins, remaining on the ground, howling meet each punch element.
Fortunately for the animals for their flights ended successfully, with the exception, of course, the resulting stress. In the morning all the reunited pack could be seen in the yard - cats are washed, shaking off the dust, not knowing about the possibility of new flights. Meanwhile, the probability of a repetition flight is large enough: this morning in Moscow meteorologists extended storm warning. According to their forecasts, the strong wind in the capital will continue until 15:00. Experts urged residents to be cautious, sending out a forecast, including in organizations involved in work at height, installation and tracking of advertising structures. Metropolitan urged motorists to care when parking, we recommend not to put the car under the trees and in the vicinity of the same advertising structures. However, here's what you should not let the street pets citizens, of course, were not warned. Especially those who live far away from the famous Big Garden street. After all, there are not only flying cats, but there were more interesting things.
© IA «INTERFAX»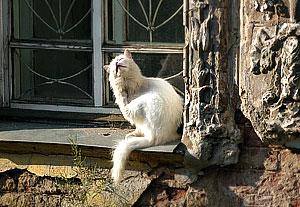 Source: