In the first half of August, about Baltic Hotel in St. Petersburg passed the Second Festival of airbrushing in cars. The quality of pictures is not perfect, as "digital camera" then was (alas) not available. I had to scan foty with a simple "Soap". A couple toroyku-frames similar to mine, borrowed from other content (better quality).
I admit at once: rashozhie plots containing sisyastaya aunts in a bikini from "stainless steel" and with swords, diverse gatherings of forest wolves and panthers tigers, all sorts of "berserk" in the mail and animal skins (in the style of Boris Valedzho), the starry sky with the planets and other celestial bodies, as well as a variety of lightning, because of their "zamylenny" I did not take off. For already tired.
I'll start with the "Skoda", painted a plot with a kitten hunting on aquarium fish: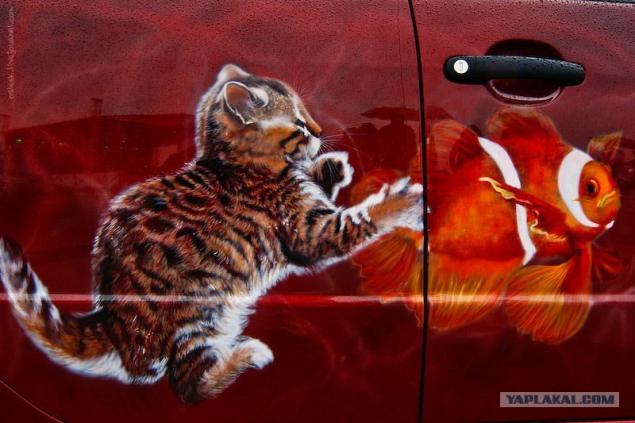 On the other hand: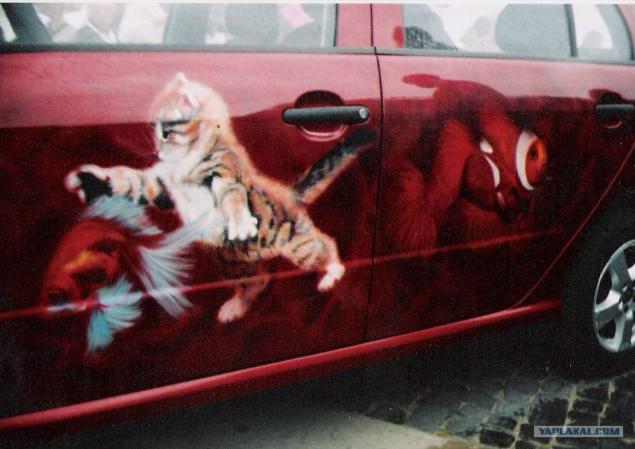 "Honda Civic" with the Japanese story: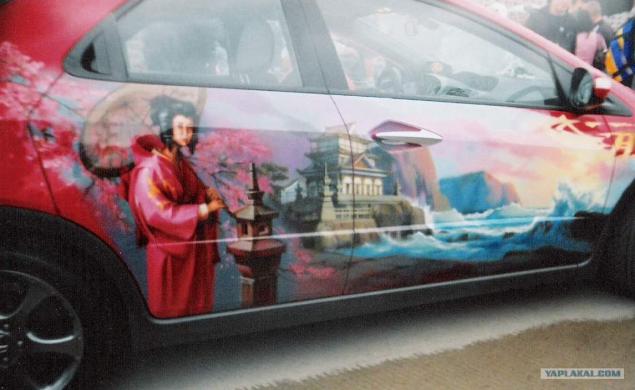 Battle pirates on the body «BMW-X5»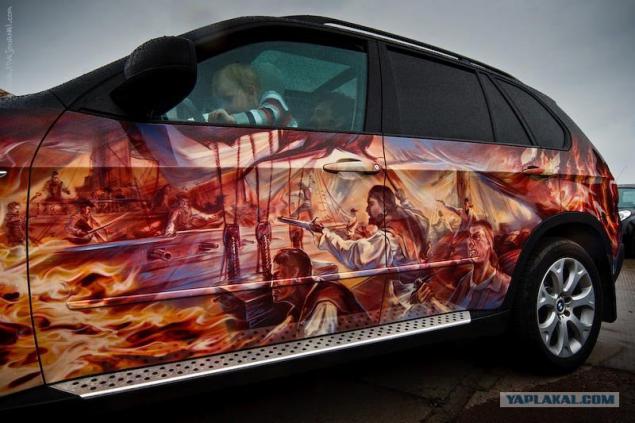 Continuation of the battle: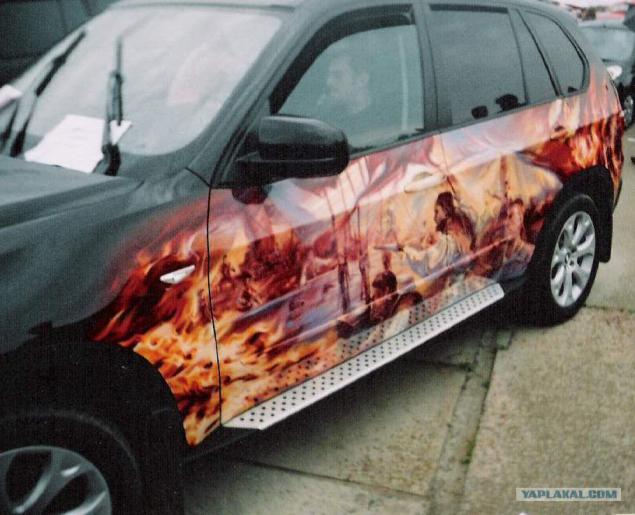 "Volkswagen Pointer" with the views of Peter.
Okhta Bridge: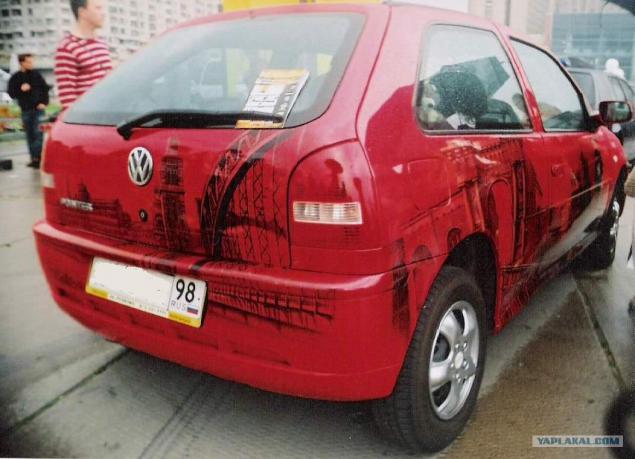 Krestovsky Island: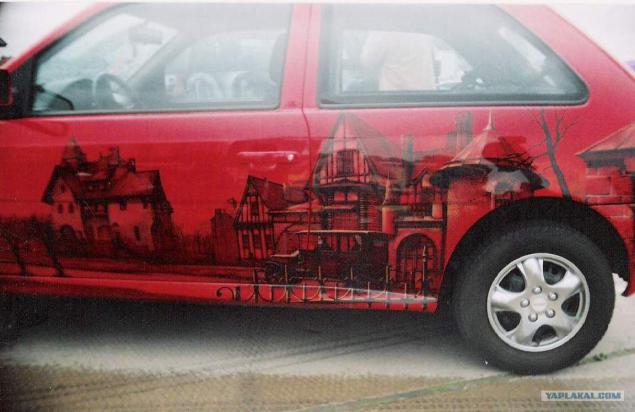 New Holland, the Fontanka and the Sphinx: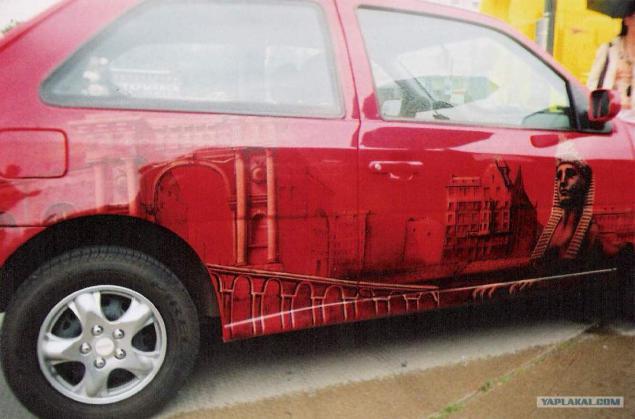 Blue whale on its side "transporters»: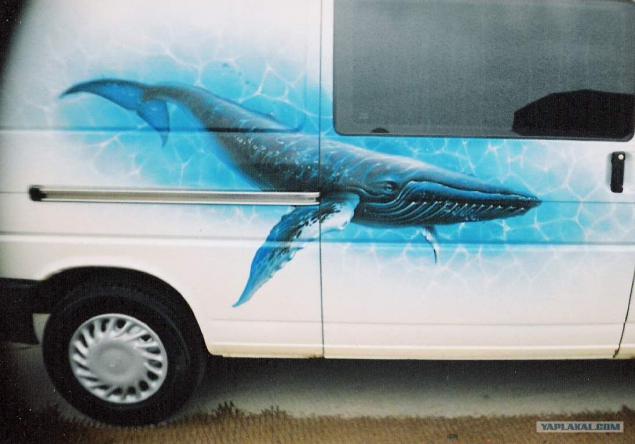 Pinocchio with matches and the slogan "Ride fast, die beautifully" to "Nissan-Skye»: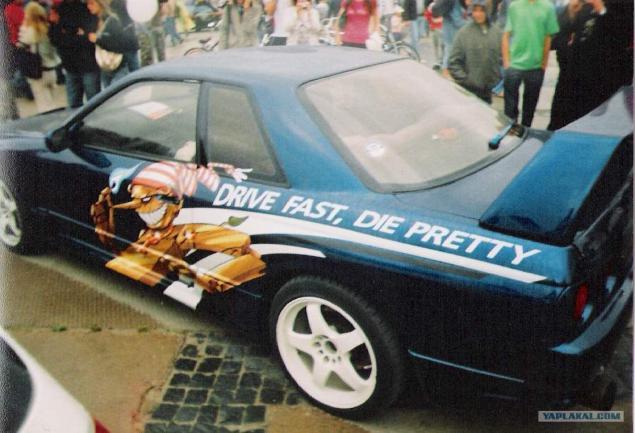 "Audi", decorated with killer whales: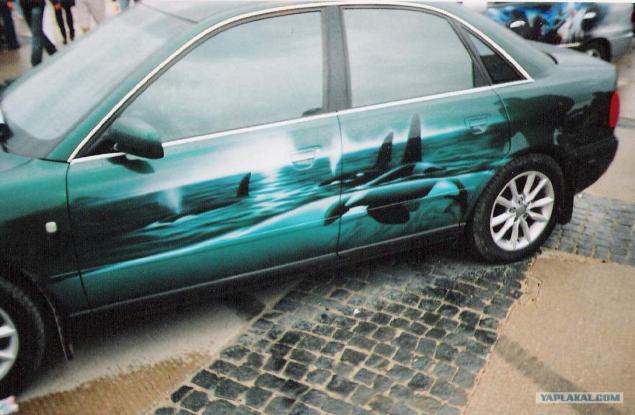 "Toyota Corolla", "buttoned zipper" front: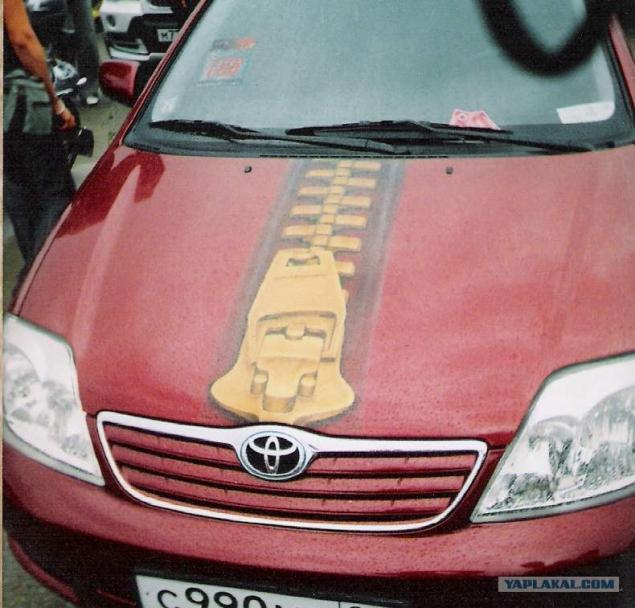 And back from the "toёtovskoy" skin peeps "Lexus»: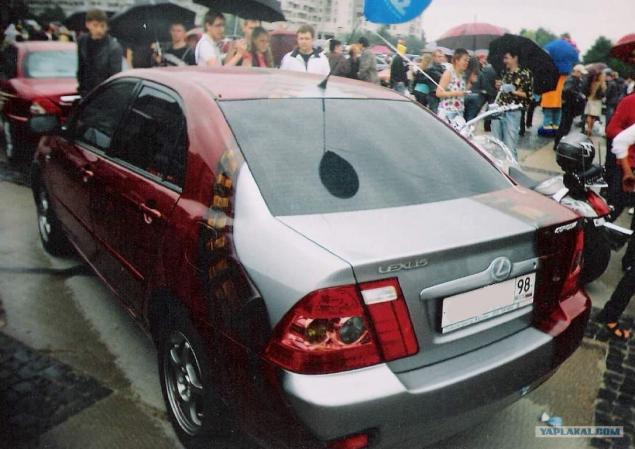 "Pyzhik" with Garfield: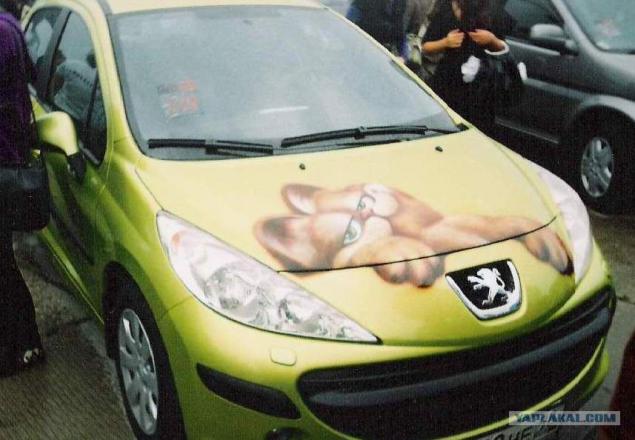 His lyuchёk tank capacity: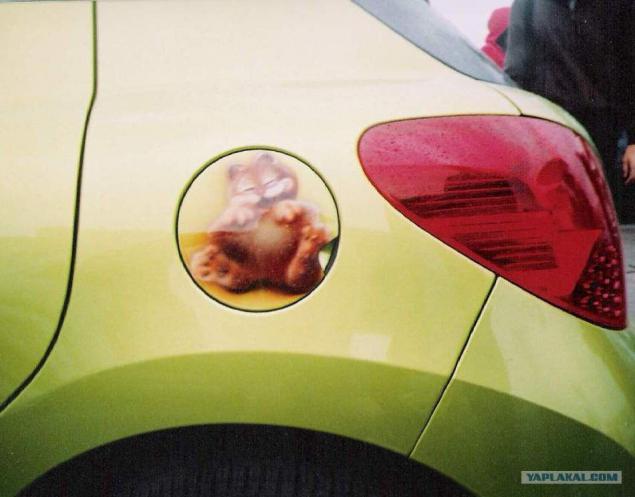 Garfield looks: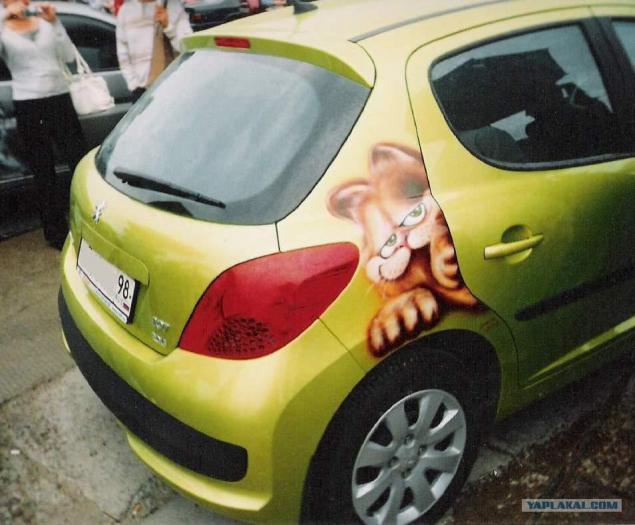 The "Saab" (a famous Swedish manufacturer of aircraft) on the hood somehow "Su» ...: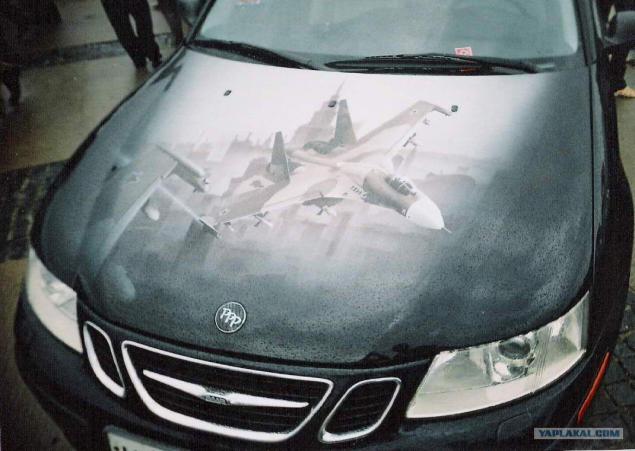 "Golf" with people's favorite squirrel from "Ice Age»: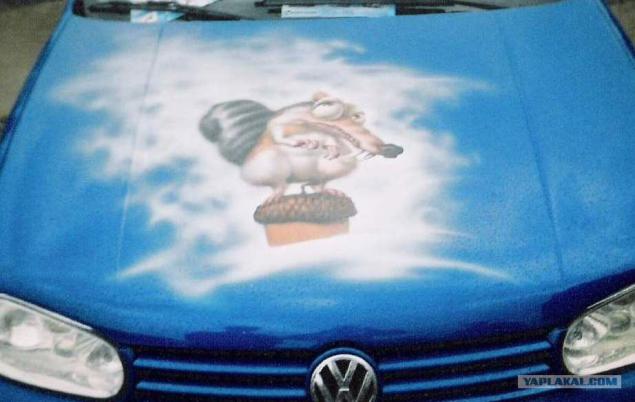 A couple of possums out the same: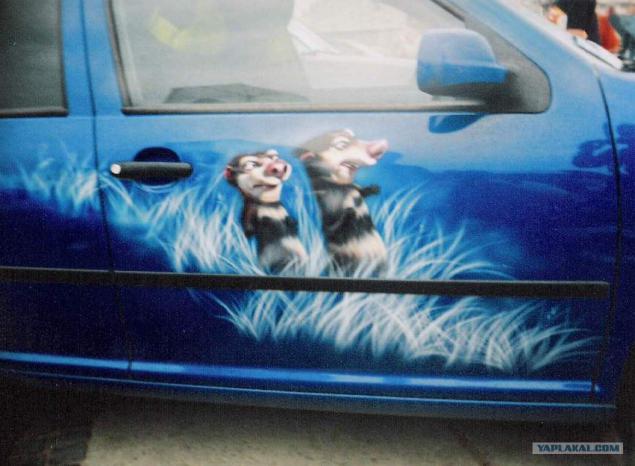 & quot; ... U-les-ETA-ide! ... & quot;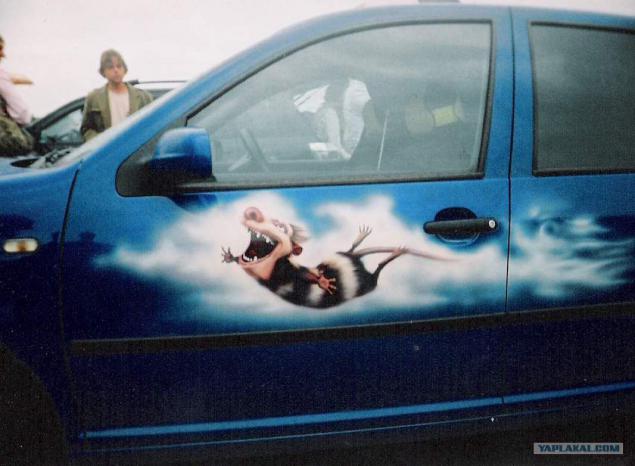 Warning to others "Infinity" with harsh dinosaurs on the sides drew sobachёnki sonorous barking, and seated himself at the hands of housewives: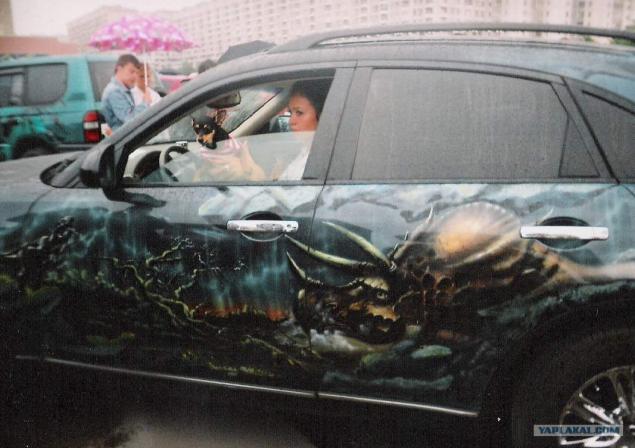 On the other hand landscape iddilistichnee: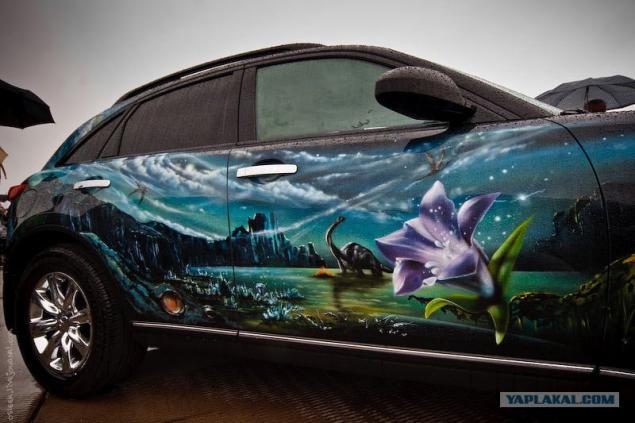 "Nissan Murano" with characters from Disney classics: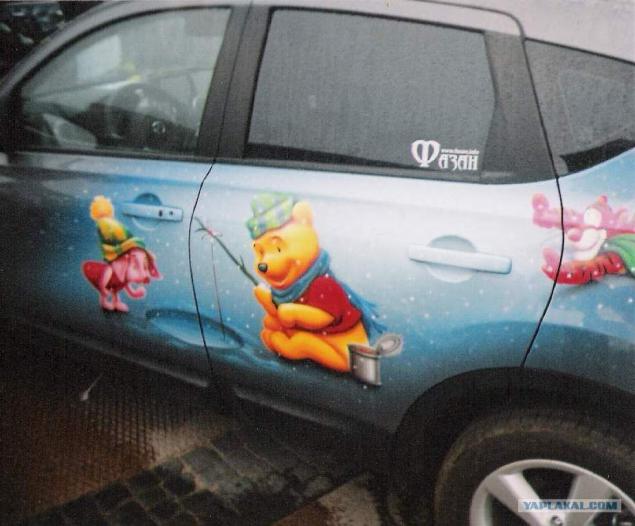 "Lexus" and surfer: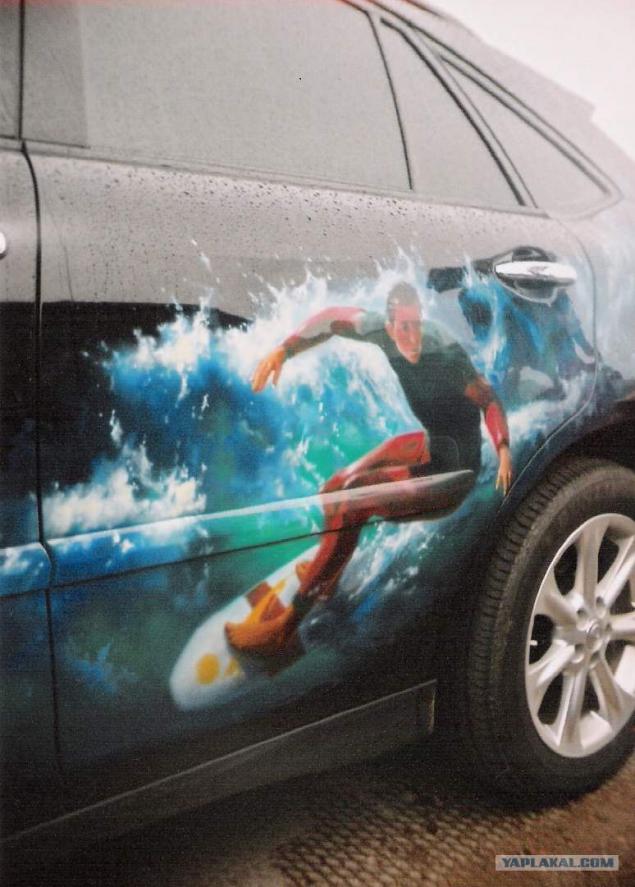 "Audi TT" with a fun airplane: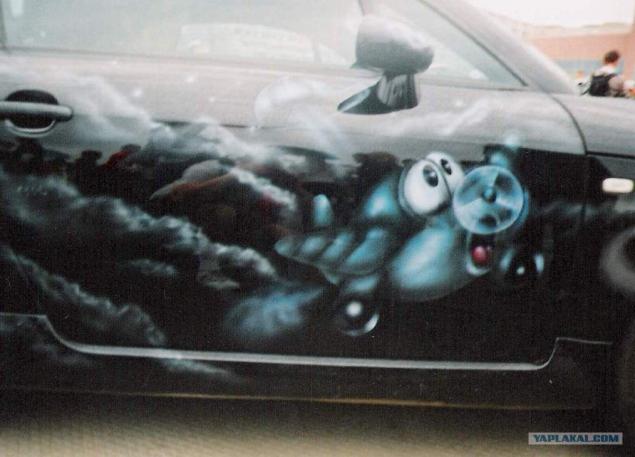 Card sharpie on board Tuned "tithing»: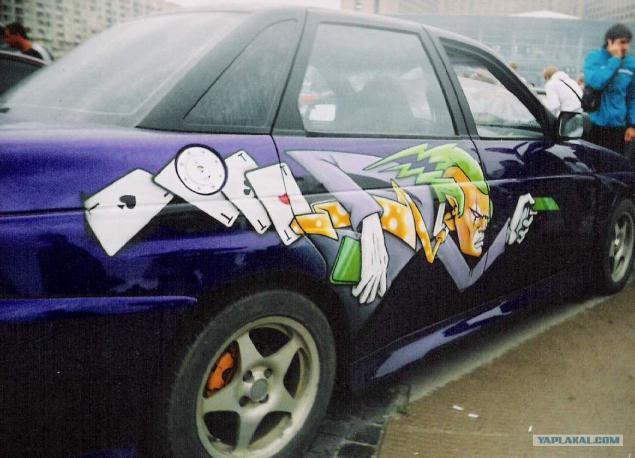 Fans of Japanese animation "Walking Castle Howl" to "Porsche Cayenne»: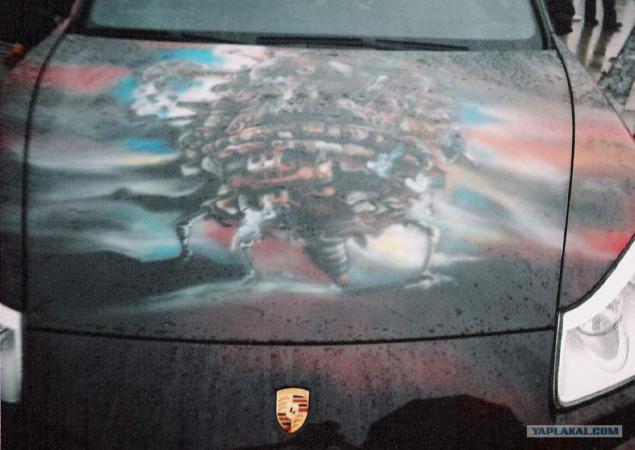 "Scarecrow" and the spirits of "Chagall Castle ...»: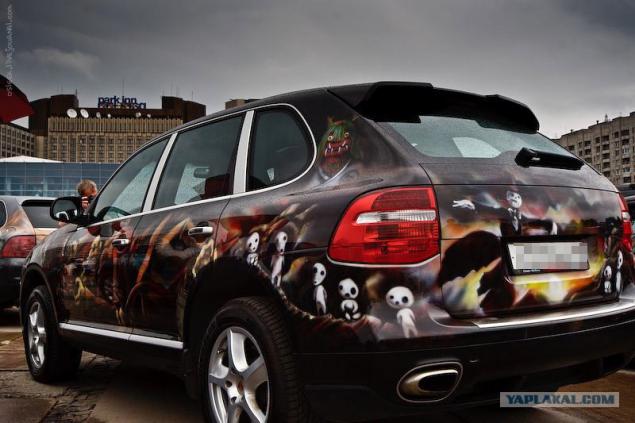 The same, the same, from the same place: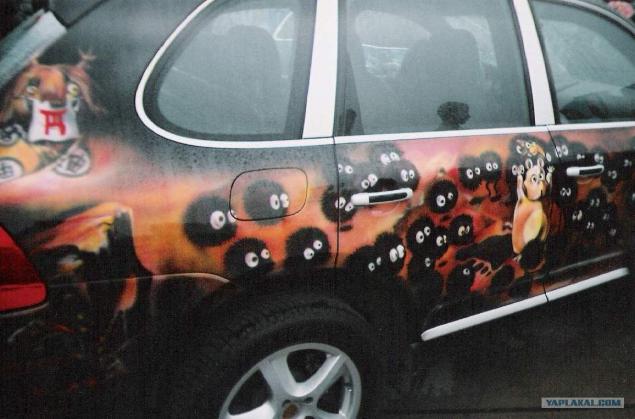 Korean American brand car "Chevrolet Captiva" with the image of "the crowned family" of Nicholas II and his wife Alexandra Fyodorovna. The funny thing is that the car was present very decorative "Cossack" in uniform, riding breeches with red stripes and calf boots. Quite naturally for the Korean-American car!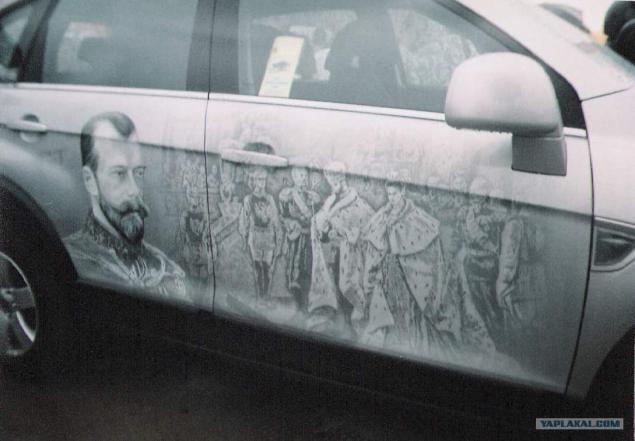 "Toyota RAV-4" - a machine with more Disney Winnie the Pooh and friends.
Pyatachёk: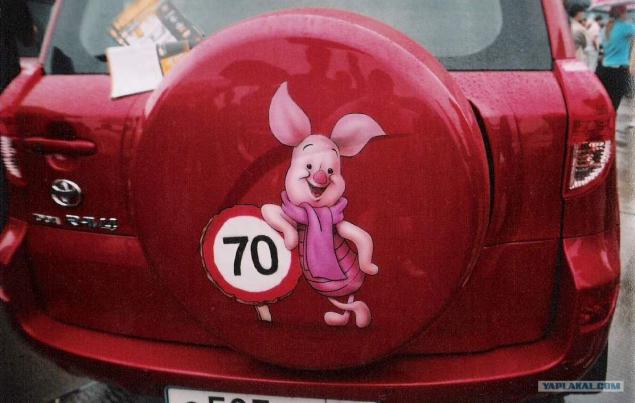 Eeyore: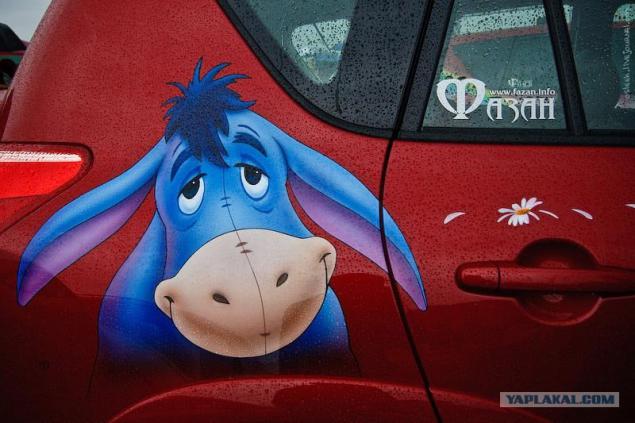 Tiger: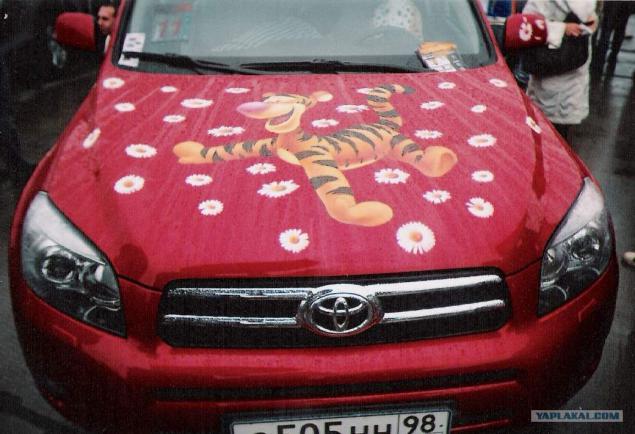 Vinnie: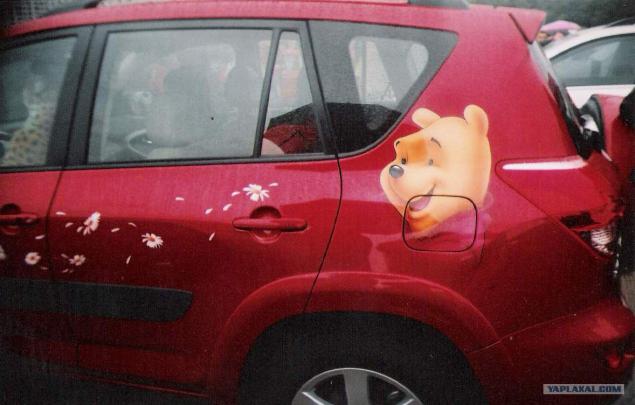 The original painting "Opel Corsa" simulating paint "chameleon" (very likely an illusion!):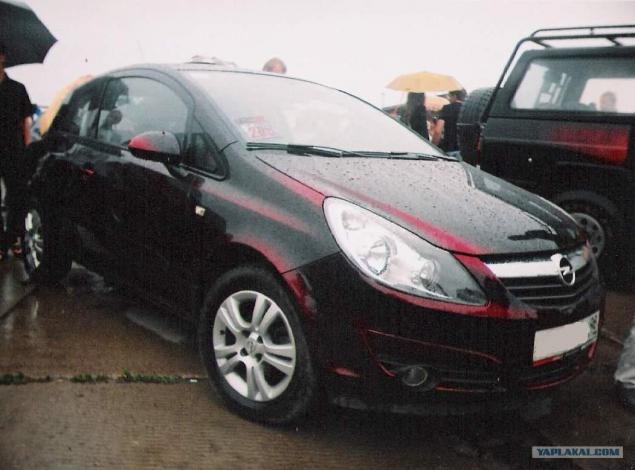 In addition to "highly artistic" airbrushing attended zkzemplyary and "utilitarian" coloring: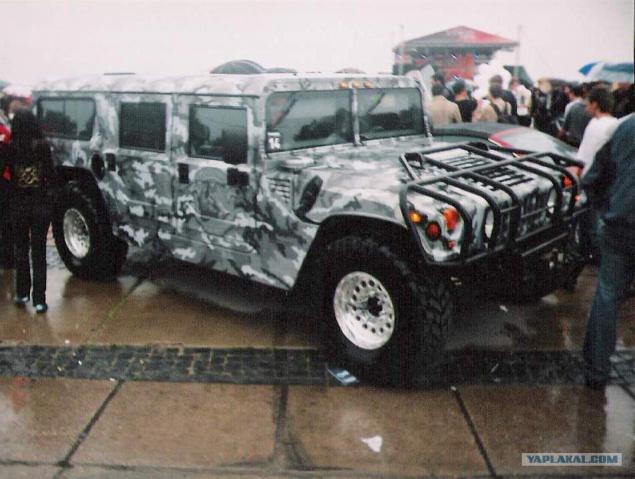 There was also a French ATV studio «Lazareth» a cheerful coloring: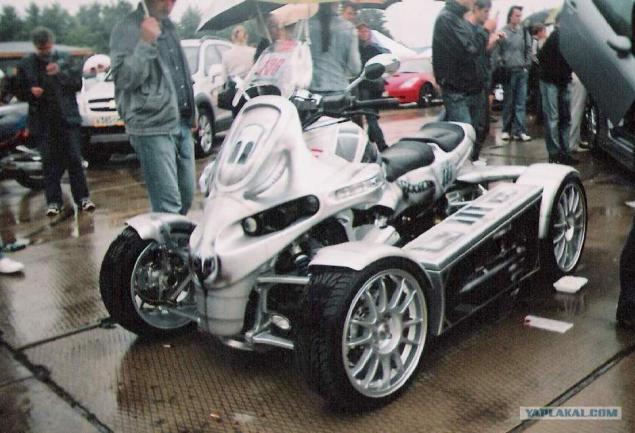 Rockets - a necessary accessory: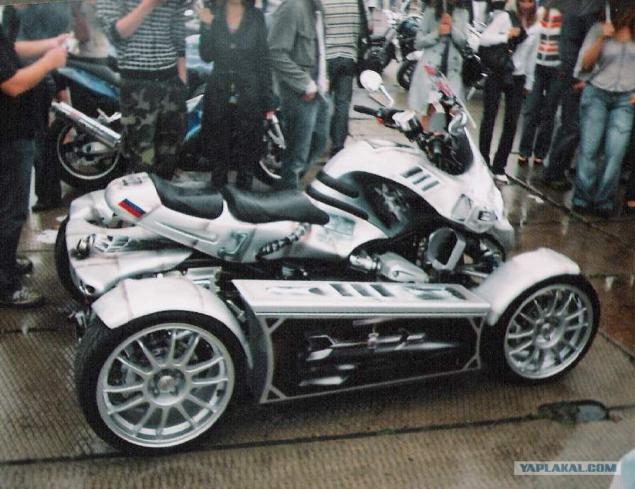 As the curtain will present machines without airbrushing, but certainly of interest.
For example, "Aston Martin" by tuning studio "Mansory." Convertible: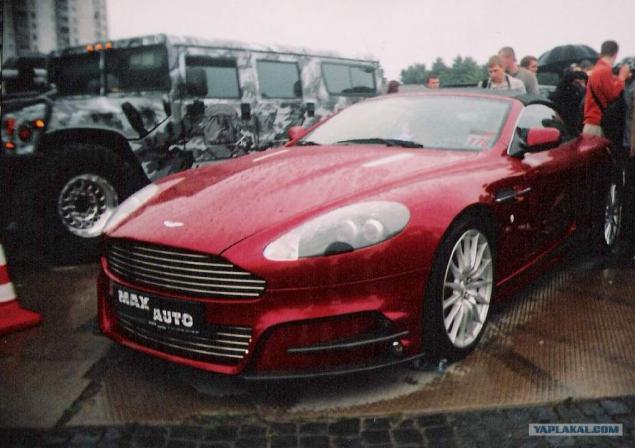 ... And coupe: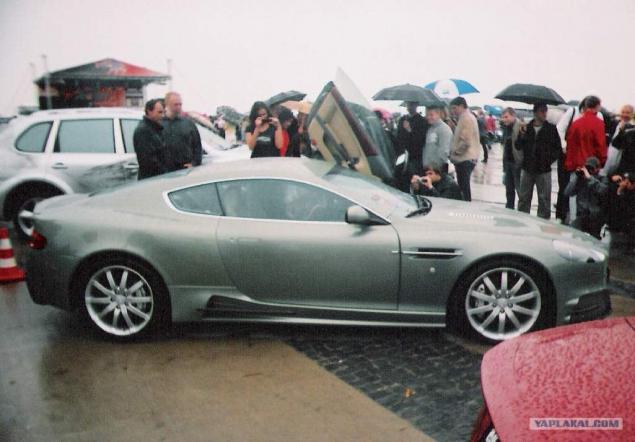 The classic "Mercedes-eSeL" in perfect condition: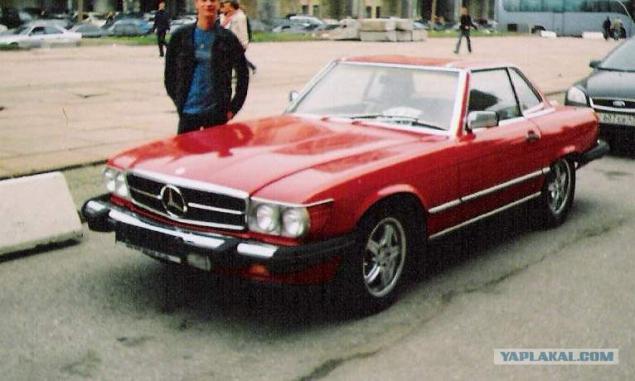 Convertible with removable "winter" hard roof: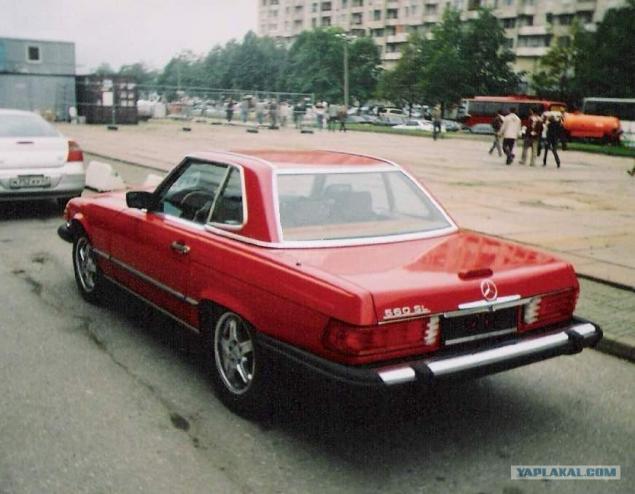 Fruit irrepressible Japanese tuning - sedan "Nissan" in the "weather-cloth" and tailpipe insane size: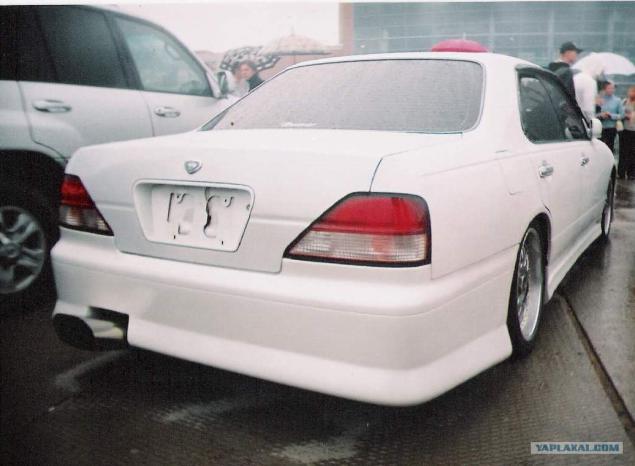 "Lowrider" from "Volga-24-02", built according to classical laws, "jumping" air suspension, the rear doors swing open "upstream»: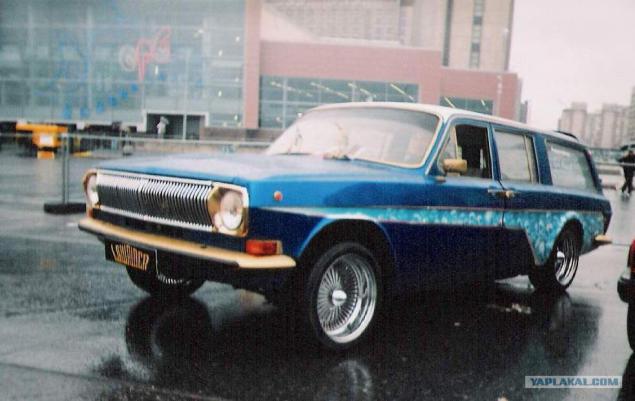 On the other hand: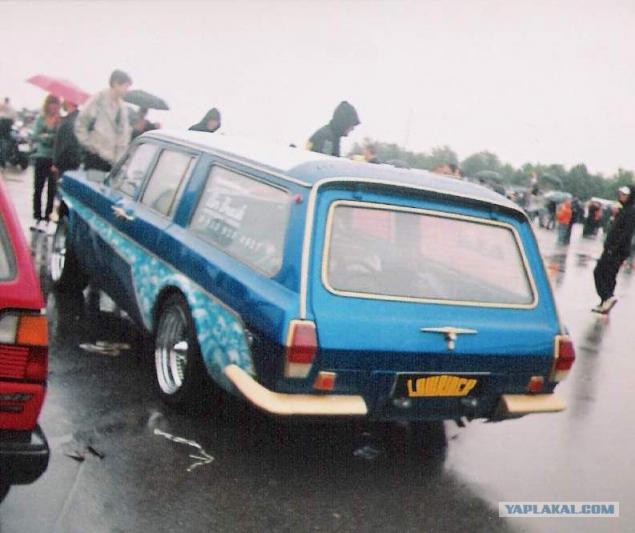 And dogonku unconditional jewelery "Festival ...", which stood modestly aside, - "Dodge Chardzher '70s!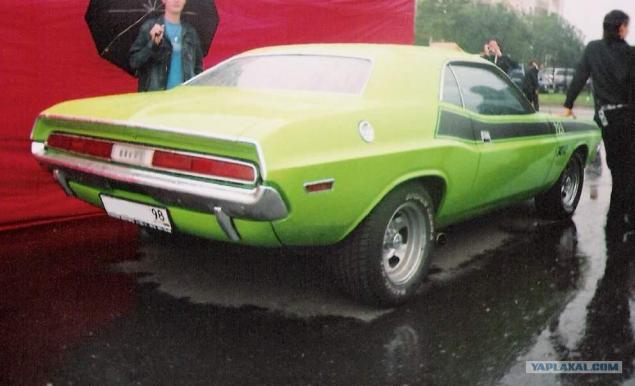 Just beautiful !!!
ZY That's all! If you were wondering - "plus"!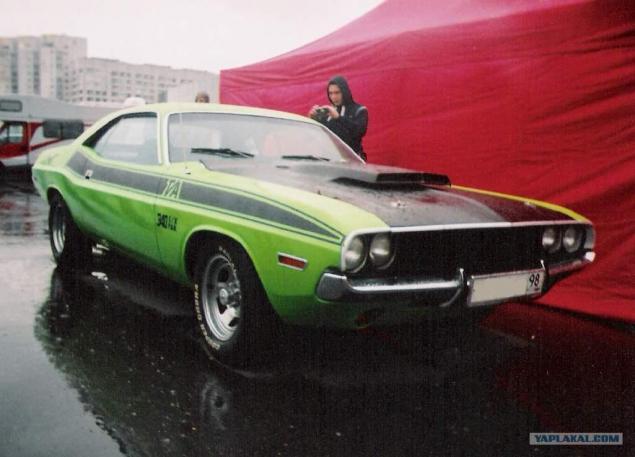 Source: