"Love the mermaid is not possible There are many reasons. But only one of them disturbs So looking love men! "Joking aside, but the form of animated mermaids from the amusement park Weeki Wachee Springs in Florida, many by men at risk of losing your head! The park has been around for more than 60 years, the interest in it disappears, then warmed up with a bang, but one has to admire the skill of swimmers who not only manage to swim underwater without masks, but also real costume play mini-performances!
Every day it takes about 645 liters of clean heated water to meet the needs of the park. A natural limestone pool are underground caves Weeki Wachee, mermaids during room immersed to a depth of 16 to 20 meters! Strong enough for (about 8 km / h) - another test for underwater beauties.
In addition to performances of mermaids in the park you can walk through the lush gardens, this even has its own jungle, cozy beach, and everyone can ride a boat or dive into the source! The park was built in 1947 by the former military Newton Perry. He created a special technique of diving, when the air is fed to the girls using a special hose. Throat allow actresses to stabilize the air pressure on the ears and sinuses. Perry personally taught the girls a lot of tricks, the highlight of his show was that the girls even managed to eat and drink the water. Transparent pure water allows viewers to watch the show, not plunging into the water.
In the early years of the park mermaids themselves out on the roadway, inviting guests, but in 1950 the glory of Weeki Wachee Springsrasprostranilas far beyond one state. In the 1960s, the mermaid gave 10 performances in a day! There were even stars such as Elvis Presley, Arthur Godfrey and Kevin Smith! Today the park is not as popular as before, the government strongly supports the unique project, because today in the Park there are 15 underwater beauties!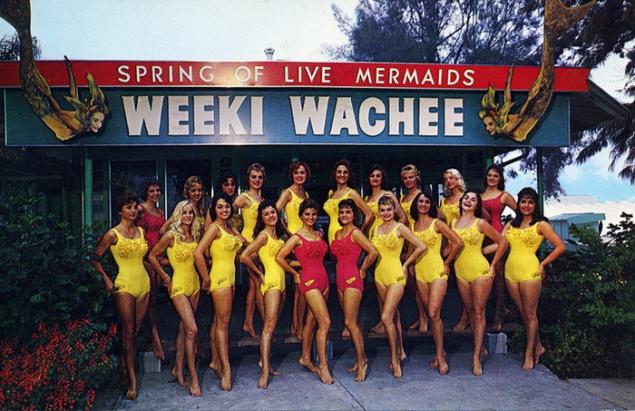 Source:
www.kulturologia.ru