Three fans of extreme sports without insurance climbed to the top of the pylons trehsotmetrovoy built bridges in Vladivostok - the Russian island and across the Golden Horn - and photographed the city with a bird's eye view.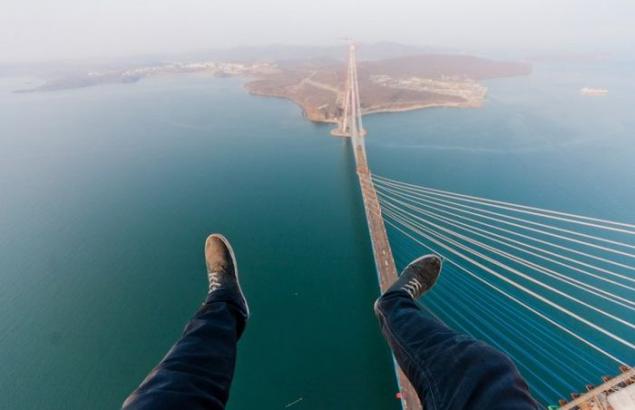 Two Muscovite Vitaly Raskalov and Kirill V., who in the company of a friend from Vladivostok climbed the pylons built bridges, talked about their "exploits" in social networks, attach pictures, taken from dizzying heights.
In his blog on Twitter Vitaly Raskalov he said: «On the top. Pick up on the crane, above have nowhere to go. " Next Extreme told readers of his microblog as they tried to escape from the guards as they then still detained and questioned at the local branch of the FSB.
The May Day holiday, taking advantage of inattention protection, amateur climbers climbed the pylon of the bridge across the Golden Horn. Later, the foreman noticed guys and expelled them from the site. On Tuesday, May 2 fans continued pursuit of extreme adventures: they went to the bridge over the Eastern Bosphorus Strait, which climbed to one of the 320-meter pylons. From there ekstremaly we took some photos, which he zheden posted them in social networks.
Treetop calculated through images, detained and interrogated by the FSB.
"They decided to take a moment, until there are cranes, which can climb up to the bridge and take pictures of the city from an unusual point. Their act is not unlawful actions, proceedings have been initiated, "- he told Interfax" the press service of the Primorsky Territory police, adding that police were limited to preventive conversations with the brave young men.
For reference, one of the trio extreme - 19-year-old native of Kiev, Vitaly Raskalov who calls himself Rufer (from the English. Roof - the roof), collects photos of various cities with the highest points. Always works without insurance.
The bridge across the Golden Horn is built in Vladivostok to the summit of the Asia-Pacific Economic Cooperation 2012. Now the construction of the bridge has entered the final stage. After the completion of the construction will be one of the largest cable-stayed bridges in the world.
This is not the first time that thrill seekers are taken to Vladivostok bridge pylons. Thus, in May 2011, two extremals -beysdzhampera jumped with a parachute from the 150-meter pylon being built bridge across the Golden Horn.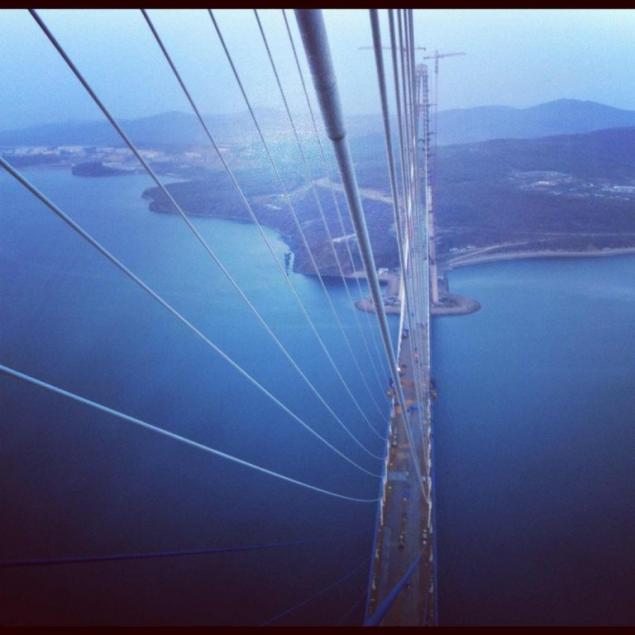 Vladivostok, the bridge on the Russian island.
The bridge on the Russian island. The height of 350 meters.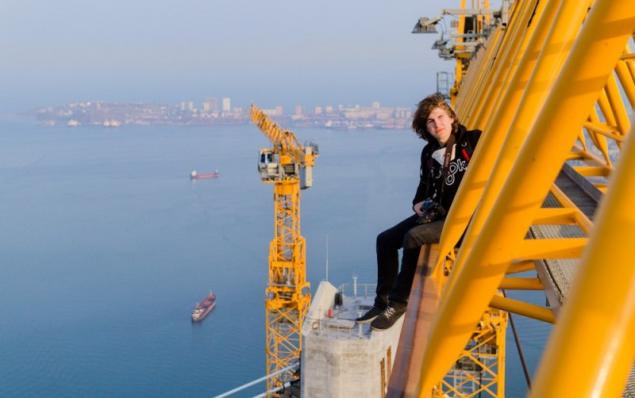 The bridge across the Golden Horn - the height of 240 meters.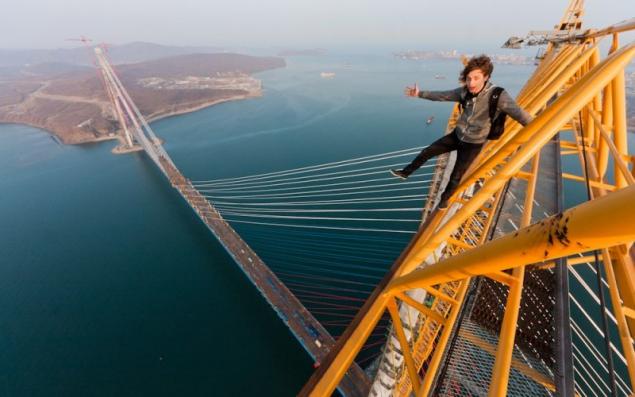 On the horizon - Yapnoskoe sea.