It retablos, or exvotos - Votive (initiatory) picture in the gift of Catholic saints. They painted in gratitude for some miraculous event, deliverance from danger or disease. Most often, they are drawn by the same thanking, and at the bottom is written the history of Thanksgiving and text.
11 pictures via honestlil
"Thank you for your Viagra».
caption:
I wish to thank the Virgin patron hukily for Viagra and for my unfortunate illness disappeared and now I can meet his wife in bed because before I could not find a cure for his illness, but committed himself to you tried Viagra, and now we are very happy and our marriage It has been saved. I dedicate it to you, [The Virgin]. Roberto.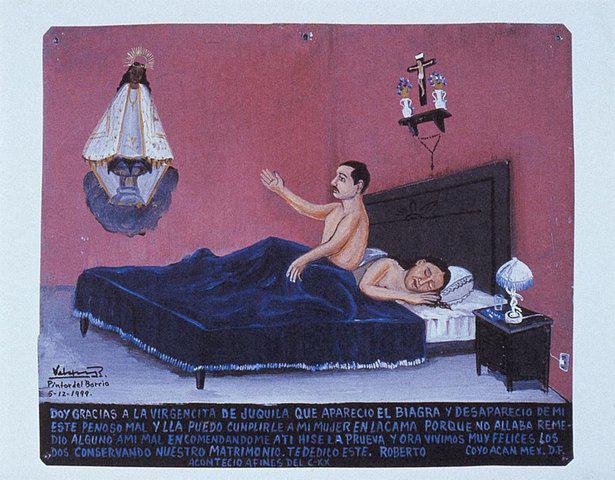 thanks to a boxer for his victory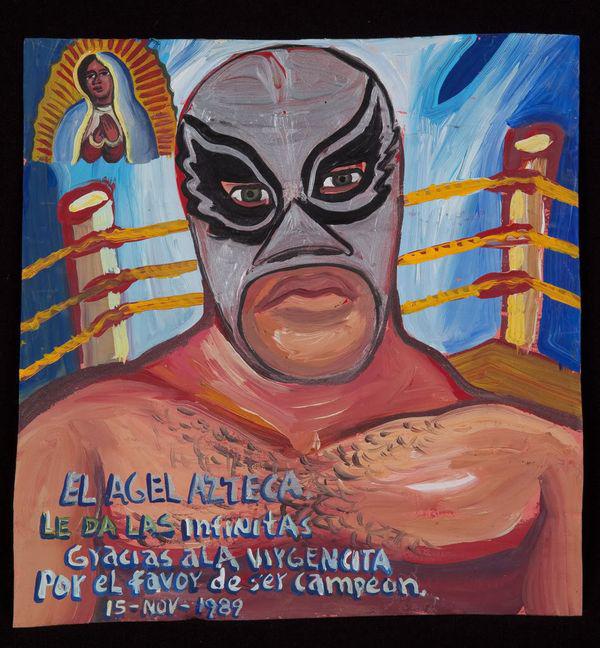 Fermin and Carmen dedicate this picture of the Virgin of Guadalupe the patroness for the fact that this year they have turned out to be a good harvest cactus and for that they bring their gratitude.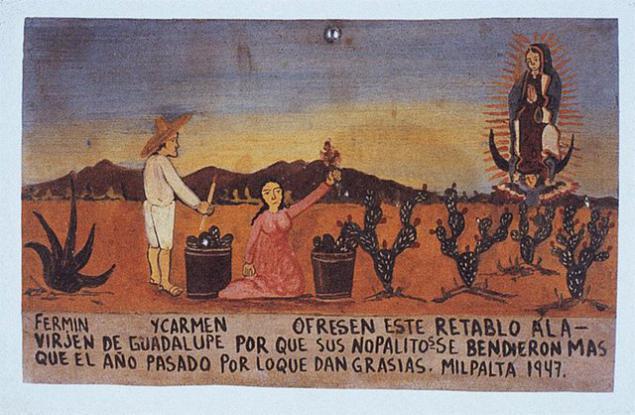 In May 2000, we gathered to go through the desert because they wanted to work in the United States and save a little money. We walked for four days and realized that was a mistake because we ran out of water and food. Sensing the approach of death, we pray to the Blessed Virgin of Guadalupe patroness that she saved us from a dog's death away from our beautiful beloved Mexico. Repeating the "Our Father" we went to sleep and in the morning we picked up some peasants and have taken to Nogales, almost to the border. We had no money, but we were saved. God be with you the blessing. All Mexicans I say: think before you cross the border, because there is nothing in the world that compares to Mexico. That you speak two disappointed.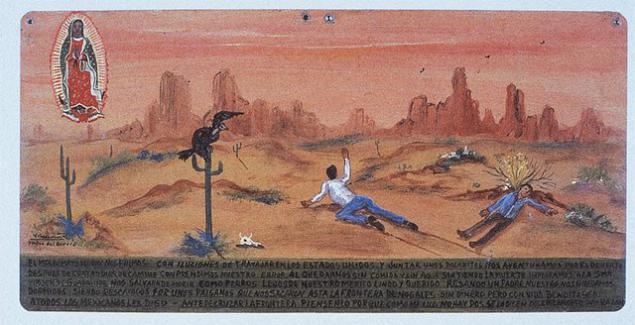 I was blinded by jealousy because Marie left me to marry my best friend Artyom and then climbed on my back and I hit the devil Artemio knife. When he was close to death, I learned that all of this is just a horrible rumor. I ask the Lord to save his life and pray for forgiveness, and dedicate [God] that picture that he died
thank you Our Lady of Guadalupe the patroness for the fact that my husband does not beat me anymore. I've been told you about it and finally came. Now we love each other and I am very happy. I came here to express my gratitude to you.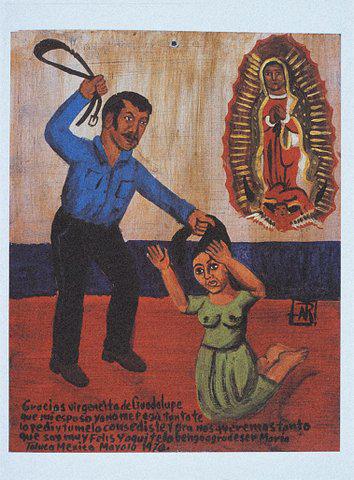 the morning of January 6, 2001, I had a baby and left him in the trash because I was afraid that my parents would chase me but when I got to the corner I repent with all my heart. I ran back to his legs, praying guardian angel to make it in time before it will eat dog. I ask your forgiveness, and protection for our future life, for both of us, and gave all the maternal love of the heart that they are not allowed to children of poverty or out of stupidity because the child is a blessing of the Lord.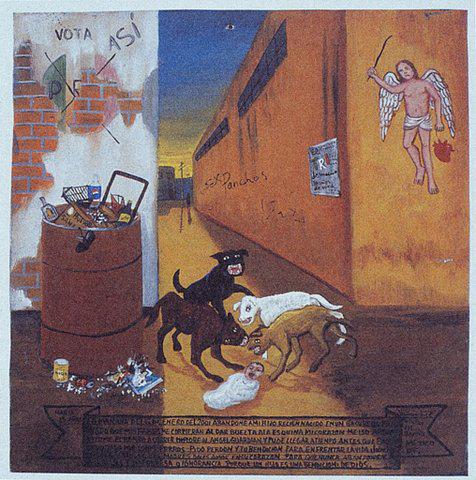 I thank the Holy Virgin of Guadalupe the patroness for the fact that I found work as prostitutes here La Merced. Take care of me well so I can send some money to his parents in Pachuca, Hidalgo in the province. Yolanda
I was born and grew up with this sexual problem and constantly endured ridicule and humiliation. My family was ashamed of what I look like a woman. it's not my fault, I was just born that way. tired of the quarrels, I left the house, learn and win it all. I live my life and I am very happy. If the Lord wills it I ever realize until I thank St. Sebastian for the fact that I successfully underwent the operation that changed me. "Noemi".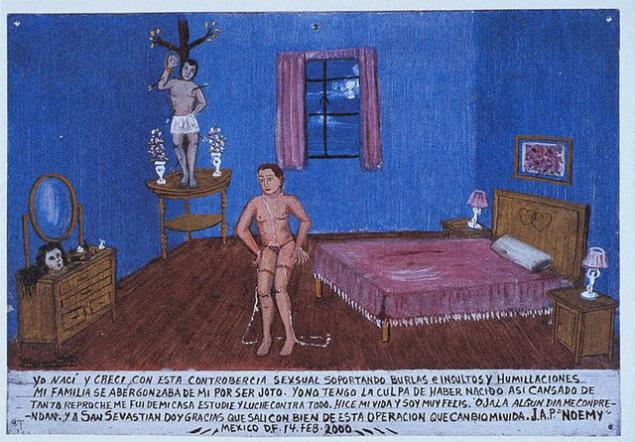 The Virgin of Guadalupe the patroness do so Senor Osama Bin Laden is no longer attacked the United States over the nuclear weapons because there are in Los Angeles, California working my relatives. to make so that the world was peace not war because we are all your children. Jesus.
Most Holy Mother of Guadalupe the patroness bring you to thank for the fact that my bushes maguey give me this year a lot of moonshine. He may abide with you the blessing.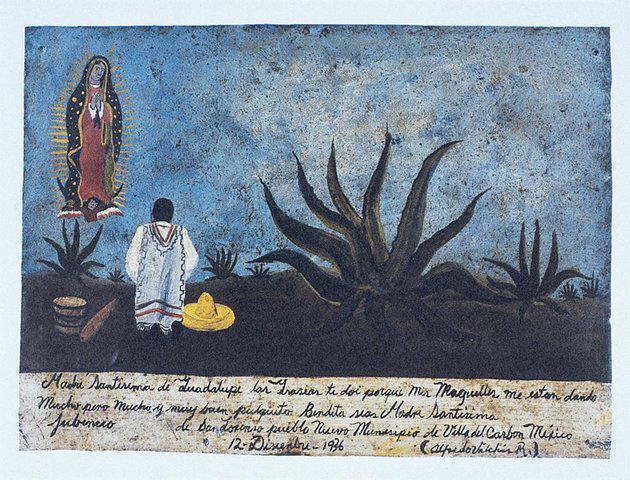 Source: