It's just my memories that do not claim to any artistic status. I remember - and wrote. This is the first part. I will remember - will be supplemented. And yet - here:
While I was there a biker ... I do not have leather jackets, rather, somewhere there was - but now there is no longer, no leather pants, no black, shiny chrome Harley-Davidson. But there is something more important than all of these attributes: I feel them. That is a biker, motorcyclist or whatever we nazvat.V general, a man who flies through the endless highway behind the wheel of a powerful motorcycle, the city behind, and in front of Happiness. Ie smooth road, the sun, the wind whistling in the ears and endorphins splash through the edges of my mind for a long time ... This picture stuck in my head. Probably when I was about 5, and mom and dad took me to visit his friends in the cottage ... And the eldest son of my parents' friends then it was a miracle.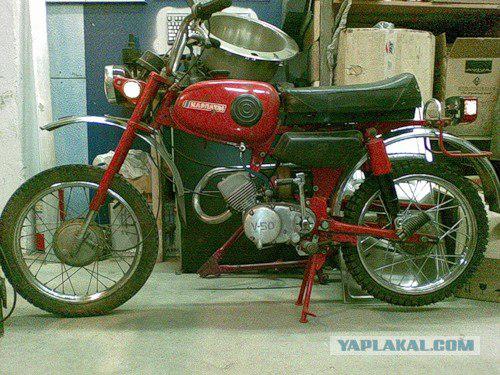 Yes, it is ... But, God, I still remember how wonderful it would be, the moped "Karpaty Sport" ... And what for me is huge. This sports steering wheel, "raised" front fender, and the real racing muffler. But the sharpest impression for me was that I ride on it. They put on a tank and a ride ... I think I remember how it was? No. I do not remember. Just remember the hitherto unknown feeling of boundless happiness and freedom. I firmly and forever hooked on a motorcycle, "the needle." Ha funny, but the moped for a long time was shown on my horizon when I'm a grown-up came to the same cottage, friends of parents, and he was already old, unpowered, standing in a barn stirred the feelings of my motorcycle. Saddled him in my dreams, I made motocross))
Village: Although there are some village. Tosno that near St. Petersburg. There was a summer residence. It was summer. And there were mopeds all local boys. And I only have a bicycle. I could not be a moped, as it is "terribly dangerous" according to her mother. And "useless Hummer" according to Pope. Wiping tears after a scandal with the agenda, "Well, when you buy me a moped" I sat on the bike and roaring at full volume again carried away in his Moto given. But local took me sometimes that I helped them busy with their "horses" ... But just messing around - ride daval.Ne nobody gave it. But the most important thing then was Kolya. He was older than I was then, I was 12. And his age 16. He learned a lot. But most importantly - he gave to ride their mopeds - and he had a lot of them - he and his father gathered them out of thin air. Then I was 13, and Cole has stayed 17 years. He drove a motorcycle to ride on his father ... And I will always remember you ...
But - stars formed at the right RUSDEM and I won here and sturdiness. It was something. It was called "Delta". And at that time there was no better than a moped. And do not argue. It was the ultimate dream of any boy. Steeper was just a motorcycle.
My dream come true was black. And it was a real "Delta". But not any kind of "Karpaty" converted. And she went faster than all my friends mopeds. Maybe even 70 km / h in. Or 60? In general, the rate I was not equal. That's all it ended ... More advantages were the curve frame, no front lights are not working electrician Ponoy almost no brakes. And a lot of things, but ... it was. She was mine.
The first three days I spent in working with her. Found a headlamp ramu.zadrali fixed rear wing. To fix the brakes. And it turned into a swallow. ... Develop and evaporated. On the 4th day. From the barn. Night. Damn envious - they stole. I know. I do not have time and enjoy. And maybe well. What I did not. Not so sorry. Although much of our lost her joint kilometers.
And there came and autumn - it is necessary to return to the city. Leaving himself only dream - practice until next spring. Throughout the winter, I'm saving up. Saving both himself and deny everything. Copley. But still not enough ... May holidays and Tosnensky "masturbation" I rolled down the next "Ducati" with solemn assurances that such vtorogoy no one would. That's cool. Very cool. Karpaty.No !!! The engine of the "Minsk" .It has a motorcycle. And the cops are not doebutsya nikogda.H ha ha ... I take, I take konchno. How many? 500 ... ((((guys - and I only have 300 working furiously ...... thought. And I want you to give another 10 video cassettes and tape is good ....
Yes, cool bike. Do not say anything))) motor from Minsk, though ... But: no brakes. And only the 1st and 2nd gear. Shit-I-I-I .... But nothing of the train so ... what a sweet feeling. He is mine. And he's taking me. Again in the same distance. Vzet and luck. And ahead of the summer, and pokatushki ... and are already beginning to creep, so quietly, through the back door of thought about how that's it, I'll take this girl to ride ... and then I'll kiss her. I'm a biker. And the girls are not denied bikers. Yes, and how the refuse, because I have the Carpathians with the motor from Minsk ....
But the "masturbation" were smarter than me. Less than 2 weeks - I have knocked at the gate of the garage. Finally broke box. Bring money. I am. Brakes. Bring money. Am.
At the same time and get a job. It is necessary to have to pay for the repair of his horse. But I worked exactly to the moment, not yet realized that ... I was inflated. Or naebyvayut. Money taken - and nothing changes. Well, hey - I'll show you. In the last crumbs bought me another moped Carpathians - but bezmotora and I 2 months 2 pick one. With the brakes, with the box intact, with a bright spotlight ... But it turns out, he did not go. Never. But I learned to twirl nuts and do the impossible. As it turned out - it is useful to me in the future. A horse - after two years of rotting in the barn, in the fall was to change the local on a large bag of potatoes. Because you need to, right?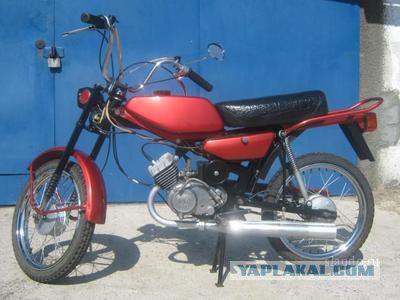 Source: