Correspondence motorcyclist brought down to death schoolgirl, with her boyfriend.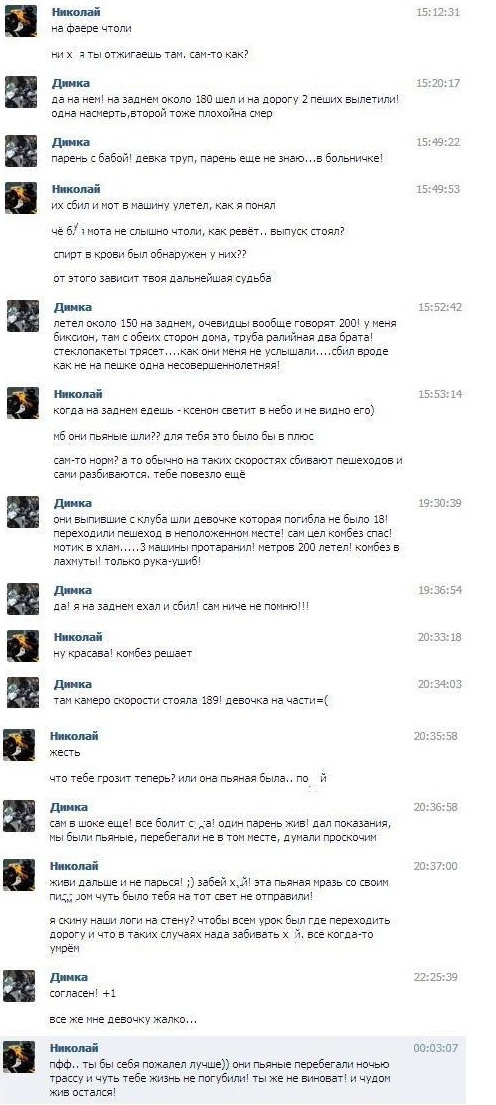 And here is the official information about the above accident:
In Pskov to Riga Avenue bike moved a young couple.
May 11. 10 a.m. Pskov. Near the church of Varlaam Khutynsky outside Leon Pozemskogo lot of grieving people. As far as the eye can see, it stretches a string of cars. Concerned Pskov decided to hold the girl in the last journey. Say goodbye came 11th graders, teachers, principals Kareena ... in a wedding dress. The breast - feed: "Graduate 2012". On the pillow - her favorite teddy bear. No veil, no makeup could not conceal injuries to the child's face.
Reared
One warm evening, May 6, visitors to the summer cafe Riga, 16 remember. He broke the silence of the night periodically roaring motorcycle, wearing down the avenue at breakneck speed. Flaunting, motorcycle racer and then flew past the people at the rear wheel. So, standing on its hind legs, with battened down in the night sky spotlight, he ran into a young couple, was on his way. CCTV cameras recorded 189 km / h.