September 8 in Krasnodar arrived double-decker train on which it was possible to like, everything to see and touch. Approaching slowly to the platform, he surprised his height and caused mixed feelings.
55 photos via wonna-be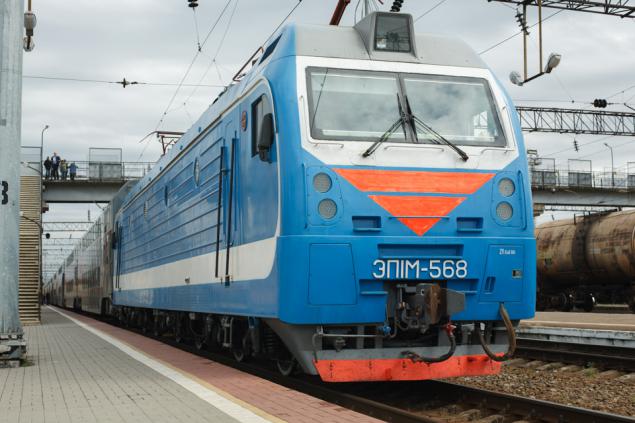 2. Like any unusually healthy, looks somehow reminiscent of an armored train, but some defective and unpleasant to look at. Probably just need to get used to.
(Outside it all as bent foil.)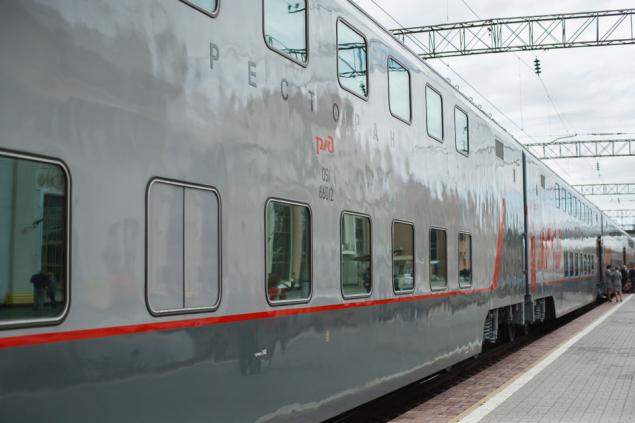 3. Inside smells new, and somehow the novelty of smell unpleasant. Fitted with linoleum on the floor, a lot of which is visible from the floor neotterty scotch, and even where there are many holes in the linoleum. Inside almost everything is made of plastic. Capacity in conventional cars coupe became the 64 seats, against the usual 36-minute. I do not know exactly how many cars from the train ignored.
It looks like a coupe: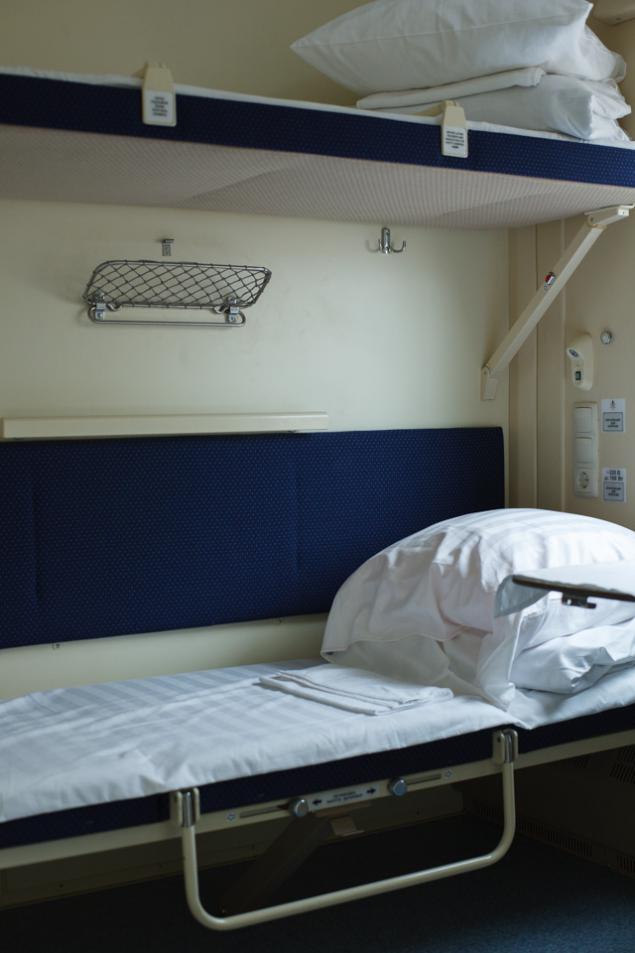 4. Some cars have showers and even ironing. In compartments there are no luggage racks. Shelves for passengers in my view is very narrow, but there are taped to the top of the dormant fall-arrest.
CB (in the NE instead of the usual 18 - 32 seats):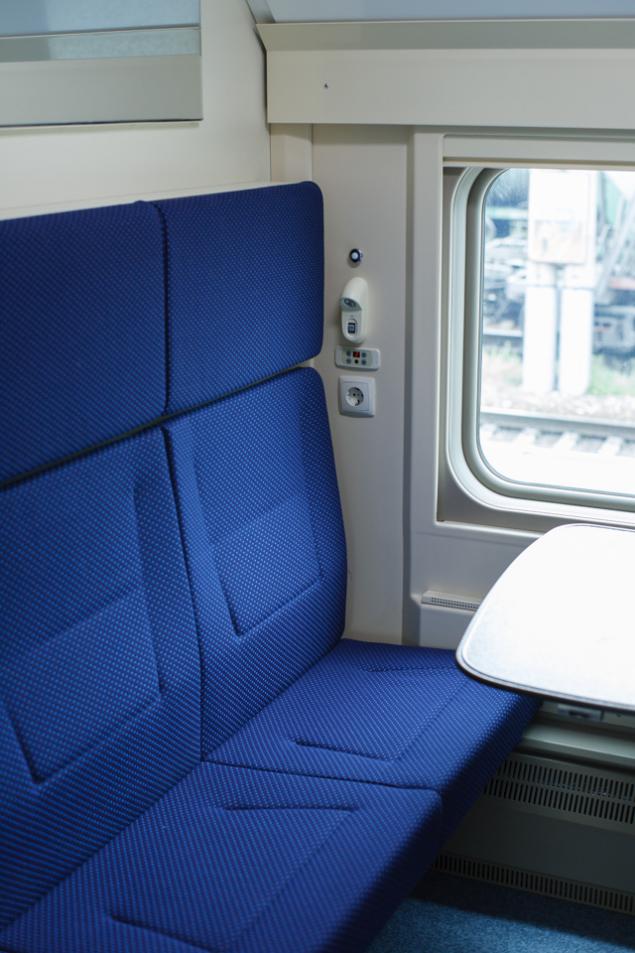 5. The car with space for disabled: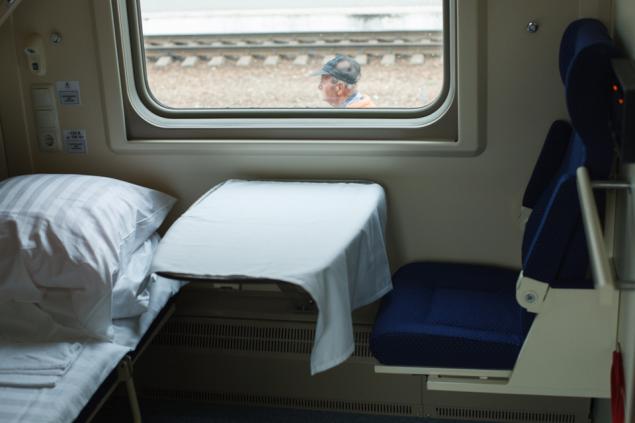 6. The lens has got very little. Locations there are many, you can dance the lower break. Coupe is equipped with various handy thing, including the call button conductors.
The train carriage is equipped with a lift, a coupe and a toilet for the disabled. So lift the inside looks like when it is not dropped on the platform: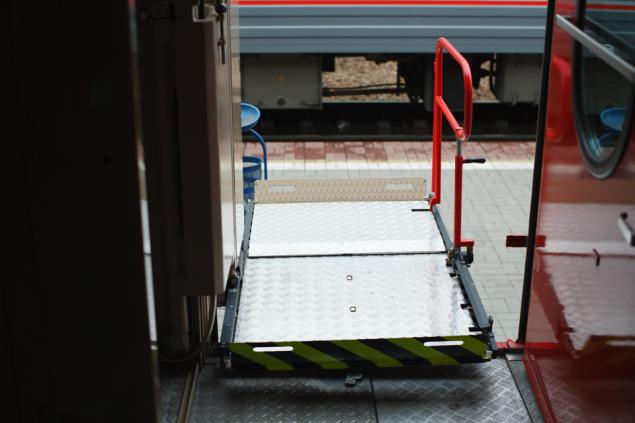 7. And it looks from the outside as a finished product for lifting a person in a wheelchair: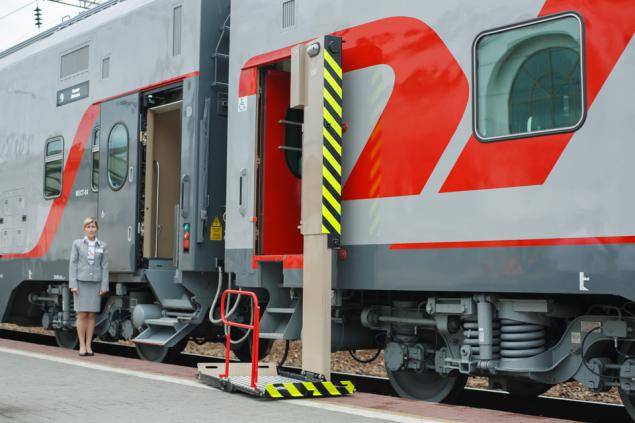 8. There are a lot of space for a person in a wheelchair, as well as bed and chair for escort in the same compartment. According to the head of the train, for such a large coupe for one person (and his accompanying) was sacrificed to 4 conventional coupe. In fact, this train routes only one disabled person. Ie a coupe only one on the entire train, as far as I understand. 1 disabled person instead of 16 people on a train. The idea is that in this scenario, is not it better to plan more wisely passenger seats, taking into account people with disabilities beginning in each compartment? Rhetorical question.
Dining car:
9. It was the second floor of the dining car, on the first floor of a rather large kitchen, with a bunch of refrigerators and little room for the cook with just such a display: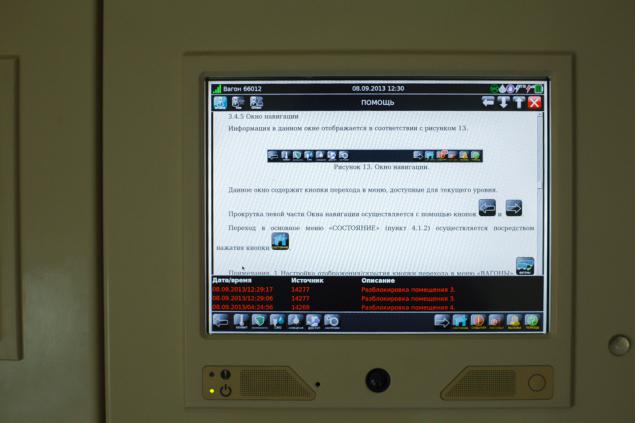 10.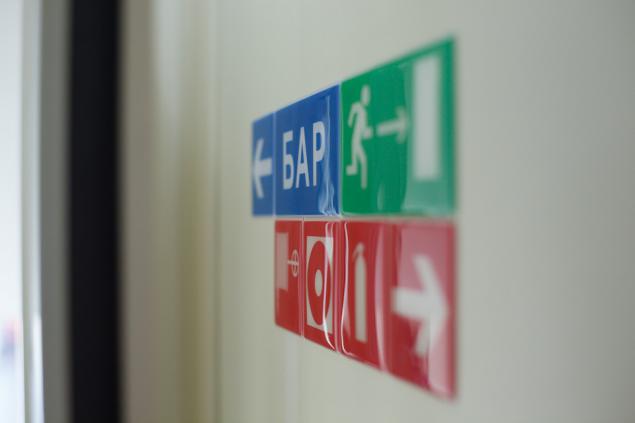 11. That part of it: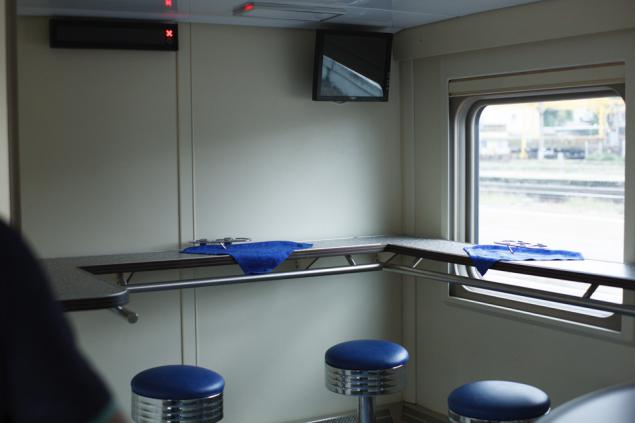 12. That is, is it all just climbed into my lens a little, like almost all the pictures on the premises. In contrast to this stands a real bar as the bar, the bartender at the bar and shelves with drinks.
It should be noted that the train was manufactured in Russia.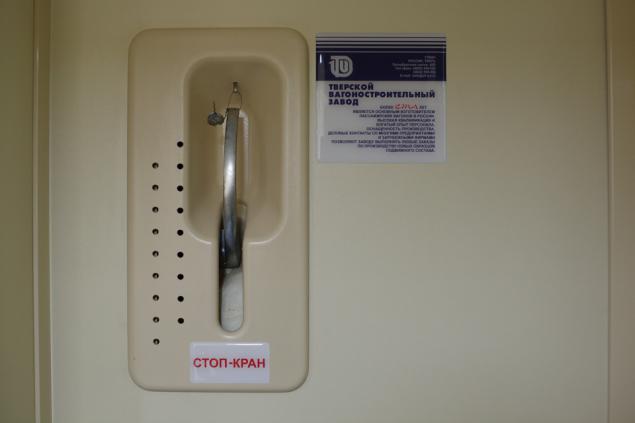 13. On the stairs there are panoramic, very comfortable mirror. There is nowhere to turn much, but it is clear in advance whether the path is free.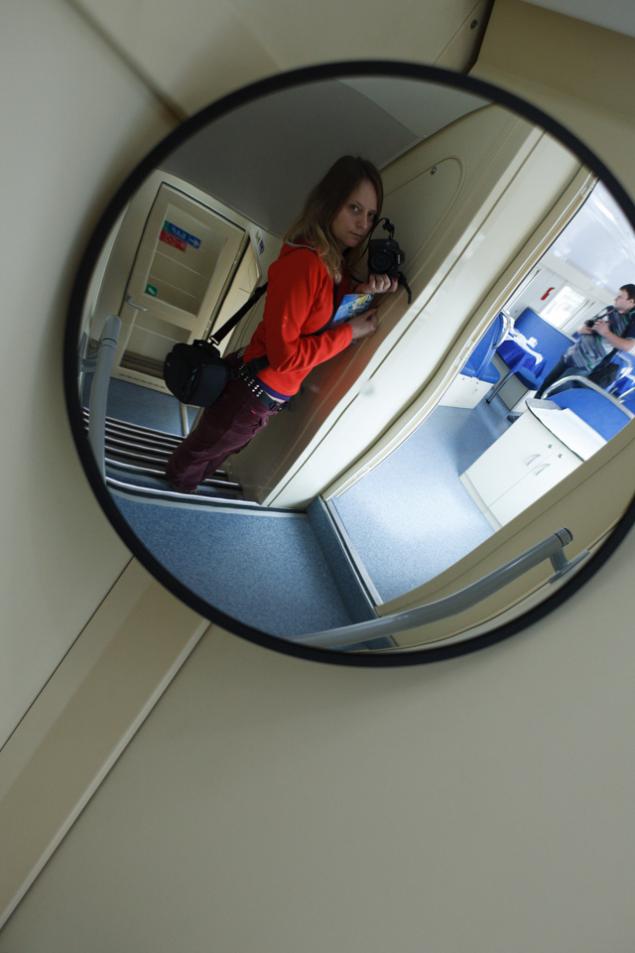 14. Each car they put boxes D-Link, which means that there is a Wi-Fi, and even electronic bulletin board, which is all the time that something was broadcasting. In one of the compartments CB I played with switches and buttons. At the time of the tour all the time working for some video and sound. The sound quality is quite good. More coupe all air-conditioned, in the NE two televizorchika well and a lot of other bells and whistles, such as video surveillance in hallways, containers for different waste (glass, plastic, etc.) And so much more. Each car 2-3 toilet. Similarly, it was not possible to find out, not all the doors were opened. By the way this is not a simple toilets and bio-toilets, which allows to use them, and during stops.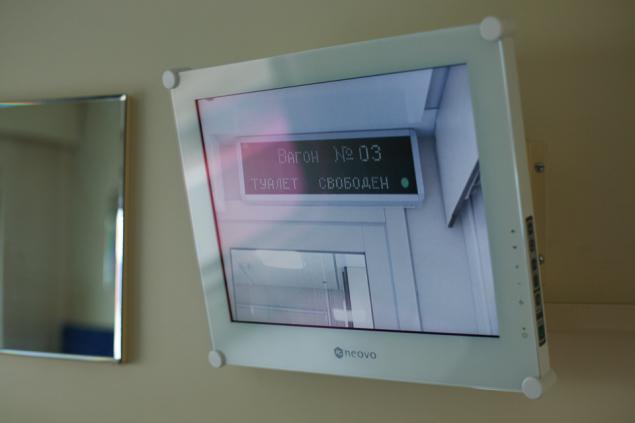 15. Entrance to the coupe on magnetic cards: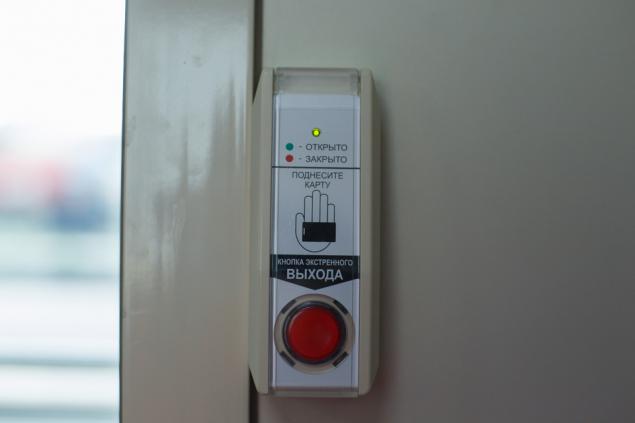 16. This picture was taken in the hallway of the second floor: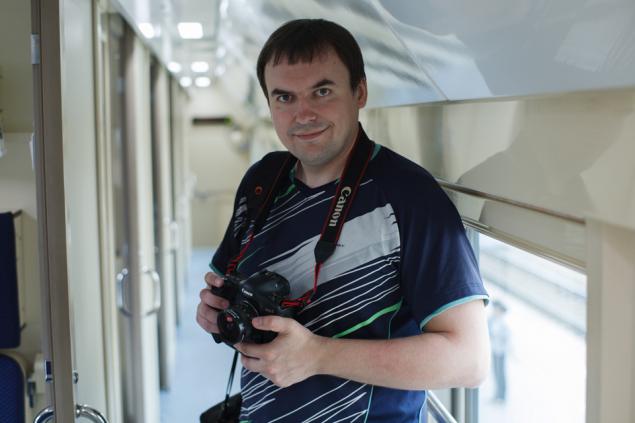 In general, many of which made for comfortable movement, but done as usual, as could be done. Ie not good in my opinion. Although from viewing this train people and then heard something like "may in fact, when they want," "then you can safely ride to the Far East».
With the interest of many workers of the train, I was asking whether it swings from side to side, as Train impressive height and its examination, even though the train was standing, I felt like he was unsteady at times. As one denied rocking.
About this train can be so much more to tell, but I will not bore you with huge reports.
By the way, the train arrived from Moscow and sent to Sochi. He will work from November to the end of the Olympics. The new double-decker cars will run in the train №104. Tickets to these cars should be cheaper than usual. Further its purpose unknown to any of his employees, even the head of the train.
I hope you were wondering!
Now dobavlyyu steam More photos Via rby-foto
can break ...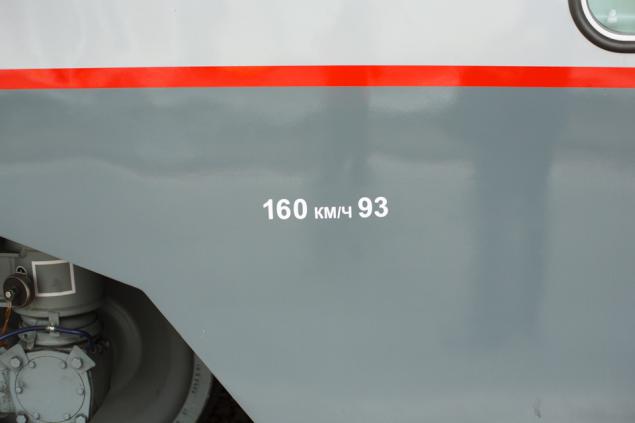 Source: