Yesterday, I talked with our compatriots who live and work in Saudi Arabia. What can I say. Fear has big eyes, and rumors about the severity of the Saudi customs are greatly exaggerated. I will try to dispel some myths. Generally, the more I am here and talk to local, the better the country. Judge for yourself. Scary penalties for any offense? Yes, but no one really remembers where they were applied. The police are generally very humane, does not slow down on the roads, and with foreigners in general prefers not to get involved - you never know who he would be and who would stand up for him. Yes, and they do not know English. The law is harsh for women? Yes, but many even try to drive without a license, arrange any shares and are demanding equal rights, one of them is not shooting. But the Saudis get bonus safest country in the world where it is very quiet, there is practically no street crime. You can not close the machine safely walk at night and not worry about the children. And most importantly, you can earn. Actually the money here and go all over the world.
50 photos and comments Varlamov
Yesterday I flew to the west, in Jeddah.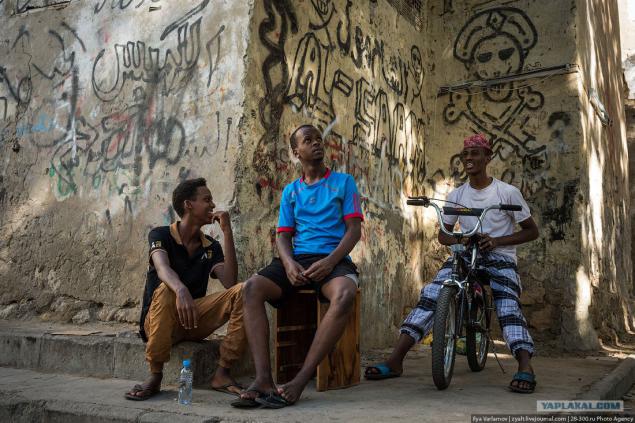 01. We say goodbye to Riyadh. Bye Bye!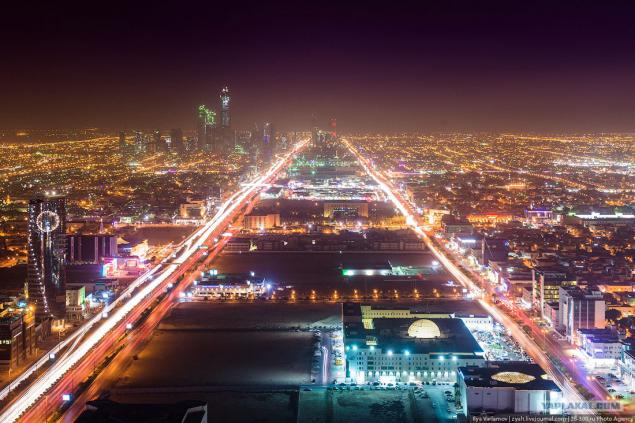 02. Fly to Jeddah! Jeddah is considered the economic capital of the country, a port city on the Red Sea. Jeddah is much more democratic than the capital, where many foreigners, so the women can go bareheaded, and the city even has a number of amusement parks.
03. From the heights of the city quite dull ...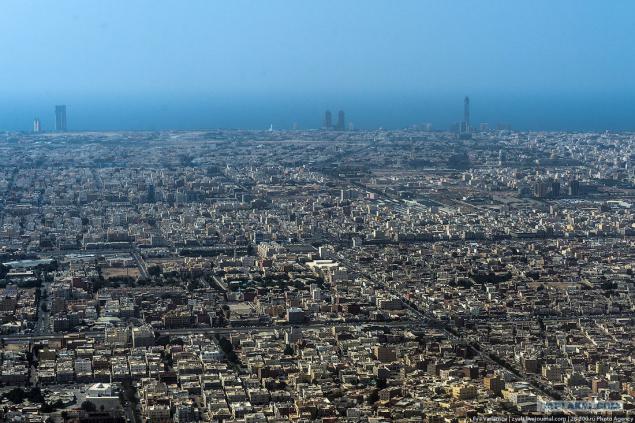 04. Smooth grid neighborhoods, parking, cars, traffic jams ...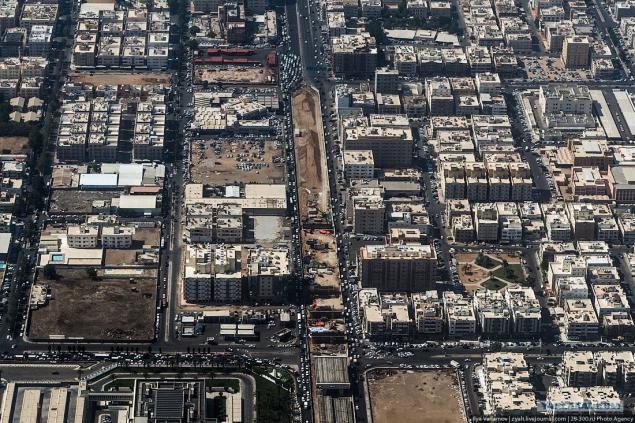 05. In the courts of ordinary houses there is no improvement at all. Scorched earth. And this despite the fact that there's a lot of money.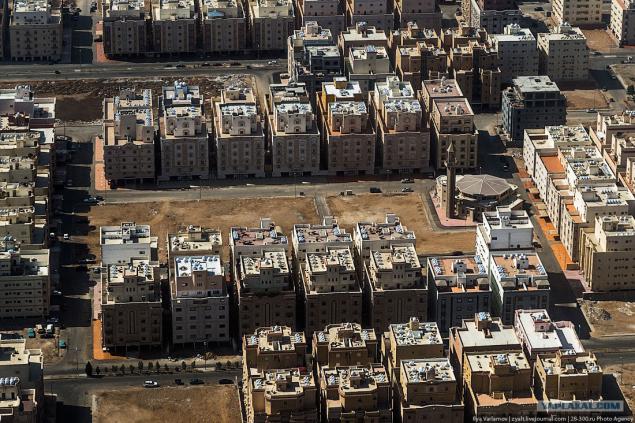 06. Build a new interchange at the airport.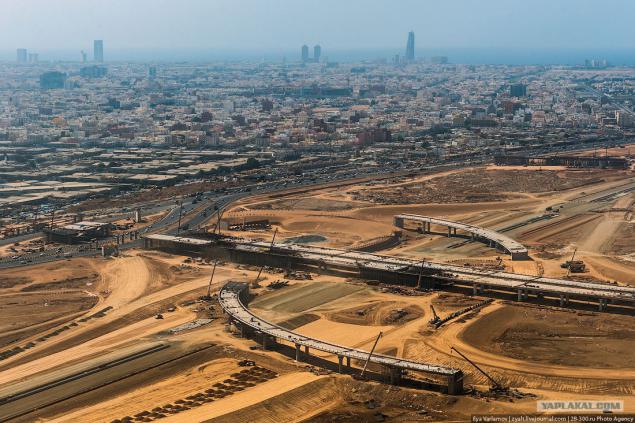 07. Beauty. Build quickly. This is not what we, the Moscow-Piterburg picking their 10 years. Then for 10 years, the entire city will build.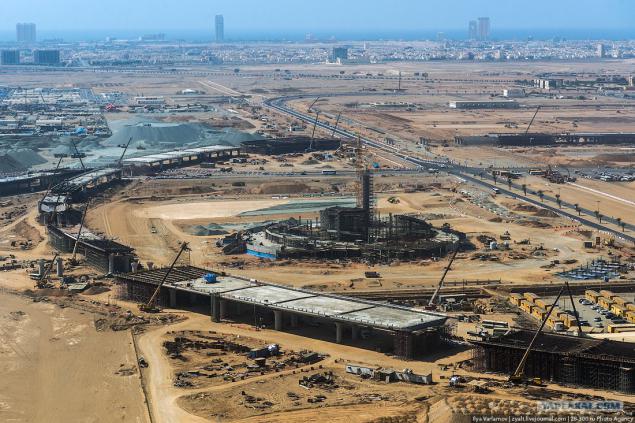 08. Jeddah receives each year a bunch of pilgrims traveling to the Hajj in Mecca and Medina. Now it is actively expanding.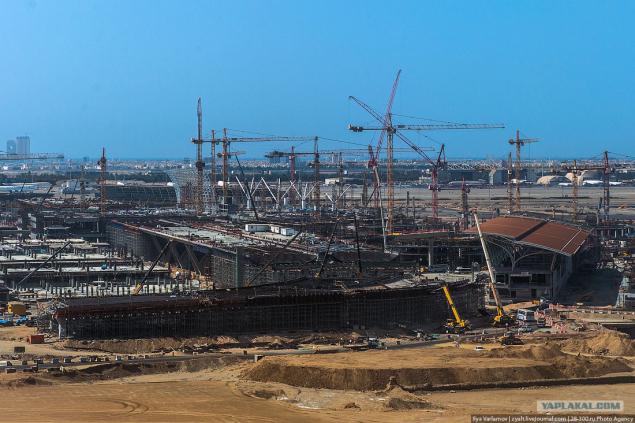 09. Let's fish market ...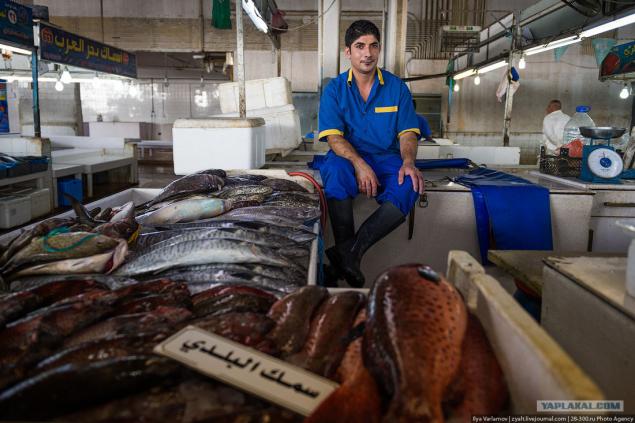 10. Oh, in Moscow to such beauty!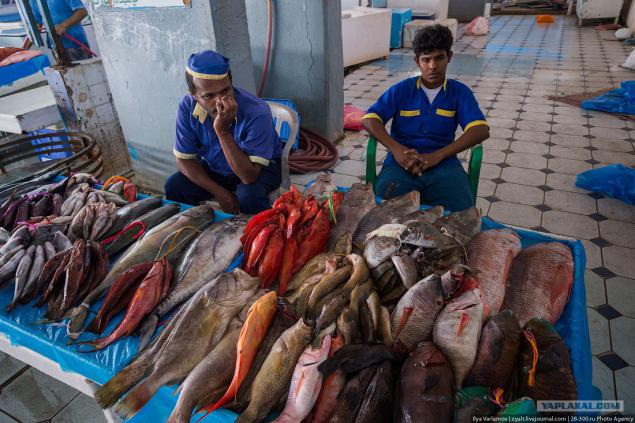 11. Yum yum! I miss your grill.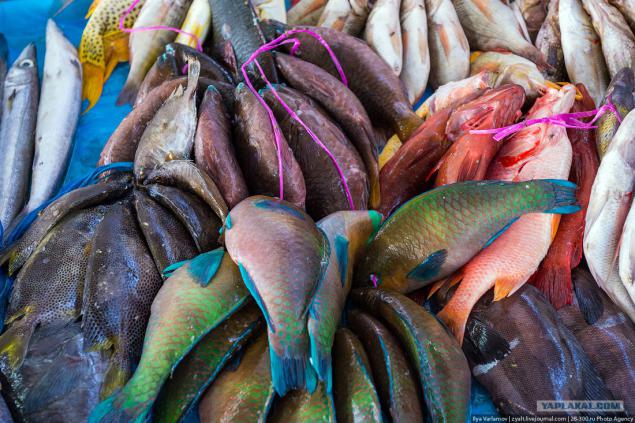 12. There is a separate area where you purchased the fish clean.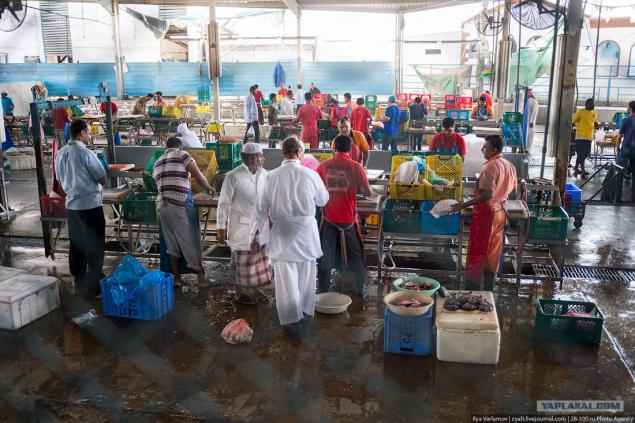 13. Jeddah has a very cool old town.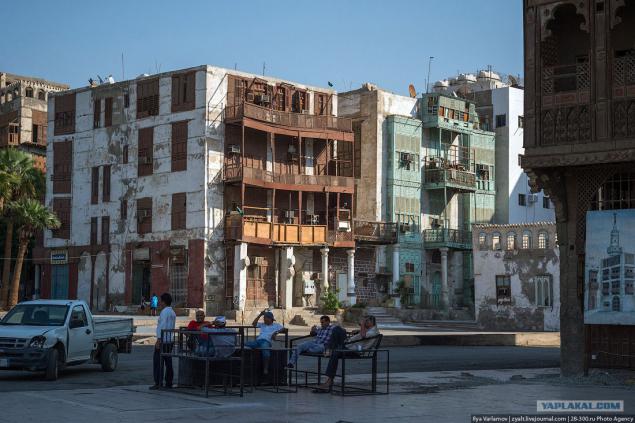 14. At the Arabs do not care about the old days, so he slowly falls apart, and could become a very good tourist attraction.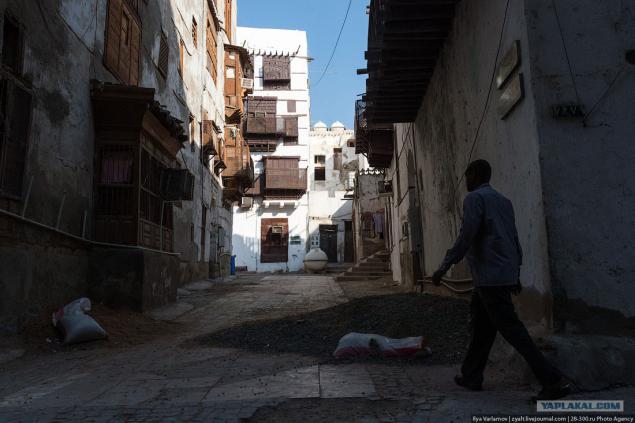 15. Let's take a walk through the old town, and I'll tell you something interesting. Surely everyone is interested in whether everything is so strict with alcohol? Of course, in any restaurant or shop do not sell alcohol, but if you really want, you can always get it. Each drinkers have a friend that has a desired phone. By the way, the restaurant has a drink, "the Saudi shapmanskoe" - is an apple or grape juice with carbonated water.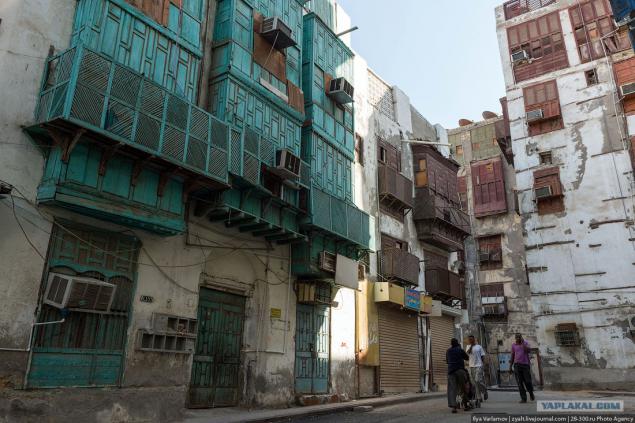 16. Alcohol bvaet two types - self-made and brand. With self-made all clear, all driven home to your taste. The French working here make vino, someone drives and stronger anything. With the brand name booze, too, there are no problems, only the prices times 5 higher than in Moscow shops. Once alcohol is in foreign embassies. On the occasion of the European and US embassies often hold receptions where alcohol is served without any problems. Alcohol can be purchased on reserves (compounds), where ex-pats live. Usually it is enclosed by a high fence of the camp, where a barbed wire going fornication and debauchery. Here a report about one of those camps. Women can walk there in miniskirts, religious rules do not apply. In places with no fuss police. Of course, the path to the local closed. But expats are free to consume alcohol.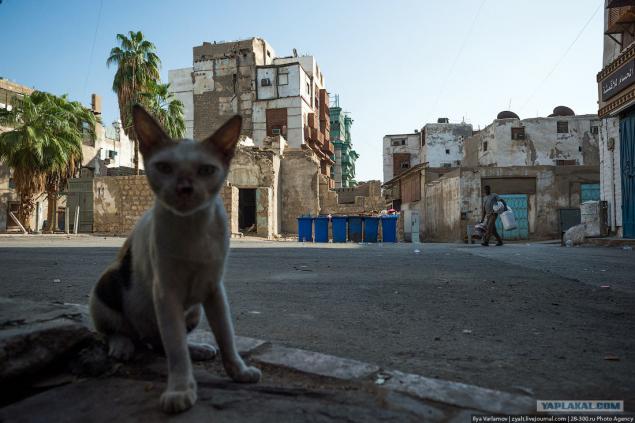 17. You are probably wondering where alcohol is taken in such a closed country like Saudi Arabia? Such things are not openly discussed, but senior citizens with personal aviation and correct name, easy to import a bunch of booze, which then disperses the black market.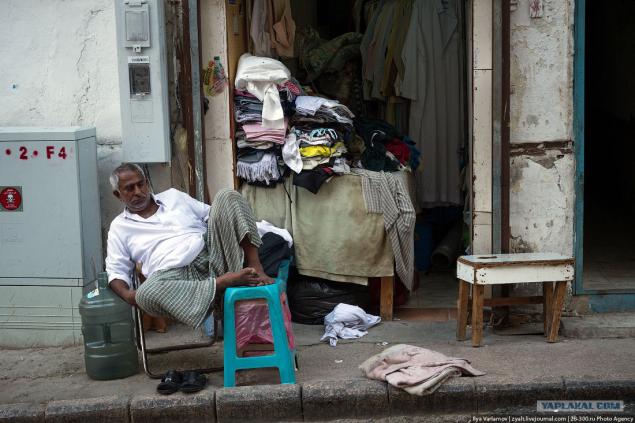 18. Who drinks alcohol once everything is such believers? Yes, those who believed and drink. Saudi Arabia and Bahrain joins the big bridge, there is the border between the two states. The people of this bridge called "Bridge of happiness" Every Thursday (Friday then off) thousands of Saudis line up, as quickly as possible to get to Bahrain, where you can freely plump and have fun with women. Someone flies to Dubai rip who are richer flying to Europe. Nothing man is alien to them.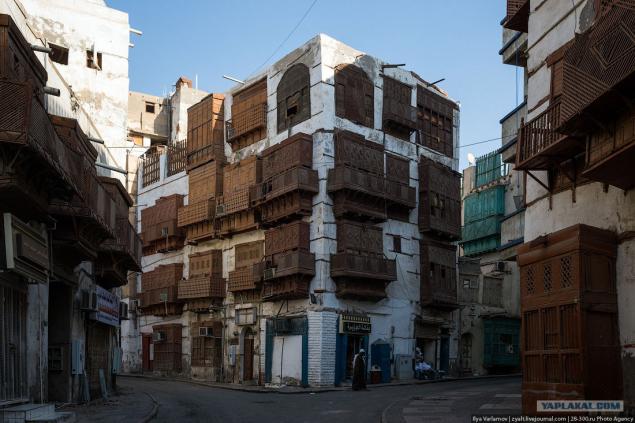 19. The old town is beautiful!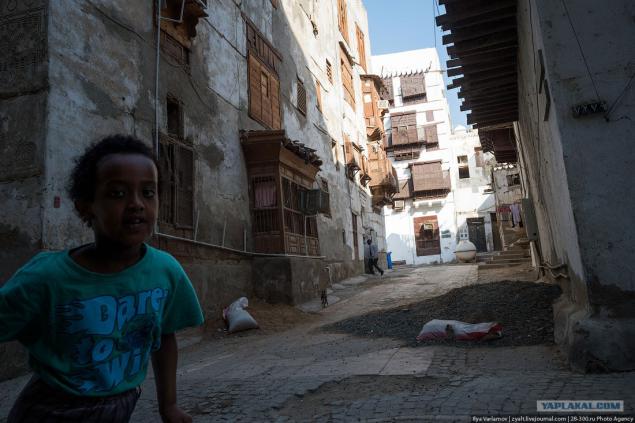 20. Pay attention to the tube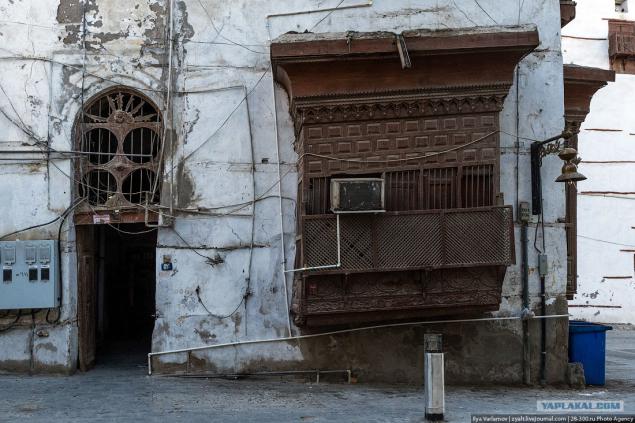 21. Condensate from external units of air conditioners required to output to the sewage system. All this takes place right on the facades.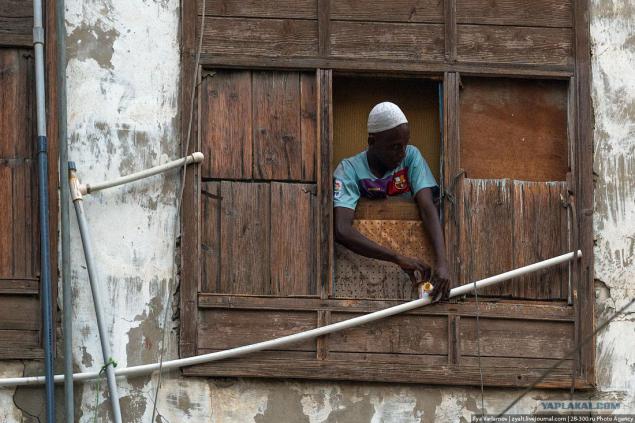 22. The most surprising, despite the severity of the laws, there are in Saudi Arabia and prostitution. Of course, all very informal and difficult, but it can be fun, even with local women. Although local longer prey on the rich Arabs and foreigners are wary. But among the foreigners working here fornication thriving. Many women from eastern Europe working here in medetsine. They are also not averse to earn some money, if you can;)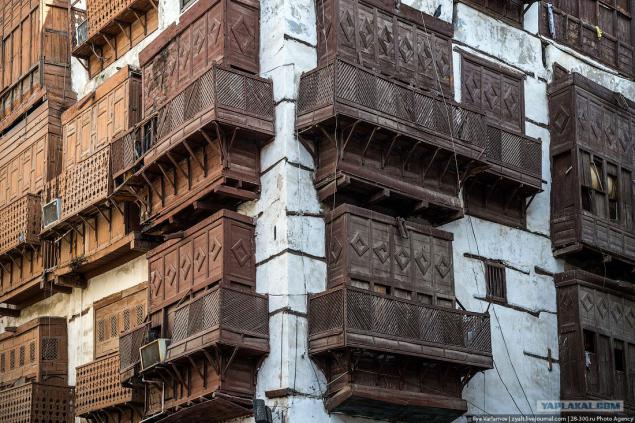 23.U finniken have a funny story about a date in Saudi:
"With the girls, too," just. " Once they stopped at some crossroads, waiting for the green light and asks druzhban Arabic - Arabic girl want? Include your phone bluetooth and looking phone with a female name. Something sends back and says:
 - Pinpoint, exactly call back in 30 minutes.
Exactly 30 minutes later the call-cho the fray and go to some abandoned factory. Machines are opposite each other, the windows are opened to the car 4 girls who shoot niqab and show their faces. Laughing, she says poke a finger at us. Negotiations are leaving. Again, call and ask again show "this belobrysenkogo." Right on track. We're going 140 kilometers an hour, two cars parallel, we open a window and show me the window. Right on the speed, my hair develops, the muzzle of the wind perekorezhivshey.
I called again, okay, you have a drink and ice and come in so many over there somewhere. Grab a drink and ice and go to some prestigious district. The car left for a couple of blocks from the right house and in the heat, furtively, backyard come to this villa. Why sneak? but because if they catch you, Arabia prison and 20 sticks, and me a fine and deportation from the country. The villa lives of some Arab divorced, which was previously married to a prince, and he left her after the divorce the villa. We go there, and there are girls out of the car, in short skirts, tight shirts in. We wandered from room to room. A girl once explained the "rule of three meetings": on the first date you can only touch on the second kiss on the third everything your heart desires!
In general, even before the second date they is not reached. Just do not come. View, views. Look for rich Saudi. »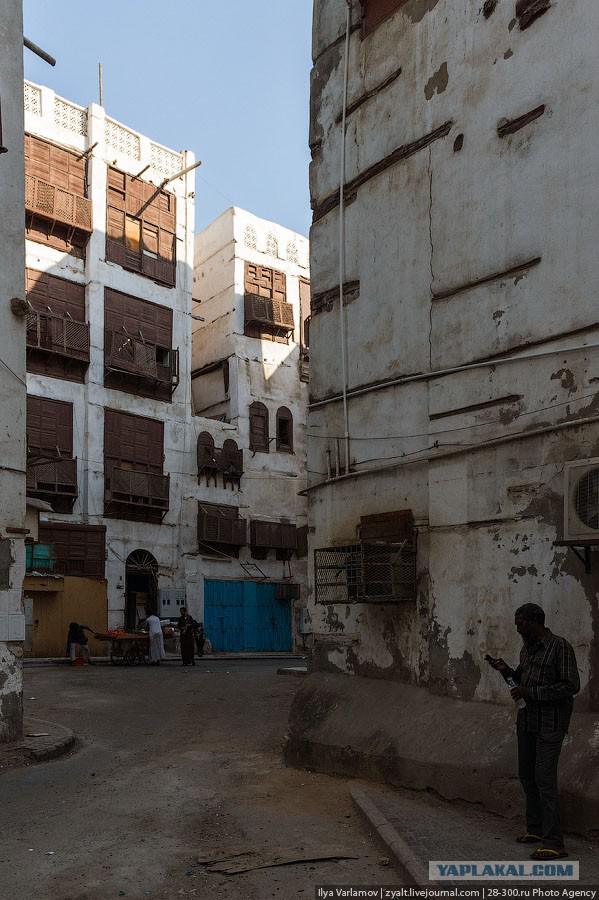 24.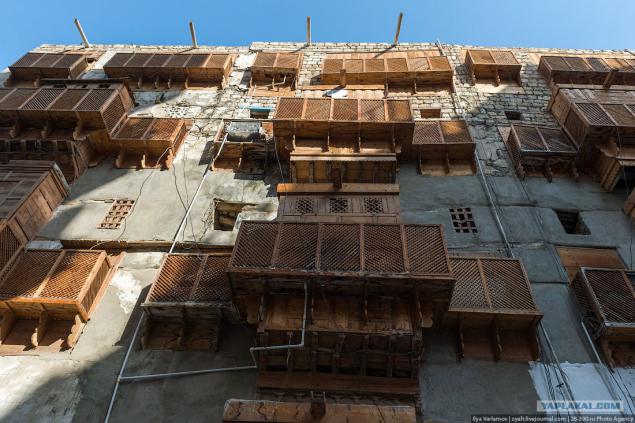 25.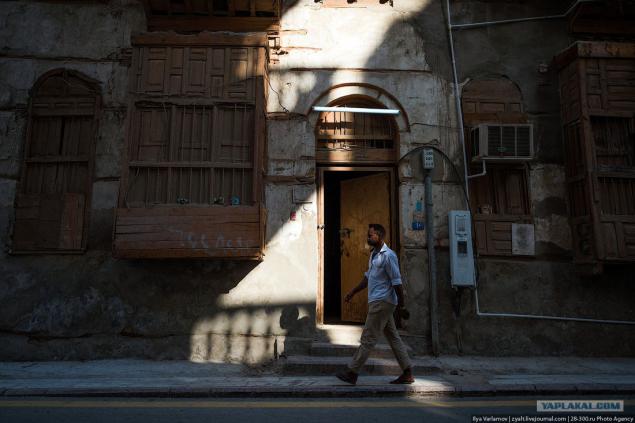 26.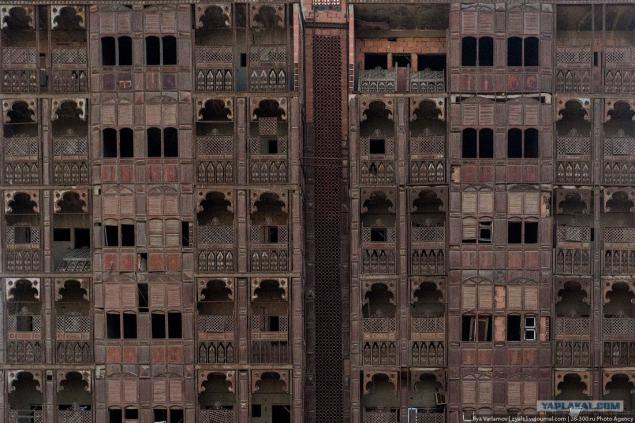 27.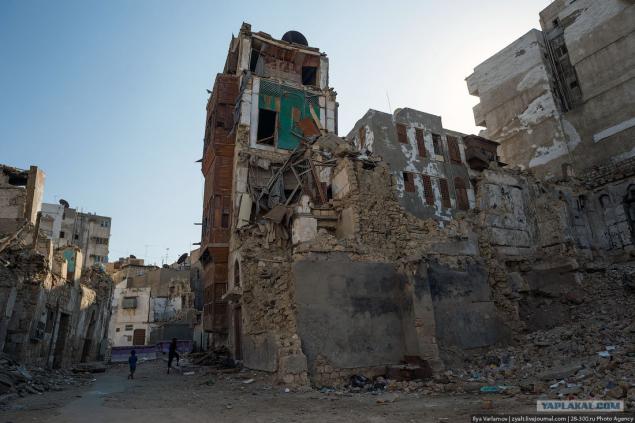 28. Oh, what cars! Dogs in the city. Dog of the Arabs is the second after the pigs unclean animals. Many superstitious Arabs Shugan dogs as a black cat.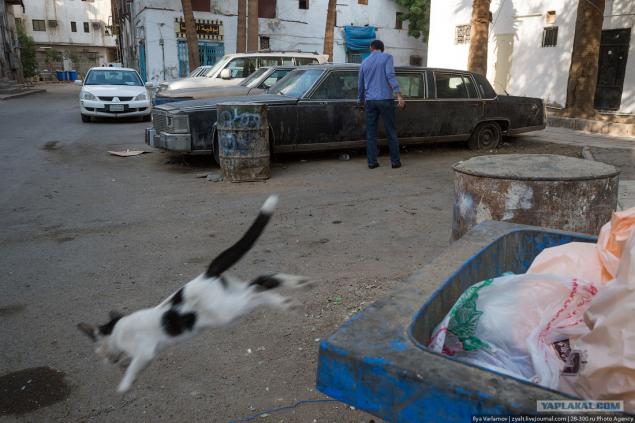 29. In the old town live mostly immigrants from Africa.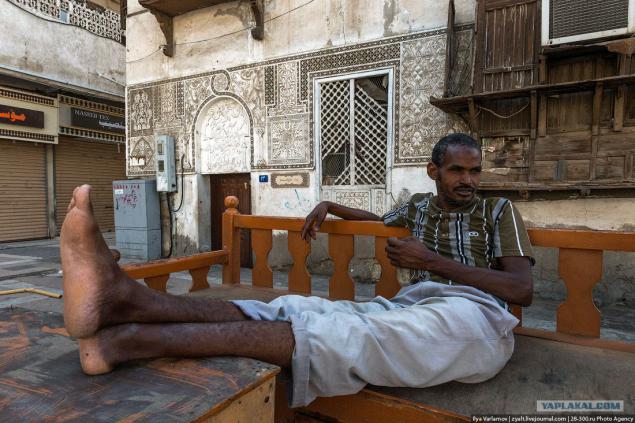 30. But as the princes live. Princes belong to the royal family, a lot of them, hundreds of families of royal blood. Members of the royal family, depending on the level of relationship with the king, held important government posts. Now there is a problem that the post is not enough at all, and the king has to come up with new positions for numerous rodstvennichkov. In Saudi Arabia, a very developed clan. All the inhabitants of the kingdom knows what family he can. The argument is often enough to call the name, to scare the opponent. Actually, this is the home of one of the princes. Here lives the whole big family.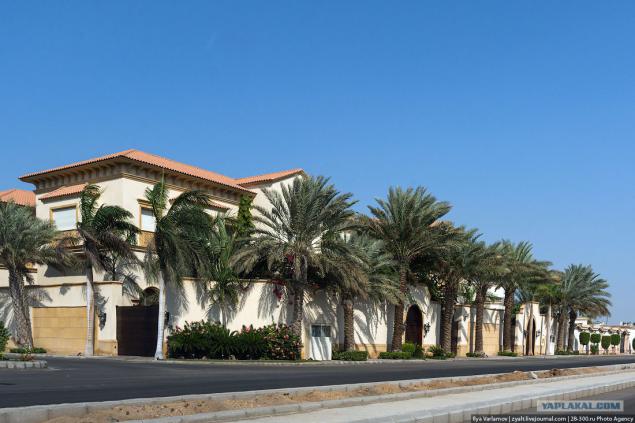 31. Some princes build their fences more. They say that if there is a Saudi passport and brains, you can be a millionaire. All Dolo that Saudi Arabia can not run a business without the locals. Let's say you want to open a store and sell in Jeddah Russian gingerbread. You need to find a local partner, and it will hold 51% stake in the new company. It works, of course, will not you just each month will bring a certain amount of their partner. Most binesa organized in Saudi expats.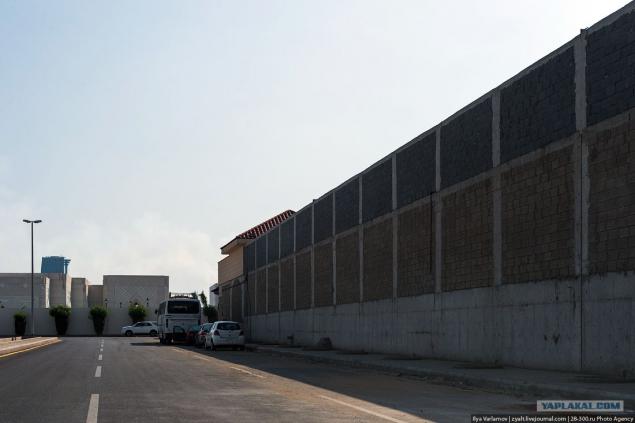 32. see the dome of the bushes? It is a small copy of the Capitol, House one of the princes. Once near the site of the Prince built tallest hotel. Prince did not like that hotel guests could see how the garden walk of his wife and he built himself a roof over the entire site.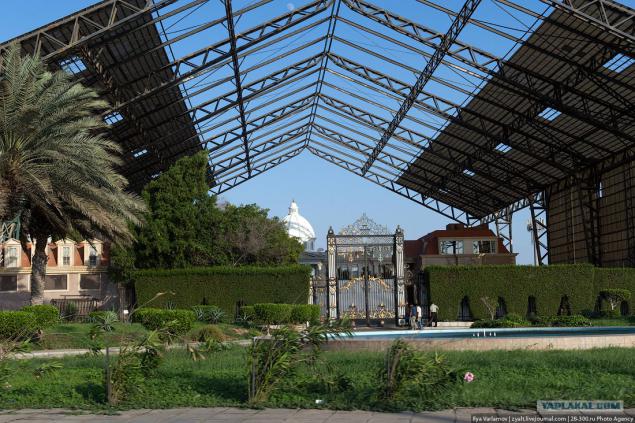 33. On freedom of pictures in Saudi Arabia is very bad. It is strictly forbidden to photograph government agencies. If you notice, it provided a couple of days in a Saudi prison and deportation. In general a great camera all strains. It is clear that in any case can not shoot women. Can beat. Very popular sign: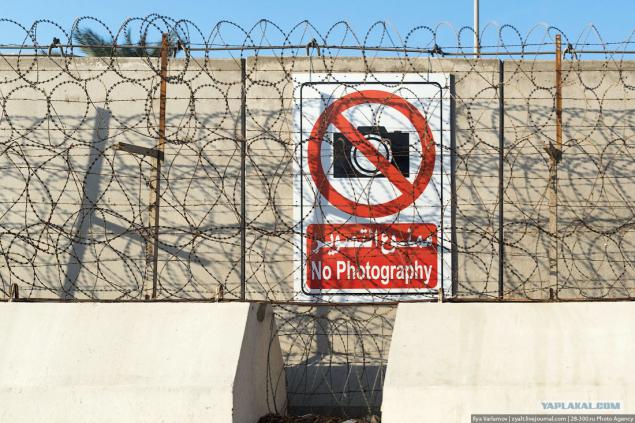 34. Jeddah elevated pedestrian crossings are used as advertising media.
35. Old City mosque before there beheaded. Who, by the way, on humanitarian grounds, public executions and corporal punishment is not carried out.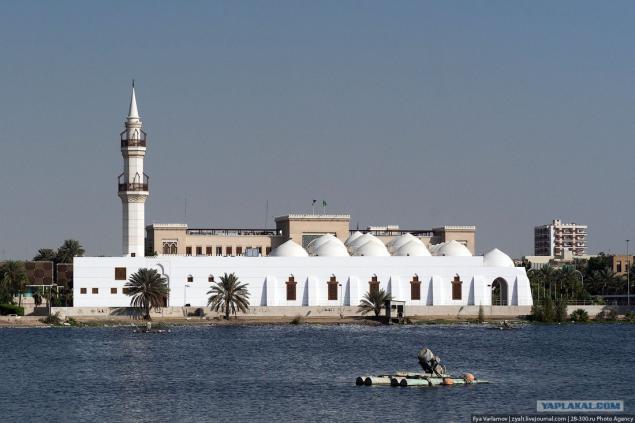 36. Jeddah - a resort town. There is a great promenade to the beach and many hotels. It's a pity, tourists can not come here;)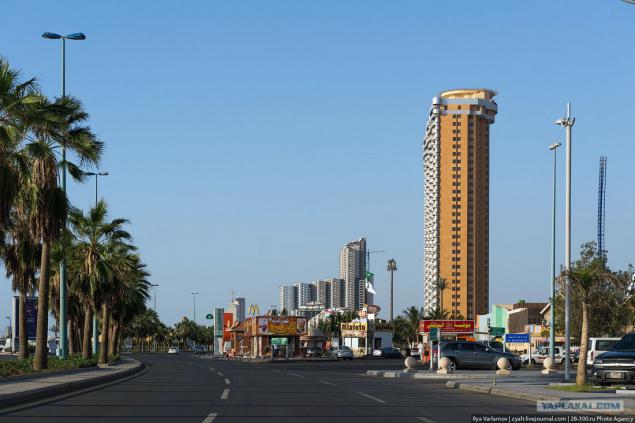 37. Of course, as in any araabskom city, Jeddah is all very sad architecture.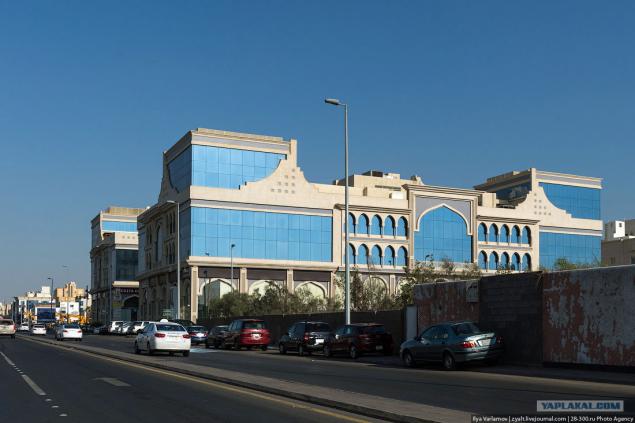 38. Out of interest, it is planning to build Burj Al Mamlyaku, the royal tower. The skyscraper height of over 1000 meters, which will be the tallest building in the world. The architect of the building is the architectural firm Adrian Smith, the money gives the Saudi prince Al-Walid bin Talal, one of the richest men in the Middle East and the nephew of the king. Why build a skyscraper? In Dubai, the Burj Dubai has a height of 800 Mestre Saudis is very annoying. They consider themselves richer, then the tallest building they should be!
Build not yet begun and it is unclear when they start. In 2012 we had to start doing the foundation, but it was limited to the installation of signs on the construction site and driving in several piles. In general terms here especially for no traces of life flows slowly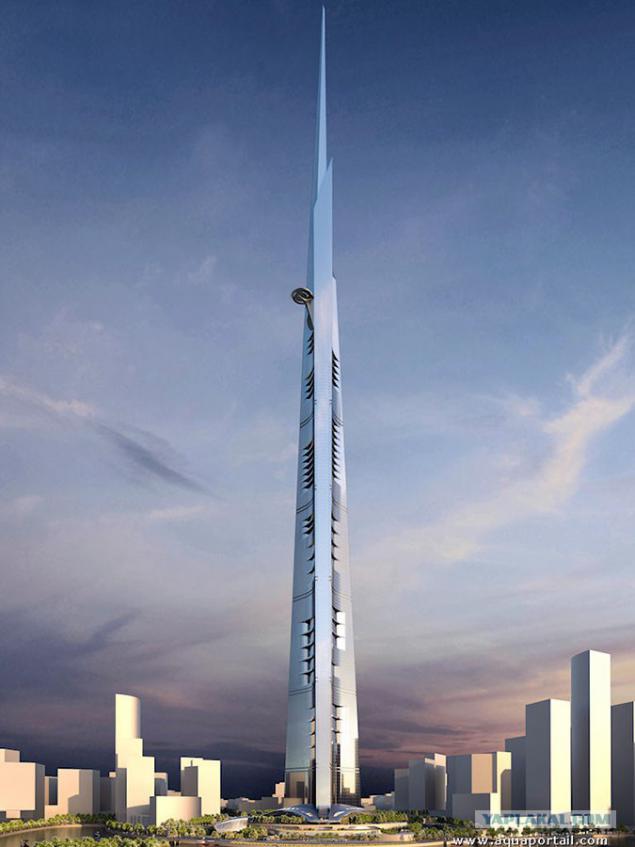 39.Tak in Jeddah all go on the machines, banks have special auto-ATM, which can be enjoyed from the comfort of your clunker, just like in the States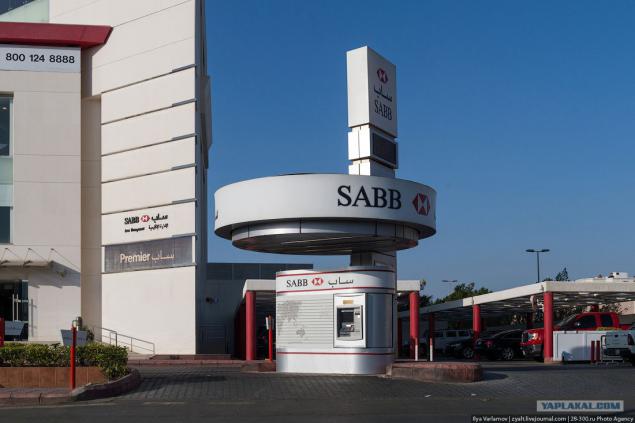 40.Esche a lot of small cars coffee kiosks. They did at every step.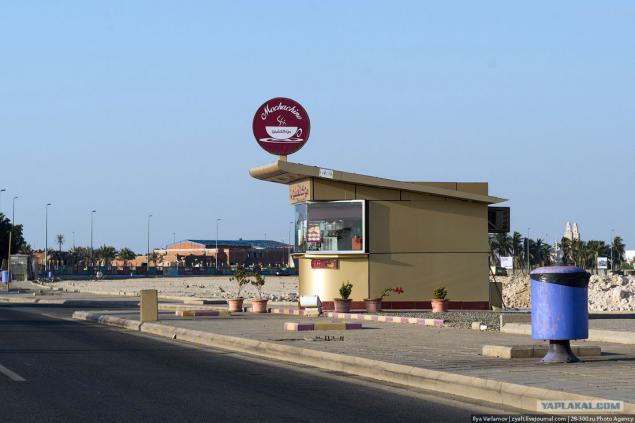 41.Vecherami Saudis rest. In principle, they rest in the morning, and especially in the afternoon. Work locals do not like and do not see much sense. Because of the heat, time shifted and people here prefer to nightlife.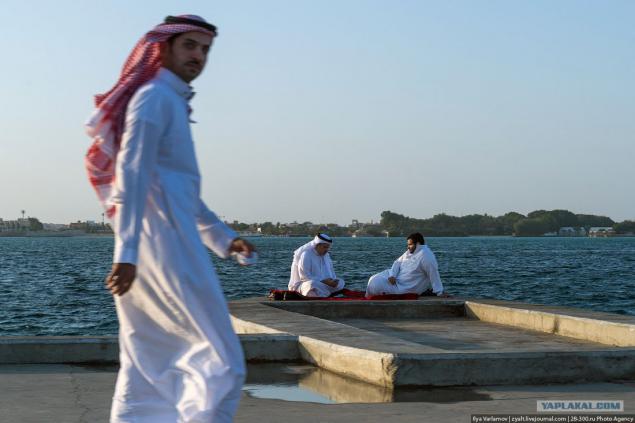 .42. From 12 to 17 usually all asleep, the shops are closed, the streets are empty. Closer to sunset all wake up and go for a walk. Shops, museums and restaurants are open until 2 o'clock in the morning. It is a normal phenomenon when at midnight on the playground full of children.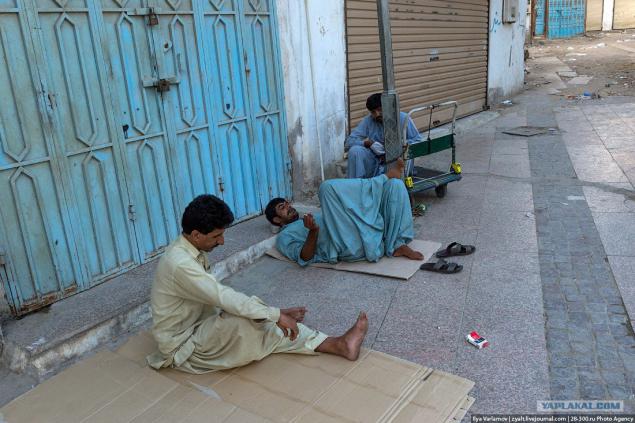 43.Tsentr city.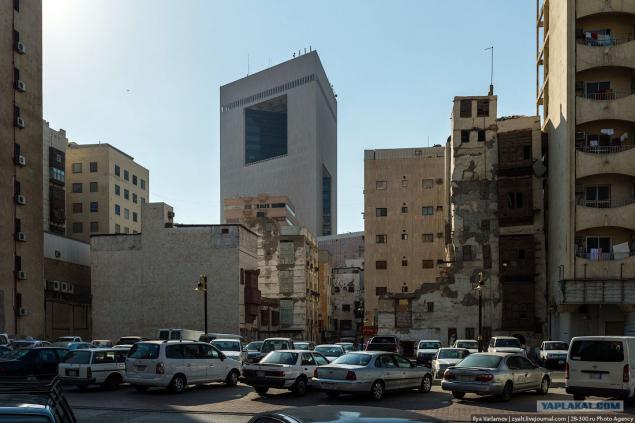 44.Krasivy walkway with columns and plitochki. In Moscow, this would be!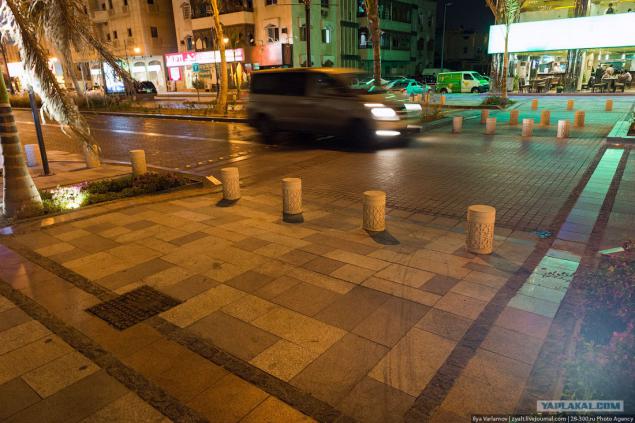 45.Nedavno in Jeddah have started to separately collect waste. These are boxes with podsvetochka set.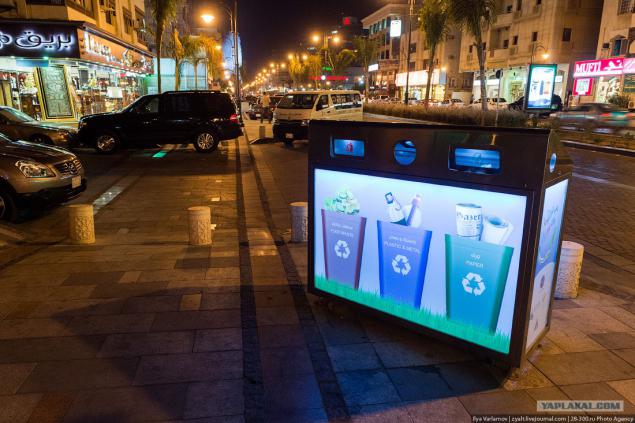 46.Mnogie building does not have a connection to central sewer. so every night the city was evacuated and vacuum trucks go impurity.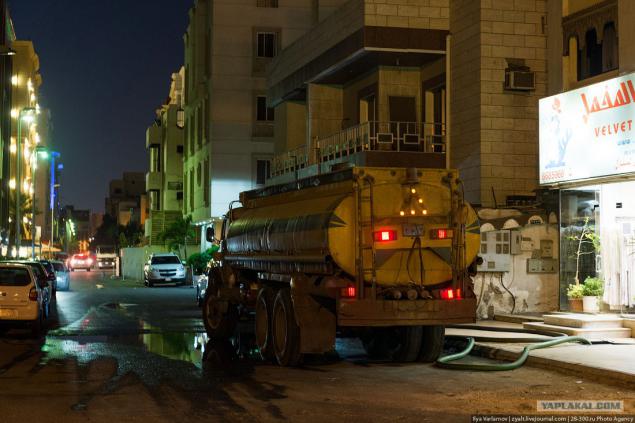 47.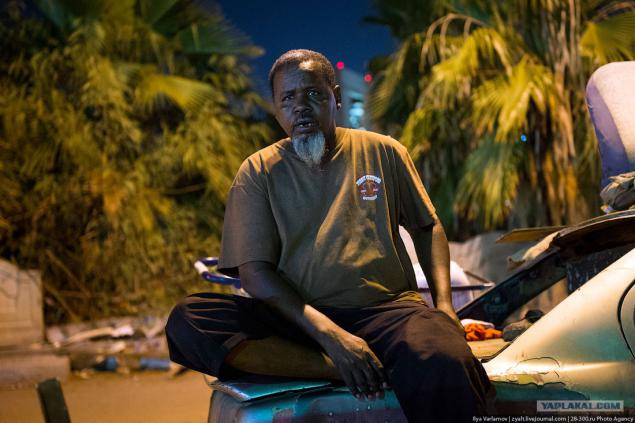 48. 10 pm, all clearing clogged with vacationers. Hobby - picnic.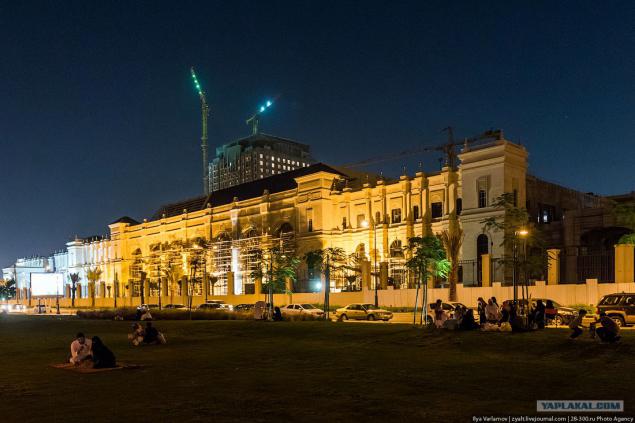 49. One of the main attractions of Jeddah - a huge fountain of King Fahd. The highest fountain in the world, by the way. Its height is 312 meters meters, and the sky is always 18 tons of water.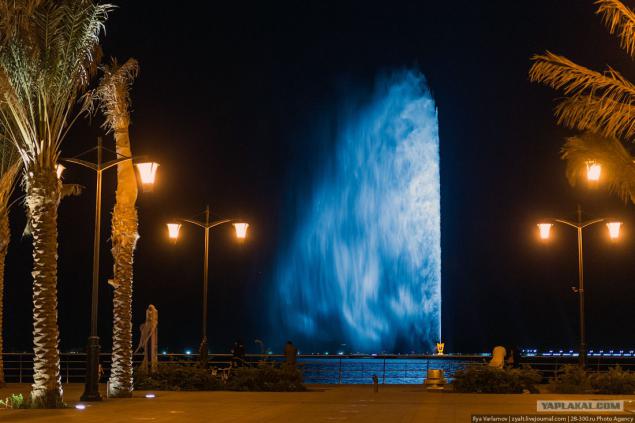 50. Many are not removed from the machine technical package. This is especially true of the cabin. It is quite normal that the car two years, and everything inside the factory plenochku. They have already muddy, torn, can not see anything, but nobody touches. Quite normal. when chelvoeka buys Bentley and zapayavyet salon in plastic bags to prevent soiling.
That's all. Thanks to all.
P.S. I can not understand why a minus Arguments. In Saudi Arabia, for a photo can actually get hold of crap on your ass and strong. While everyone has their own opinion and judgment.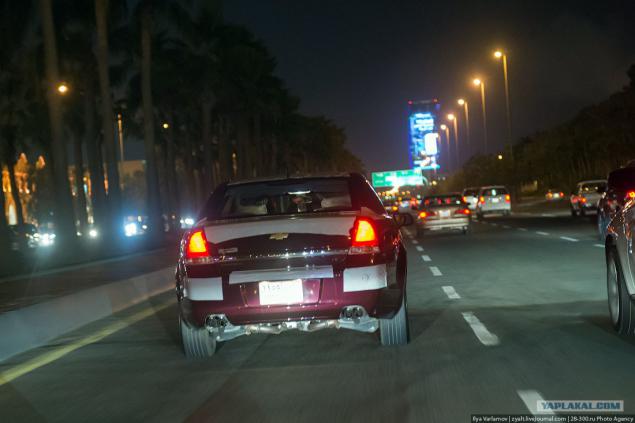 Source: