It happened on September 21 last year occurred in our wedding  about it and I want to talk a little bit and show))
30 photos will be.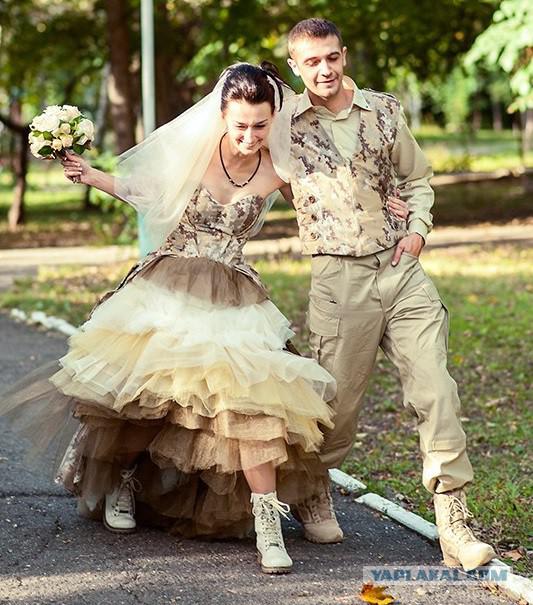 Let me start by saying that my husband and I, we've been together for the fourth year, though familiar since 2006. The history of dating and relationships is also quite interesting and rich, but it omitted, the post is not about that. In general, a few words about us: two moron - is power))) This is to ensure that well, we can not so that it is "like all other people"))) Including the wedding.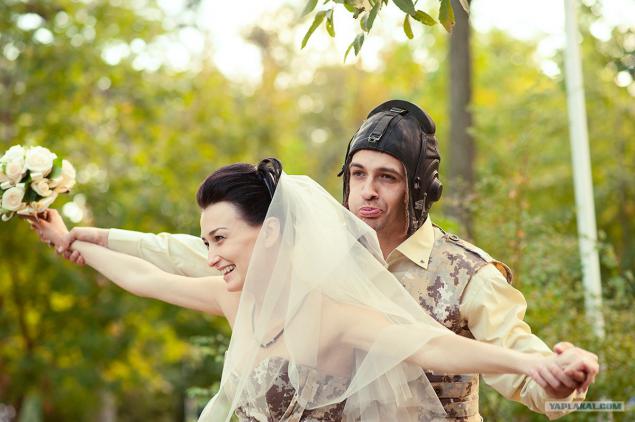 From the first days of training, we decided that the wedding will not like at all. I mean is not the traditional white or very lush dresses, beautiful wedding car, the more of a limousine. Once thought do Moto wedding because my husband a little rider. But the bike, unfortunately, is no longer so started to think about alternatives. We have both a fad - we love camouflage coloring. Clothing such love, vehicles husband is also in camouflage paint. So we decided - to be our wedding camouflage!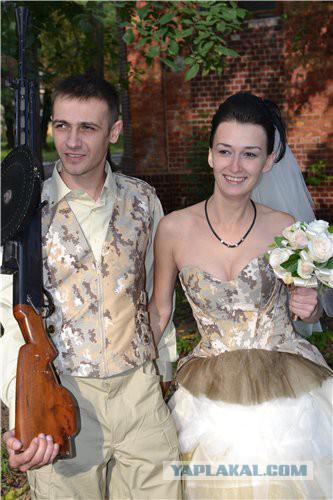 Decided that the wedding will be not so much thematic, but stylized. Ie camouflage - army style does not mean it's just the color of the wedding. Looking ahead to say that pretty much tried to do with their hands, the budget is not made of rubber, custom color wedding, so designers and other "wedding helpers" would want good money.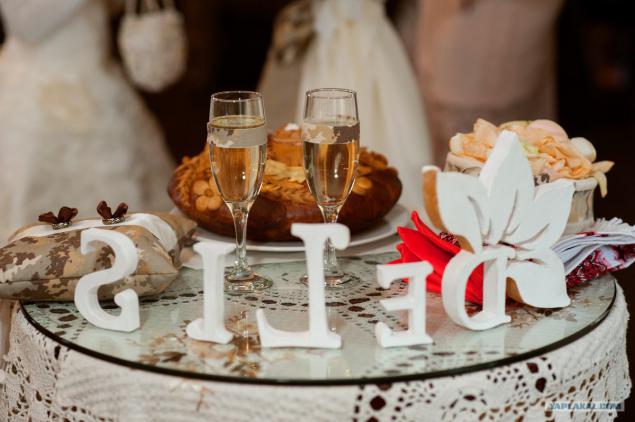 Preparations began. It was necessary to consider all the details. We started with the dresses. It was decided to sew a dress custom, the groom's suit to collect from the fact that they sell in the army stores + some accents made from the same fabric as the dress. Scoured the internet in search of style, color and generally costumes that would be sunk into the soul. With some difficulty, but found a picture. Showed seamstress, she was told to do.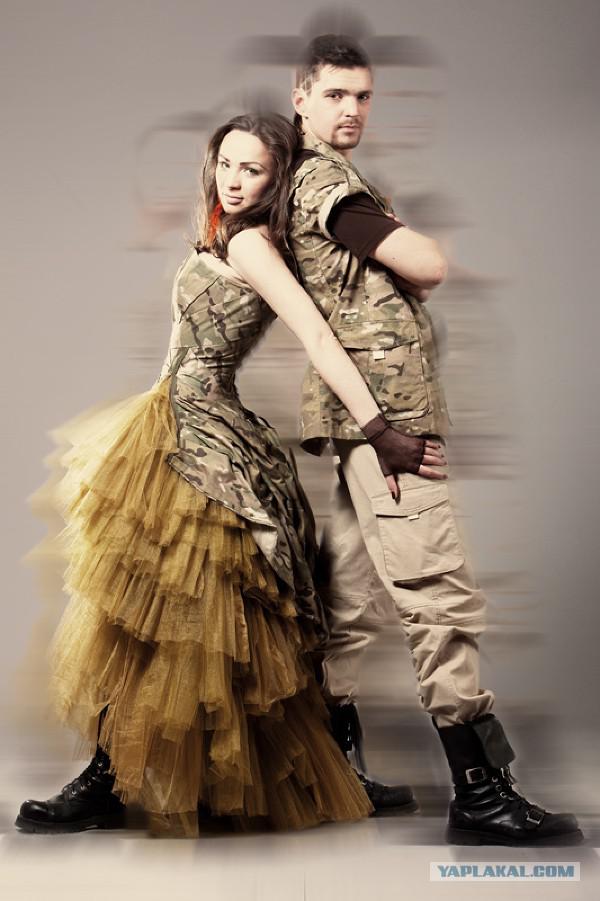 Selected fabrics, gave seamstress, start the process, as they say.
While sewed a dress suit for my husband chose. Were purchased Brook, shoes, belt, shirt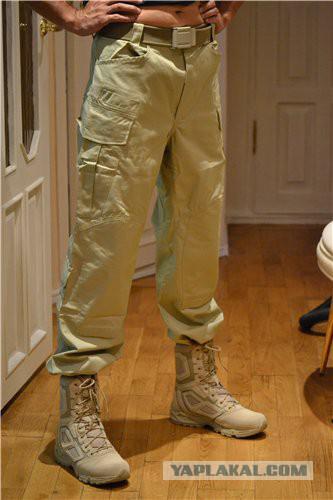 Vest husband requested that I sewed myself)) I have to say, a sewing machine and I'm not afraid to sew a little know how. But not clothes)) covers a sewing machine, jeans shortened-stitched, sewed bag-sack))) In general, anything, but not clothes) But my husband said that he believes in me and I will do it)) measured the bust, find patterns, consulted a couple of times at knowing people ...) So did)) For the first time it came out very even nothing)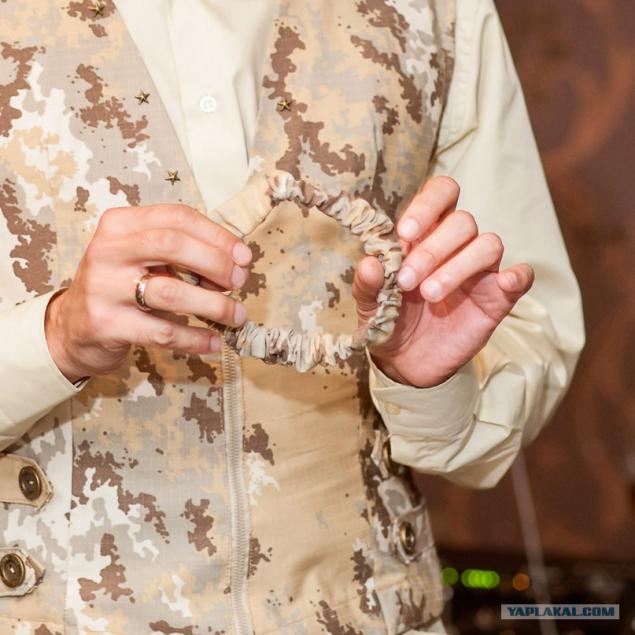 First fitting dress)
Dress in the end, to be honest, it did not work quite the same as I would like, still some tulle was superfluous. But everybody liked. Oh well))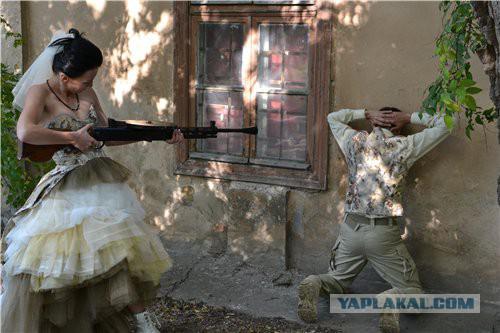 The rest trifle decided to do the same under the fabric color, or even from the same fabric as the costumes. Candles, decoration glasses, basket of petals, candy boxes, invitations and other printing - it was all in one style.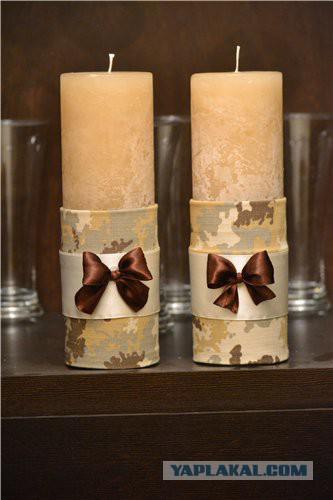 Garter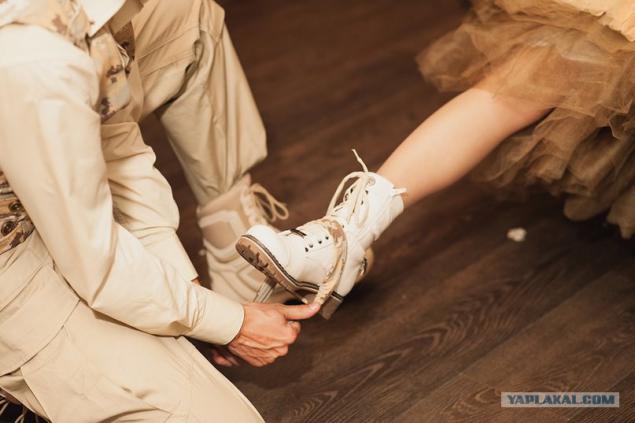 Glasses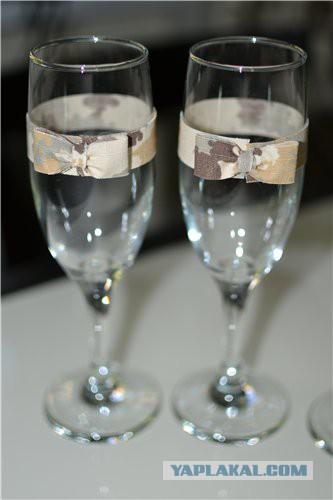 Glasses whipping (difference - no bow)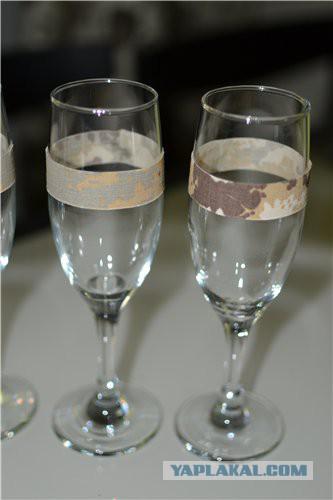 Painted in the registry office on a weekday for a few days before the celebration. Without further ado. They came, got married, had gone. Therefore, the event made a sham exit painting. It was sincere and touching, a little humor. In general, master of ceremonies tried. For a list drawn up table, basket of petals, glasses whipping. I wanted to draw all very succinctly, without strazikov-Boucicaut. Just to underline coloring wedding.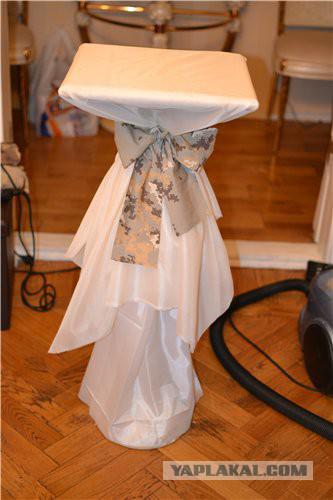 Box for the first budget of a young family :)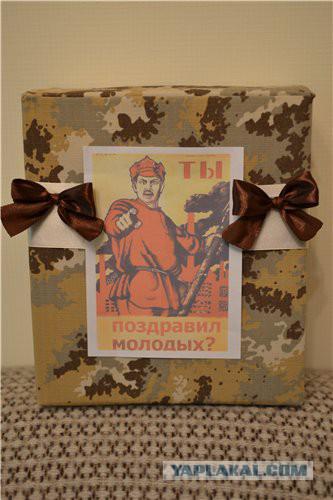 We decided that we will not be a traditional wedding arch made such an arch-background)) (not clear, sorry no photo where you can see better)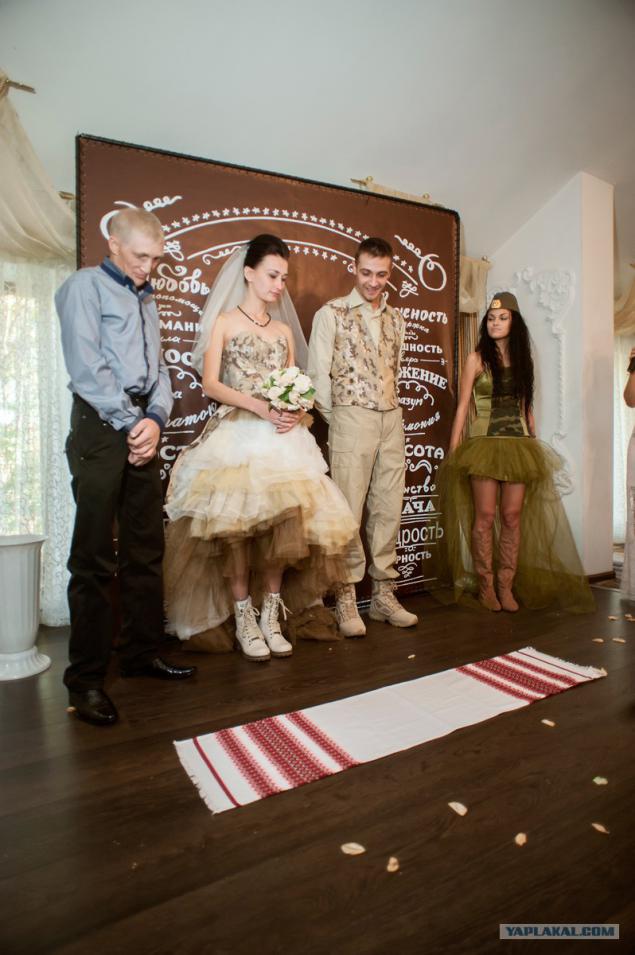 Bride price did in the army style. Contests were simple, but I tried to come up with something new, not worn out, like "Guess which one is the imprint of lips on paper belongs to the bride" or "lay out the name of the bride money on the floor." The penalty for an incorrect quest was not just monetary and candy, as usual. If the bride was doing something wrong - it is pushed))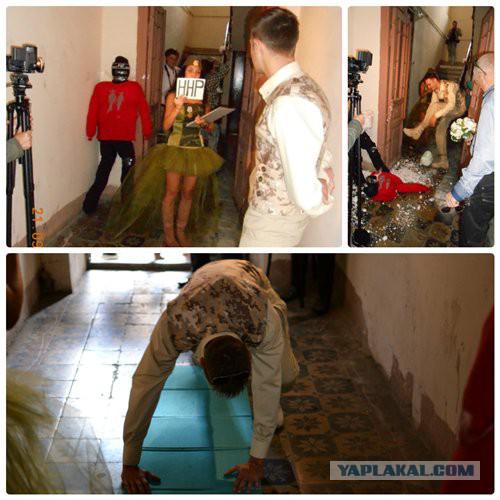 A little out of chronological order, pardonte))
Car. We had a true friend Subaru Libero. It also will not be passed fate camouflage)) In general, looked at it and decided - we go on it!)) Then, a few days before the wedding, offered us UAZ 66, with a removable canvas roof, but on the eve of the wedding let us down and UAZ not prepared . So what was the fate of us still go on our camouflage zhuzhike)) little decorated to show that it is still the wedding machine) is tied to the rear bumper cans))) One of the groomsmen drag with a mock gun Degtyarev and tank and air helmet. People were delighted when we drove through the city. We drove to Boucicaut (it is itself ridiculous), the groom and his friend were wearing helmets, from the window of the car stuck a machine gun. All around approvingly shouting, laughing, waving, whistling)) Counter wedding cars honked in approval. In general, the people we amused))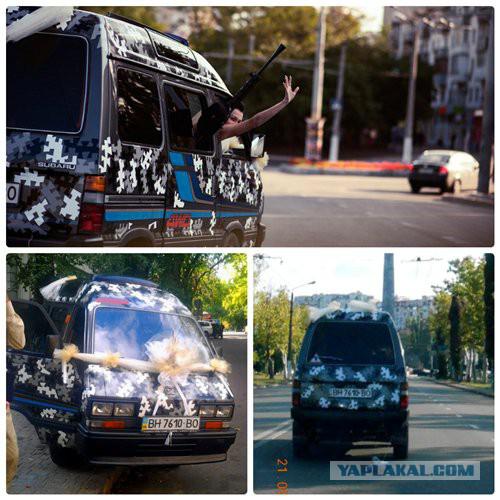 More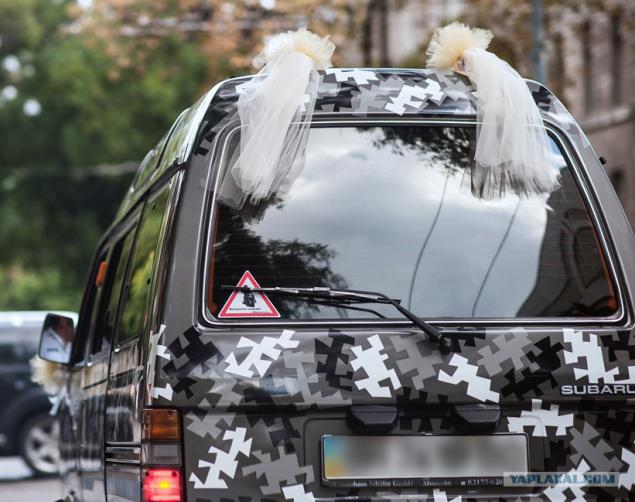 Ordered a cake in the form of stars, unadorned in the form of flowers, ribbons and so on. Pieces of fruit pastry decorated it and get the same sort of looks like a camouflage))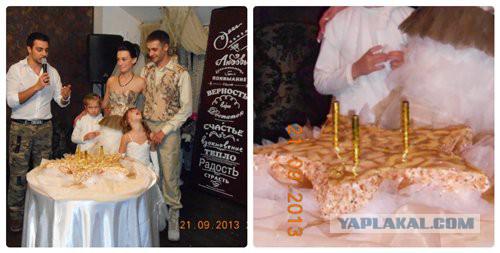 More cake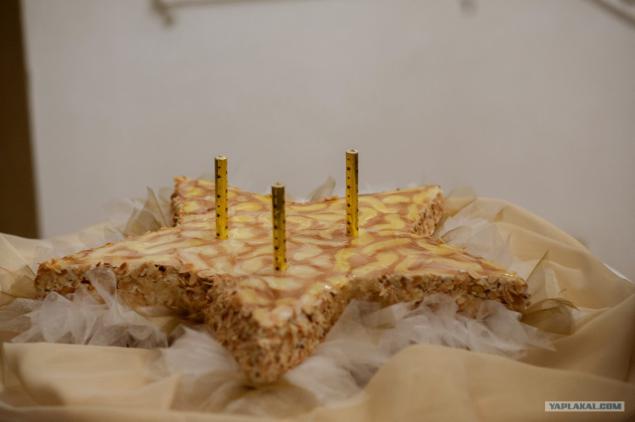 Rings also wanted some custom. When searching on the Internet is nothing nice not found. All standard, the same type, not "catchy". There came to mind again craze motorcycles. To be precise noticed motopokryshki)) and realized: "That's it!". Chosen protector. We stopped at this.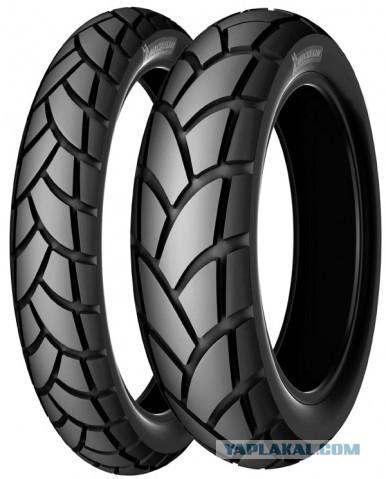 Gave drawing jeweler. Made of white gold, tread decided to pour black enamel. Got the result))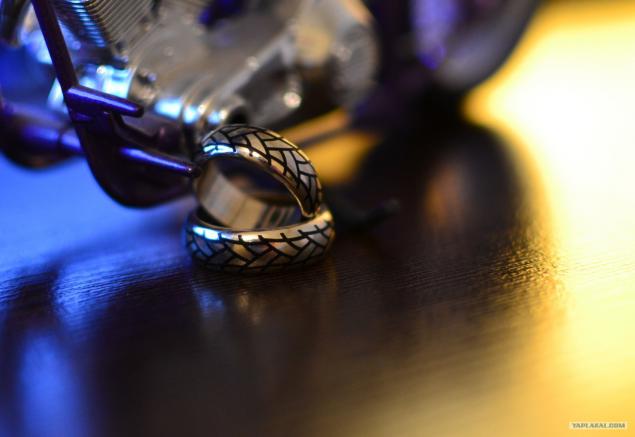 When we sat down at the table and began entertaining program for guests, we finally relaxed. Personally for me the rest of the evening was a blur. Happened around some action, and I was just a bystander.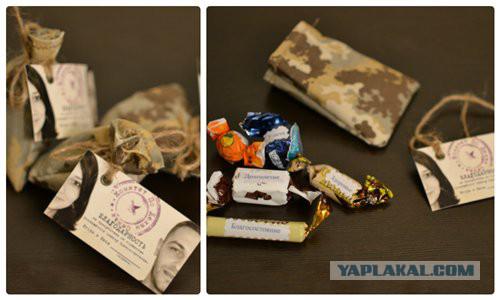 In summary, I would say. Wedding Preparations in the home - it's not easy. In a head to keep all the points all the details is simply unrealistic. Therefore, during the entire time I wrote down in a notebook literally everything! Even then, it would seem, could not write. Came up with the idea, thought - immediately recorded. Only in this way we can more / less everything into account and provide.
We witness :)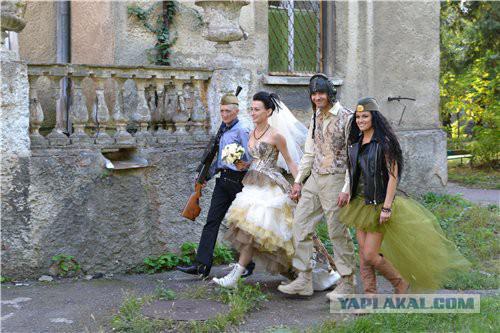 Many people, after that celebrated the wedding, saying: "Well it this wedding!" Or "Why is it needed!" Or something like that. And if, God forbid, we have to get married / marry a second time - again do not want the wedding. And I'd love to be walked again on this their wedding, taking into account some small things that could be corrected) Naturally husband would remain the same!))) And all because we decide what and how we will . Yes, listen to some advice and wishes of the parents. But, by and large, we did as they pleased, as we like. So everything went well, fun and original!
Love and be loved.
All the beaver, as they say 
I have everything you can throw grenades :)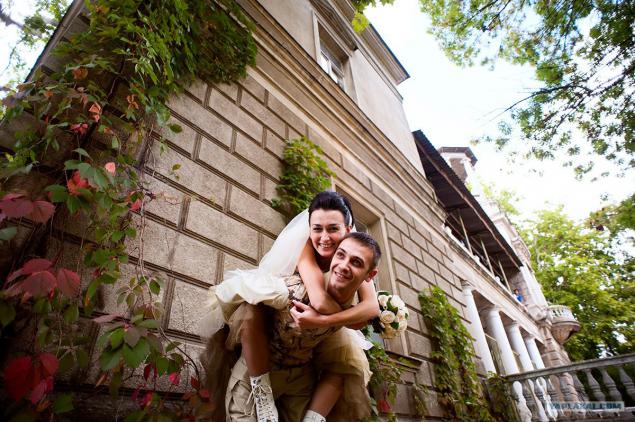 Source: