During the Second World War to escape the bombing, the Germans repainted all highways in black - because they were less visible from the air. Summer of 1941, faced with a similar problem, and Moscow - it was necessary to save the city from attacks by enemy aircraft. Of course, the whole town is unreal to hide, but you can shoot down the enemy confused and force him to throw the bomb did not go where he had planned.
West of Moscow on board German aircraft. The smoke in the picture - last minute details Access road to the Belarusian railway station.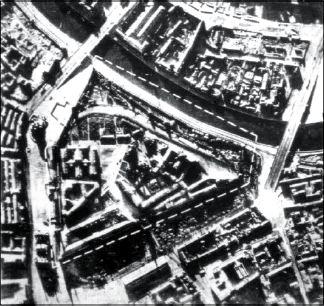 German aerial center of Moscow - the Kremlin is outlined in phantom. As you can see, it is easy enough discernible purpose.
Downtown mask pochtisrazu began after the war began. The main objective was to keep the Kremlin or at least reduce the possibility of destruction to a minimum. Fashion there were two:
1. apply camouflage paint on buildings and areas to high altitude the pilot could not identify Ohayon city
2. construct dummy structures, which also knocked to confuse enemy aircraft
Of course, the Kremlin - it is not a needle in a haystack, polnostb hide it impossible, however, to do something failed. On the cupola of the cathedral were stretched drezentovye cases that they did not shine in the sun, the buildings were repainted spetsialnym way, the adjacent area was applied camouflage coloring that imitates the rooftops. In general, here's what happened: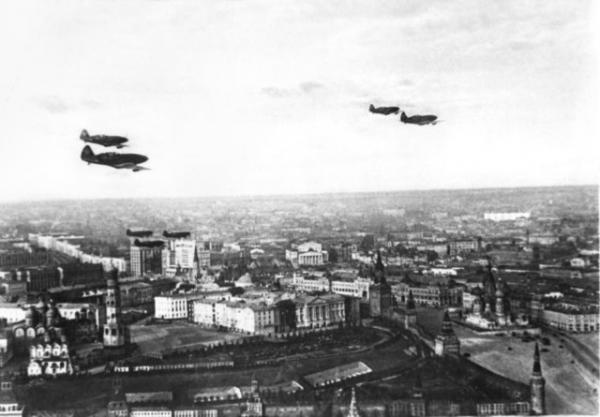 The photo clearly shows that the walls of the Kremlin rasskrasheny for residential buildings, structures within the Kremlin repainted in Tainitsky garden erected plywood structure imitating the street.
The mausoleum was also covered with a fake plywood structure, clearly visible in the photo repainted the walls of the Kremlin.