Many people believe that the cost of wedding dresses is a bit overpriced, especially when you consider what a girl wears a dress once.
Swedish mass-market giant H & M heard complaints brides and introduced democratic model wedding dress cost about $ 100.
Dress is presented in a collection of clothes Conscious (Conscious), which is partly made from organic and recycled materials, taking into account ethical nuances in production. By type of fabric knitted dresses reminiscent of silk. Concise dress to the floor with a high waistline and unobtrusive decor looks very nice, and most importantly will not empty purse loving couple.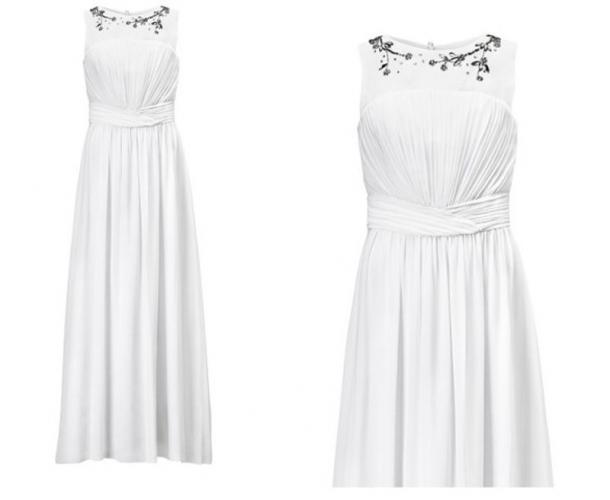 Wedding dress from H & M, $ 99
As the Washington Post noted that the retailer is trying to change the attitude of a responsible selection procedure wedding dress, which is usually very time-consuming and costly. Brand policy was aimed at the young category of buyers who want to look fashionable without spending huge sums of money.
In 2011, journalist Caitlin Kenney did some investigation. She bought a wedding dress, paying him more than $ 3000 and decided to find out how to create such a high price. During the investigation, it is found that the cost of the fabric was only $ 500, a masterpiece of tailoring products for about $ 700, and the result was obvious - the store made a profit of 200%. She was outraged.
I think the owners of multi-million dollar retail chain did not take into account the findings of the journalist. However, earlier in the collection of H & M has appeared wedding dress, which was created by designer duo Viktor & Rolf, but the cost was much less democratic - $ 350.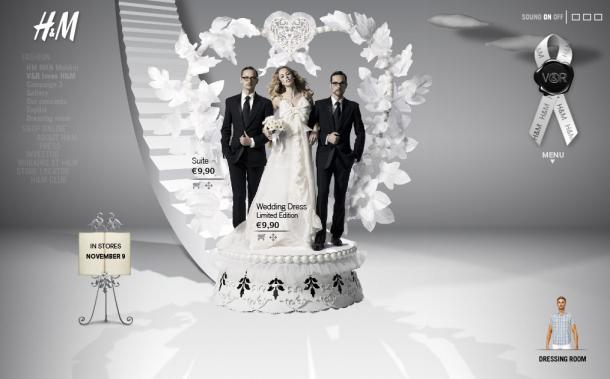 Wedding dress Viktor & Rolf for H & M
After the successful launch of a line of cosmetics, underwear, shoes and accessories, the army of fans a cheap quality clothing from H & M was hope for a more economical preparation for the wedding ceremony if you run a full line of wedding clothes.