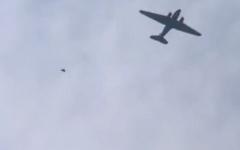 Swiss Yves Rossy (Yves Rossy) became the first person flown almost seven minutes next to the passenger plane Breitling Douglas DC-3 at an altitude of nearly 1, 5 kilometers.
Former military pilot was wearing a special suit, consisting of a jet engine with two propellers and wings attached on top. Its mission is 53-year-old Rossi made June 22 June 26 transmits metro.co.uk.
The publication adds that his aircraft Rossi created himself and it took him more than a decade. During this period he has repeatedly experienced the invention before you commit to the first test flight.
His 7-minute flight Rossi began after the jump from a helicopter, raise it to the desired height. Then ekstremal caught flying ship, and when he ran out of fuel, he opened his parachute and landed safely on the ground.
"I can not express in words the feelings that I experienced during this flight. It was one of the best moments in my life, "- said the latest extreme, speeding during a flight up to 205 kilometers per hour.