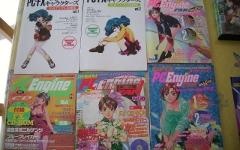 On the largest internet auction site eBay has been sold a collection of games for the set-top boxes that cost one million euros (about 1, $ 2 million).
The owner of the lot, the Frenchman Jean-Baptiste Haflinger (Jean-Baptiste Haeflinger) collected retro games for over 20 years. The transaction took place in the Sunday, July 8. The buyer's name is not reported.
The collection includes all games for consoles Sega, Nintendo, PC Engine, Gamecube and some others. Haflinger published a large number of photos of the lot, which he did and said that many of the cartridges and discs not even been printed and are in their original packaging.