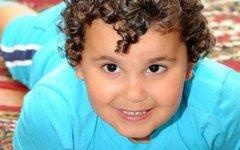 The three-year resident of the city Barnsley (county South Yorkshire, UK) Sherwin Sarabi was included in the list of international "society of geniuses» Mensa. According to Sky News, the boy became one of the youngest members.  
Handing test intelligence (IQ) Sherwin score of 136 points, while the average adult is 100-130 score.
According to the mother of the young genius, the boy began to say 10 months of age, and 20 have already mastered the complex sentences. In addition, the young Briton precocious strong in geography - he can find on the map any country and show it to the flag. It is worth noting that, unlike most of their peers, Sherwin prefer to watch on TV are not children's programs and news releases.
Parent young scholar stresses that never made him learn anything. Curious by nature boy asks himself what he is interested in.
Experts note that the level of intelligence, demonstrated three year old child, found very rarely. Thus, among the 22 million Britons on the list of Mensa, not more than one hundred hit him under the age of 10 years.
However, there are more outstanding results. For example, last year a three-year Saffron Pledzher when passing IQ test scored 140 points, and in 2009, Elise Tan Roberts at the age of two years and four months has surprised experts in the result of 156 points.
Mensa The total includes more than 110 thousand people. Of these, more than half are citizens of the United States. The UK is the number of geniuses in second place.