An employee of the Moscow airport Sheremetyevo anonymously told drug trafficking, terrorists and of who are afraid of rude staff.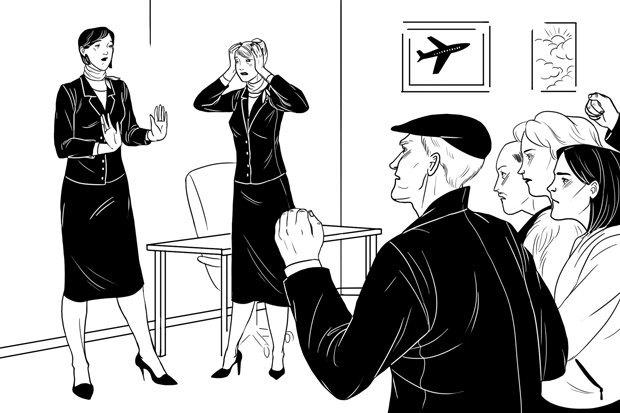 About who works at the airport
At the airport work different specialists: those who logs you on a flight, drivers, loaders, special control that you inspect, customs officers, who control the border crossing, feesbeshniki that prevent acts of terrorism and illegal migrants caught trying to fly from Russia to Europe. There are, for example, experts on visas. They can ask any question: "I need to Papua - New Guinea, with a visa can I go there?" - And they will.
By the way, everyone thinks that the visa check at passport control. In fact it's not. It is the responsibility of the girls, which logs you on the flight. A visas are Artful, a visa may be valid for six months and repeated, but the people in the country can be carried out, for example, for four days. And if a person is not allowed to enter the country because of visa, it is deported at the expense of the airline and the cost is removed from the girl at the desk.
We have, for example, a medical center. But it is located in the common area. And if someone became ill in duty free, the physician can not simply come to control and say, "Guys, there is someone bad, can we pass?" They were together all carefully checked, while at them with a bottle banks which are difficult to verify. It may take an hour and a half or two. Flight safety first and foremost. This school of Sheremetyevo. Clinic should be in every terminal, but they save on everything, so many terminals have a door with the sign of the medical center, but there is no one sitting.
About the Principal Officer
We have a service that caters to VIP customers. If you are a VIP customer, this means that you will have a separate waiting room, you will spend on a plane before you open landing at passport control, you also will not have to stand in queues. Order this can, in general, anyone, if he wants shikanut. This usually interested in football teams, some pop stars like Galkin Pugacheva, Kirkorov, but the black-old Timothy does not pay for any special treatment, along with all costs in line. Deputies and diplomats have their own center "Hall of officials and delegations," their service only there.
The most important airport workers consider themselves customs. Sometimes, a young guy comes to work, look - a year later to the "Lexus" rides. But the real key, of course, the FSB. Guys are generally good. Only very serious. They have huge discounts in duty free, the New Year shop just scrubbed, all criminals are bought to complete. But to their credit, if you ask them for a discount card - and they give it to you. Though you - a humble worker who registers flights.
We serve not only the major airlines. Private jets may also have to stop. Sometimes the plane was flying, flying, something happened, there were some problems on board - he asks for a landing. Once we arrived to the unidentified object from somewhere in Central Asia, I had to go feesbeshnikami to the aircraft, to check that they are being taken. Feesbeshniki joked: "Imagine now the door opens, and there the terrorists." It was night, scary. We opened the door and there as if the luggage compartment, a lot of goods and people somehow placed, wrapped in blankets to keep warm. In Russian, they hardly spoke, the plane flew from somewhere in Central Asia. In general, I did not know what kind of people and what happened to their plane. But, apparently, not terrorists.
About jokes
Terrorists we usually do not make jokes. Especially after the explosion at Domodedovo. We then was very scary, everyone thought it would be a series of terrorist attacks. Control of the airport after that really stepped up. Previously, all freely allowed into the common area, uncle guards simply asked, "What do you have? Large suitcase? Well, come in, there is nothing forbidden? »
Joke on the theme "I have a bomb planted" or "I'll blow you all" is not necessary. Any employee has the right and even the duty to call the police in this case, and it is your careful examination. And the inspection may take a long time - there is a risk to miss the plane. Precedents were.
On drug trafficking
As the FSB is fighting terrorists, we certainly do not know that they can not talk about it. But it happens that you come to work, and you have such a small bumazhechki lies beneath the front desk - there is written the name, "presumably arrive from Egypt" in some of these numbers. And you know what that means. It is a name that consists of six words, the memory immediately. This means that if such and such numbers from Egypt will arrive this man, we must be particularly careful when checking passports and immediately tell where to apply.
But I was never faced with the fact that such a person really has arrived. I can not imagine what I'd do: Open passport - and this is it! And you think: he is now something will blow up or sweat?
We are faced only with drug traffickers and illegal migrants. One day I was sitting in the transit zone, it is within the duty free, that is, the person has already passed all the preflight inspection, now, sit down and fly away. Uncle ran to the window, clutching his stomach and said, "Guys, I have a stomach heroin, a bag broke, I'm going to die. Please call someone ».
About illegal migrants
Illegal migrants often attempt to fly from Moscow to somewhere, they are caught feesbeshniki. I was once an employee calls up to him, I translated the words of the black passenger. An employee shows me a photo in the passport of the alien and asks: "Looks like?" At first it seems like that, then I start to look closely - not like it. The photograph ears much smaller than life. He became indignant, "I know nothing, I am a citizen of the Netherlands! I flew to friends, let me go to Amsterdam! "Then all went on the offensive:" We have black, ears grow all life, that you have clung to me? It's because I'm black? I sue you! "But maybe in America someone and scared to accusations of racism, but not in Russia.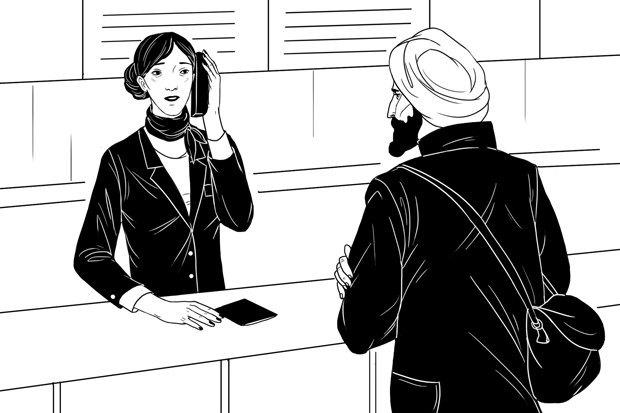 Later, when he realized that he was caught, he admitted that from Kenya and worked in Russia strippers and dreamed to fly in search of a better life in the Netherlands. FSB conducts such from the arrival of the zone, they notice anyone behaving unnaturally, watching him, and after he has passed passport control, you have crossed the border and there is a violation of the law, they catch the criminal. That guy is requested not to send him back to Kenya, because there are bad. But he would be sent.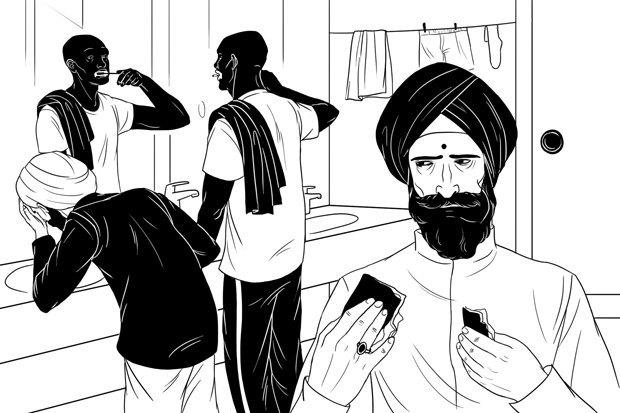 We Sheremetyevo one time people lived. No one knows how they got there, they were there long before I came to work: the family of blacks and Indians. They slept on cardboard, wash in the toilets. I do not know what happened to them in reality, but according to legend, they ate a passport, not to fly to their home. That is, it was not clear how the citizens of the country they were, where they were deported and what to do with them. But then they disappeared from the airport.
Although it is sometimes a problem with your passport inadvertently occur. I never forget how to us the match "Chelsea - Manchester United" came the British fans. Well, I was very sorry uncle, who came with a child, and at passport control, the child takes the passport and breaks into two parts. Dad and son stayed with us in the transit office to watch football on television. When the "Chelsea" lost it completely upset.
About drunk on the ground and in the air
Generally, a drunk at the airport we were treated calmly. Well drunk, okay, if not rowdy, then all is well. Everyone understands that if a Russian man bought a ticket to the Sharm el-Sheikh, it should begin the journey that way and no other. Formally, there is a requirement: drunk on board not to plant. And if someone starts to kick up a row on the board, often blame the girls who let a drunk man on the landing. If the person you are suspicious, you can not say: "You do not fly and everything", you cause the representatives of the airline. We were landing somehow came uncle greatly staggered reached the stand, lay down next to us and went to sleep. We called the girl from "Aeroflot", she looked at him and said: "He sleeps not kick up a row." Sama pick it up, he took it on himself and suffered.
But violent too much. Here's a man get drunk and starts yelling, "I'll blow you all, I have a bomb." Such immediately to the police.
About sleet
During the collapse in 2011 when freezing rain has passed, I went to work as a war. Christmas season, a lot of flights, and all planes were frozen and thawed them long.
All the chiefs were hiding, and we, those who work in the halls, came face to face with an angry mob. At the same time no information we have, the chiefs, of course, we did not explain the situation, simply said: "Guys, wait a few hours, there will be delays." And then an hour, and then another two.
Our computer system shows us the same information as they see themselves passengers on board: there is written when the flight should be sent, and a number - how much it is delayed. But first put the delay for an hour, then another and another. We can call the MCC (Mission Control Center), they might say something, but could not say. And passengers from us require that we explain what is happening.
Food at the airport ended, alcohol - drunk, drunken passengers go and yell. All our hotels Sheremetyevsky huddled on the first day, more people would have nowhere to take.
Thus from the very beginning it was clear that the route will not fly even a day or two, but they are not registered closed. They packed people in the area duty free. Because if we said that the flights are canceled, we would have to repay the full value of the tickets. And so you either wait, or refuses to fly, razoformlyaeshsya, and we'll have no need to, because you have abandoned the flight itself.
On Christmas decoration
As a result, there are a thousand or fifteen hundred people sat in the relegation zone. In my phone already rushed out of desperation: "You tell me, we will fly or not?" And I do not know. "Let the chief!" And most importantly do not want to go because they are afraid that they will tear. Employees of "Aeroflot" all dressed in civilian, because the form they would not go there.
We had a Christmas decoration, Christmas trees were a polyester fiber with snow - on the snow asleep. Pluck promotional cardboard modules - they slept. On the third day no one knew anything, the scandals did not pay attention, one could not do anything.
Sometimes, to create the appearance of at least some work, some flights have announced. People traveling by bus to the aircraft and another hour and a half waiting there. A plane is not even prepared to fly. And employees know that anywhere these passengers do not fly.
About bloggers
But in general, the airport is trying to become more attractive to customers. For example, they are very responsive to messages bloggers about Varlamov, who always writes about "Aeroflot", all the while talking. I remember when my woman once sent in plain text mother with a child, and my mother was the famous Blogersha. She just filmed it on camera, and a day later the woman at the airport is no longer working. In general, if you are a well-known blogger, then you will not be rude.
About the forgotten things
I remember, I was approached by a man once - Roma with a diamond ring in his ear, in an elegant coat, tall and stately. He forgot his cane on the plane, which is very dear to him. I went on a plane - he has not departed - and found the stick - solid oak, all studded with precious stones. With the things we have lost quite severely, they can not take themselves, they are stored in the storage for eight months, and what happens to them then I do not know.
But what remains of the people in the preflight inspection, the girls sometimes take yourself: perfumes, incense, pyrotechnic some things.
And somehow the passenger had to leave their pet. Not all of you can take a plane. For example, the company "Transaero" permits to take anyone other than rodents. And a woman was leaving in a very distant country for permanent residence, she had 100 kilograms of luggage and a small chinchilla. A woman in Russia was not going to return more never. There was this chinchilla to live with us at the airport, one of the girls promised to take care of her.