1. In Montenegro, very fond of children. At 12 am in the bar you can see children playing with dolls at a separate table, which during the game is dropped on the floor his glasses, bartenders silently clean up the mess, and children continue to play on.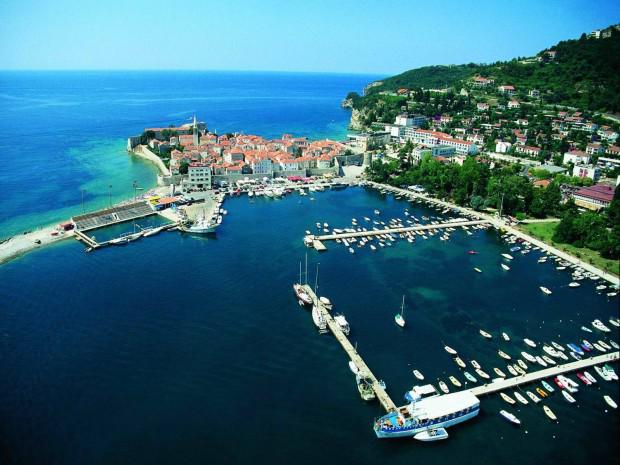 2. Montenegrins are very good people.
One can endlessly asking local road - they will patiently explain to you all available means. Sellers in the market necessarily something will put you in a gift. Souvenir sellers can also give you something to choose from, if you buy them a little more than others. I tried to persuade the waiter in a cafe to sell me a beer mug (I needed a glass mug as a gift, and souvenir shops sell only ceramic), at first he could not understand what I want, but then told me to come tomorrow. I ran, he gave me a bag packed with a newspaper that same mug, I began to poke him money, he took my hand and said, "Come evening, we will have good musicians».
3. Montenegrin language is intuitive Russian. "Shutter-opened the" - closed-open, "bowl" - a glass, but the "glass" - this is a decanter or pitcher. "Apoteka" - pharmacy, "praise" - thank you, "pray" - please, "Lepo" - beautiful, "Chao-chao" - hello, yet. For a week and start to get used to his Russian speech insert Montenegrin words.
Very surprised when sellers in pure Russian tell you in response: "I do not understand your Russian language, it is so complex».
4. Almost all the Budva Riviera, you can walk along the beach front. All beaches are interconnected tunnels in the mountains, construction sites and so. D. Time, of course, it will take a lot, but for walkers - the most it. We accidentally went from San Stefan to Budva and manage the entire three hours.
5. Montenegrins are very fond of singing. Sing all: coach drivers, tour guides, cooks, morozhenschitsy, staff in hotels.
6. At the disco in Montenegro is not accepted to dance, there come "hang out." Are small high tables to put their drinks on them, and that's all around these tables and "hang out", a little dancing. At the entrances to bars are attractive girls, handing out flyers and just barely stirring. For us, the Russian, who usually dance animators so that it seems that they are constantly beats shock, it is very strange looks.
7. Food in Montenegro incredibly tasty. And portions are enormous. There made to order one dish for two. Us with a girlfriend is not suitable, since we are diametrically different tastes in food, and in the end I cried over pasta carbonara, because I could not finish eating it, and I was very sorry to see her go.
€ 10 in the cafe can overeat to satiety. For € 1, 5 you can buy on the street a piece of juicy delicious pizza. Piece will also be of great size, as she pizza there the size of a wagon wheel.
9. In the market you will try everything from cheese and meat to the local community. Cheeses there an incredible amount.
10. The supermarket cell for bags without keys. Do not bother with the requirement to issue a protection key. There just is not made to steal.
11. Well, not made to steal it! In summer, the café in the streets on the tables at night remain standing dining set: salt, pepper, oil. On the beaches of people safely left on sunbeds its not cheap electronic gadgets and splashing in the sea.
12. pebbles on the beach in different sizes. If the central beach in Budva is large, as we have in the Black Sea, the same place, but the beaches of Mogren-1 and Mogren-2 is very small, as the sand. Go to the ankles and falls into it.
13. The sea temperature is changing very quickly. When it comes to cold flow, even in the heat of the summer in the sea is impossible to go. Legs just numb. But as a rule, a day or two for changing and re bezvylazno can sit in the water. The sea is very salty and clean.
14. Despite the fact that Montenegrins themselves say about their national laziness, but in reality it is not so. At seven in the morning they were already clean track from their shops, and they work until the middle of the night.
15. Safety on the roads. Pedestrian crossings you can walk almost without looking at the road, there is taken to pedestrians. And even if you will be dragged through the transition, like the tortoise, no one will passionately honk and curse you. You can cross the road without a pedestrian crossing. And if you miss - show a sign of gratitude to the driver thumb.
Drivers there are very careful, because the penalties are high, and the denial of rights to earn easy.
16. A lot of churches. Most Orthodox and Catholic slightly.
17. Physical Montenegrins diverse. Depending on the roots. Still, in the blood of them Turks, Italians and Slavs. Therefore, one can come across as absolutely swarthy young man, and blue-eyed and blond.
18. In Montenegro, obituaries taken place in the trees, and special information stands.
19. At night, walk safely. You can look like anything, no one will miss you in hand, shouting "Natasha" and pull yourself.
20. If you live in a room with a kitchen, one evening about five o'clock on the pier you can buy fresh catch from the fishermen: shrimp, octopus, fish. If you are living without a kitchen and there they sell just cooked shrimp. By the way, calling it a shrimp I have not turned to the language. Because these animals are long palm and as thick as a sausage. If it is - shrimp, that the "seeds" we sell ???