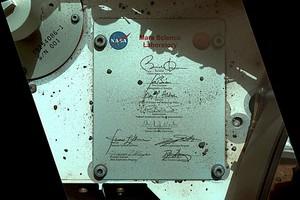 Software failure in the primary computer Kyuriositi rover forced to transfer to a safe state, reported NASA.  
Kyuriositi newly translated into safe mode / nasa.gov
"Last night there was a so-called transition to safe mode ... This is not particularly rare or extraordinary, but it does mean that the research work will have to wait a few more days", - said Monday the project scientific adviser John Grottsinger.
Grottsinger explained that a failure has occurred when trying to delete multiple files, including one that was used at the time the onboard computer unit.
Go to the "safe mode" prevented scientists to resume scientific work since the previous failure, as it was planned for Monday. According Grottsingera now to resume normal operation will take several Martian days.
He also said that before the incident the engineers confirmed that the main onboard computer A, which has a problem with flash memory, will be able to "turn the tables" to computer B, and serve as a spare.