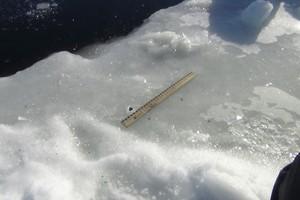 Russian scientists believe that about 100 kilograms of debris falling on Urals meteorite could muster residents of the Chelyabinsk region.  
Local people gathered about 100 kg of Chelyabinsk car - scientists / Reuters
According to an employee of the Ural Federal University Viktor Grochowski, by the scientists were able to collect no more than 6 kilograms of wreckage of the car.
"Today is the official scientific circles about six kilograms of collected material. According to our estimates, the population is collected up to 100 kilograms, "- said Grokhovsky.
The scientist also noted that at the bottom of the lake may be other large fragments of a celestial body. Currently, the laboratory of the Ural University kept the largest of the wreckage found a weight of 1, 8 kilograms.
Previously, scientists who examined the lake Chebarkul, came to the conclusion that it is really the bottom may be large fragments of a meteorite that fell on February 15 but their removal may be delayed until next winter.