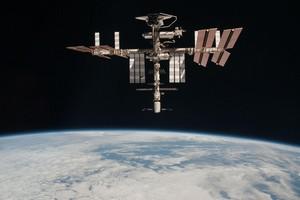 Manned spacecraft Soyuz TMA-06M on Saturday night, March 16, undocked from the International Space Station (ISS).  
Soyuz with astronauts undocked from the ISS / AP
This was reported at the Mission Control Center (MCC).
On board the ship left the station Russian cosmonauts Oleg Novitsky and Yevgeny Tarelkin and American astronaut Kevin Ford.
Union is destined to land at 5:06 on March 16 in Kazakhstan, 54 kilometers north-east of the town of Arkalyk.
Interfax said that at 4:13 Moscow time the engine brake of the Union will give impetus to de-orbit. At 4:40 the ship should be divided into sections, after which the capsule with the astronauts enter the dense layers of the atmosphere. At 4:51 should start parachute opens.
On the ISS are Russian Roman Romanenko, American Thomas Mashbern and Canadian Chris Hadfield. The new expedition will travel to the station on March 29.
Earlier it was reported that the duties of the commander of the crew of the International Space Station on March 13 took over the Canadian astronaut Chris Hadfield.
Recall, March 3 ISS crew spent the dock truck Dragon Space Station.