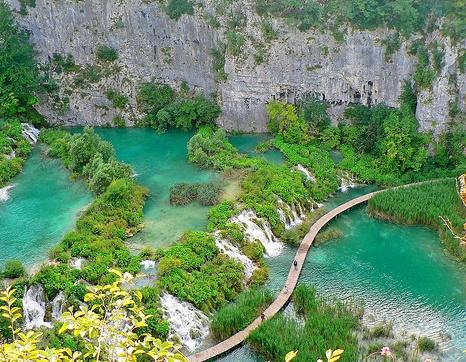 Once again, we want to tell you about another pearl of the Earth, and this time of the Plitvice Lakes National Park. This unique place is located on the river Koran, near the Bosnian-Croatian border. Above this earthly nature area worked as it should, he peers at Planet no.
This is a wonderful place in the 40-ies of XX century was given the status of a national park, and in 1979 the Plitvice Lakes were listed as World Heritage by UNESCO. All this beauty has an area bolee20 acres, this unique complex, ambitious and wildly beautiful. In this park you can find beautiful lakes, amazing waterfalls and rocky caves, enchanting with its mystery.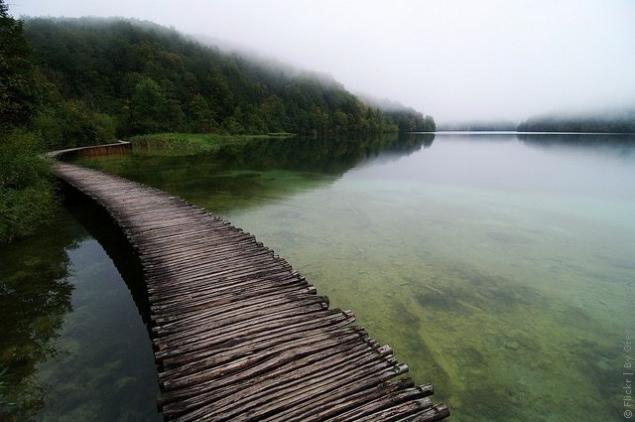 Plitvice lakes - an amazing ecosystem, which tends to heal itself. In this park annually produces new waterfalls. More surprising is that when old trees, sink to the bottom of these unique lakes, they kameneyut and regenerate in fine white silt.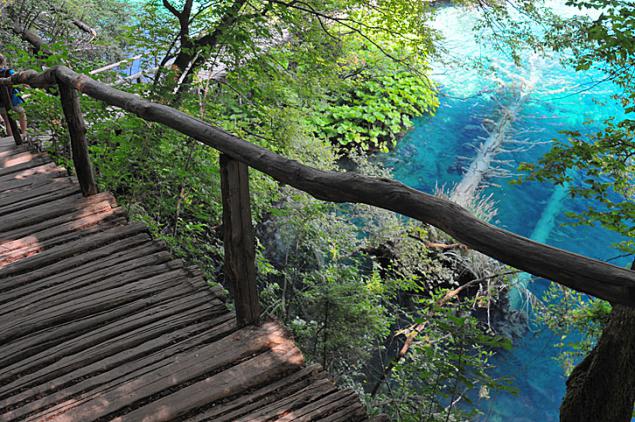 The largest lake in the park is the lake "Proshche", whose length is greater than 2, 5 km and its deepest point is 38 meters. As for the biggest waterfall, it is called "Sastavtsy" height reaches the last 72 meters, but it is not at its height and beauty, it is so beautiful and unique that takes your breath away.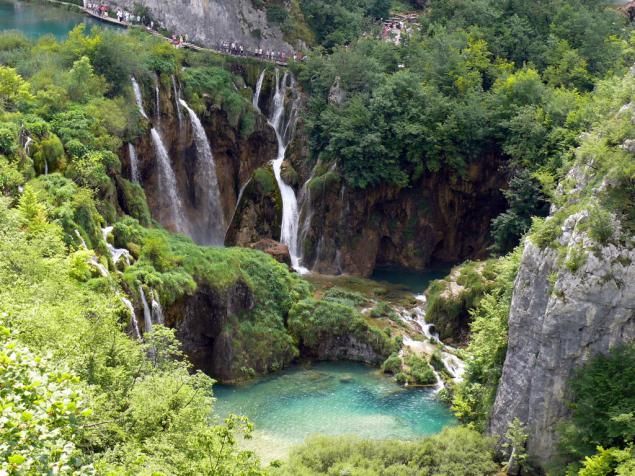 Relief fabulous park mountainous, its lowest point is located on vysote400 meters and the height of the local peaks listed under the mark of 1280 meters.
Alas, the geographical position of the world's miracle is not possible to watch its beauty all year round. The fact is that from November to March the park puts on white clothes out of the snow, covering all the lake ice crust. But this is quite a controversial issue, some tourists have been here in the winter and summer, and some of them this park more like winter.
This area is sheltered, charmingly beautiful pine forests and a variety of animals such as wolves, bears, squirrels, martens. Plants, animals and nature, paint a picture of pristine and unspoiled natural beauty, this is, in truth, a wonderful picture. It is worth mentioning that this park is always full of tourists, with its surroundings always cleaned and clean, and as the earth's surface, and water. As for reservoirs, they amaze visitors with its transparency.
Croats especially for tourists organize tours, which aim to inspection of this unique park. The duration of this tour is 4-5 hours, and the cost is in the range of 60-85 euros. This amount includes a transfer bus to the park; tickets; guide services and light lunch.
It should be noted that in the territory of the reserve there are a number of restrictions for tourists. Main of which:
forbidden to feed the animals;
Fishing is prohibited;
forbidden to swim in the waters
Do not carry out cultural activities.
The administration of our project very much like to visit this attraction, created by the hands of nature, and we wish you to visit these amazing places - wonderful lake, surrounded by pine and beech forests, home to deer, wolves, bears, wildcats and some 120 species of birds, you will not leave indifferent.
Definitely, the national park "Plitvice Lakes" is one of the most amazing and beautiful places of the Earth!