English player "Northampton" Adebayo Akinfenva proved to the world that being overweight in sport is not a hindrance. It weighs 108 kg, but shakes lying 180. I suggest you familiarize yourself with a career football player.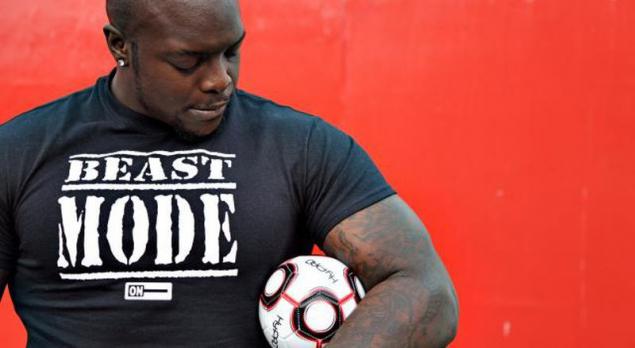 Most of the career Akinfenvy passed exactly as you imagine. He rarely managed to run away from defenders. He constantly heard from the stands, "Hey, fat bastard!". Over the last 10 years, he was replaced by nine clubs, rarely stopping at one place. Stable was only his weight - he never fell below 100 kg (with an increase of 180 cm), because more than fried chicken, Akinfenva loved only training in the gym. "My secret is simple: Rocking and many carbs" - so forward to justify its appearance.
Akinfenva spent a lot of time to prove - even a very big man can play football. He could not lose weight because of genetic reasons (in the words of Eric Cartman, "bone wide"), but was able to burn almost all the fat and replace it with muscle. He shook lying 180 kg, went to the workout with dumbbells in your hands and in all his commands was the champion in arm wrestling. From the stands and on TV, especially against other players Akinfenva still looked fat man - but at least his teammates know that this is not so.
Weighs 108 kg, but scoring goals
Two years ago Akinfenva scored hundredth goal in professional football (you know who begs comparison here), once in his career suffered a hat-trick, and his best goal you can revise endlessly - footballer with other anthropometric data on this simply can not. < br />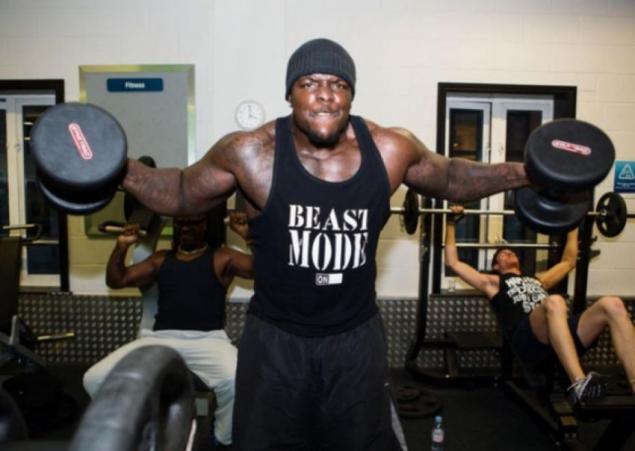 Weighs 108 kg, but useful to the team
Of course, with such a weight Akinfenvy opportunities are limited, but to integrate it into the team game is fairly easy - you just need to understand what it might be useful. Akinfenva very similar to the late Emile Heskey: class chooses a position often wins horse balls, not even jumping, knocks the ball intelligently partners and sometimes ventures on a short jerk. They say a good hitter requires less than a second to take the ball and strike - Akinfenva certainly not as fast, but the defenders need more time to somehow push forward weighing a quintal.
Another fairly effective use Akinfenvy - put it at the bar at the corner opponent: then forward occupies about a third of the gate.
Weighs 108 kg, but launched a clothing line
Most often in his career Akinfenva heard the phrase "You're too big to play football"; at best, it was taken for rugby or started the move with him to discuss the NFL. As a result, Adebayo decided to put this phrase on a t-shirt, and then came up with a whole line of clothing Haha !, mocking stereotypes. Even more successful the slogan «Beast Mode On» («Beast Mode", which supposedly includes Akinfenva when comes to a rocking chair), has evolved into an independent brand and become a meme in the English Internet. Now Akinfenva earns on clothing more than it receives as a football player a few years ago.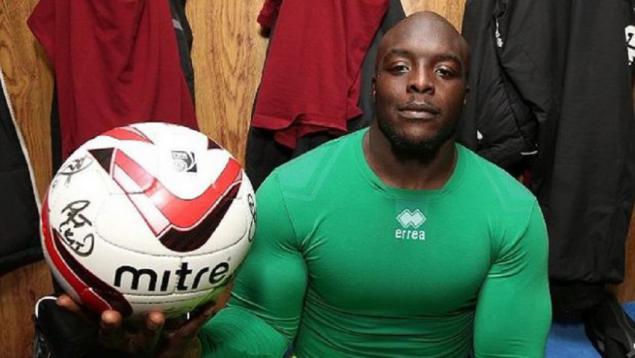 Weighs 108 kg, but there is a sense of humor
Here are some quotes: "I would like to lose weight, but I need to somehow fight back to his brothers"; "I often eat at Nando's (wildly popular among players fastfood chicken) that it was time to give me back the shares of the company"; "My hands are longer than the feet of John Terry - so I'm ready to play in the Premier League." Despite the image of a person, loves to drag iron Akinfenva surprisingly calm and even ulybchiv samoironichen - he likes to have fun SaveFrom.net, but does not like to throw Ponte, loves attention, but does not like pathos. Which, of course, is doubly surprising for a football player.
Weighs 108 kg, but made a career
Truly became known Akinfenva after FIFA 13 - the creators have made him the most powerful player in the world, holding strength parameter to 96. Computer Akinfenva immediately became a star of YouTube, but a real hit in the spotlight a little later, in May 2013th when his "Northampton" reached the finals of the playoffs for the fourth division "Wembley". Then Akinfenva interviewed almost all the English newspapers, went on a couple of TV shows where leading enthusiastically groped his biceps, Daily Mail asked him to write a column, and clothing sales leapt even higher.
When mediashum around Akinfenvy died down, it finally looked like a football player on the - 100-pound pitching, managed somehow to score 138 goals in 400 matches. It turned out that he even won the trophy - at the beginning of a career agent friend sent him to Lithuania, where the goal Akinfenvy brought "Atlantas" from Klaipeda victory in the Cup of the country. Another cup he took with "Swansea", twice played the "Wembley", and now, at 31 years old, is almost at the peak of career - once again appears in the third division, and even the status of the reserve "Gillingham" has scored 7 goals in 20 matches . Apparently, sometimes worth 10 years to push the bar and have a chicken to eventually love you for who you are.
--img4--
Source:
www.sports.ru