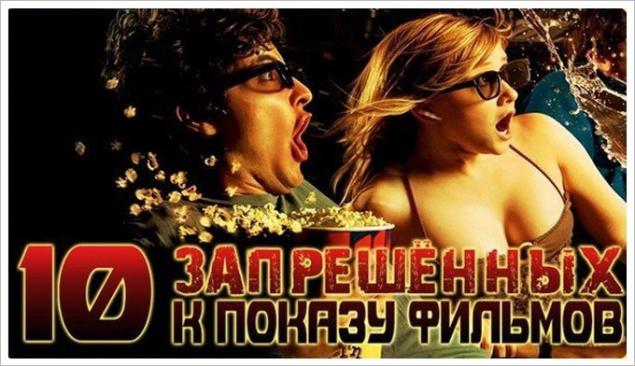 These films are literally changing the picture of our lives. You'll never have to think as much as before.
1. World conspiracy - the secret world government - the film is banned in the United States
The film is about who rules the ball on the planet. From this film you know who controls the economic crises, armed conflict, ruining whole countries. After reviewing this film, you will learn who think our country is just a toy, "a pawn on the chessboard," and the population of the country with you no more than a biomass - a herd of animals and what is your government.
2. The documentary "Nord Ost" - FILM BANNED IN RUSSIA shown publicly
Terror in Moscow, a documentary about the hostage-taking at a Moscow theater by terrorists from Chechnya. The film - surviving eyewitness testimony, deciphered records of negotiations, had not demonstrated shooting storming the building and its results, and most importantly, a unique video, which was conducted by one of its militants camera.
3. The Devil's Double - very tough film, but you should still check ...
The film, based on real events, describes the life of Prince Ude Hussein, son of Saddam Hussein. Recognition of Power ... ... Too much money ... what else may need to "Prince", who has everything? Is that a double.
On it you can shove the whole routine, and in dangerous situations, he will take the brunt. But look-not go unrewarded ...
4. Zero - MOVIE BANNED IN RUSSIA shown publicly
"Zero" - overt criticism of Putin's regime - the chronicle of lost time. The film tells the unvarnished corruption, censorship, emergency lights, emigration and immigration, resource economics and many other things, as the central television to say "is not accepted».
5. "Home" - a film banned in 36 countries
This film has caused a flurry of comments. Very qualitative survey Luc Besson and the problem of the environment took their toll.
6. "Loose Change" - a film banned in the United States
The film tells about who and what gave the September 11 attack. If you have not seen this movie, you probably will be shocked. Facts in the film simply irrefutable.
7. "thieves in law" - banned in RUSSIA
First Person thieves tell how they have been doing business in Russia it all began and what happened and is happening in reality.
8. "- Kursk submarine in troubled waters" - banned in RUSSIA
The film reveals the secret of the sunken submarine "Kursk". This could serve as the beginning of World War III ...
9. "The FSB Blows Up Russia" - banned in RUSSIA
You remember the attacks? Reporters conducted an investigation, but it is better to hide the results as far as possible.
10. "I and Others" - the film was banned from being shown in the USSR
The documentary was shot in the Soviet era, it talks about how people are exposed to the view of the crowd. You - is a person or just someone's copy? Look, very interesting ...