The practice of bride kidnapping in most countries is a crime, not a legitimate view of marriage. However, despite the ban on the tradition since 1994, the Kyrgyz authorities often turn a blind eye. Today you will learn more about the tradition of bride kidnapping.
A man walks on a residential quarter with mountains in the background.
Mayramgul, 19-year-old resident of the Kyrgyz village Aqsa, whose name her parents asked not to be identified in the media, has only recently recovered from a broken leg and mental turmoil. Injured girl was when she tried to escape from the three drunken men pursuing her village street car, says Kyrgyz human rights activist Ilya Lukash.
Drove the victim to the angle between the houses, the driver knocked her then Mayramgul dragged into a car and taken to the house of her future husband, whom she had seen for the first time. That same night she escaped through the window and walked with a broken about 10 km, returned home.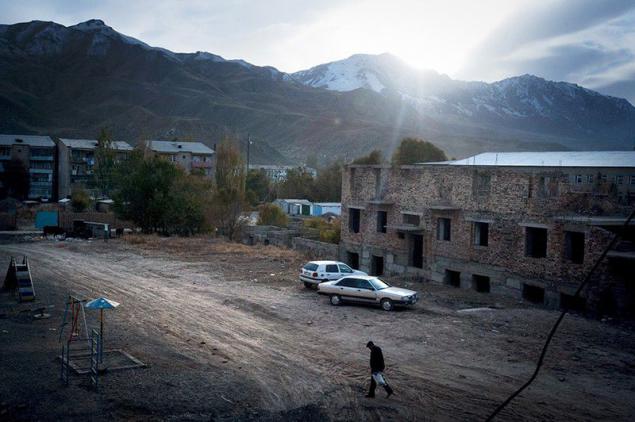 The older generation of the village at the table during the wedding.
"These pictures that resemble the Middle Ages - routine for modern Kyrgyzstan, says Lucas. The tradition of bride kidnapping, which is preserved in many nations only as comic wedding ritual, in this country has become a cruel and criminal fun.
"For example, you go in the bus - I saw a pretty girl - says Lukasz. - Call your friends, "I'm a girl I had noticed, I want to steal it." When the lady gets off the bus, grab her publicly, and no one responds ".
In this case, as in the famous Soviet comedy Prisoner of the Caucasus, the girl does not want to be kidnapped.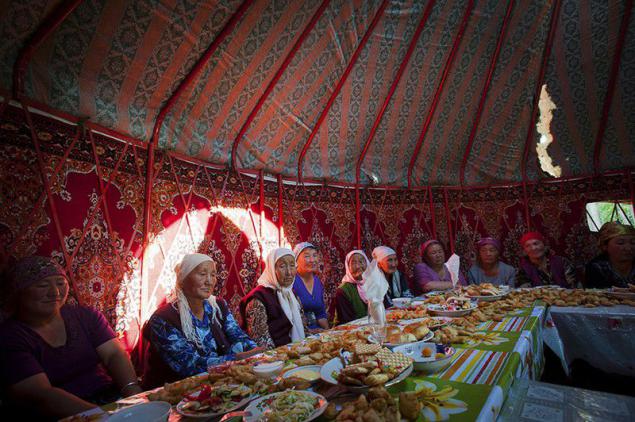 20-year-old Farid fights Tyhchykbekom who dragged her into the car with a friend to kidnap and force her family to marry her to him. "I'll marry you. Just let me go now, "- she yells.
Girls dragged into a car and took the bride to show parents Tyhchykbeka. In the same way occurs most abductions of young women in Kyrgyzstan. 80% of female prisoners are forced men to marry them, and only a few manage to escape from captivity. According to Kyrgyz human rights organization Open line, one-fifth of brides attackers steal just for fun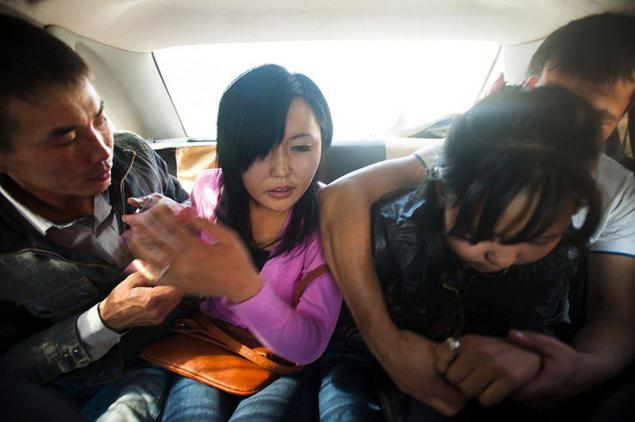 18-year-old Aytilek in white headscarf. It is a symbol of what she succumbed to her kidnapper's request to become his wife. A man kidnapped her the next day after meeting in Bishkek. Bride kidnapping is illegal, though, still quite common in rural parts of Kyrgyzstan.
Unlike the movie, the real story does not end happy ending: the victims are often custom concubines and free labor in the house of the thief. Rampant poverty in the country only contributes to the spread of wild rite.
According to the research of the Institute of Ombudsman of Kyrgyzstan, every year in the country kidnapped about 8 thousand. Girls, and most of them are abused and battered. 80% of their female prisoners are forced to marry men, and 20% manage to escape from captivity.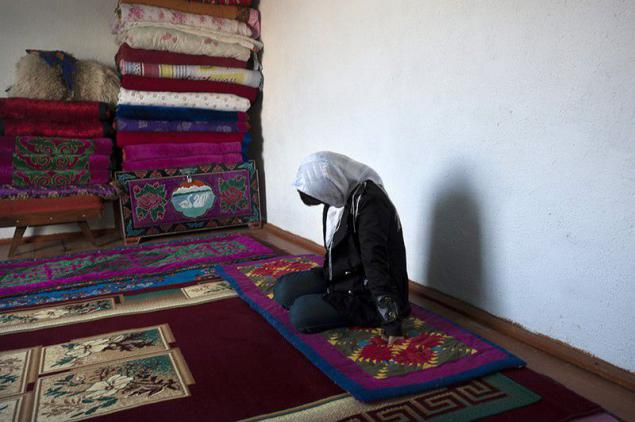 18-year-old and her husband Aytilek Baktiyaf, kidnapped her the next day after meeting in Bishkek. (
However, according to the Ministry of Internal Affairs of Kyrgyzstan, over the past 12 years, police were only 159 facts of kidnapping of girls, and, according to police statistics, the criminal proceedings instituted in only one out of 700 cases.
Scanty statistics can be easily explained: the majority of the victims and their parents perceive the wild escapade as folk tradition, not a crime, and not in a hurry to apply to law enforcement agencies.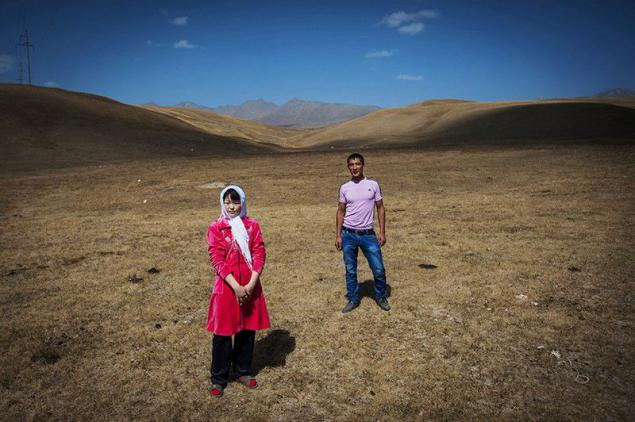 One of the yurts during the wedding ceremony.
18-year-old Bahtygul, a resident of Chui province, who asked to say her name in the press, first saw her fiance when she was taken to his house. Pre Bahtygul grabbed on the street and dragged by holding the hands and feet.
According to her, "betrothed", appeared twice her age, require consent to the marriage a few days, holding captive under the protection of the elderly accomplice - his relatives.
After weeks of unsuccessful attempts to escape abduction of the bride poisoned found in the house of potent pills. Was in intensive care in a coma, Bahtygul survived, but life remained disabled.
From the hospital frightened thief took Bahtygul to her parents, and a year later married another and had already to have children. "He remained unpunished, - complains injured - Before the kidnapping I was a young man, whom I wanted to marry. But now I do not need anyone ".
22-year-old bride Dinara in a scarf - a symbol of marriage. Dinara kidnapped Achmat, who wanted to marry her. 5:00 she refused him, but then agreed. "I do not know very well and Ahmad did not want to stay here," - says Dinara.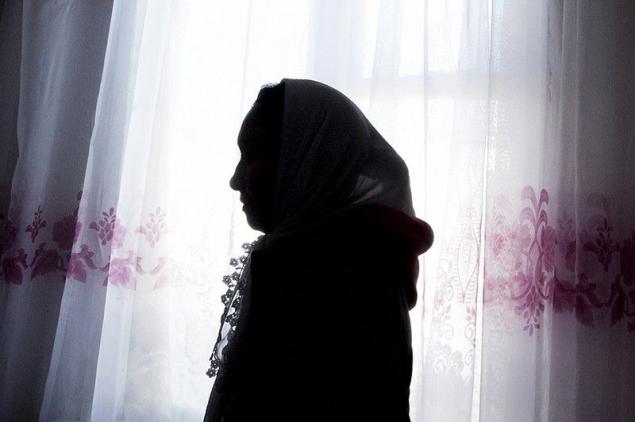 The next day, after Dinara accepted the offer Achmat Achmat relatives gathered to pray for the wedding in the house of her family.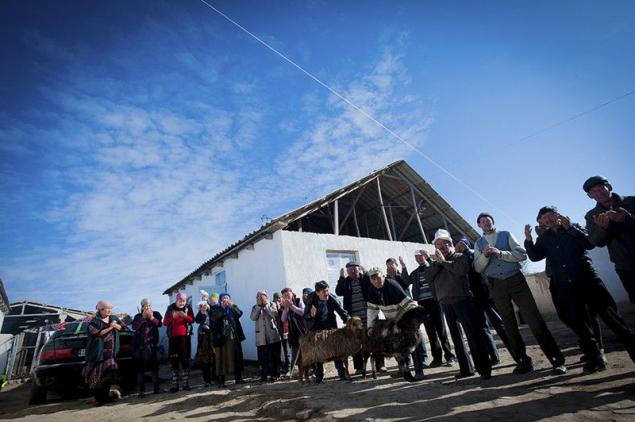 Relatives and friends Dinara helps her to wear a veil on your wedding day.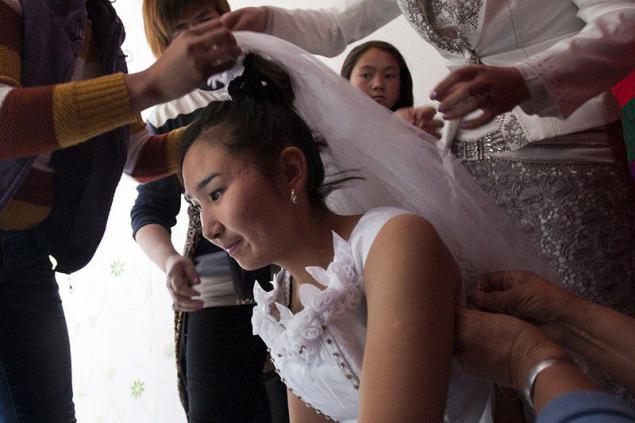 In the morning before the wedding, 24-year-old Ahmad - groom - dragging a sheep, prepared especially for the occasion. "I was looking for the right woman for a year and have been to many places, but never found the very same. I saw dinars for 10 days before it kidnapped in the market. Then the thought that I wanted to marry her. "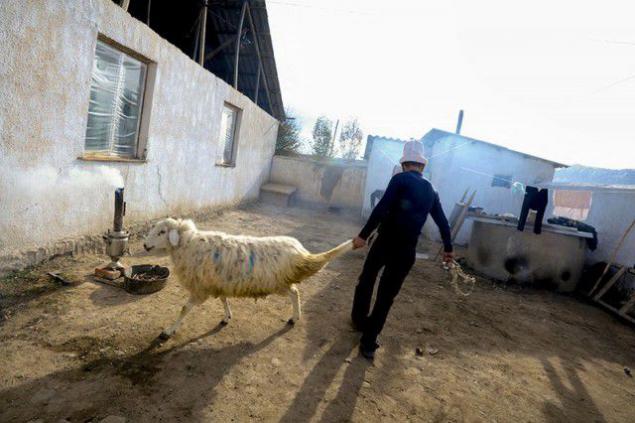 Mom (seated right), sister (center) and the guy (left) Urus Kasimbay mourn at her grave. Urus committed suicide after her kidnapped Seitbek Imonakunov. He was sentenced to six years in prison for kidnapping and raping a girl.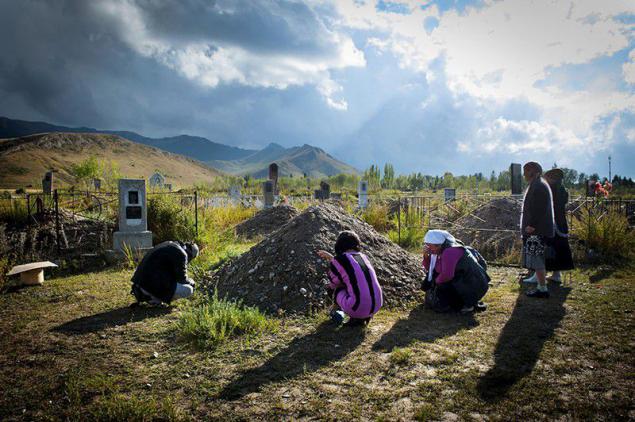 Figure couples in traditional Kyrgyz costumes.
By ala kachuu - tradition of stealing the bride - in the old days in Kyrgyzstan resorted mostly poor young people - those who were unable to pay the dowry, the bride's parents have redemption, historians tell. Another category - grooms with influential relatives, but who wish to marry a girl from a poor class. Abduction was a way to give institutionalized form of marriage relationship.
In both cases, the rite looked quite decent and even beautiful: the bride dressed in the best clothes, she had to go out to meet the bridegroom itself - for example water to the creek, where she was waiting Kunakov groom. The parents of both parties knew in advance about the upcoming ceremony.
In Soviet times, the custom of forgotten, and with the collapse of the USSR and the awakening of the national spirit ritual again came into use, albeit in a distorted form. However, the layer of the Kirghiz, engaged in hunting for women, remained the same - it is usually not rich people, emphasize local human rights activists.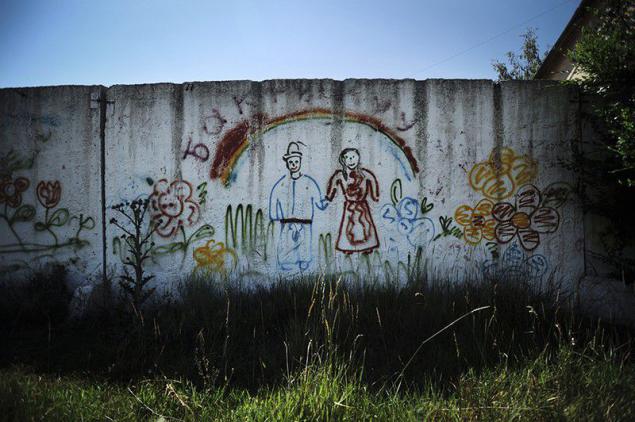 History teacher in high school 24-year-old Ahmad Kasimbaev (right) and his friends devise a plan to kidnap a 22-year-old Dinara on the way to her house.
According to the Central Asian Free Market Institute CAFMI, in Kyrgyzstan today to 20% of the unemployed (officially - only 8%), while the poverty rate is 36, 8%. For comparison, in Ukraine - 14%, Russia - 13%, the Czech Republic - 9%.
The large mass of young people who are neither in school nor employed, concentrated in the rural areas - both in the mountains and around the major cities. Many have small homes, but they live only his garden land. A wife for this marginal contingent only means to get a free pair of hands.
In the spring of girls leave school, and families look for potential suitors already, who would graze cattle and do housework, says Rima Sultanov, monitoring specialist Kyrgyz centers for women.
20-year-old Farida next to his brother, who had come to rescue her from the family of the man who kidnapped her on the street Naryn.
"If my sister wants to stay here, I will not stop her. But look at her, she cries and says he wants to leave. So I take her home, "- so asked the young man failed to relatives of the groom. In the end, he was able to pick up his sister with him. Each year, about 16,000 women marry their captors. In Soviet times, this tradition is practiced kidnapping less than it is now, then usually the parents arranged marriages for their children.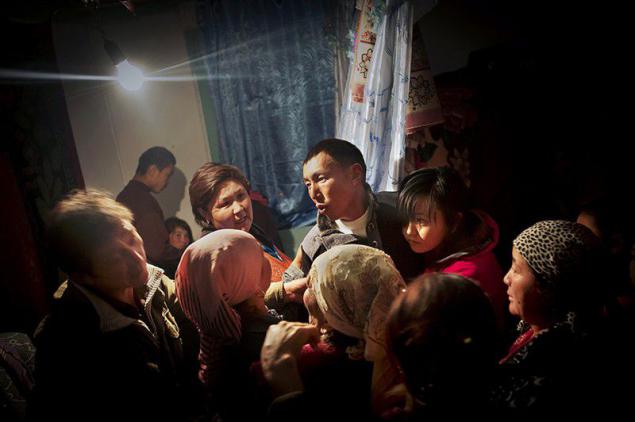 Relatives of 26-year-old Tyhchykbeka waiting for him at the tent after he kidnapped student Farid, which intends to marry. Before you steal, he met the girl twice. Older sister Tyhchykbeka persuaded Farid to marry him while they were driving in the car, where Farid dragged by force.
Although a survey of another local human rights organization Open line, one-fifth of men steal brides just for fun, and if they have families, more than half of them fall in the first year of marriage.
High season catching brides in Kyrgyzstan in the spring and autumn - traditionally this period is and the increasing number of official marriages in the country.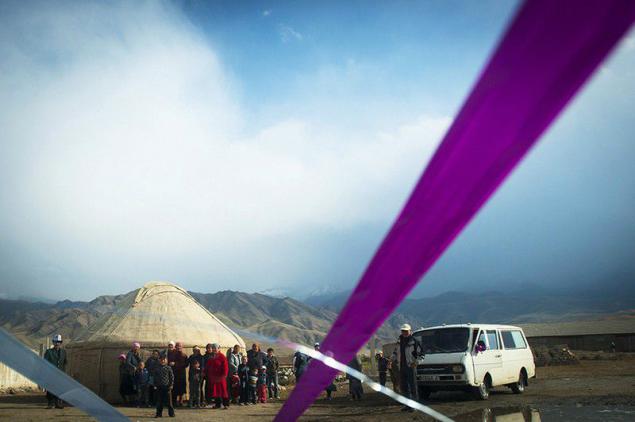 Relatives of 26-year-old lead Farid Tyhchykbeka the tent after the abduction.
And the wedding and the limitation of human freedom in the minds of many Kyrgyz - are indivisible, and the disappearance of a woman in front of everyone usually does not protest. For example, in December 2012 Open line defenders simulated abduction in central Bishkek, near the Philharmonic Hall. Two young men were pulling "bride" to the car, the "victim" cries out for help, and, moreover, that there were many people around, no one thought to intervene, even though a woman treated harshly and rudely pointed out.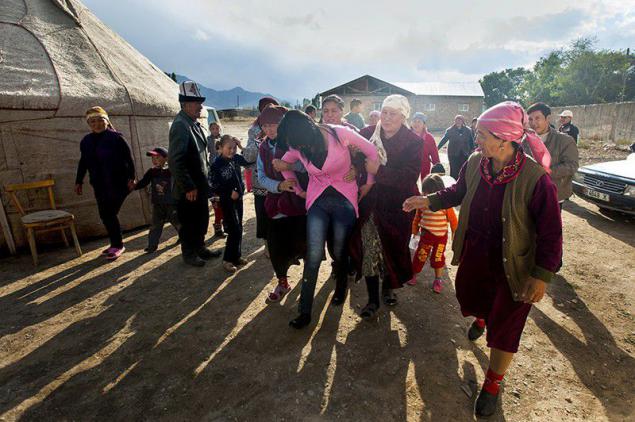 The elder cousin of the groom tries to convince 20-year-old Farid marry him.
Such a low threshold of criticality to such actions by others laid in the national character, says Anna Lyanna, a psychologist specializing in violence against women. In her opinion, proper upbringing boys get many Kyrgyz families.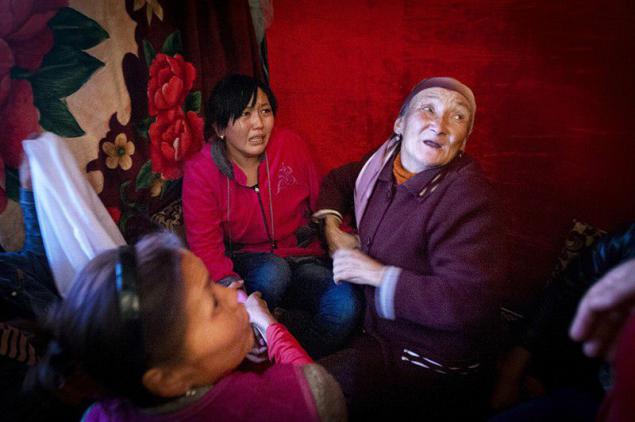 26-year-old Tyhchykbek with relatives are trying to persuade the 20-year-old Farid marry him. "I promise that you will be happy in the future, so please marry me" - he said. She replies: "How could you kidnap me? You know that I have a boyfriend. Even if I marry you, love between us will not. "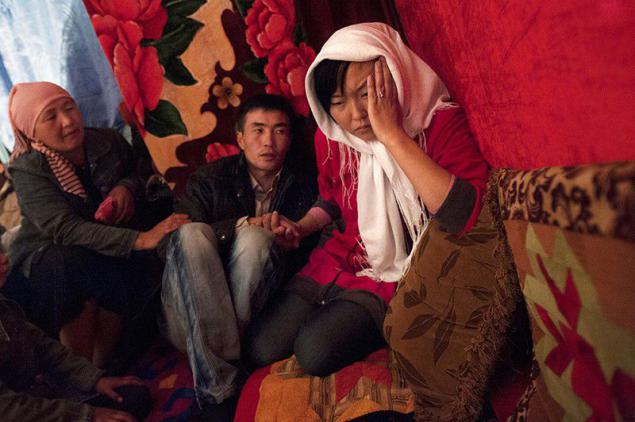 18-year-old Cholpon sits behind the curtain waiting for the guests at the wedding. Two days earlier, her kidnapped Aman. Cholpon Haman saw before, but they've never even talked to.
"When they brought me here, I refused to 6 hours. But for Kyrgyz women, if you entered the house of a man leave rude, besides, older women tried to persuade me to stay. Our tradition - respect elders. So I finally gave in. "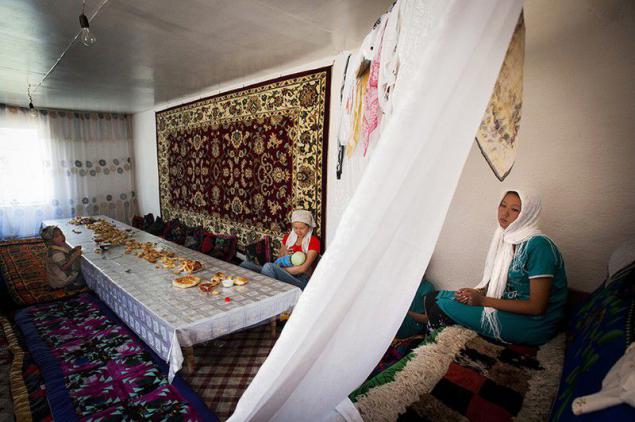 18-year-old Cholpon and her future husband, Aman pray during a wedding ceremony.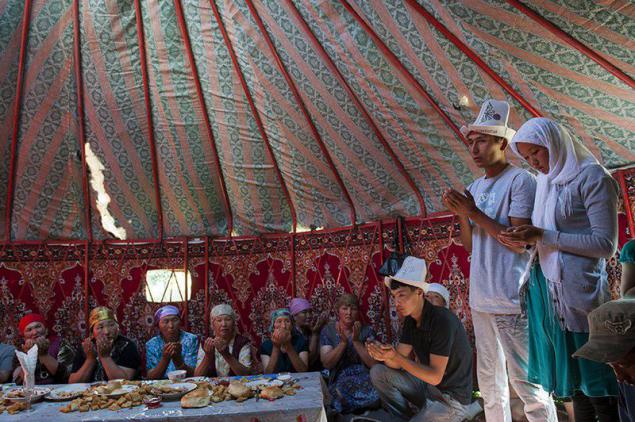 18-year-old Cholpon in their new home - the home of her new husband Aman.
Newlyweds Cholpon and Haman.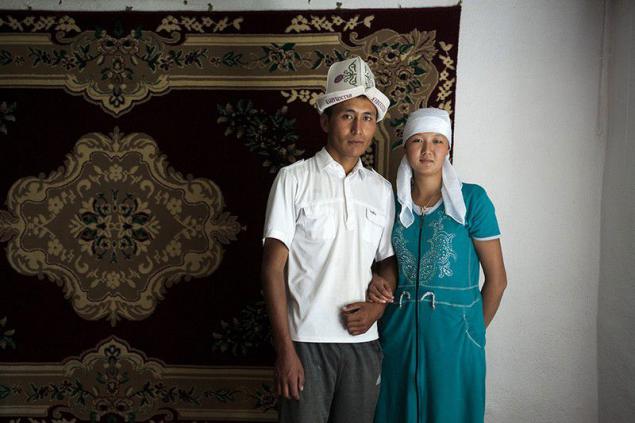 22-year-old Dinara opposed to what the older relative of the person who kidnapped her, trying to put on a girl a white handkerchief. Handkerchief indicates that she gave up and ready to get married. After 3 hours, she finally gave up and called her parents to say that he would remain with Ahmad. That same evening, Dinara returned to his home. The next day, Ahmad gave her a ring and brought back to his house.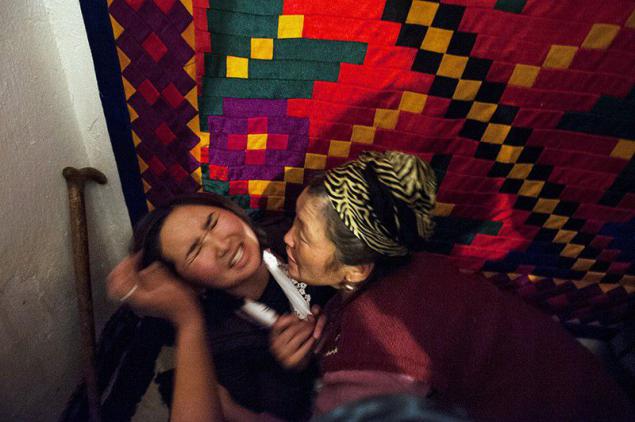 Newlyweds Dinar and Ahmad having fun in her room in the first week of life together. (© Noriko Hayashi / Panos / LUZ)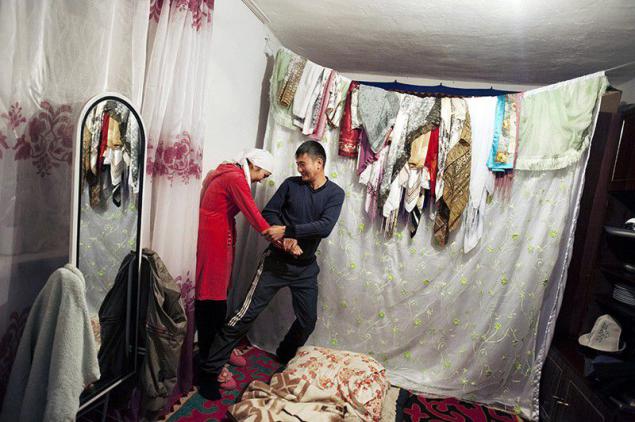 Dinara break from homework in the kitchen in the first week of family life with Ahmad.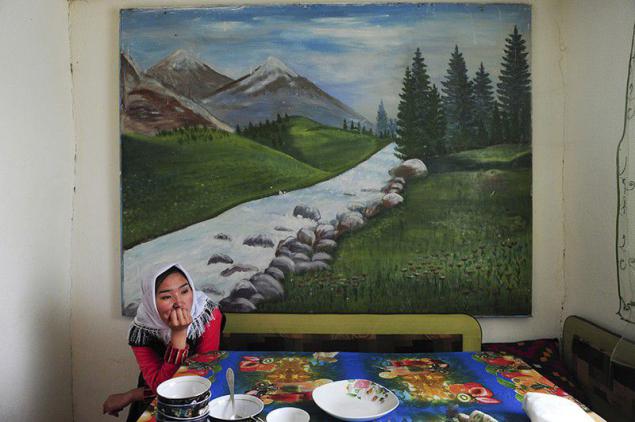 Dinara bride in her husband's house.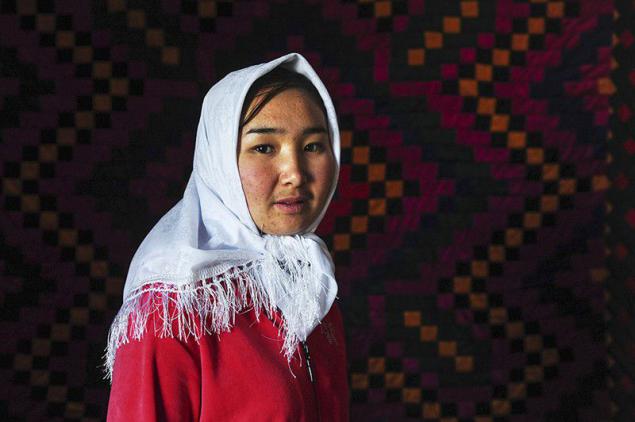 26-year-old Elvira Kasymova with his 2-year-old daughter Adinay. Due to domestic violence, she left her husband's home Azamat and now lives with her parents. Azamat taxi driver kidnapped her in 2004. He brought the girl to his home and forcibly held her there, leading to marriage. Kasymov says that urged it to stay with the bride and relatives Azamat. On leaving the house, they sprinkled bread crusts - traditionally stepped on bread incur the curse.
"I have never met Azamat and did not want to marry him, but his older cousin continued to persuade me. Kyrgyzstan is considered rude to step over the hospitality, and if a woman went into the house of men, it is no longer considered to be clean. Therefore, to avoid scandal, I gave up. Now, when I left her husband's house, I started to go to medical college. I want to get a divorce in the future to become a physician. "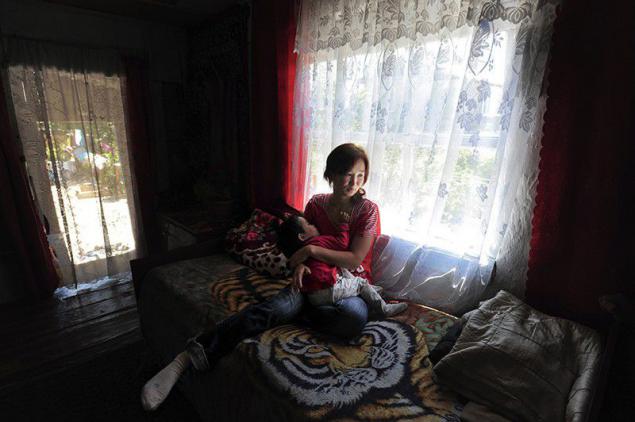 The oldest couple in the town of Salou. 83-year-old Eschen and his 82-year-old wife Tursun. Eschen Tursun kidnapped in September 1954. "We do not like modern way bride kidnapping, - they say. - We know each other well and exchanged letters with declarations of love before the abduction. Now young people are simply kidnapped girls, and it's not our tradition. Today's non-consensual kidnapping - just a fashionable trick ".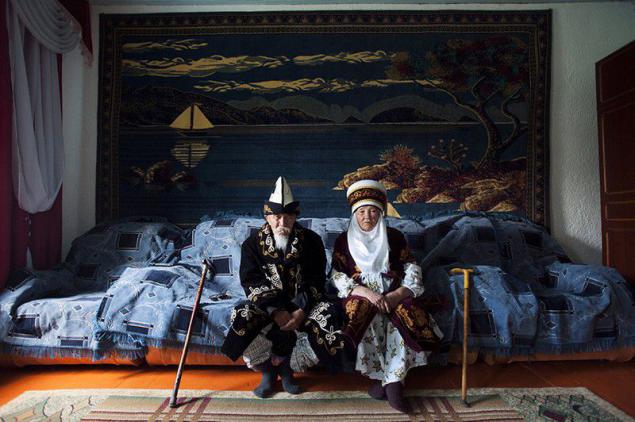 Judge Sabir Sudanbekov checks documents at the hearing.
The expert concludes that the illiterate villagers are not familiar with the laws and not only do not realize the gravity of the crimes, but indirectly they are covered. So, from a story by a human rights activist, the mother of a girl who ran away from home groom met her and slaps with the words: "You brought shame on our family this flight." She refused to accept his daughter, who had escaped from intruders, and forced her to return to the groom's house.
Meanwhile, the Kyrgyz Criminal Code provides for even a separate article for the kidnapping of women for marriage against her will. Until recently, she assumed the maximum penalty - three years in prison. On the 2013th term increased to seven years, and if the victim minor - up to ten years. However, as before, and now the kidnappers brides rarely fall behind bars.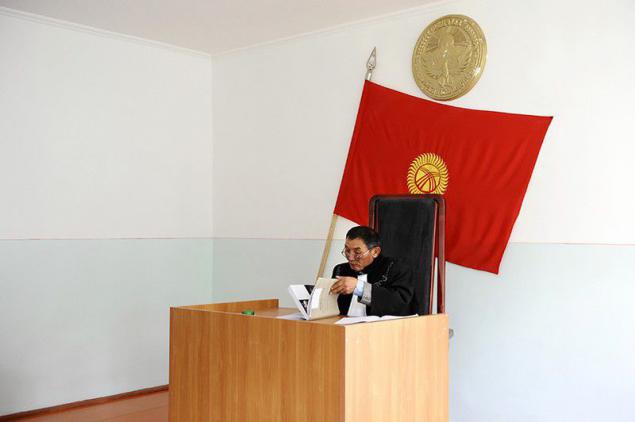 Defendant 34-year-old Seitbek Imonakunov. He stole the Urus Kasymbay, and although two days after that, the family took her back, she hanged herself in the yard the next morning. Seitbekov sentenced to six years in prison for kidnapping and rape.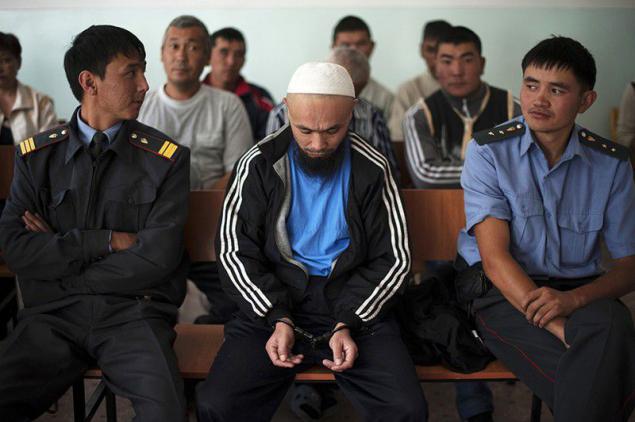 Dinarkul holds a photo of his 19-year-old daughter Kasymbay Urus, who committed suicide after she was kidnapped. Urus studied at the journalist, and she had a boyfriend, whom she wanted to marry. Kidnapped her 34-year-old stranger, but two days later her family was able to free her. Yet the next day the girl committed suicide. "My daughter was very clever and fun. I am against the kidnapping of brides in Kyrgyzstan ", - says her mother.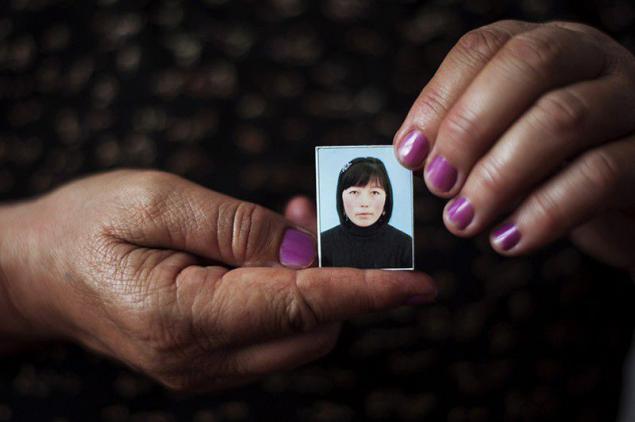 Source: bigpicture.ru