The figures illustrate the famous Russian master Andrei Karashchuk you will see the true form of the soldier of the Red Army.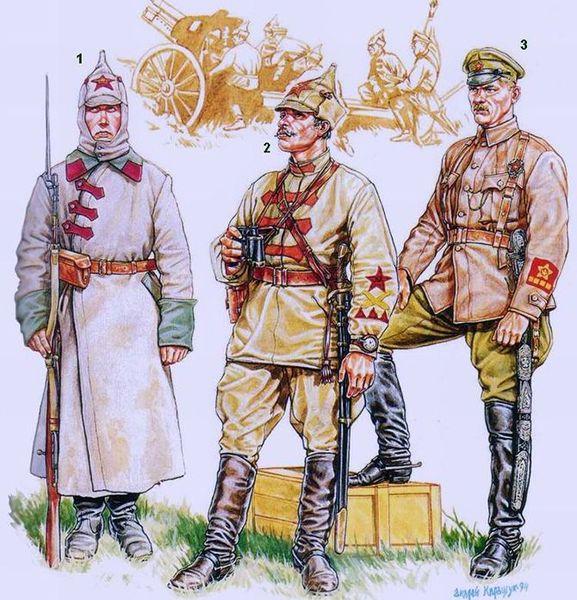 Familiar to us by the Red Army as a movie image ragged beggar in ragged tunic worn in shoes with windings is not really anything to do with reality.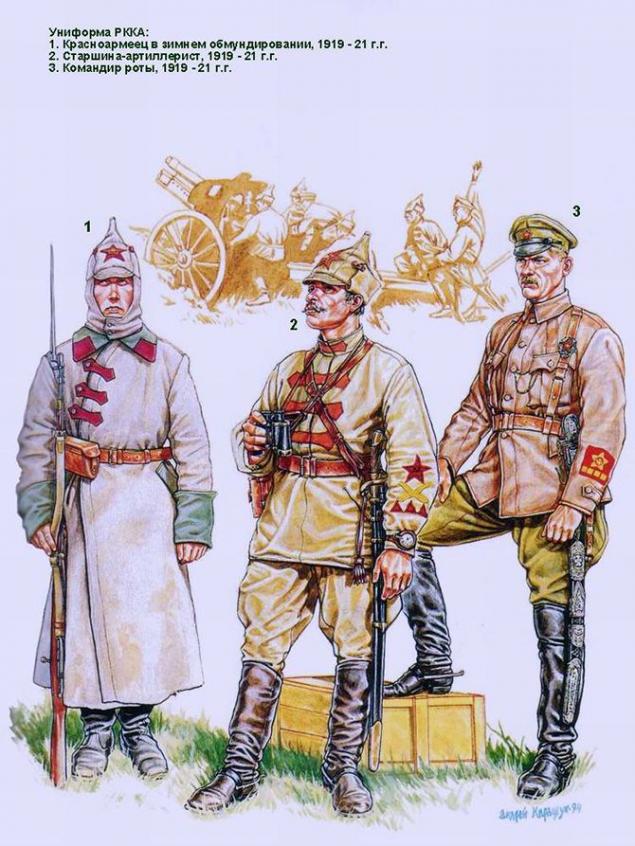 With the creation of the Red Army were captured quartermaster warehouses, where there lay a new form, sewn concern NA Vtorov on sketches Korovin and Vasnetsov - the form was sewn on the orders of the Court of His Imperial Majesty, and was intended for the Victory Parade in Berlin. They were Dolgopolov overcoat with a "conversation", woolen hats, stylized old Russian Sholom, later known as "Budenovka", as well as sets of leather tuzhurok with trousers, leggings and cap intended for mechanized troops, aircraft, crews of armored cars, armored trains and cyclists. In addition, the Red Army and went to rich reserves of ceremonial uniform. Often a mixture of various subjects uniform led to curiosities. So, the students of engineering courses were the officers' uniforms with shakos on which the royal eagles were closed woolen red stars, all of this "miracle" was worn together with protective trousers. Also, the Red Army had a number of units, which bore kits hussar uniform. Russian diplomat GN Mikhailovsky wrote in his memoirs: "through the city on Nakhimov Avenue to Catherine Street drove literally" red cavalcade "- all in a red dress from head to toe, with white high socks - not so much a Red Army as" krasnoindeytsy "new type. Crazy cavalcade (special forces of the Crimean Cheka) swept through the empty city is very picturesque, it looked like a page from a cinematic novel ... "To learn how to really look the Red Army can be seen from the drawings Andrew Karashchuk - the most famous Russian masters of military history Illustrations.