Recently completed at Fashion Week in Paris gave us a lot of great works of "haute couture". Each of these orders is the highest manifestation of design ideas, it is not surprising that some of them are likely to appear on the red carpet social events. Let's fantasize and choose our favorite celebrity best couture toilets appropriate to their character and style. And how can they without us something sorted out ?!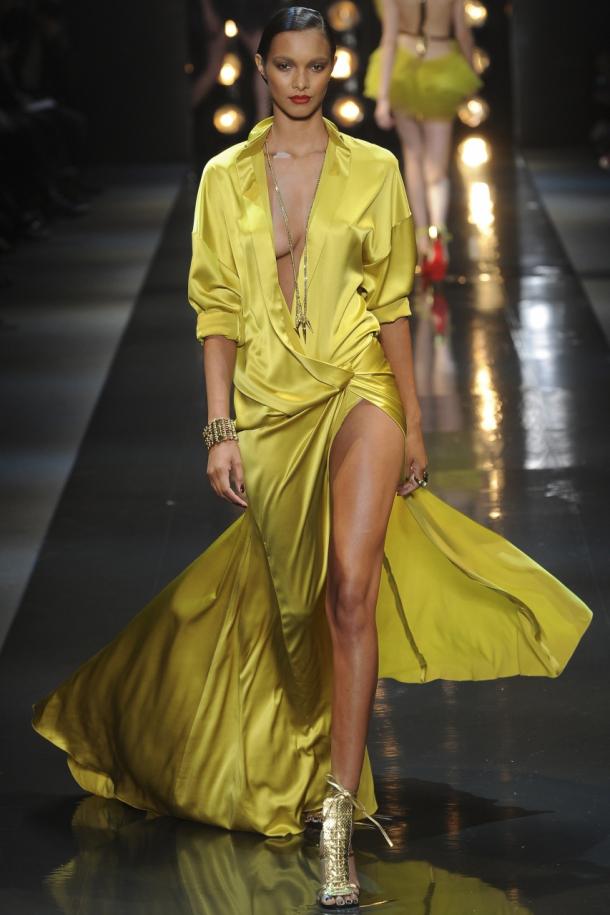 For Yanina Haute Couture Katy Perry
Russian designer Julia Janina for a second time shows his work at the Paris fashion week, but still no more or less significant event in Hollywood was not decorated one of her creations. Maybe Katy Perry will be the first of those who dare to wear on the red carpet dress Yanina, the more fabulous outfits that this brand does not contradict the unusual style of the singer. In addition, Kathy enough sense of humor to brighten your bust wildflowers.
Atelier Versace for Uma Thurman
Nobody likes Versace outfits as Uma Thurman. Therefore, it is obvious that at the next red carpet (in Cannes?) Statuesque actress necessarily demonstrate this outfit home. If I were a stylist actress, I would have paid attention to this silvery-white dress with asymmetrical bodice, cut and embroidery. Firstly, at the Uma complexion dense enough not to drown in the abundance of drapes and decorative elements and, secondly, a hateful image of the Snow Queen will be very becoming to her.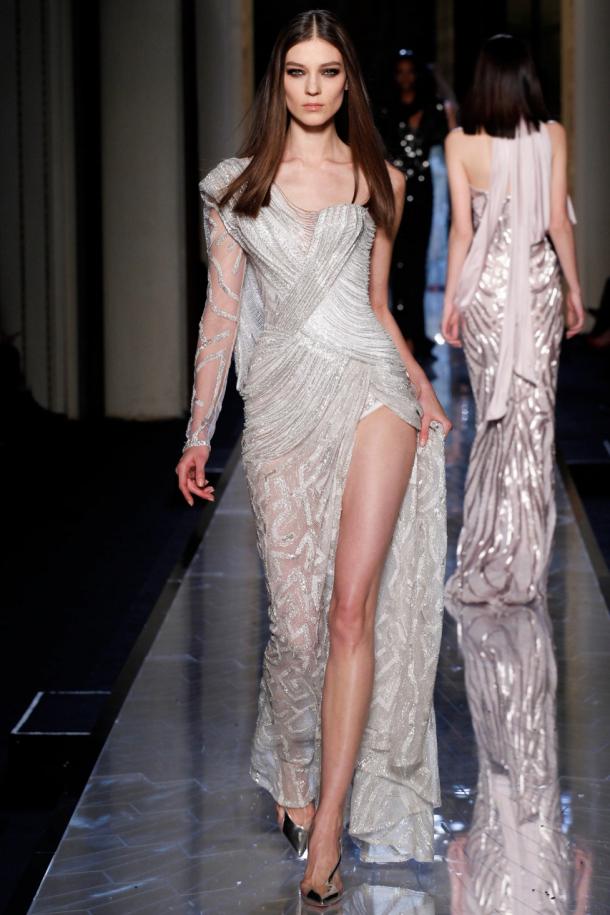 Atelier Versace for Rosie Huntington-Whiteley
One must have the courage due to wear pants ensemble to where all wear evening dress, and Rosie is just one of them. In my opinion, a black jumpsuit with a plunging neckline and original Cape simply created for a seductive model. Add to this her signature sexy look, and the image is ready!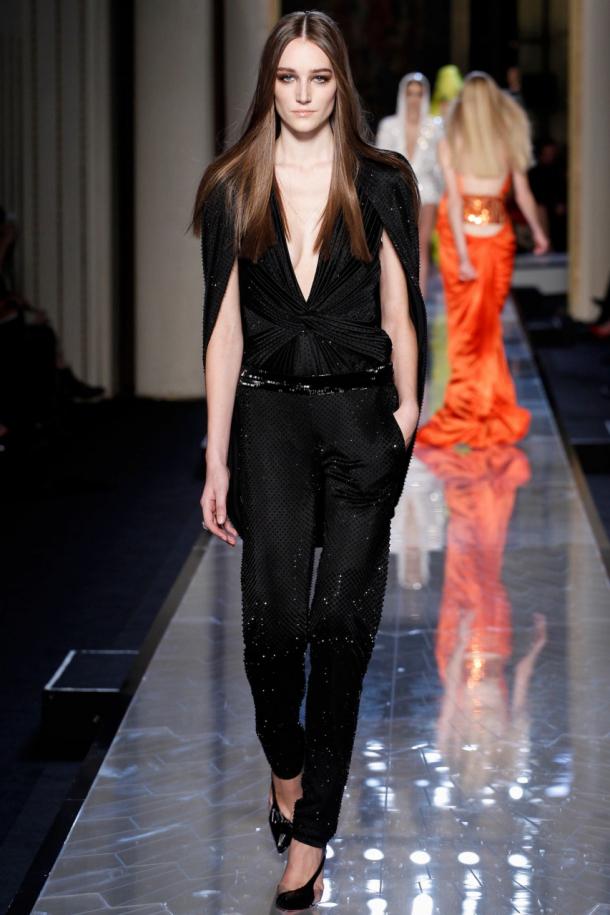 Giambattista Valli Couture for Blake Lively
Who first comes to mind when it comes to sexual mini-dress? That's right, Blake Lively. The owner of the most magnificent legs in Hollywood has managed to present this bright pink mini like no other - a confident and playful. Fantastic finish handmade - a nice bonus.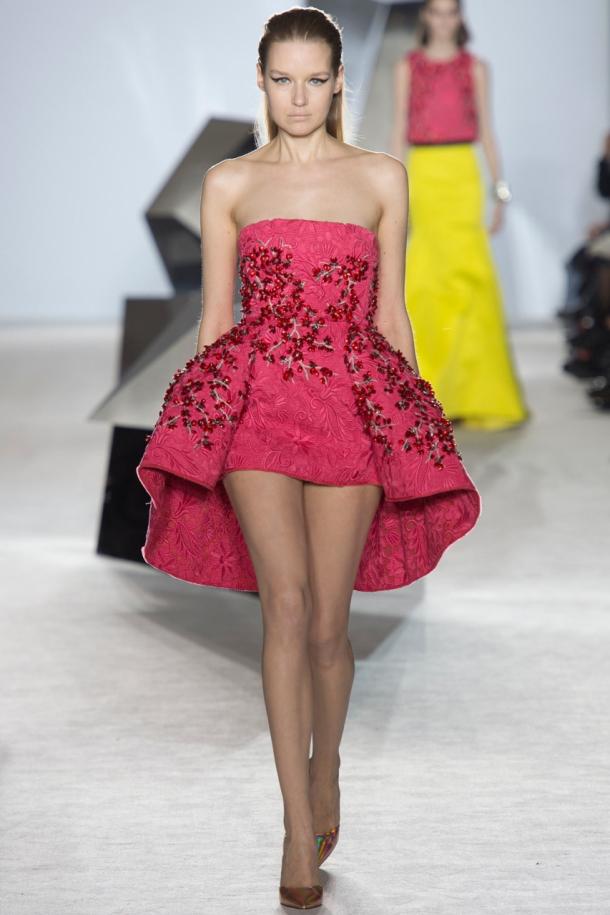 Giambattista Valli Couture Jessica Chastain
Delicate feminine images of Jessica Chastain work out better than others, but in spite of this, the star is no stranger to unusual decorative elements in design clothes. That's why I chose it for her romantic ivory dress, decorated with a large watercolor prints and original drapery.
Chanel Couture for Anne Heteyuey
This was my favorite outfit in the controversial collection of French fashion house and moved it Anne Hathaway. Dress in the Art Deco style will look great with short hair and a pale shade of doubt about who risks more "discolored" light-skinned actress evaporate as soon as the course goes cold berry lipstick shade. Of course, replace the couture sneakers come elegant sandals.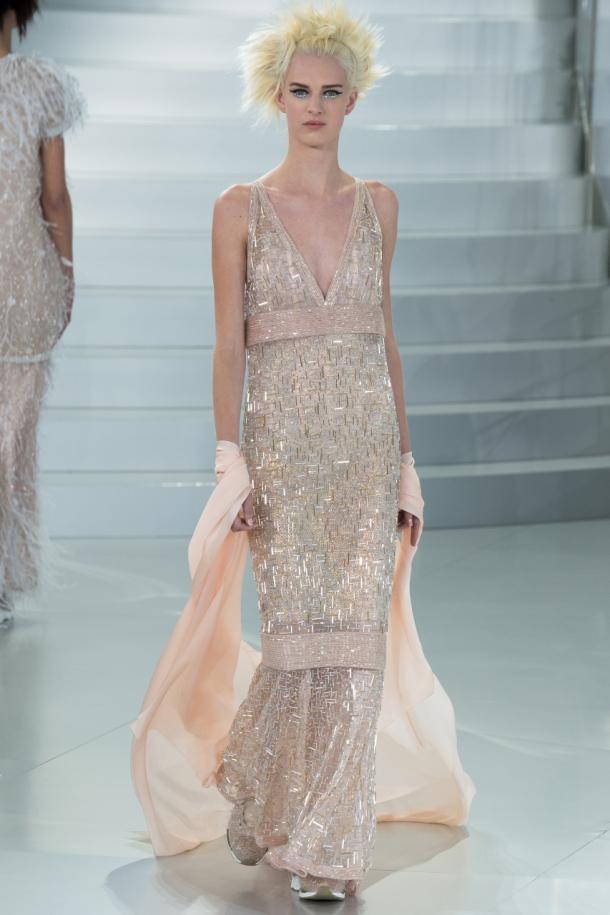 Ulyana Sergeenko for Fan Bingbing
We have already seen a charming Chinese woman in the creation of our Russian designer, so I have no doubt that this gorgeous dress of deep blue-violet color is her face. Interesting decorative elements, a deep neckline and dramatic plume just do not deliver any inconvenience Fan - we have already seen, with what confidence and royal grace actress presents the most unusual outfits.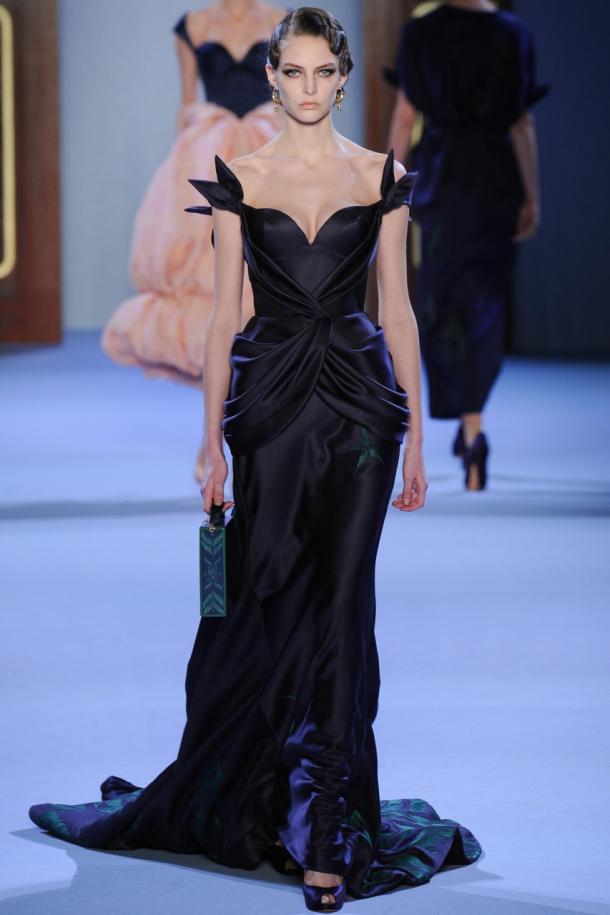 Ulyana Sergeenko for Dita Von Teese
I admit, it was hard to choose just a few dresses from the collection of Uliana, and even more difficult - to select only one of them for Dita Von Teese. Retro-style, which creates Ms. Sergeenko very becoming recognized as the queen of burlesque, and each of these outfits if shilsya for her. In the end, I chose a dress of exquisite blue-green silk with bulky jewelry, beaded fringe and elements of style of underwear. Can you imagine him Dita Von Teese? I am very.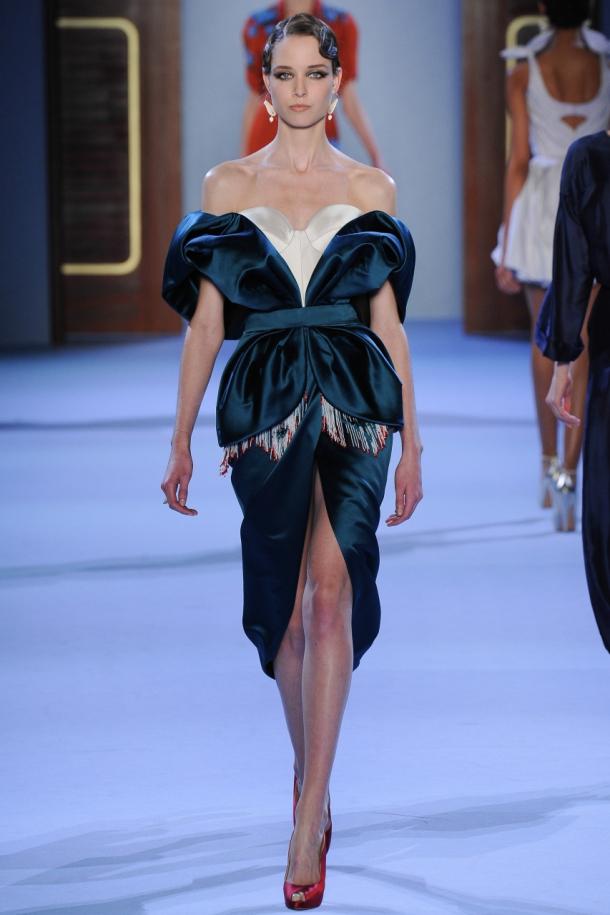 Alexandre Vauthier for Rihanna
Naughty Rihanna temper will not let pass this bright and provocative dress by Alexander Vauthier. Shirt style dress just have to taste the singer, not to mention a deep neckline and a cut that will open the eyes of the public figure and chiseled tattoos Riri. I see this dress with an abundance of gold jewelry and always with bright red lipstick. Hopefully, Rihanna, too.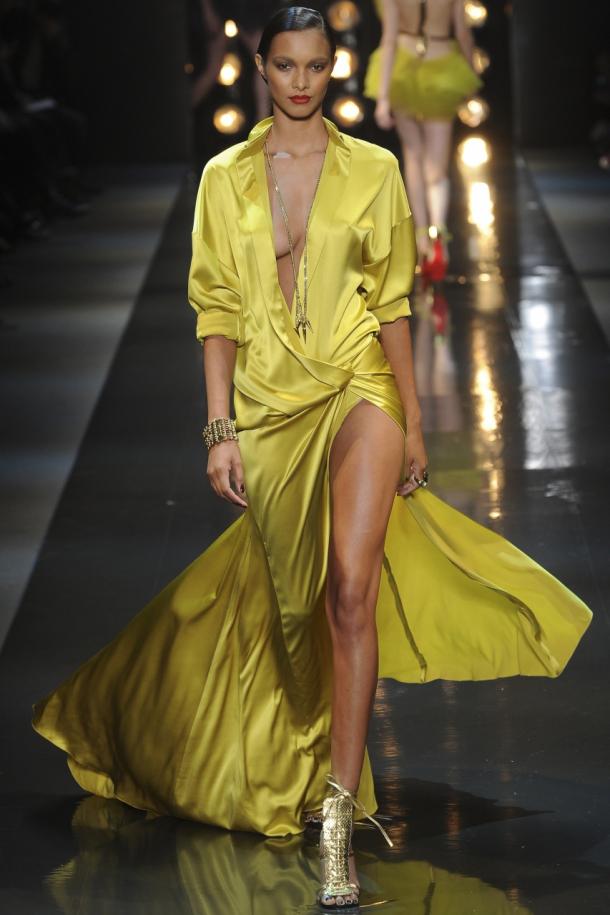 Valentino Couture for Florence Welch
Florence nontrivial way often creates an air dresses Valentino, but in this case a decisive role in the selection of dresses played not so much a style as an unusual olive marsh color. Just imagine how luxurious this shade will be combined with flame-red hair color of the singer.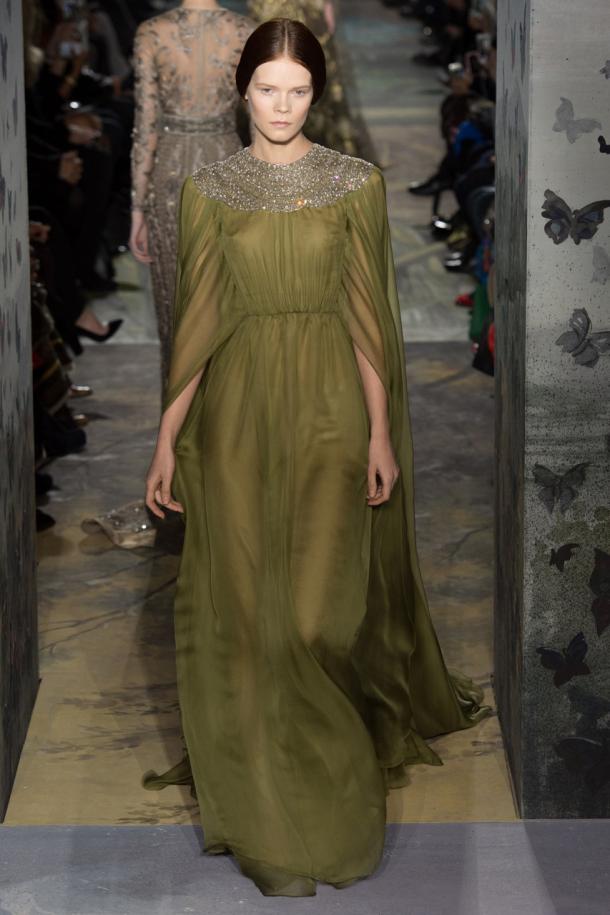 Valentino Couture for Keira Knightley
Italian fashion house have a lot of fans among Hollywood stars, but the biggest of them, perhaps, is Keira Knightley. I am sure that the actress did not choose one dress from a fresh collection of couture, but I personally would like to see her in this extraordinary ensemble of black lace. Transparent short trousers hardly obvious and most suitable dress for social events, but Cyrus is one of the few who have the confidence and charisma "pull" something like that on the red carpet.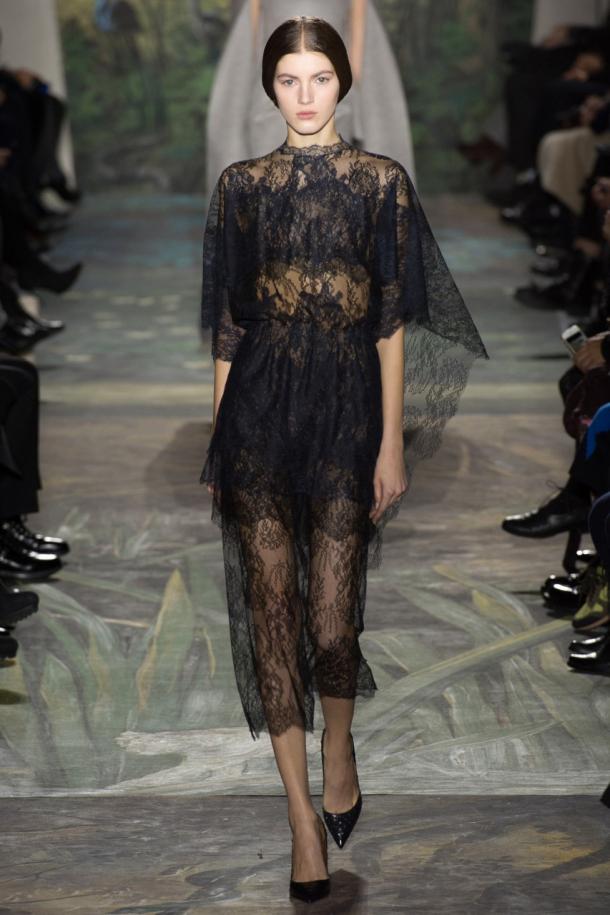 Alexis Mabille for Sarah Jessica Parker
Made of delicate material along at first glance seems very gentle and romantic - the image on the cloth to create an unusual contrast of thorns, on which is built the whole image. Something like that is very suitable Sarah Jessica Parker, whose style is hardly straightforward and predictable. Perhaps she even "planted" on the head of a butterfly - for, at least, she has had to decorate their hair wildlife during the filming of one of his films.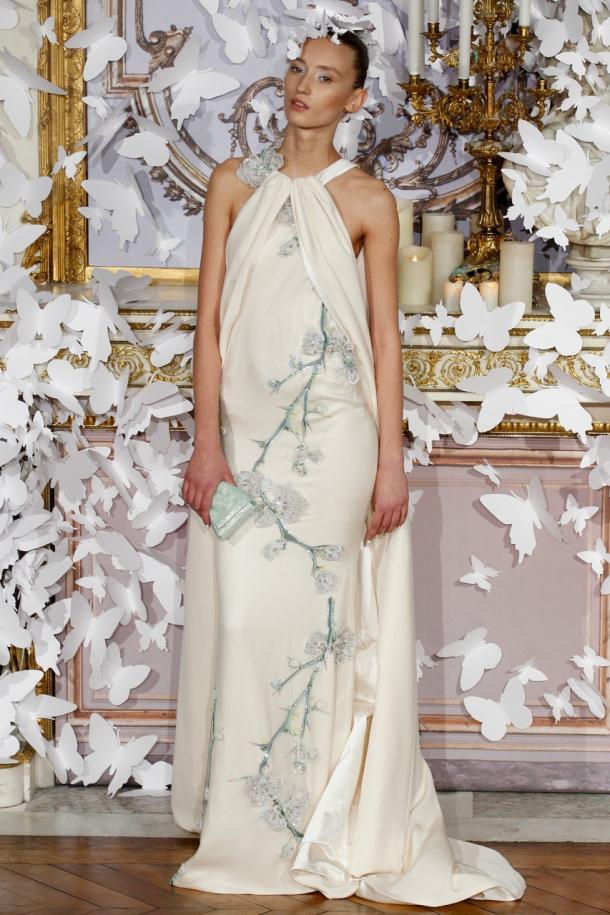 Armani Prive for Cate Blanchett
Initially, I opted for a luxury suite from Keith Alexis Mabille, but his kidnapped Lady Gaga (and very sorry to statuesque actress this dress would have looked at times spectacular). In the end, my choice fell on the evening dress Armani Prive luxury blue-violet color, the more that Kate has never been afraid of any unusual colors, no rich decoration -vspomnim least its famous 8-pound dress Givenchy for "Oscar" in 2011 .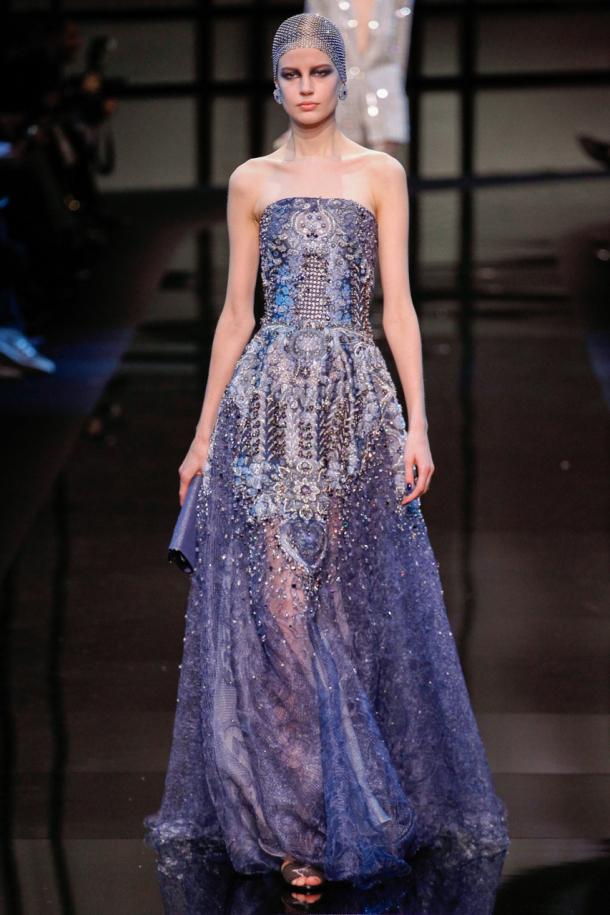 Zuhair Murad Couture for Swinton
The most famous lover trouser ensembles on the red carpet simply must pay attention to this fantastic outfit Lebanese designer hands. Yes, he looks more feminine and sexy than previous assemblies Tilda, but concise cape with satin lapels able to bring it to the image of the touch of masculine style, which is famous for its extraordinary and actress.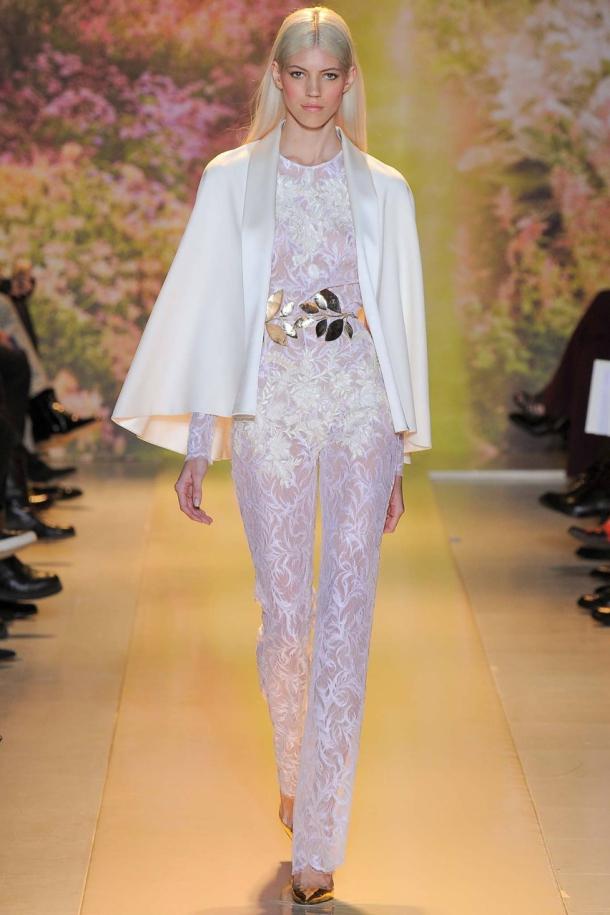 Zuhair Murad Couture for Eva Longoria
Peach color will look very impressive on the dark skin of the actress and a deep neckline and open arms will make the image superseksualnuyu - he loves Eve. An indispensable element of the dress will be golden and fancy belt - he not only looks beautiful, but also emphasize the waistline, where the presence of Eve, unfortunately, can not boast.
Christian Dior Haute Couture for Jennifer Lawrence
Fresh couture collection of Dior, in my humble opinion, has turned out not very successful, but choose from it is something for the red carpet will not be easy. Moreover, the stylists Jennifer Lawrence are just waiting for a chance to dress up in costumes of their pupils of the French house. Perhaps soon we will see the actress in this evening dress - familiar to Jane style, but with an unusual finish, reminiscent of a rose, or fish scales.
Elie Saab Couture for Lupita Nyong'o
Royal dress for the newly-made queen red carpet. Agree, Lupita will look gorgeous in this evening dress with a beautiful finish in perfect colors. Moreover, its short hair and an original make-up to make the image more colorful and exotic.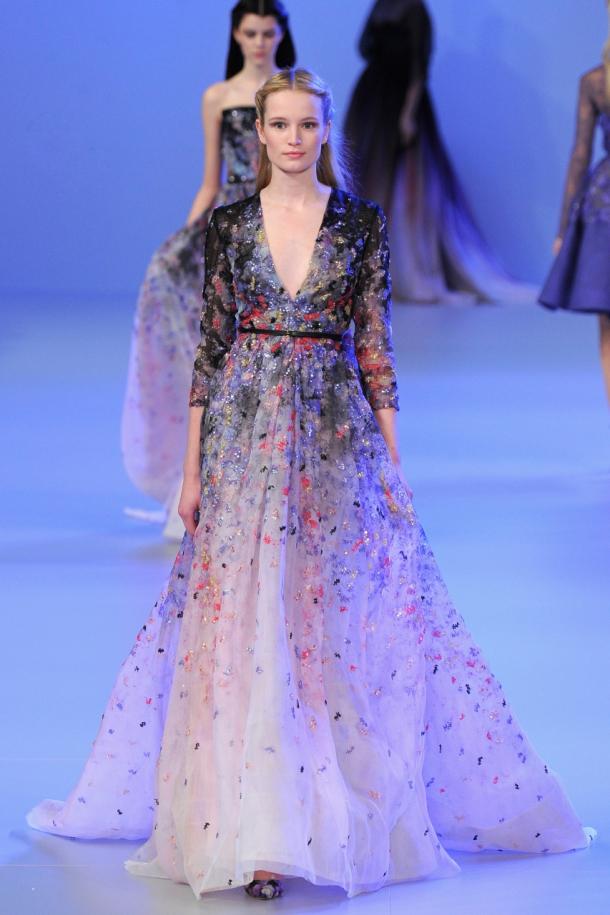 Elie Saab Couture for Amy Adams
Amy Adams has left behind a lush dresses and now prefers more restrained silhouette. Red coral shade will look very impressive on her porcelain skin, and cut from the hip, and a small plume make up the drama, which is usually responsible for the multi-volume skirts.
Stéphane Rolland for Sandra Bullock
The sculptural elements and interesting color - the two main components of the image of Sandra Bullock evening. Perhaps someday we will see the actress in this spectacular dress Stéphane Rolland - it looks a little more boldly than the previous outfits Sandra, but certainly will not let her get lost on the red carpet.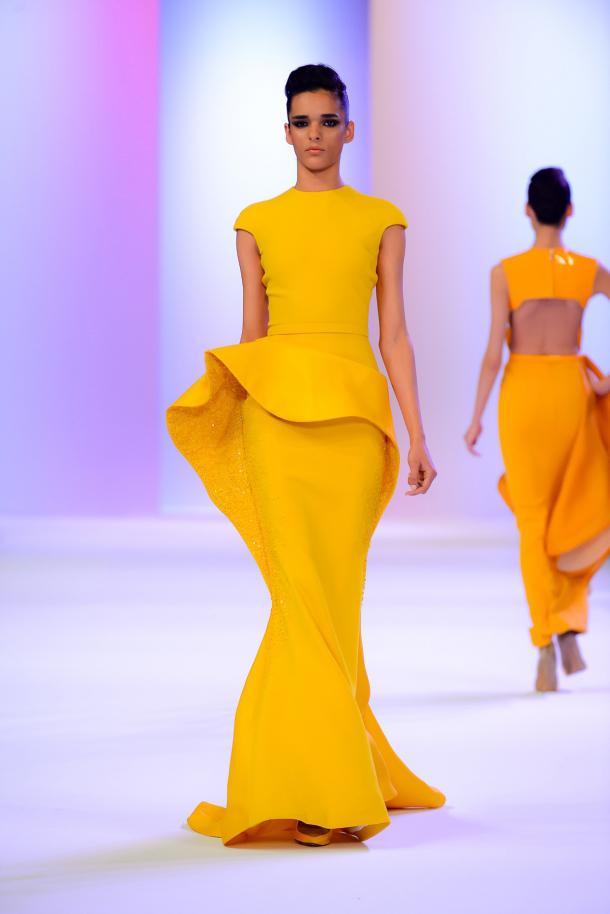 Vionnet for Zoe Saldana
This delicate dress may seem too trivial for the fearless Zoe, but the first impression is deceptive - outfit is not as simple as it seems. Transparent fabrics, unusual decorative elements and interesting colors adorn the actress is not worse than those of non-trivial clothes in which we are accustomed to see her. It will be the same daring and fearless Zoe, just a little softer.