Name: Monica Bellucci
Date of Birth: September 30, 1964 | scales
Place of birth: Città di Castello, Umbria, Italy
Career: Actress
Genre: Drama, comedy, thriller
Height: 1.70 m
Spouse: Claudio Carlos Basso (divorce), Vincent Cassel (divorce, two children)
Filmography Monica Bellucci for 2013 includes more than 70 works in the European and American cinema. Many casts doubt on acting talent beautiful Italian, and artistic talent Bellucci really not always easy to see. Directed by shamelessly exploiting its natural data, allowing it to appear in his films as beautiful, but terse woman, the object of desire for men and women envy. The very same Monica confident in myself and my body calls the main tool that allows to express emotions no less successful than words.
"Cinemania" we offer you a list of the most outstanding films with Monica Bellucci, in which she was able to create the most memorable images.
"Apartment", 1996
"Apartment» (L'Appartement)
France, 1996, dir. Gilles Mimouni
Cast: Vincent Cassel, Monica Bellucci, Romane Bohringer, Jean-Philippe Ekoffey, Sandrine Kiberlen, Olivier Granier, Paul, Paul, and others.
Max goes to Tokyo for important negotiations. Before his departure, he meets Lisa - a beautiful girl who gone to his head two years ago, but then disappeared, leaving no news. Despite the fact that time has passed, and Max is now another woman, he sets off to find her ...
Thanks to this film Monica Bellucci met with Vincent Cassel, whom she married three years later. "Flat" also became loud European debut of Monica, which until then was shot mostly in television shows or movies through-Italian production.
In 2004, the US remake of this movie came out, called "Obsession." Among the admirers of romantic stories he got even more laudatory comments. No wonder - the tragic end of "Apartments" in "Obsession" was replaced by a Hollywood happy ending.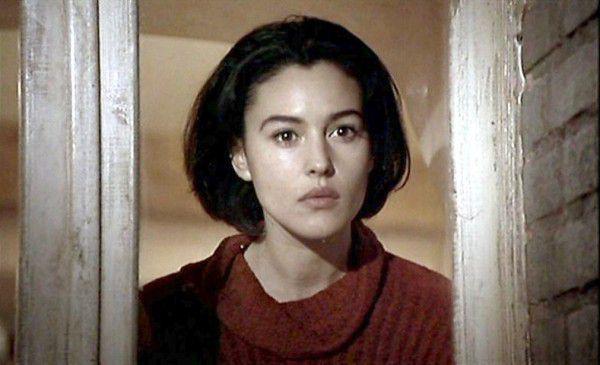 "Doberman", 1997
"Doberman» (Dobermann)
France, 1997, dir. Jan Coenen
Cast: Vincent Cassel, Checks Karyo, Monica Bellucci, Antoine Basler, Dominique Bettenfeld, Pascal Demolon, Marc Duret, Romain Duris, Francois Levanthal and others.
"Doberman" was filmed immediately after the "Flats", and again played Monica paired with her lover, only the scenery and mood of the picture changed. In place of languid unhurried romantic Paris entourage came warring with daring and fearless Doberman. Bellucci got the role of a deaf-mute gypsy Nat, for a spectacular incarnation which she took lessons in sign language. Subsequently Bellucci called the role of one of his most favorite.
"Malena", 2000
"Malena» (Malèna)
Italy, USA, 2000, dir. Giuseppe Tornatore
Starring: Monica Bellucci, Giuseppe sulfate salts, Luciano Federico, Matilde Piana, Pietro Notarianni, Gaetano Aronica et al.
Malena - sign, turning and truly stellar role of Monica Bellucci. If the previous work it has become widely known in France, after "Malena", filmed at her home, in the hot Italian, recognized her whole world. Painting claimed the "Oscar" and other prestigious international film awards, and no she did not get. But without a single award this film became one of the cult favorite among fans and Monica, playing essentially herself - just beautiful women who have to live in a strange world of anger and envy.
"Asterix and Obelix: Mission Cleopatra", 2001
"Asterix and Obelix: Mission Cleopatra» (Astérix & Obélix: Mission Cléopâtre)
France, Germany, 2001, dir. Alain Chabat
Cast: Gerard Depardieu, Christian Clavier, Jamel Debbouze, Monica Bellucci, Alain Chabat, Claude Rich, Gérard Darmon, Édouard Baer et al.
Of all the movies about the adventures of Asterix and Obelix is ​​the second part is considered to be the most successful, well-known and loved. Fans of French comedies revise it again and again, admiring not steel belly Gerard Depardieu and Monica Bellucci beauty that floats in milk bath. The role of Cleopatra Italian divas very becoming - just what we needed was her natural kingship and self-confidence.
"Irreversible", 2002
"Irreversibility» (Irréversible)
France, 2002, dir. Gaspar Noé
Starring: Monica Bellucci, Vincent Cassel, Albert Dupontel, Jo Prestia, Philippe Nahon, Stephane Drouot et al.
Scandalous sensation Cannes Film Festival 2002, "Irreversible" has questionable artistic merit, but powerful emotional impact. On the set of the most famous in the movie rape scene is legendary, the veracity of which can be judged only in the story. It is known only that the scene lasts 9 minutes of screen time, and for its filming was done six doubles.
After the film's release Monica's mother told her that she had ruined his career (although the film, she has not seen). They say that while watching this shocking scene itself Vincent Cassel cry. Bellucci itself to all violent responses responds calmly, "It's just a movie».
"Remember me", 2003
"Remember me» (Ricordati di me)
Italy, France, UK, 2003, dir. Gabriele Muccino
Cast: Fabrizio Bentivoglio, Laura Morante, Nicoletta Romanoff, Monica Bellucci, Silvio Muccino, Gabriele Lavia, Enrico Silvestrin, Sylvia Cohen et al.
"Remember me" - a rare film in which Monica plays a living woman, the mother of the family, sincerely crying and smiling, and not the object of universal worship. This is an honest Italian drama about love, passion, desire, love and family values. "Remember me" shot by Italian director Gabriele Muccino, who in 2007 took the famous "Heart Tango" - promotional video in which Bellucci appears in different images.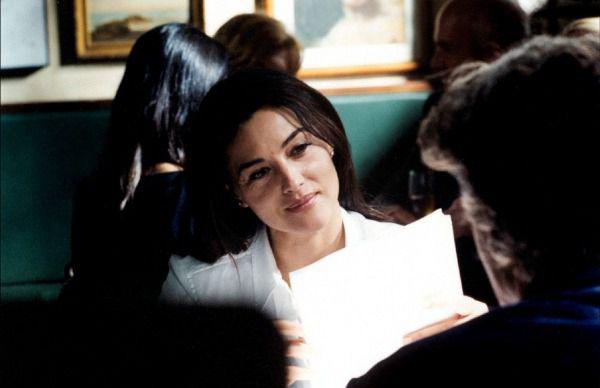 "How Much Do You Love Me?", 2005
"How do you stand» (Combien tu m'aimes?)
Italy, France, 2005, dir. Bertrand Blier
Starring: Monica Bellucci, Bernard Campan, Gerard Depardieu, Jean-Pierre Darroussin, Édouard Baer, ​​Farida Rahuadzh, Sara Forestier et al.
Another fancy French maestro Bertrand Blier, the script for which was written specifically for Monica Bellucci. She again played almost itself, but with only one amendment: Italian Daniela sells her body, who dream to have all the men in the county. A lucky only one - shy Francois, whose health deteriorated even by surging happiness.
Monica Bellucci started filming the movie in three months after the birth of his first daughter, and in between takes to breastfeed. Its round shape during pregnancy, she decided to make a virtue of Daniela, not dropping weight in a matter of urgency.
In 2006, at the Moscow International Film Festival Bertrand Blier was awarded the Silver George as best director.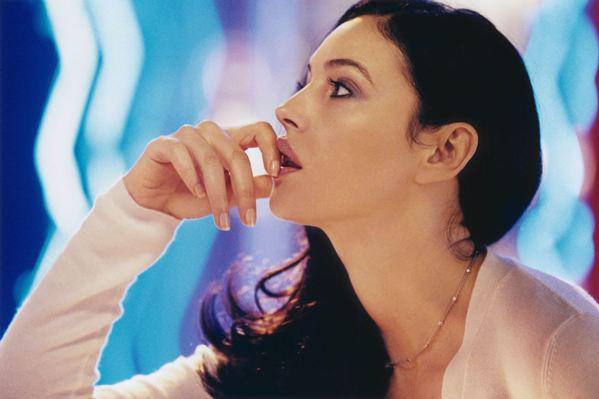 "Wild Blood", 2008
"Wild Blood» (Sanguepasso)
Italy, France, 2008, dir. Marco Tullio Jordan
Starring: Monica Bellucci, Luca Dzingaretti, Alessio Boni, Maurizio Donadoni, Tracy Taddei, Luigi Dibert, Massimo Sarkelli, Mattia Sbragia and others.
Story based on real events. Osvaldo Valenti and Luisa Ferida - Italian actors of silent film, shot in 1945 in the streets of Milan for communication with the Nazis. Monica, who plays Perida always loved these roles - conflicting, passionate, true. Also, the script drew her love story that broke the Second World War.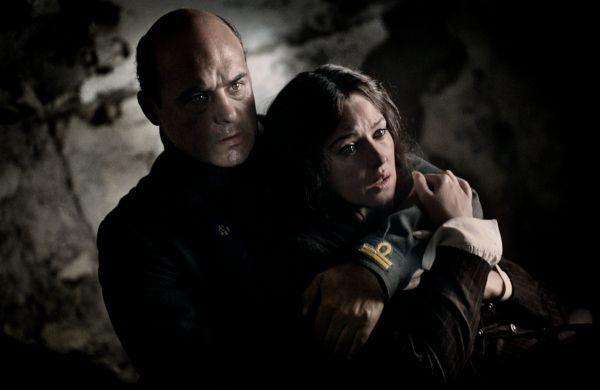 "Do not look back", 2009
"Do not look back» (Ne te retourne pas)
France, Italy, Luxembourg, Belgium, 2009, dir. Marina de Van
Cast: Sophie Marceau, Monica Bellucci, Andrea Di Stefano, Thierry Novik, Brigitte Katiyon, Sylvie Granot, Augusto Zucchi, Giovanni Franzoni et al.
Writer Jeanne, a mother of two children and a happy wife, suddenly begins to observe a strange changes, while no one around does not even notice how changes its appearance. For a clue of what is happening, it is sent to Italy, where she was carried away by the mysterious signs.
Marina de Van shot another film about a split personality, which was ambiguously perceived by the audience and critics. Sophie Marceau and Monica Bellucci play the same character, and, according to some moviegoers, that their presence in this picture saved it from total collapse.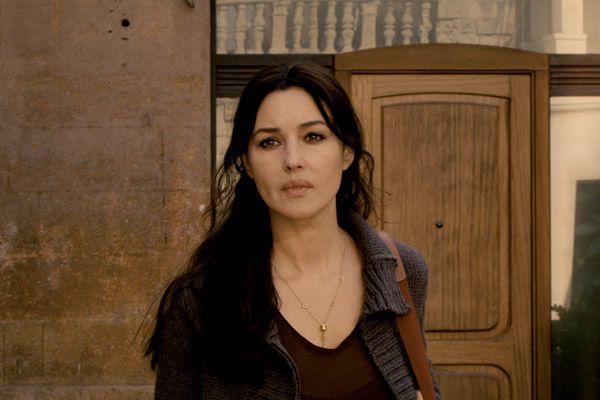 "Love: Instructions for Use" 2011
"Love: Instructions for Use» (Manuale d'am3re)
Italy, 2011, dir. Giovanni Veronesi
Starring: Robert De Niro, Monica Bellucci, Riccardo Scamarcio, Laura Kyatti, Michele Placido Donatella Finocchiaro, Valeria Solarino, Vittorio Emanuele propitsil and others.
Three short stories about love and its different faces and manifestations in different periods of life, of human emotions with the same Italian accent.
Even at the dawn of his career, Monica Bellucci confessed that want to stay in a movie with Robert De Niro, and "Love ..." gave her the opportunity.
Some criticized painting in a primitive, others silently admired her ease and, of course, the beauty of their beloved Monica, which appeared in a pair of American idol in the third part of the film. The actress started filming in the film immediately after the second birth.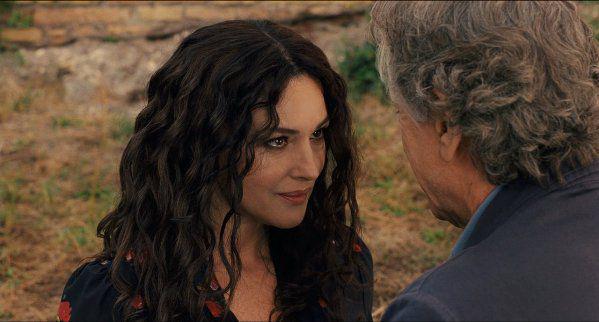 Source: