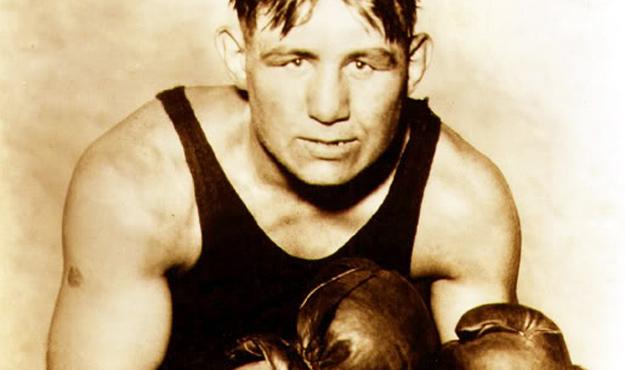 - Jack, I need another fight, - said Billy bowl, shaking off the first snow has just fallen in Minneapolis. - With Bill Brennan.
Billy least, thin, pale, with sunken cheeks looked like a boxer now. He always seemed a bit edgy, but by the autumn of 1923, his body left alone angles: straight, sharp, all sorts. Perhaps, in some states, it would not let not that fight, but also to watch boxing, worrying about his health.
- Oh, my God, Billy. Brennan will kill you - Jack said. - He beat Dempsey twelve rounds until he bumped into his uppercut. I do not want your death on my conscience was.
- Jack - Billy said wearily. - Let's face it. I'm dying. What would Brennan with me did worse I will be gone. All I want to - to my wife and children were present, merry Christmas. You know that I ruined. Do you know of unpaid medical bills. We sold almost all the furniture. Just organize the fight before Christmas.
Jack argued until they were hoarse, offered money in debt, but a bowl stubborn. He needed a fight. Eventually Jack Reddy resigned because he knew that there are no people more stubborn than Billy bowl. He organized his battle with Brennan November 7.
Reporter "Minneapolis Tribune" George Barton, who had heard about the disease bowls, flew into a rage and threatened to write a pamphlet about greed Jack Redden. But if boxing Barton knew all that about Billy - not all. Bowl came to the famed journalist (former boxer, the future commissioner and the best referee of his time) and told his story from the beginning.
In 1918, he complained to the doctor for back pain. After analyzes Dr. Sivertsen said the grim news: the young and promising boxer revealed Bright's disease (chronic nephritis). "If zavyazhesh with boxing, you will live another five years", - said the doctor. He did not know that Billy could not tie. At first he organized fees automotive business, went bankrupt on it (including the fact that many believed his friends on the floor) and now owed 100,000. He said nothing to his wife and continued to perform. For five years, Bill spent over 30 fights and even survived two and a half rounds against Jack Dempsey himself. As a result, Jack sent him a knockout - the only time in his career, Billy - but it brought him 18 thousand, to the penny gone to creditors.
Billy won more often, but the disease was at his heels. In 1923, paying their last respects, he realized he could no longer fight. By the fall, he could only eat boiled fish and chicken broth and could barely stand on his feet. But he had it last Christmas. Forces with him, in his own words, was exactly one fight.
Barton agreed to keep a secret. Bowl began to prepare for battle - lie in bed all day, hoarding power. Bill Brennan, mired in the dark deeds, are not wasting time in the gym and went to fight with a big belly. A bowl, on the contrary, the ring is looked the same: somewhere back speed, due to which he was nicknamed "Lightning", and beat his fists as it should. In the third round left hook bowl Brennan sent a knockdown in the fourth with a right hand to the jaw knocked out. Get your thousands, he hurried home.
He re-furnish a house furniture. He went for the last time to hunt ducks. A month later, closer to Christmas, engaged in the most important. Donna got a little doll and teddy bear, boys - bicycles, Mary - the piano on which she could accompany her velvety contralto. He sent a check to parents ordered the best products and put the remains of the fee to the account of his wife. While Mary decorate the Christmas tree, Billy stayed in his room, hiding from her pain, which is becoming stronger.
"This is the most beautiful tree in the world," - he said, when he finally went to dinner. They drank, and cut a Christmas goose, and sang songs, and opening presents, and everyone was happy, even Billy almost could not eat and only praised Mary culinary skills. It was the best Christmas in a snowy Minneapolis, and the best Christmas in the family bowl.
The truth about his illness Billy told his wife the next morning only. He had to call Jack Redden: "For God's sake, Jack, come and take me away. I'm dying. Six days later, on New Year's gloomy January morning, he died in the hospital, having to do in my life the most important thing. And when Billy Jr. ten years during the Great Depression was trying to find his way in life, too, decided to become a boxer, like his father. Maybe that's because he knew - as though you were not a bad thing if you know how to strike a decisive blow, always, you can always spend one more fight and see his family the happiest in the world.
Source
Your text to link ...