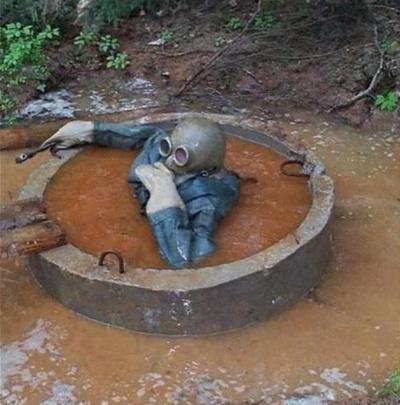 Mid-80s, uchebka. Coming inspection personnel. Who knows - a facade, built in the absolute. Soldiers are taught songs, drill exercises to exhaustion, the order in the barracks and in the territory of induced clinical. Because the check comes some very high rank.
The long-awaited day comes. Breastfeeding on lined boots, shaved heads. It comes with a general checking. Walks general, the soul rejoices. All as polozheo - colored grass, ground rubbed shoe polish, whitewashed curbs. Beauty!
General comes to the barracks - and here the full openwork. Beds are rovnenko, blankets and tucked repulsed at right angles. He comes up to the third floor. The third is the son of Uzbek orderly sad deserts. Not grown together with his drill. On duty. Welcomes the inspection, as expected.
And then it overcomes some general physiological need. He goes to the bathroom. And - horror of horrors - one of the toilets clogged! He sweeps it from the toilet, inserts duty and sweeps to the toilet on the second floor - it is already beginning to draw in. It sits in a pose of an eagle and catches the buzz.
A duty officer, meanwhile, puzzles orderly instruction punch bowl. Fuck knows, whether Uzbek understood the task literally, if they have this operation was so taken hold, but he punched the toilet using scrap fire board. And shot! At the overlap. And just above the relaxed general.
A further review took place in the mode of punitive action.