Poll of the American magazine has shown that the majority of women aged 50 to 74 years old happy to wear clothes, which for centuries was considered the prerogative of youth - tight leggings, mini skirts, active prints. The young lady also want to give yourself more significance and importance of using conservative clothing. But let's face it, sometimes these experiments did not turn out the way you want - perekolotye Botox granny in transparent dresses and girls in their twenties starushachih toilets look ridiculous. For example not far to seek - our favorite Hollywood.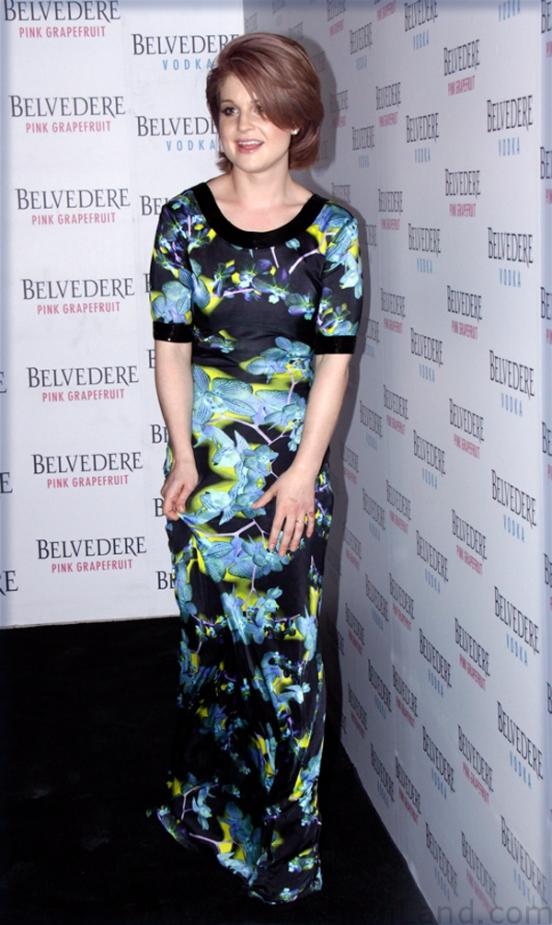 Kelly Osbourne
Age: 26
Puts on 66
Lose a few tens of kilograms, Kelly threw off his youth and style (which, incidentally, also did not differ good taste). Now she wears her hair in retro colors questionable and strange dress, which added to her age 40.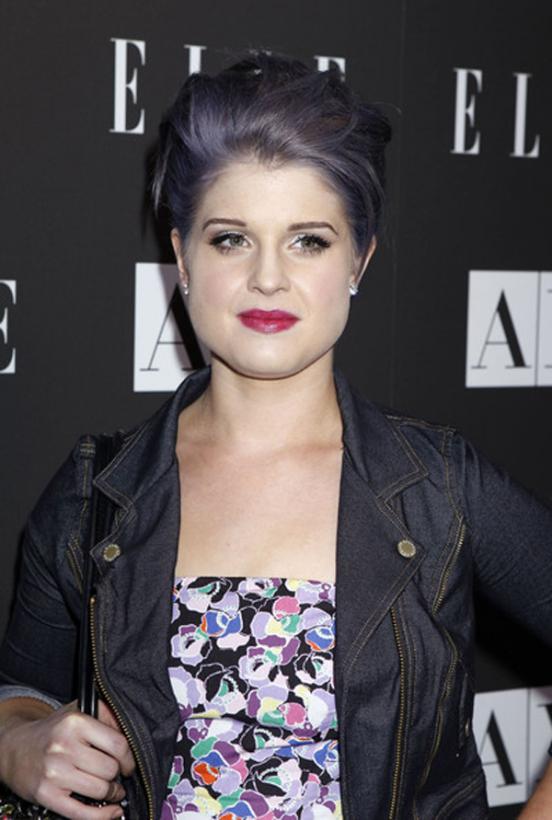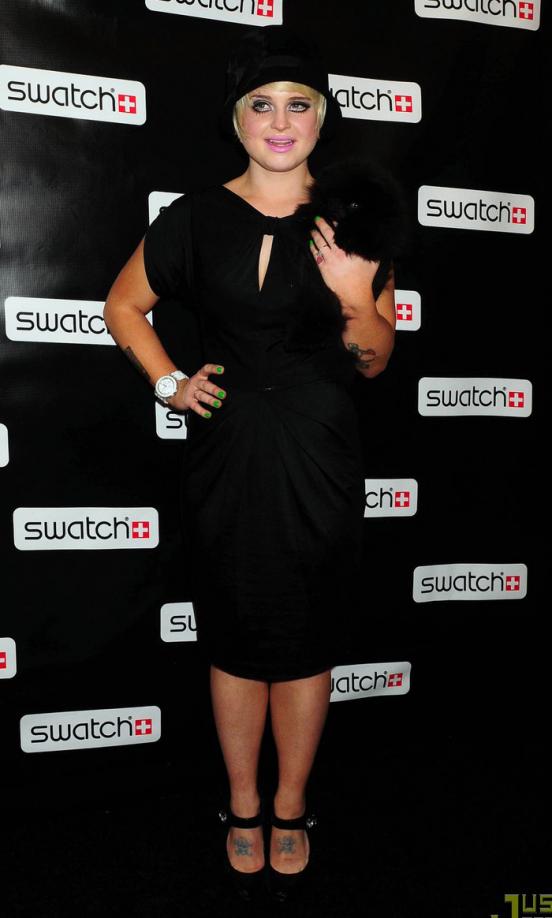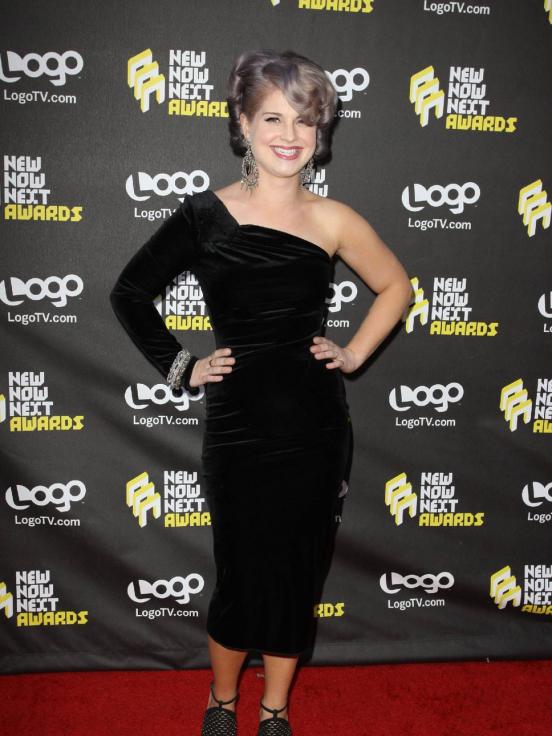 Debbie Harry
Age: 65 years
Dress up for 26 years
Debbie was once a rock icon, but in 66 years, and the measure is to know. Too many open body, sequins, skinny silhouette - vulgar and tasteless.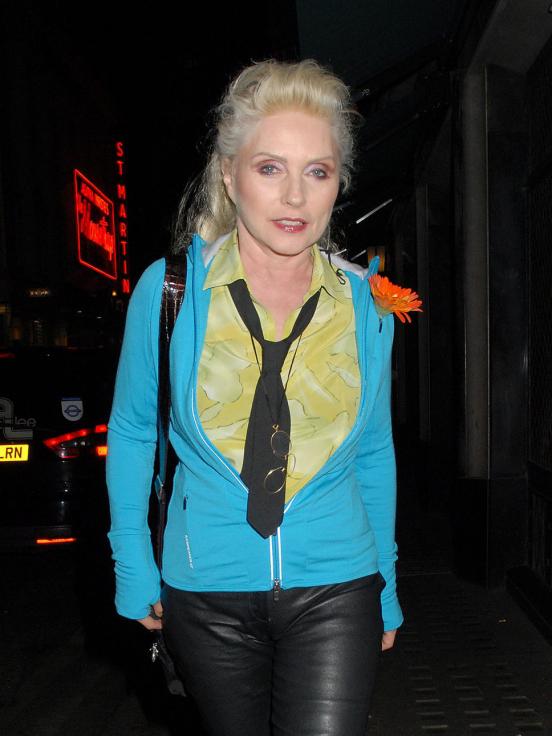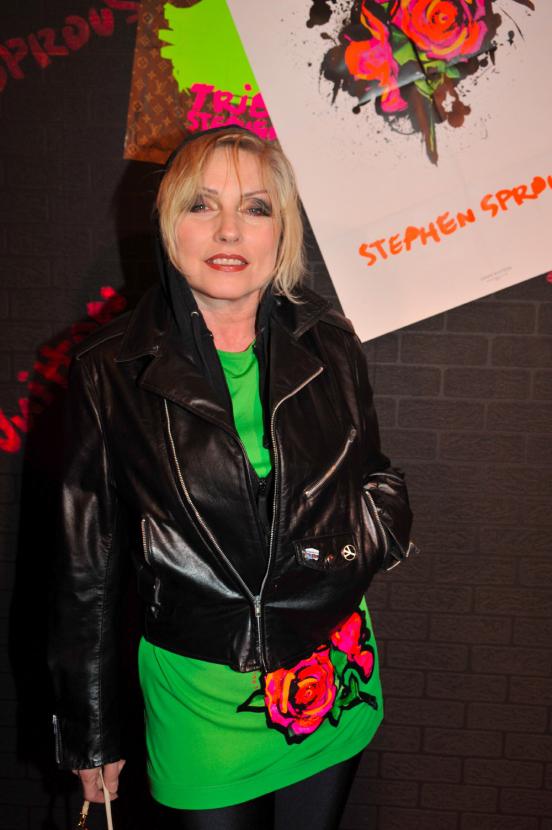 Katie Holmes
Age: 32
Puts on 50
Many call Kathy and style icon, she really is a dress worthy of attention and admiration, but most of all, to my utter Unfortunately, it looks like a very sexy and very stylish ... 50-year-old woman. Cathy has a young, good looks, money, a husband who wishes to millions of women around the world - what do you need to dress stylishly and appropriately? That's right - the desire, which she does not have.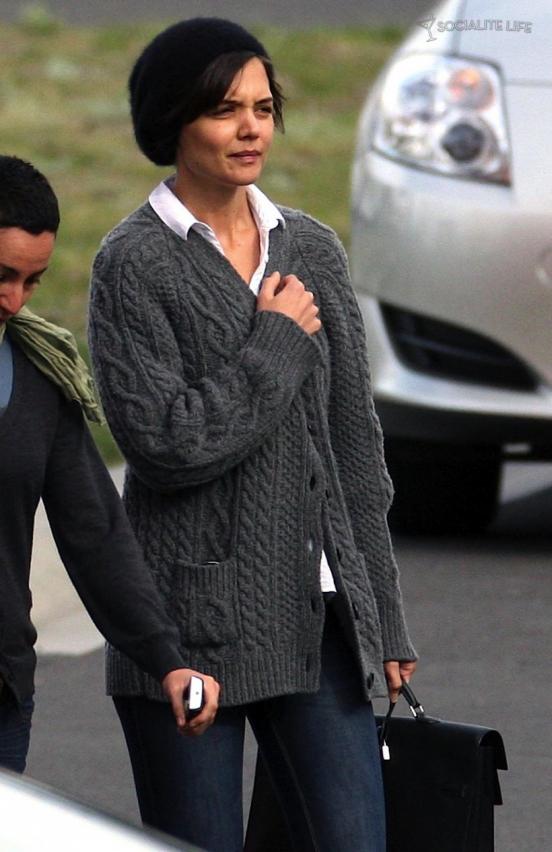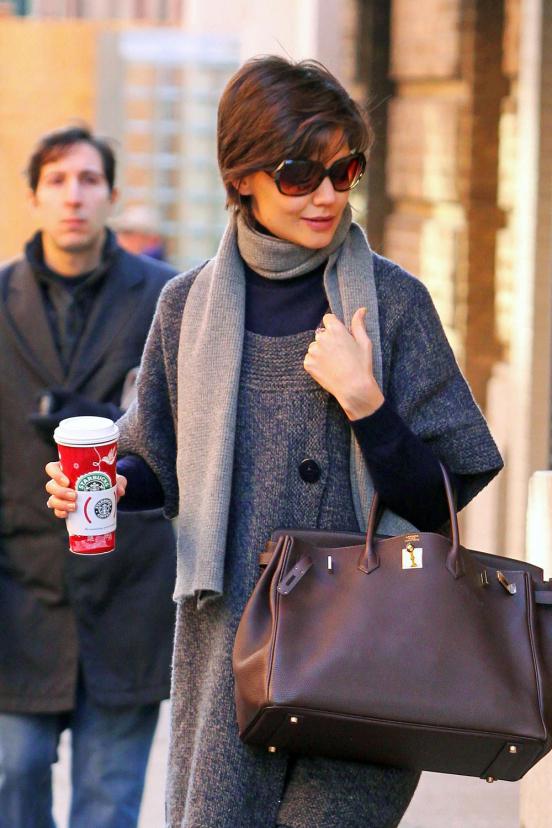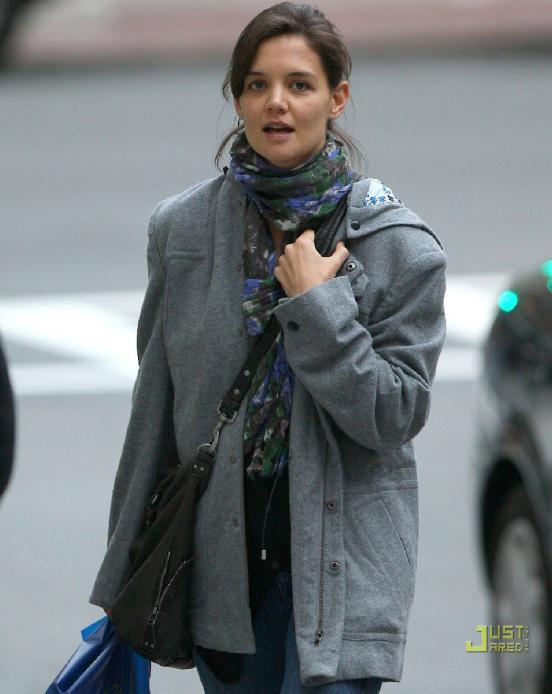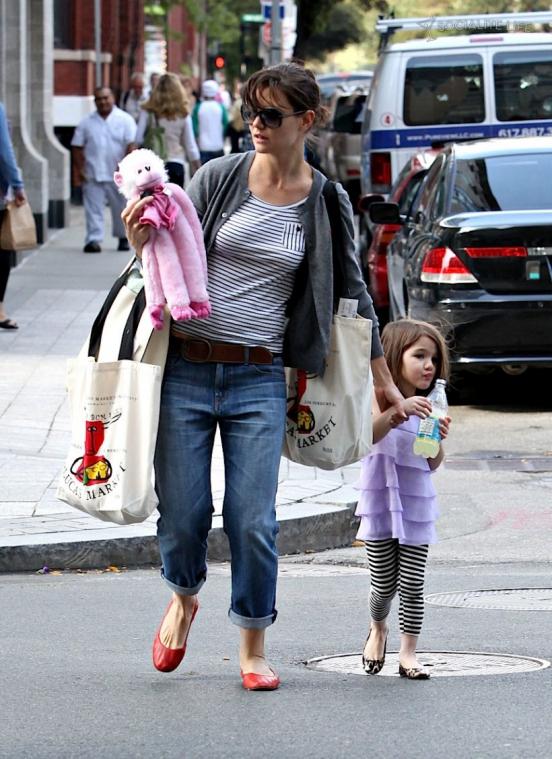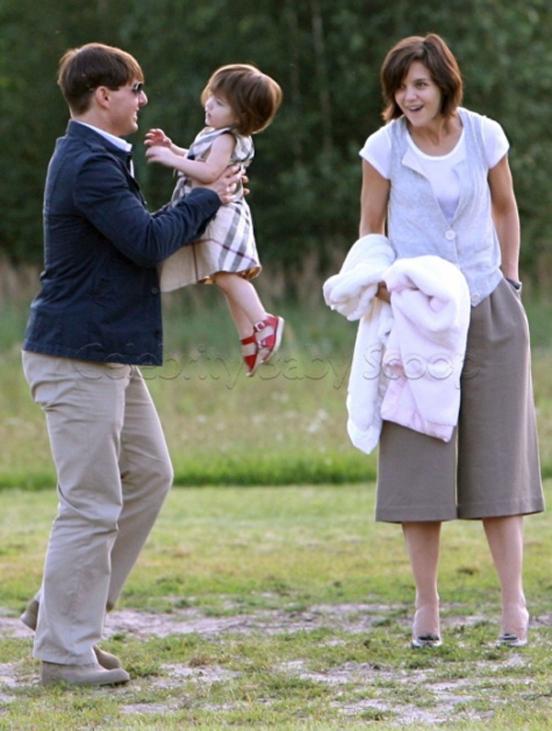 In this case, Kathy was the victim dresses Louis Vuitton, which, despite a fashionable floral print, and a mini length, add at least the age of 5-year-old girl, even though 80-year-old grandmother.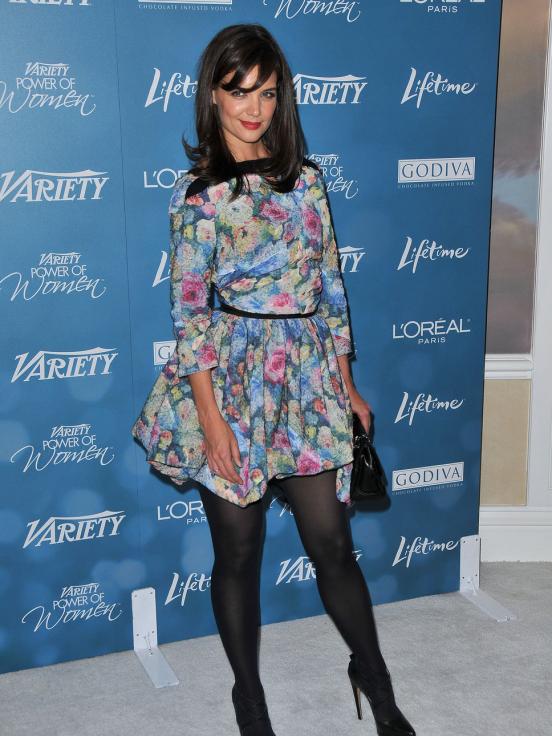 Taylor Momsen
Age: 18 years
Puts on: I'm confused
In general, it is very difficult to determine the "age" style, which all shocking Taylor, but the 18-year-old girl he just does not fit. Stockings, corsets, garters - underwear, indeed, can be worn as outer garments, but do not take this advice literally. Behavior Momsen matched her dress - she smokes in public, bares breasts at concerts and hosts the show with a touch lesbian games on the scene. What is most interesting, all her mother approves. Well, my mom stop all my attempts to "growing" in 16-17 years, and who knows what would have grown out of me.
Madonna
Age: 52
Puts on 26
Not without the old lady Madonna. I am glad that in its 52 pop queen has not lost the enthusiasm with which she was famous in the 80s, but her style of clothing has not since changed. All the same tights in a grid, body, boots, combined with extra-small - it all looks naturally on stage, but not in life.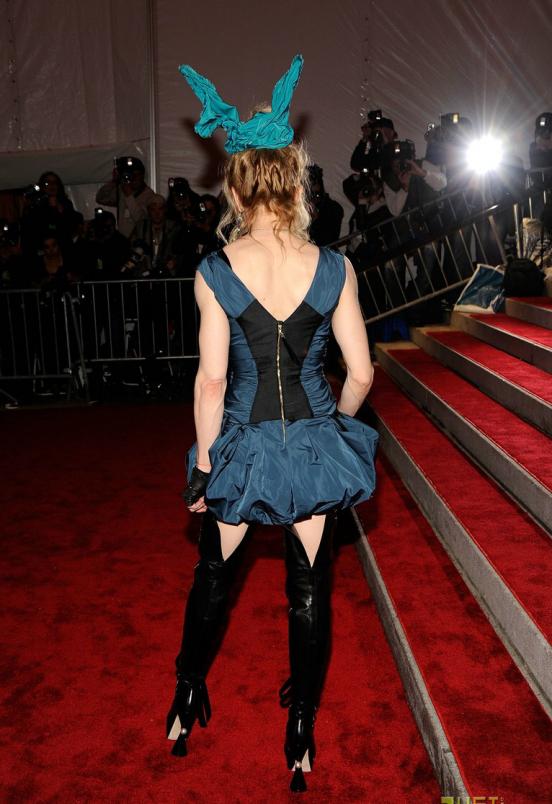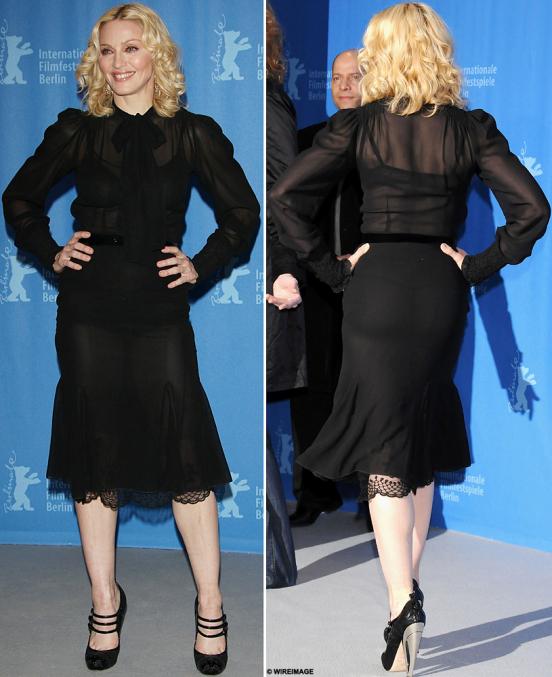 Kim Cattrall
Age: 54
Puts on 34
With all my love for Kim must be recognized that in her wardrobe too many clothes for his age. It is fitting Herve Leger dress pink caramel only looks elegant due to the absence of trinkets, but others are more suitable outfits Kim her serial heroine Samantha. Apparently the actress all the time trying to prove that her figure flawless. We know that, Kim, and we do not need every time to remind about it!
Sharon Stone
Age: 53
Dresses: 25
The figure does not raise any problems, but you can choose a dress and more elegant. Satin dress with a plunging neckline and cut to the thigh - a favorite image of the actress, who did not always correspond to her age. I bet these in her closet scores!
And Sharon crazy transparent dresses. Sticky!
Alexa Chung
Age: 27
Puts on 50
Like Alexa outfits always match fashion trends, but it looks ridiculous in them. And maybe the thing is, the girl herself takes? The life of me, I do not see any way of elegance or ease, only an old woman twisted posture.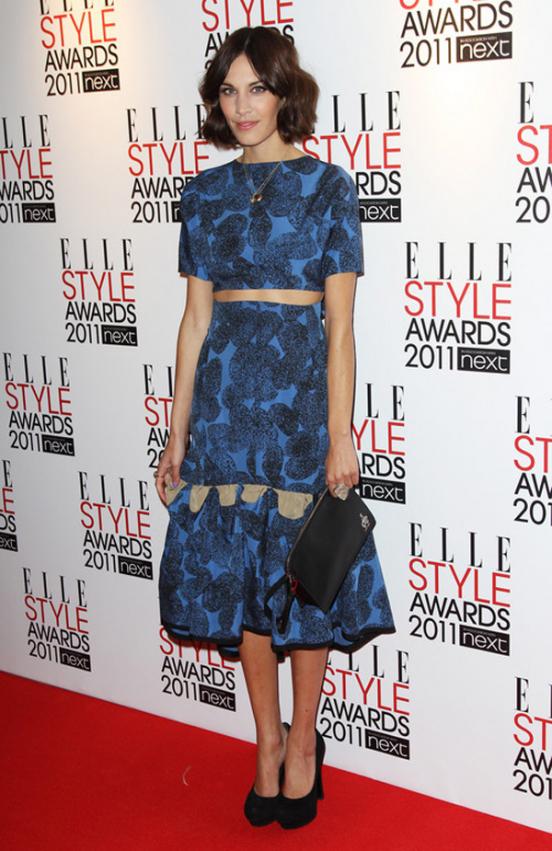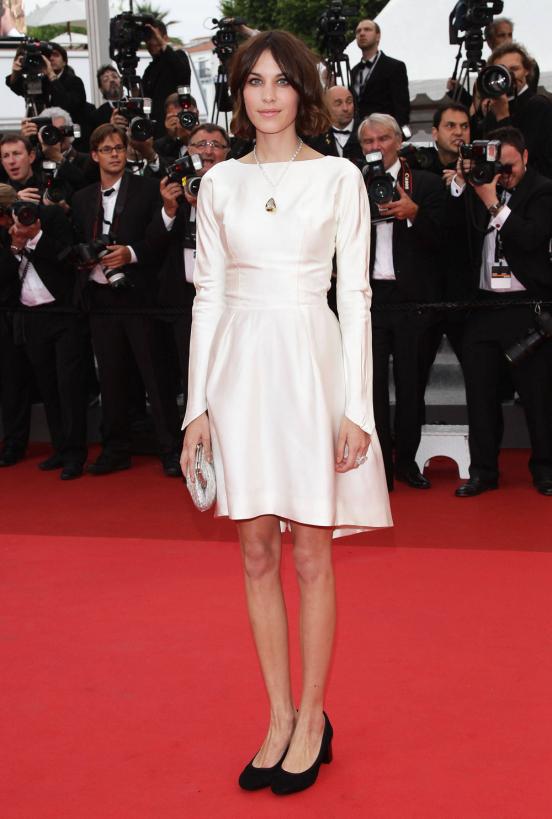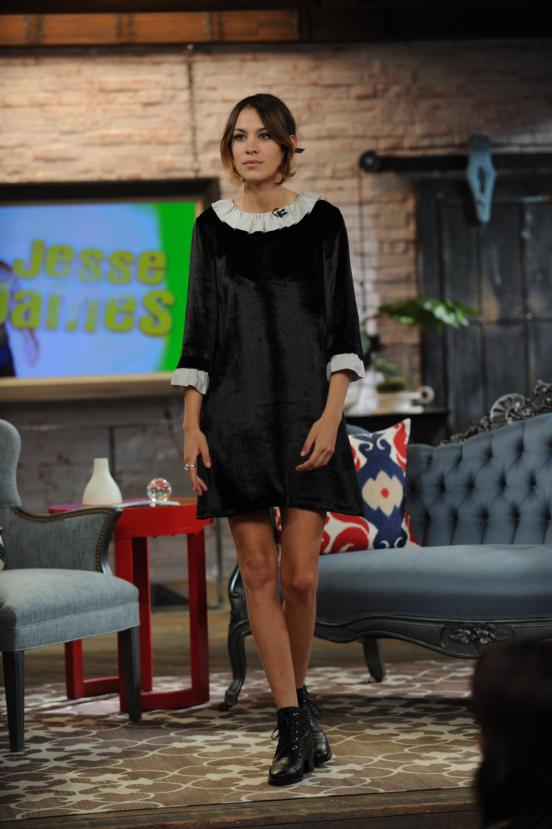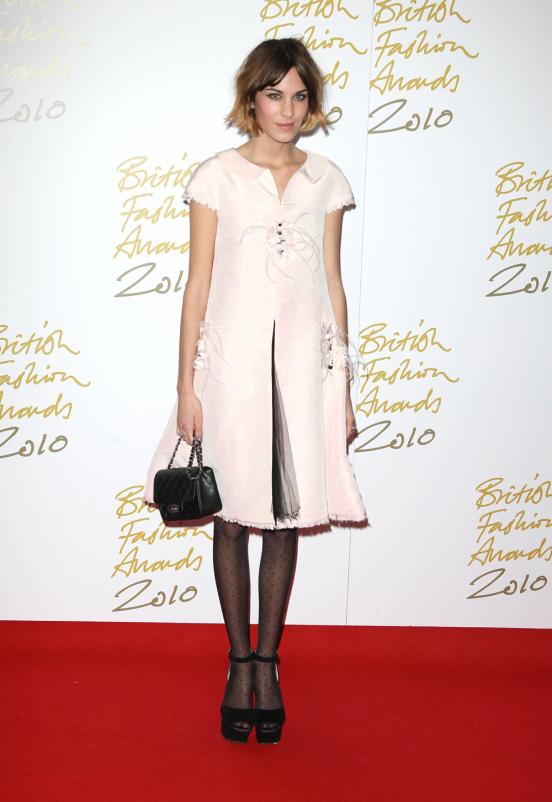 This has skewed the other way - dresses at the time of baby Suri Cruise.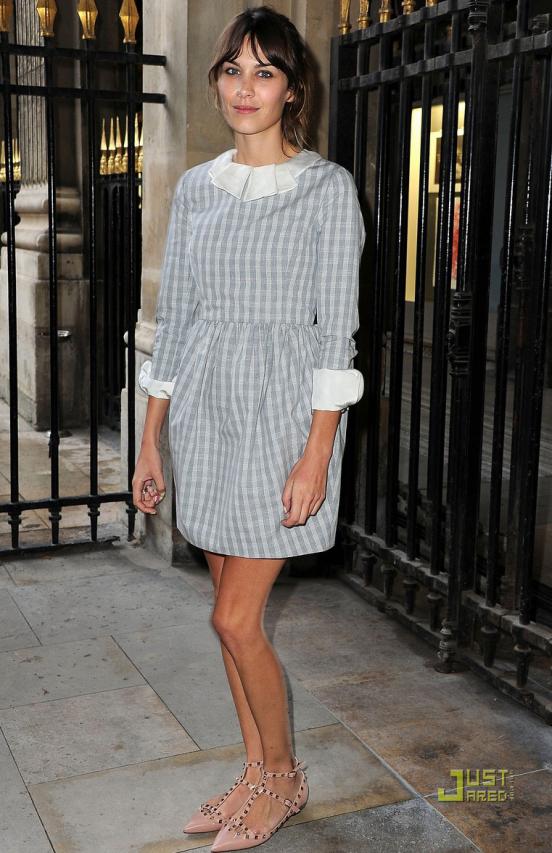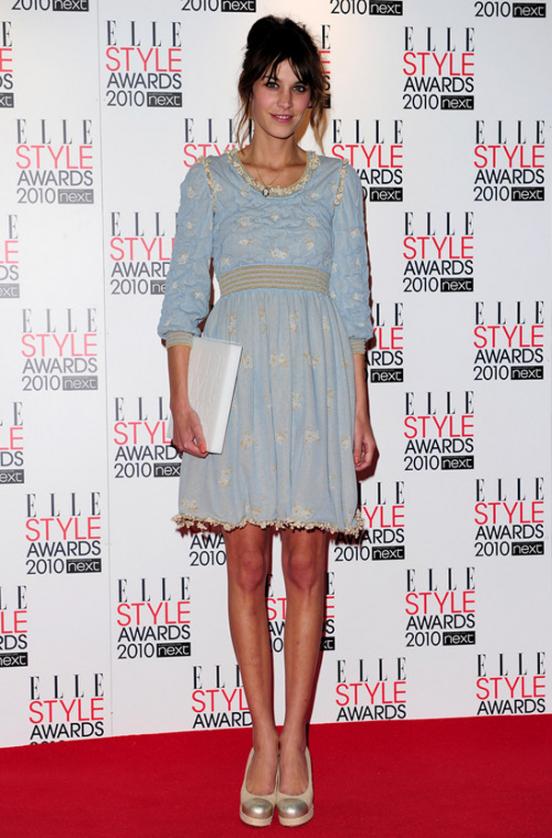 Nancy Dell'Olo
Age: 50
Dresses: 25
Socialite and lawyer concurrently Nancy Dell'Olo not particularly well known in Russia, but I could not ignore the style, or rather lack thereof, of this woman. "I called the style icon" - says Nancy and very mistaken. Short Satin with a bunch of jewelry and transparent outfits confirmation.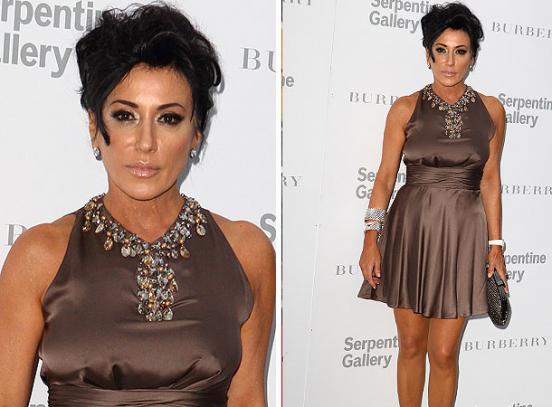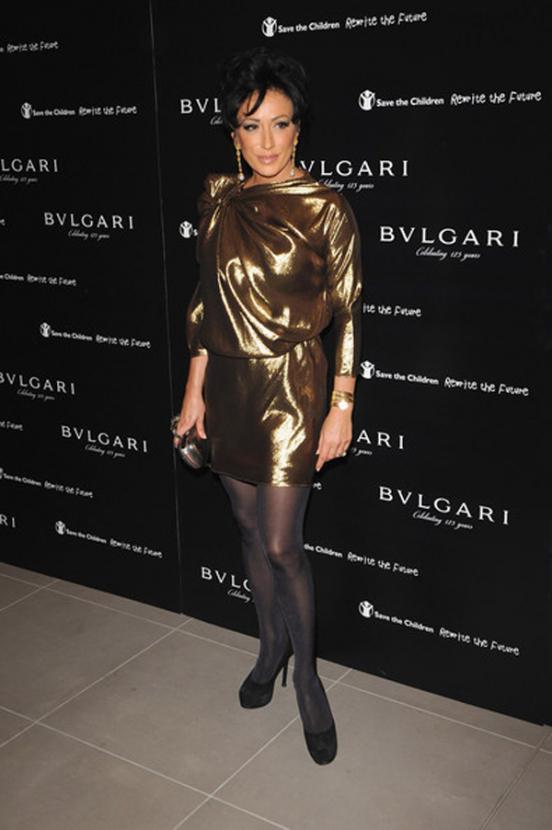 Here are a few isolated cases of orders "for his age" - forgivable, but still ...
Soloist Girls Aloud Nicola Roberts, surprisingly to get the status of the sexiest red-haired beauty, looks quite sexy and elderly in this dress with a hollow collar, long sleeves and skirts to the floor. What she's hiding?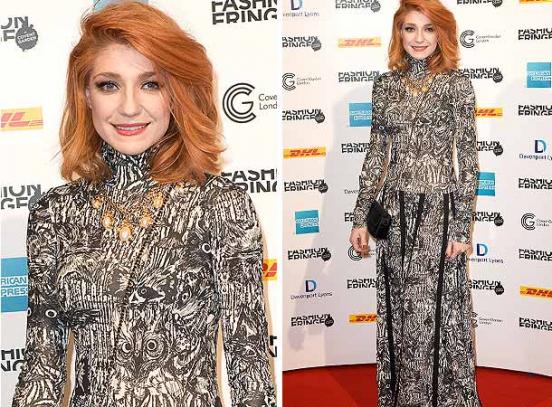 I never really liked Gwyneth Paltrow, and I do not see anything interesting in its style, but this dress caught my attention ... so that it is at the time 18-year-old girl. Blinding pink color in combination with a minimum length and uncertain silhouette certainly does not fit the mother of two children.
I never noticed the discrepancy in age and style of Helen Mirren, but this dress just killed me. Flying leopard dress and leather jacket looks ridiculous with graying hair.
If we are talking about age, let's compare the same age in their ability to dress in accordance with their age.
Elle Macpherson (48) and Courteney Cox (47)
Elle Courtney over 1 year, and looks as if she is 20 years younger. While Courtney walks around New York in a plaid shirt and skinny-jeans, adding all this stylish blazers, Elle dressed up in hairy jacket, torn pants and a T-shirt with applique. In my opinion, too.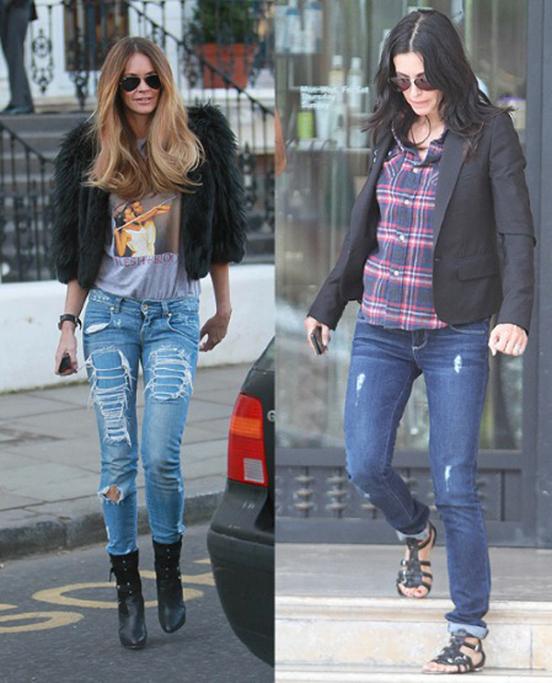 Sarah Harding and Natalie Portman - 30
Natalie Portman in the whole of the opinion, "less is more", this also applies to its winning image on the red carpet. A member of the band Girls Aloud Sarah Harding should be less seek advice from Christina Aguilera and pay attention to the elegant style of Natalie.
Annette Benning and Madonna - 52
Annette Benning knows what styles and models of dresses suited her and never goes on about fashion. And Madonna should give part of their wardrobe 14-year-old daughter, and experiment with the length of the skirt.
Cher and Susan Sarandon - 65
Cher never stops trying to "return the old days", but what gorgeous diva you would not have been worth ever stop. Susan Sarandon of her contemporaries, on the other hand, very comfortable feeling in his age and in his elegant clothes.
Kate Moss (37) and Vanessa Paradis (38)
Among other things, the difference between the former and the current girlfriend of Johnny Depp is that over the years, Kate's skirt is getting shorter, and Vanessa all chic style.
Sharon Stone and Ines de la Fressange - 53
As I wrote, the body of Sharon worthy of praise, but it does not mean that it needs to tighten the skin as soon as possible. I think Sharon should get some lessons from the French style of her contemporaries iness. Note: only a very petite and slender 53-year-old lady can afford white jeans.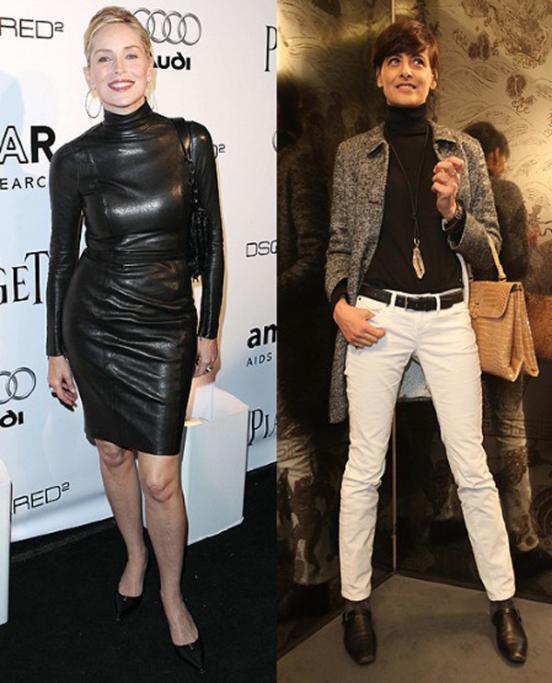 Sadie Frost and Sarah Jessica Parker - 46
Yes, Sadie, we know that your feet are just super, but take an example with his colleague Sarah - even she knows that 45 is a little cover their dignity.