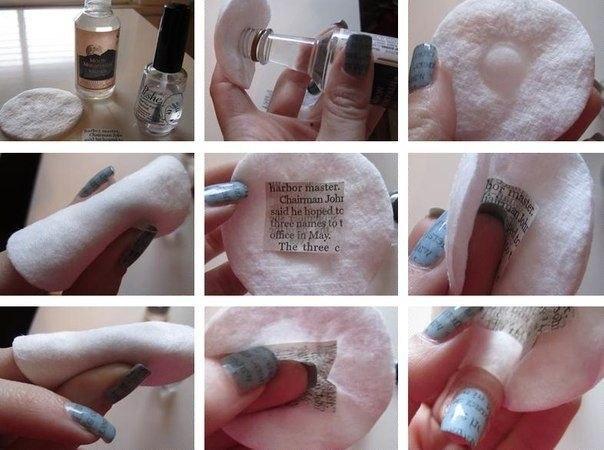 At first glance this technique may seem very simple manicure. But in fact, when it is running, you can manage to make a lot of mistakes:
1) Do not take a warm shade of nail base, which is not in contrast with the color of the skin of hands. Since most will not effect pattern, and stained nails.
2) Due to the lack of patience, you can not dosushit colored lacquer, because of this, the surface of the nail can become rough and uneven because of the work with the newspaper.
3) If you apply the pieces of the newspaper, which is larger than the nail, it is likely that the newspaper ink stain the skin around the nail, which is why a manicure will seem quite sloppy.
4) Do not push the paper to the nail with a cotton swab, which are wetted with alcohol. Because this way poorly newspaper gets wet, it will move. As a result you will get fuzzy and dull letters.
5) The colorless varnish should be applied carefully, without flourish. As you can also get ugly and fuzzy letters.
And now on, you can find out the correct sequence of the manicure.
1) First you need to apply a base coat. It will be able to level the surface of the nail, as well as a good protection for the nail plate. On the plastic nails base coat can not be applied.
2) Color paint is desirable to apply a dense consistency.
3) Next, dry the paint. For a long time, boring, tedious, but it should be allowed to dry thoroughly applied lacquer. Otherwise, all further efforts will be in vain.
4) At its discretion, select the font type and size of the newspaper. On the content of the text can be ignored, because the nails still he received in the mirror. However, it will look much better if the lines are the same as their location and quantity. Although, if you want to reflect on your nails any text can be printed on thin paper, text contrary newspaper.
5) The following pieces of paper cut to the width of your nails, and the length can be longer nails. If the show imagination, you can cut the paper so that the text came across the nail, or diagonally.
6) In a small container, pour the alcohol. When your nails are dry, they should be dipped in alcohol. Then put the pieces of paper on the nail surface. When the alcohol dries out a bit on the nails, pieces of paper can be removed.
7) Let dry up a bit of everything. Now cover your nails fixer or a colorless varnish.
"Nails printed newspaper" is an original and unusual manicure. It is suitable for girls and women who love to be like everybody and have its own flavor.