I think no one will argue with the fact that Rihanna is one of the trendsetter, because her style - a separate issue, which can be disassembled to several positions. Fans believe Rihanna style icon, and if it is such, that should please them often their appearance. Recently sultry image of Rihanna replaced kind of a bum-style, so long about her style and say something not very desirable. Frustrating girl definitely frustrating (see what she uchudil in the future). No more of what the singer did not want to try, so soon she plans to re-disguise in the dark, and her dream - some indescribable shade of blue, which she has not yet found. Still, greasy hair Rihanna theme from all sides, so I propose to distract from its images and look at the manicure. Manicure thing necessary and important.
1. Rihanna has never been a "gray mouse", even early in his career, and only when it became popular, the red hair, dozens of bracelets, large hoop earrings and orange nail ceased to amaze us. Vivid image for the clip «What's my name?» Just could not do without such a manicure. By the way, Rihanna's image in the video impresses me more than what we have at the moment, looking at her external changes.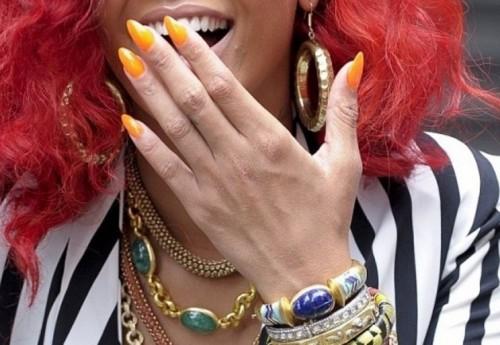 2. Shape the nails not the best, but the color naishikarneyshy! Deep, gentle and pleasant.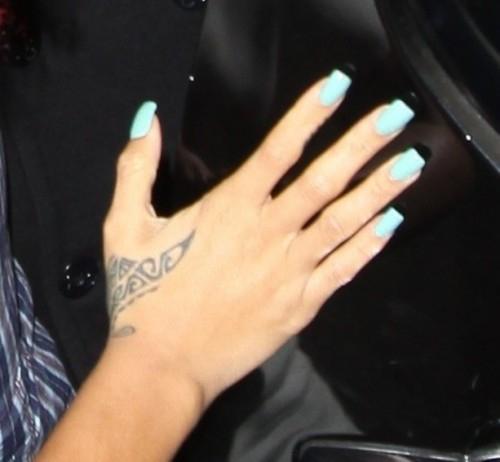 3. To do this you must purchase a special manicure nakleechki, different species of which are now so much. It really is a great alternative to many hours professional manicure, though if such things stick in the home, it may come out a bit crooked.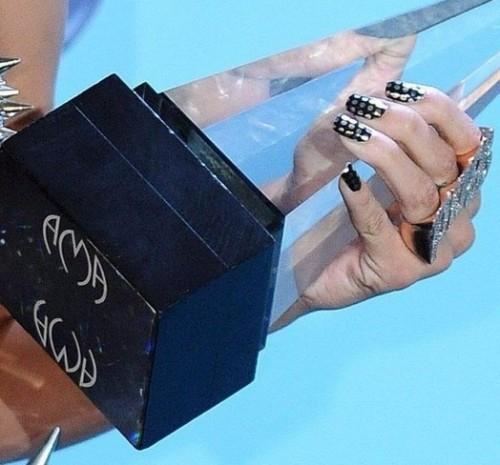 4. Rihanna said many times that increases marigolds, so most likely the photo below this variant. Manicure wonderful, it is exactly the same as the previous one with special labels whose price is not so high. You can find them in any shop cosmetics, but if you want quality, then buy them on order. Notice what Rihanna lover jewelry, as much as 4 rings on one hand! Shes ...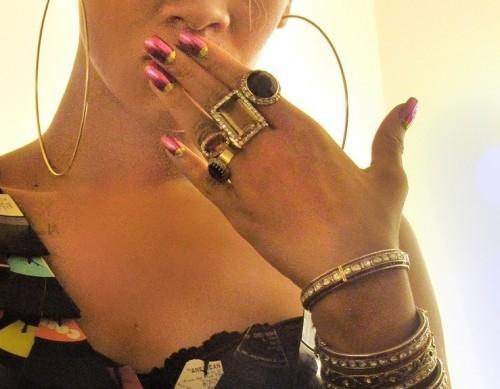 5. This manicure is similar to what you have seen above, but here everything is strictly in black and white and the shape is slightly different.
6. What is the delicate color! I wonder why no one had thought about how to use it, as it is now? Beige today everywhere: on shoes, on clothing, on the nails and wherever possible ...
7. Color matching lipstick manicure or vice versa? In any case, I love these combinations.
8. One can see that this buildup. Rihanna forgot to go to the correction, but the magic nakleechki not forgotten. "Leopard nails" - it's interesting and beautiful. Rarely see such girls, basically all prefer jacket.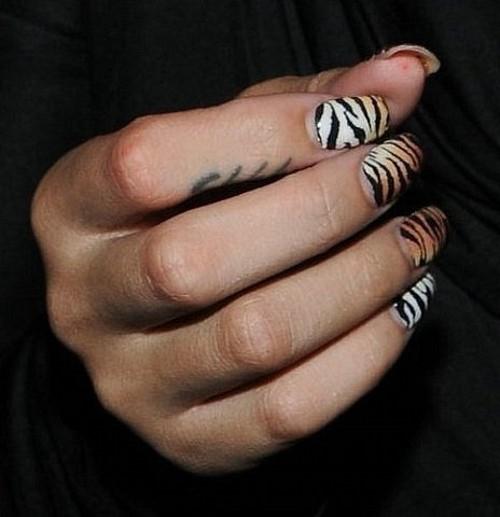 9. I think the square shape of the nail is not Rihanna's hand, no matter how beautiful they are. Color nail on the contrary beautiful.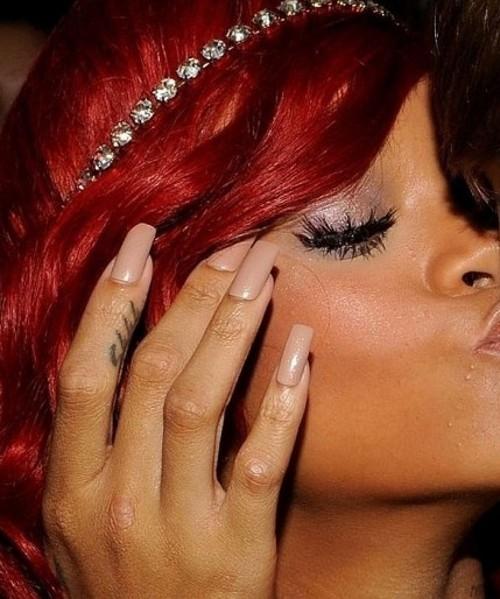 10. A simple French manicure. I have never seen such a Rihanna. Simple, cute and not pretentious.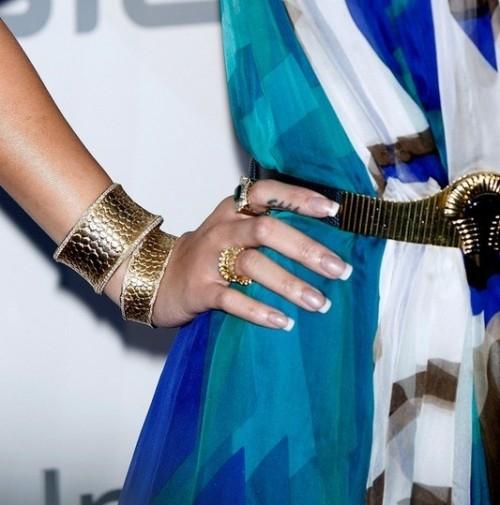 11. Manicure just for loved gesture Rihanna. Showing middle finger is now possible with emotions even on the nails. Cool manicure.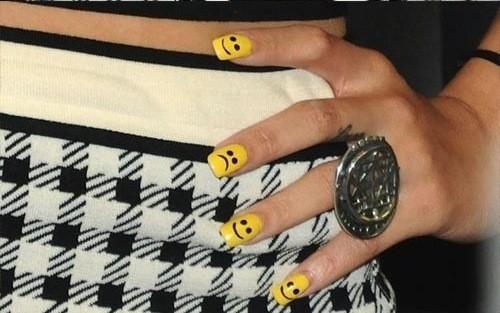 12. Maroon lacquer and the most suitable form of polish Rihanna.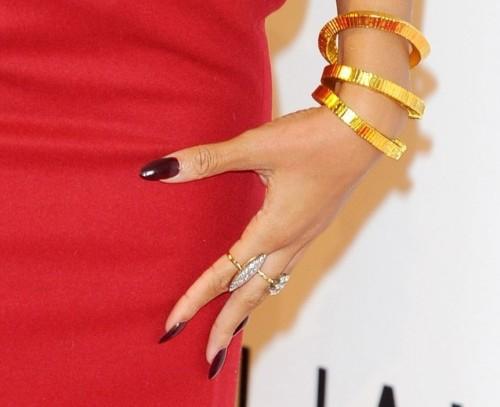 13. Again, that Rihanna is very beautiful hands. Never noticed? Lucky metallic tones I'm not liking, so I like this manicure, but the hands are really beautiful ...
14. boring, the color is not quite "one».
15. And there is not even 4 and 5 rings on one hand! I like the ring, it will be necessary to repeat this experiment Ri can will look just as good. Color nails perfect and beautiful form.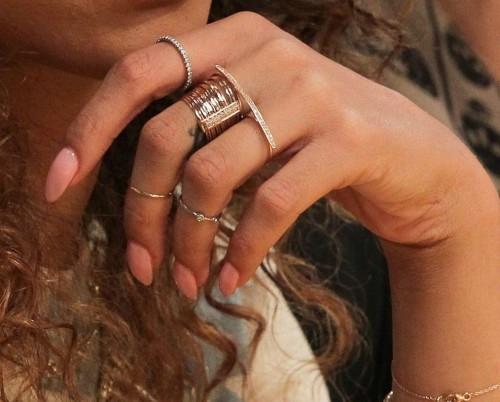 16. At a recent ceremony "Grammy" image Rea was recognized as one of the best. Everything is left to chance, even gold manicure. By the way, in the lacquer contains real gold particles, so a few days in a row Rihanna could not part with this manicure made in the cabin.