I would like a little inspiration and fresh ideas for manicure? Get ready to see the most real magic manicure in this photo collection, in which a variety of ladies competing for the role of the holders of the most beautiful / original nails.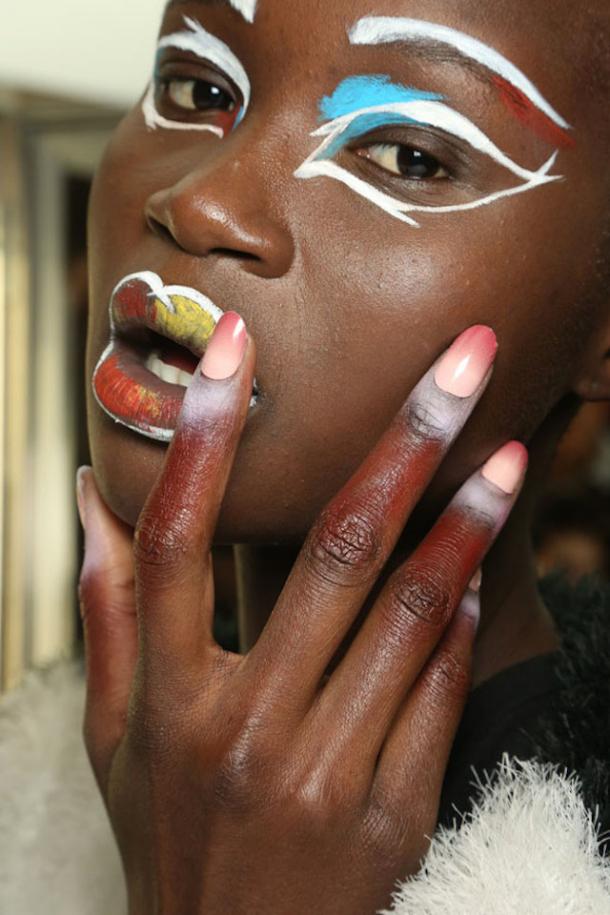 Let's start with Adele, who had not gone far from the classics in their hair and makeup, but here on the nails she allowed herself a little more. Namely, the singer decorate your bright blue nail accessories in a nautical theme.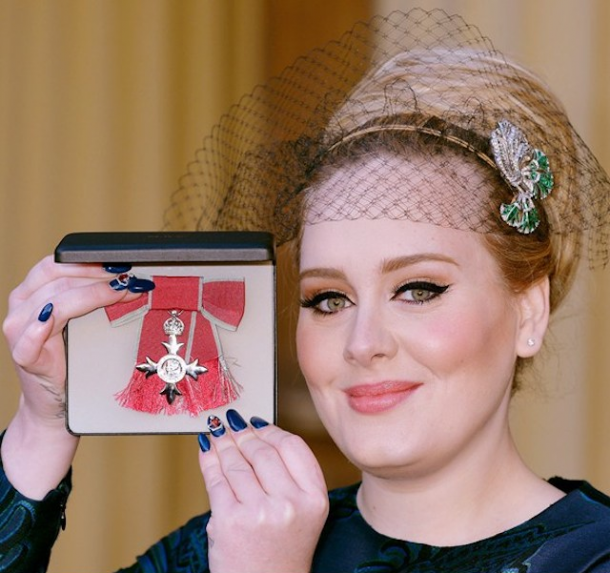 I like cartoon art on nails. Here, for example, Katy Perry arrived in a tour of Japan with a super-cool manicure, where every nail is portrayed an individual cartoon hero. Very cute.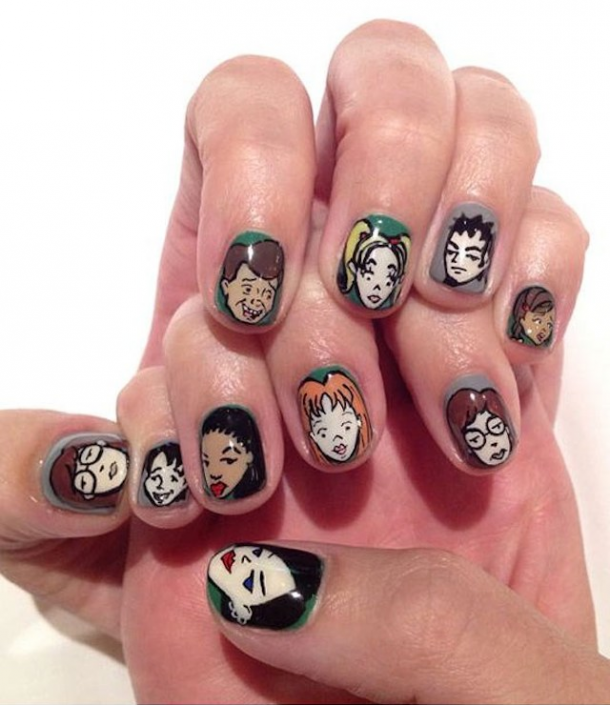 But manicure specifically for fans One Direction. For registration please come to London. Although, I think, in Moscow there are master capable of such a miracle.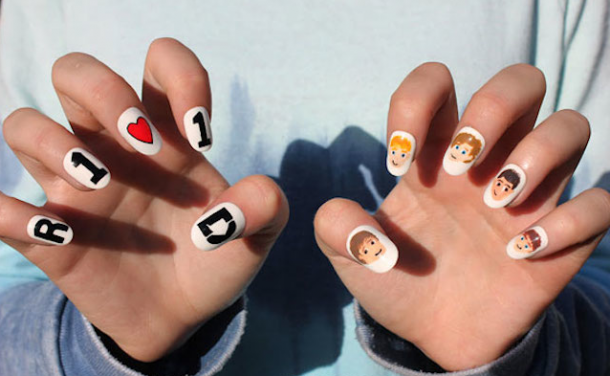 But Michelle White, creative director FrontCover Cosmetics argues that the best addition to the glamorous style - matt lacquer (black in the picture, but you can choose a different color), covered on the tip of the nail varnish of the same brilliant hue.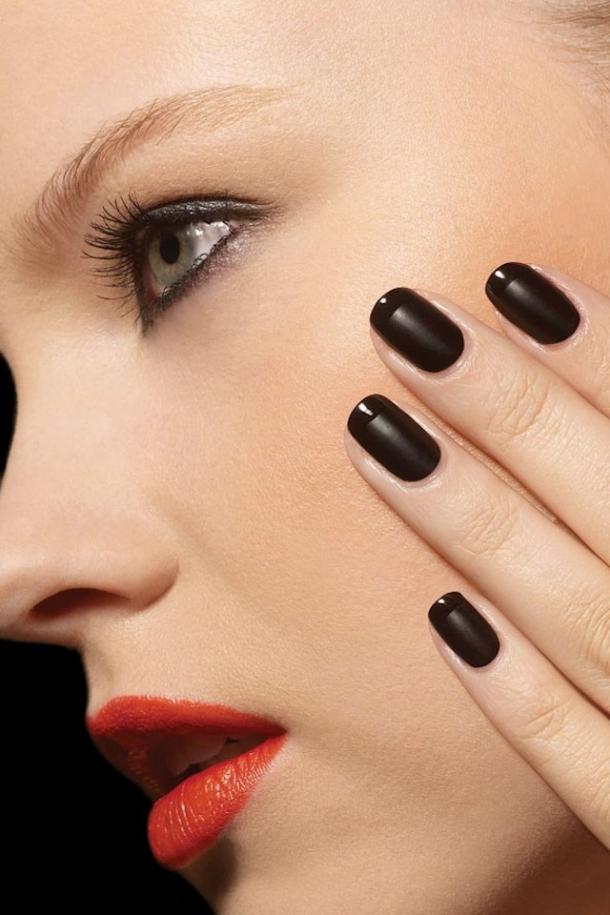 Beyonce loves golden color. Including, and nail color. Indeed, what could be more effective.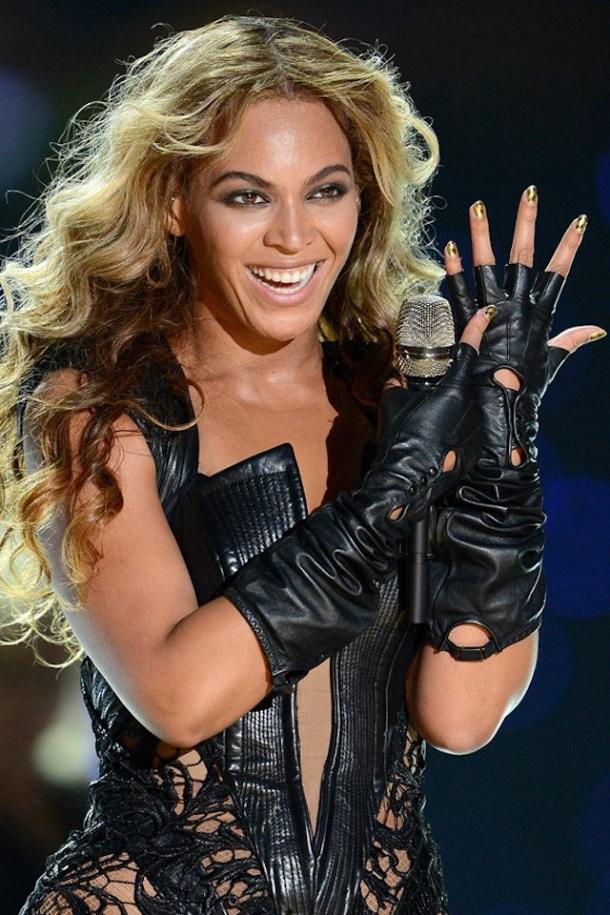 Iridescent different shades of nail - is the latest hit. Create a masterpiece home with a sponge. Just apply a second sponge tint, after the first layer has dried up and gently remove excess polish with a cotton swab.
Manicure set pictured Jenny Longvorv for Revlon.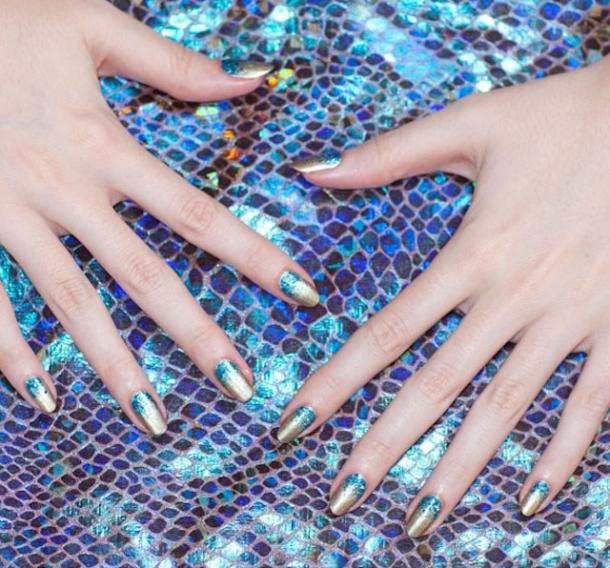 And here's another idea of ​​a two-color nail polish. Be sure to try this myself.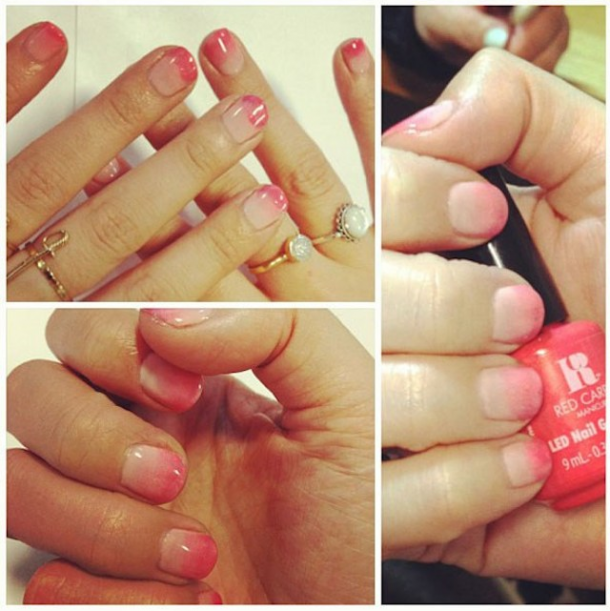 For lovers of our little "cat" manicure.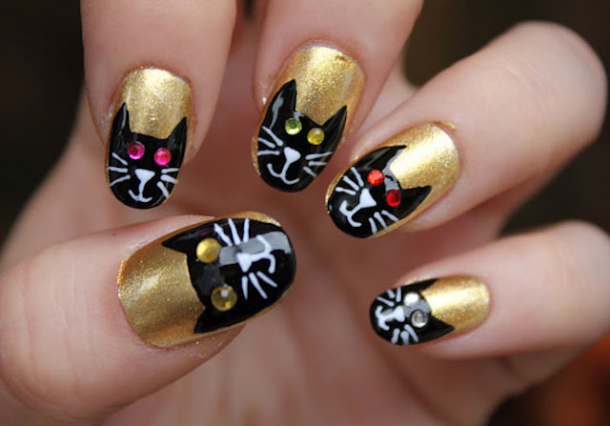 In my opinion, it is really very beautiful, therefore I shall tell more.
For this you need a manicure:
1. Gold lacquer,
2. transparent, but brilliant lacquer,
3. black lacquer (say there are special paints a felt-tip pen, but I have these for sale have not seen),
4. white lacquer (also better in a pen),
5. rhinestones,
6. Floor.
And here is the technique (talk long, and all is clear in the picture):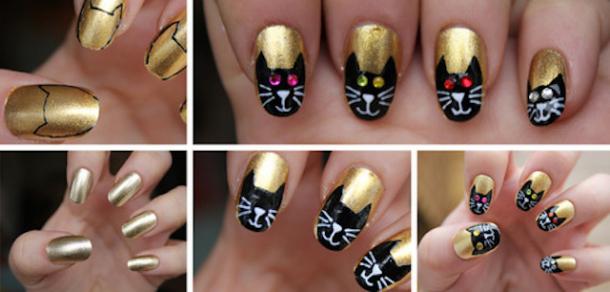 Here are some ideas for manicure from fashion wearer Instagram.
Subject: Banding.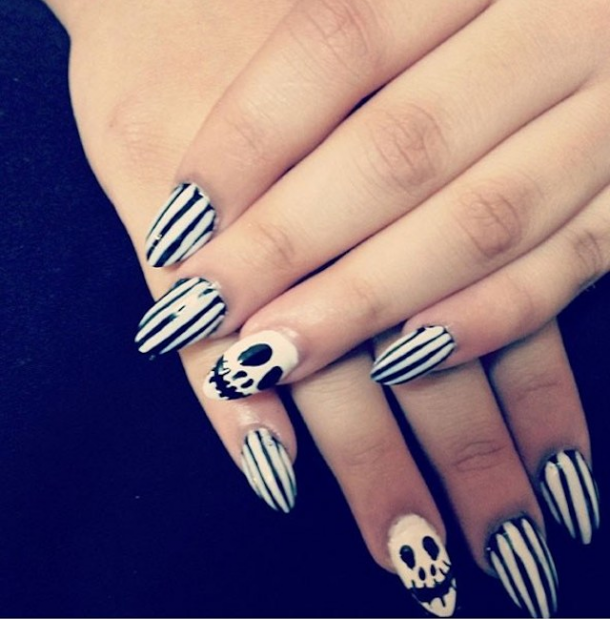 Theme: Bats.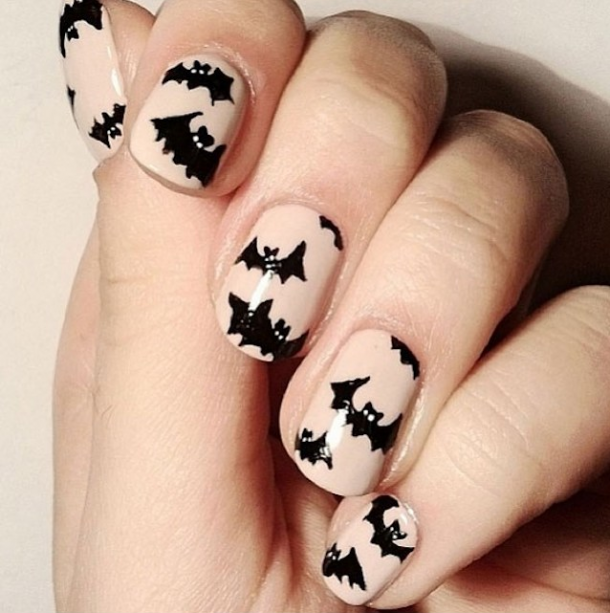 Subject: Blood manicure. For special occasions.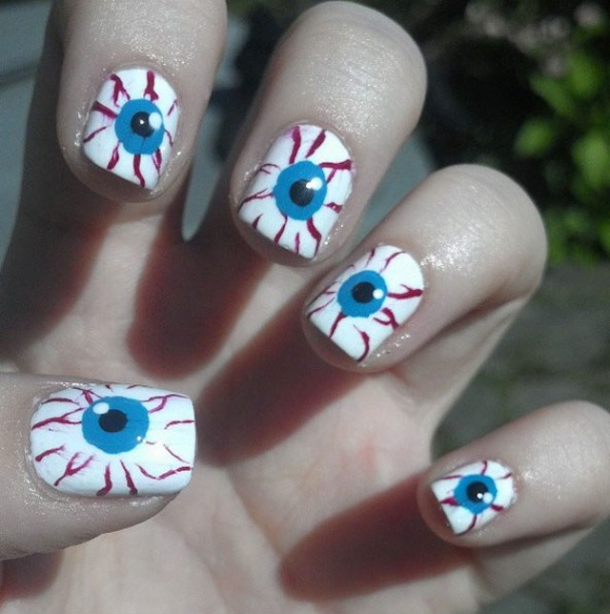 Topic: Funny spiders.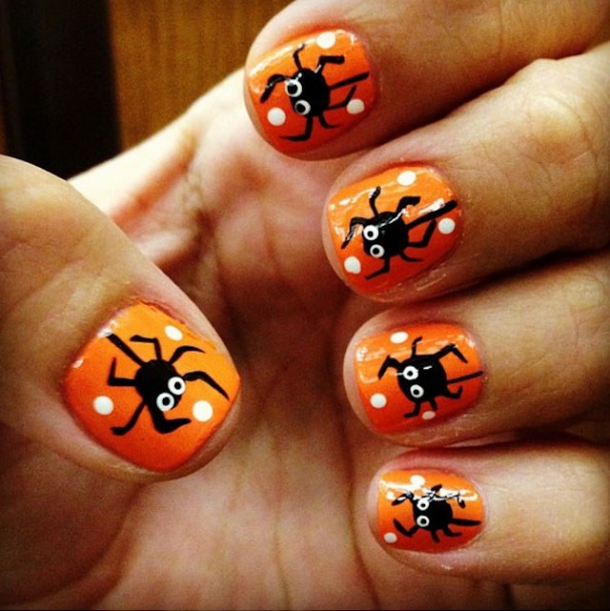 Subject: Need for Speed.
Subject: Cat manicure (the way he goes home).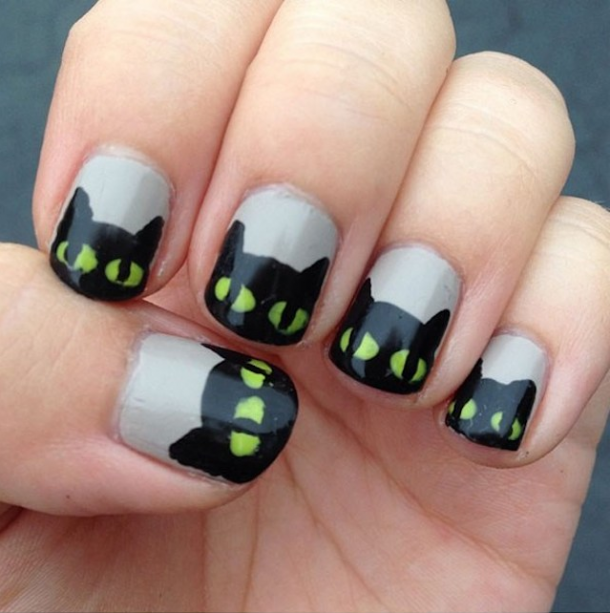 Subject: Halloween.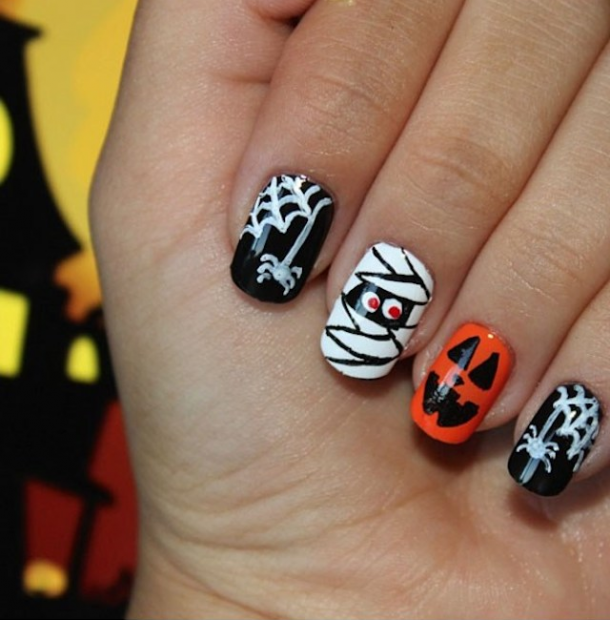 Subject: Frankenstein.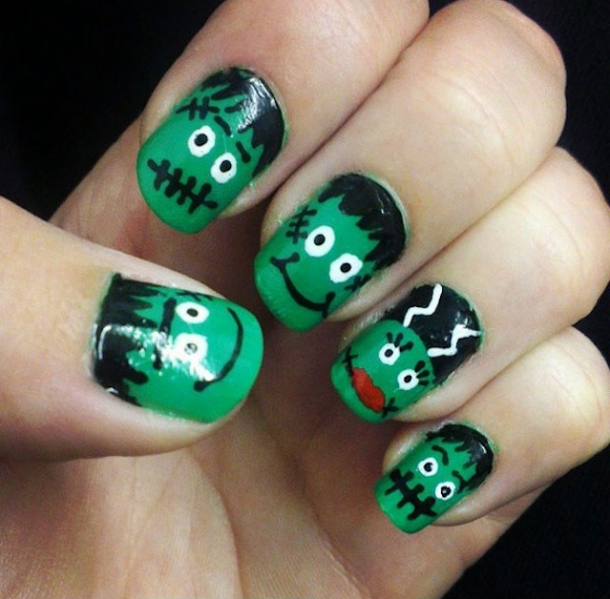 And here's another idea from Jenny Longvorv. At this time, manicure gentle and very simple.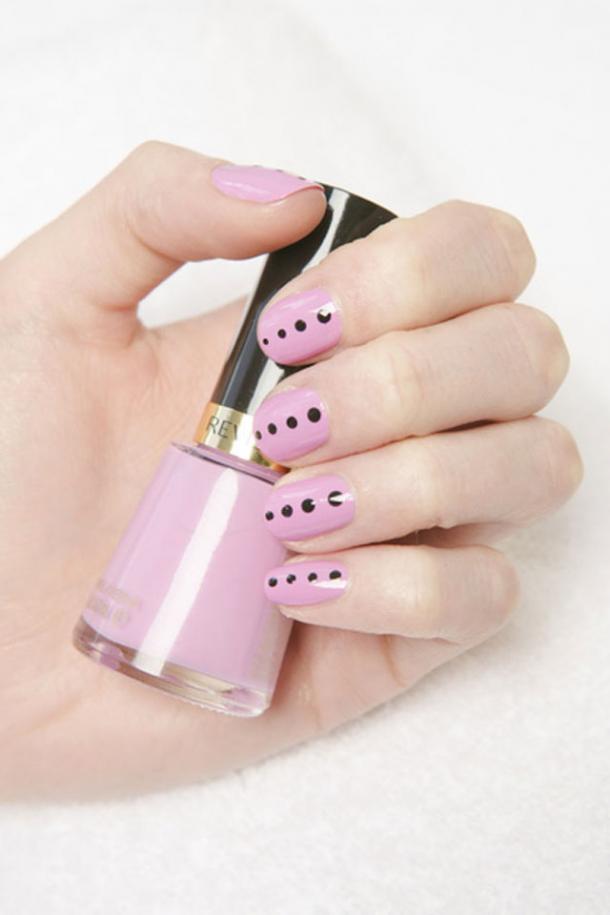 The idea of ​​Topshop. For me - it is pure inspiration.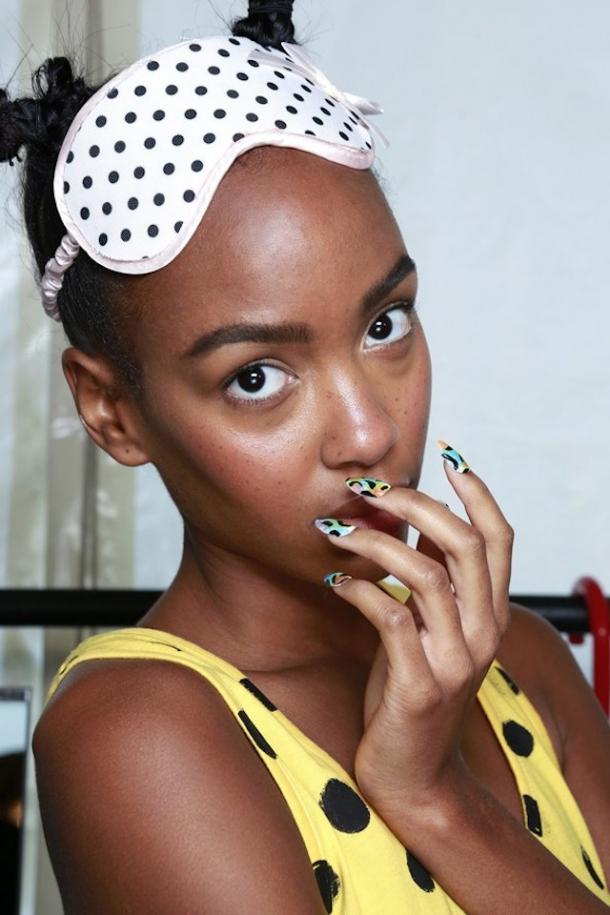 I also liked how the editor of Glamour magazine playing with flowers in her manicure. The idea of ​​a mental note.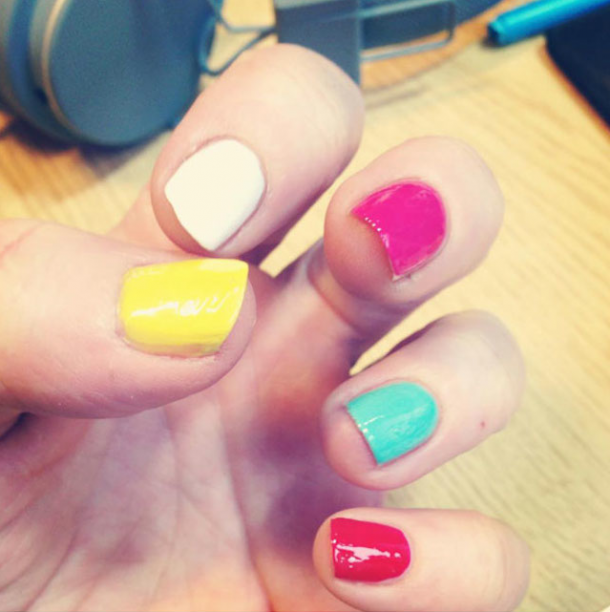 Classic by Chanel.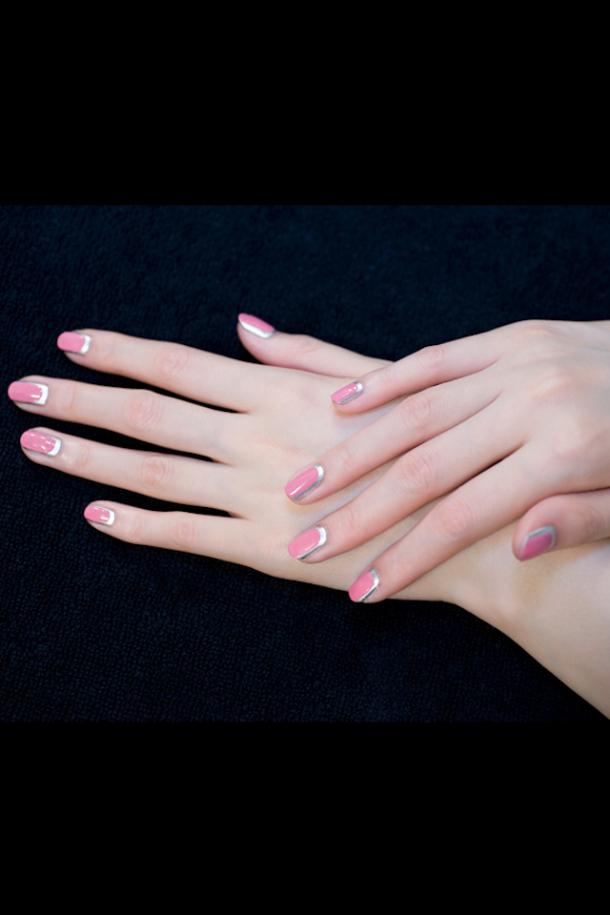 For owners of artificial nails approach that's such a design.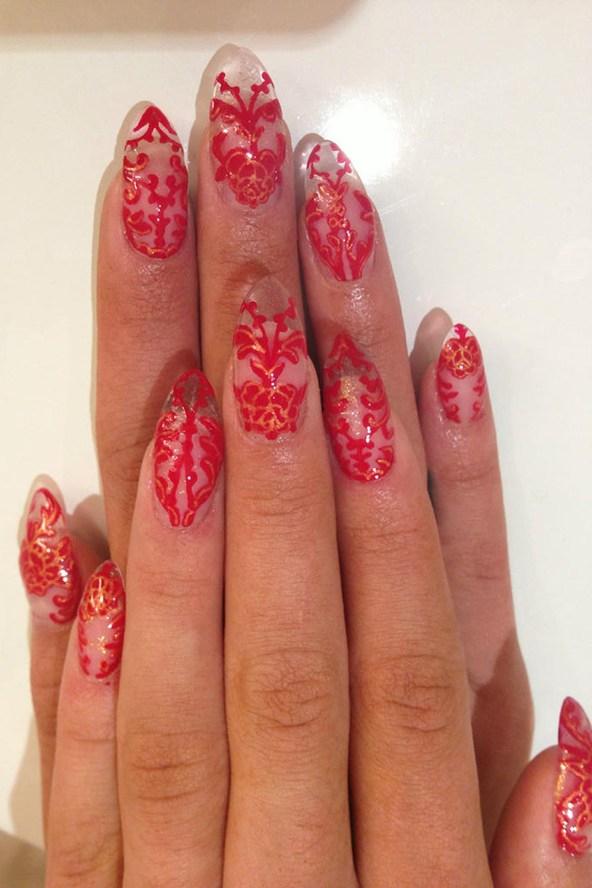 Political design by Katy Perry. Who has the desire to stick the nail Putin himself?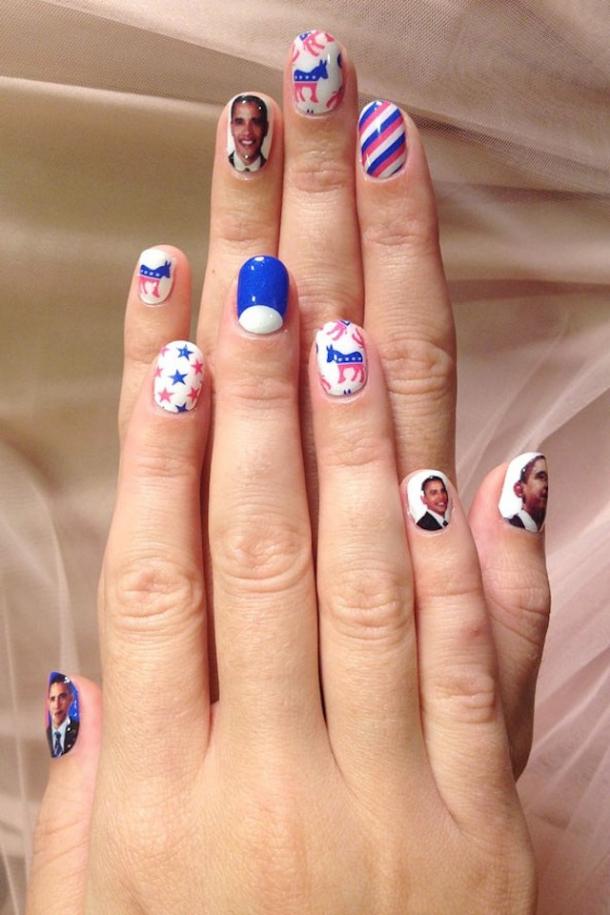 Incredible manicure by Joy Cioci. For the most important evening.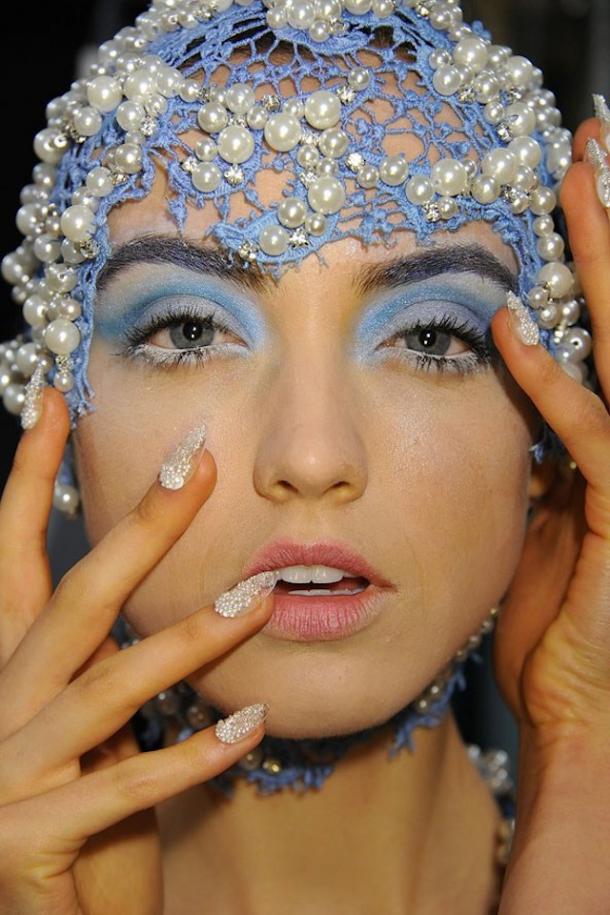 Designed by Vivienne Westwood. This house will not create.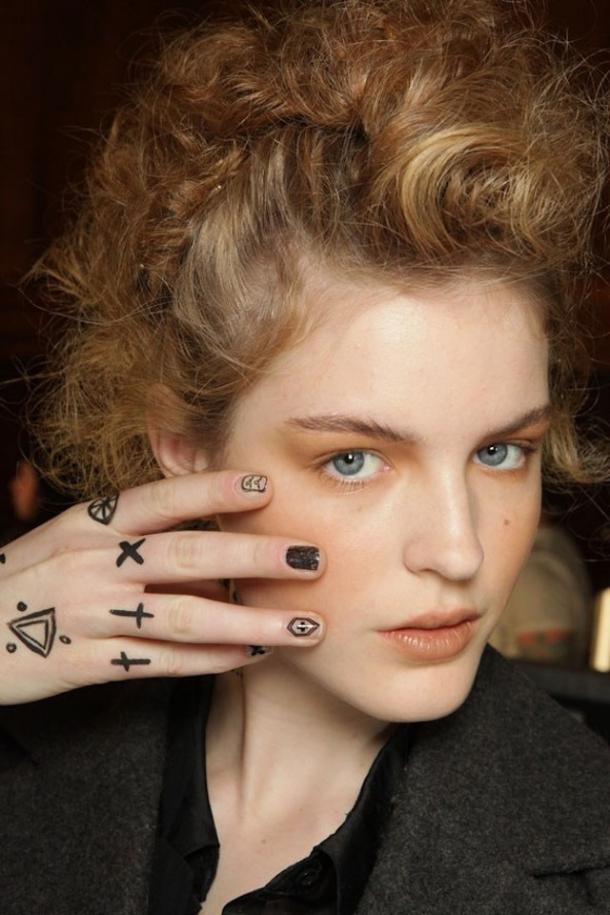 How about the nail in the style of a blue sky with a rainbow?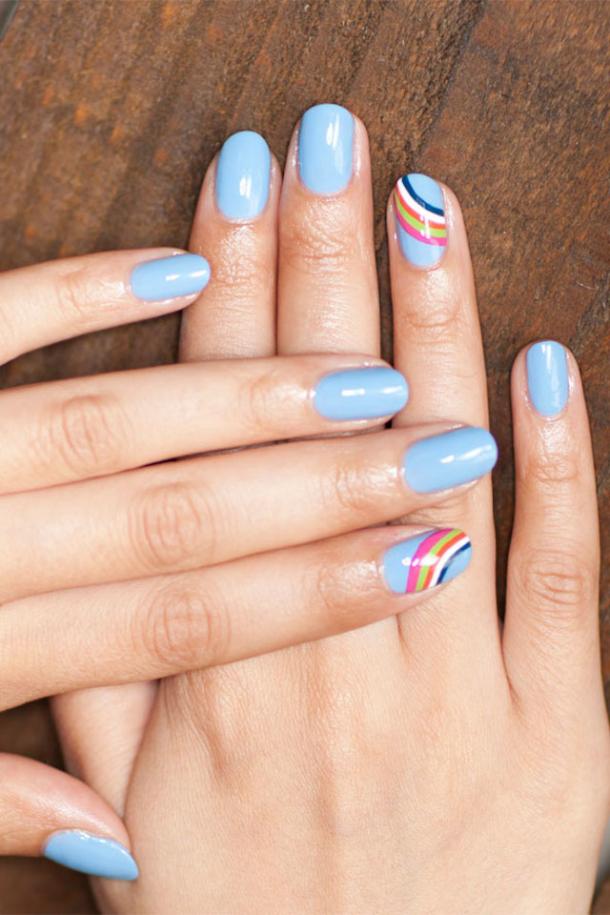 Finally, here's a manicure by Lady Gaga. It suits her.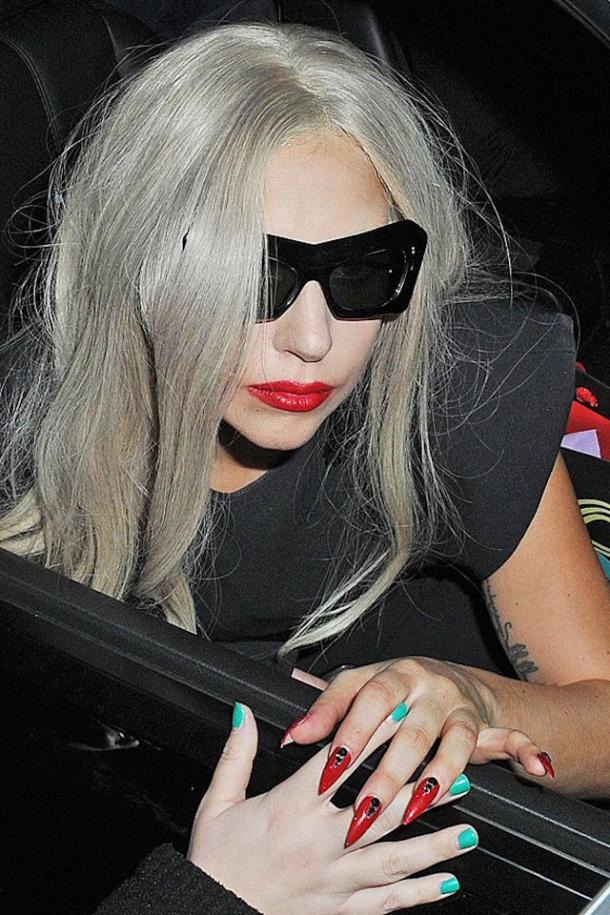 I hope you have found a some interesting options.