Model - is a separate caste in the world of show business, so, I decided to pay, and their appearance in the 2012 Costume Institute Ball attention. Firstly, there were horror as much (of course, because they are directly related to the fashion industry), and secondly, they are advantageously distinguished from the other party guests, showing off their evening dresses with perfect posture and thoughtful poses (again skills ). However, contrary to popular belief that the models have impeccable style (well, because they work directly with those who have this style and creates), some of curvaceous beauties appeared at the event is not the most fashionable images.
As I said, the models in the evening on the red carpet was more than enough, but not one of them can not be compared with Linda Evangelista, because this woman - a legend! For its release, she chose a black dress by Prada, expanding its high-beam head and metallic accessories. Luxury woman.
We were pleased with his output and Jessica Stam in soft blue futuristic dress John Galliano for Dior Couture. Interesting dress - interesting accessories in the form of sets of bracelets on both hands.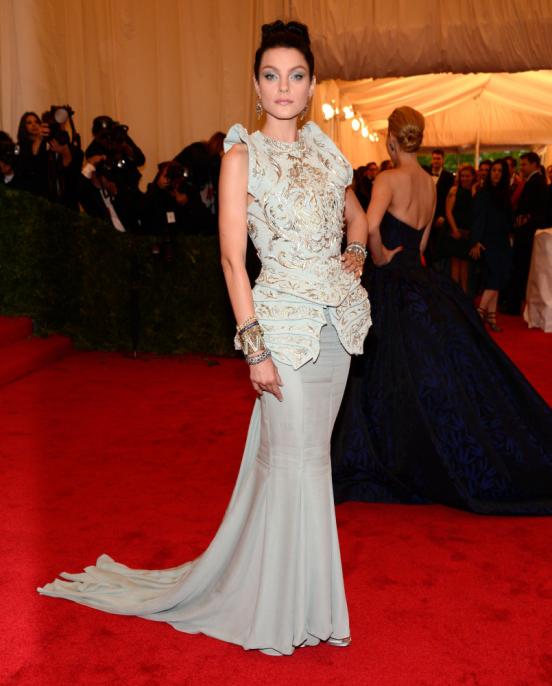 Karolina Kurkova in the form of fully stylized Rachel Zoe, reminded me of a Hollywood diva, hailing from distant 40th. Dress perfectly seated on the model (still, with growth and figure), although the light was too much.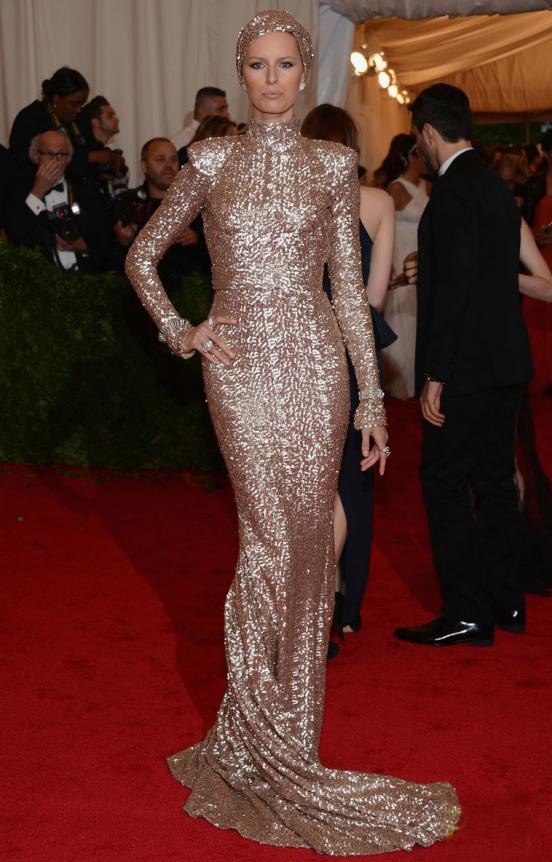 But Coco Rocha struck the audience dressed in vintage Givenchy. Perhaps it is pretty bold dress for the ball (even taking into account the overhead strands of pink), but the fact that this suit once worn by Elizabeth Taylor herself, makes the image memorable Coco.
Amber Valletta in Prada. Very beautiful dress, but the bodice could sit and careful, and I also like the Amber picked up the lipstick color to match the color of one of the inserts on the dress.
Now lonely girl Anna Vyalitsyna (her affair with Adam Levine came to an end) again in the creation of Miuccia Prada. To be honest, I can not say anything about this image of the model, because it does not cause me absolutely no emotion, despite the spectacular finishes and an abundance of shiny fringe.
Doutzen Kroes - a real beauty! The supermodel appeared on the red carpet in the graphic quality of the dress Roland Mouret. I am not thrilled with the great style of dress, but I really like the black and white color scheme and how dilute it Doutzen coral lipstick.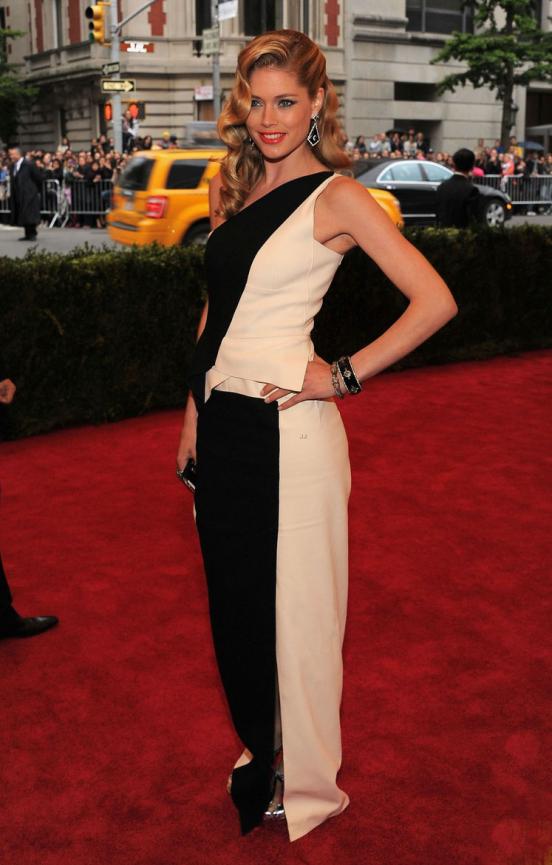 Brooklyn Decker is only 25 years old, but her images often say the opposite. So this time the choice fell on the model nondescript pale-blue dress with a floral insert. It seems to me that such an asexual dress more suitable for older women. Or not at all suitable for women.
Candice Swanepoel is another matter - she knows how to emphasize their sexuality. Before the dress from Rag & Bone looks quite modest (by today's standards), but the open lace back does not give men much room for imagination. So what a beautiful body no reason to hide!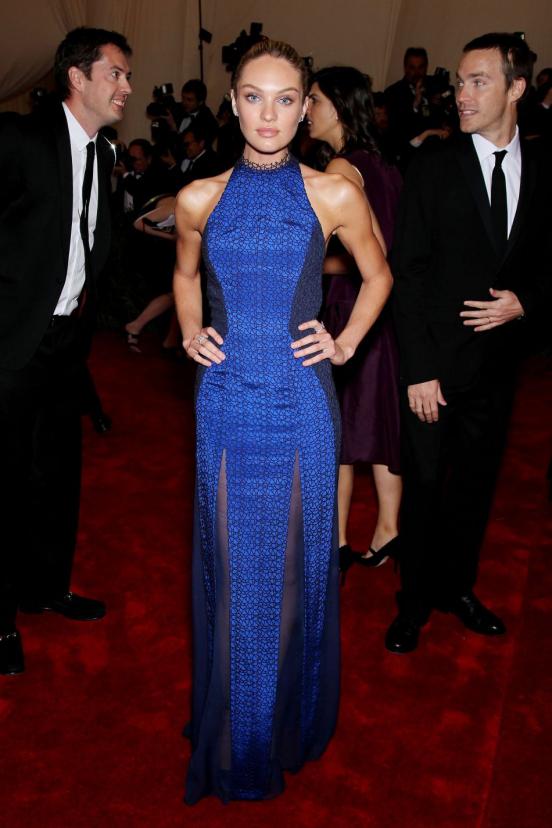 A perfect match turned out this time from the model Chanel Iman and designer Tom Ford. Last is an expert in style - this also applies to his own appearance, and his creations, of which one has tried this evening Chanel. Fee basis - transparent black cloth, and all indecent place covered with snow-white feathers with a dark edge.
Another winner of the carved figures - Gisele Bundchen. The most highly paid model of the planet looked very impressive in black shining dress Givenchy. Gisele complement the outfit and accessories to match the simple hairstyle - this bright dress other accents to anything.
I'm partial to lace dress and style of Heidi Klum, so I just can not criticize her image on this evening. In addition, it turned out really, really good, and banal fashion supermodel compensated unbanal color and the presence of large ornaments in tone (for sure, their own design).
Isabeli Fontana in crazy toilet by Emilio Pucci. We all know about the great love of the fashion house to all kinds of print, but this time they were a bit much. Bright pink glittering patterns throughout the body, floral ornament, and all this on a dark background - from something worth explicitly abandoned. For example, it would be possible to eliminate the sleeves, then prints it would not be so much.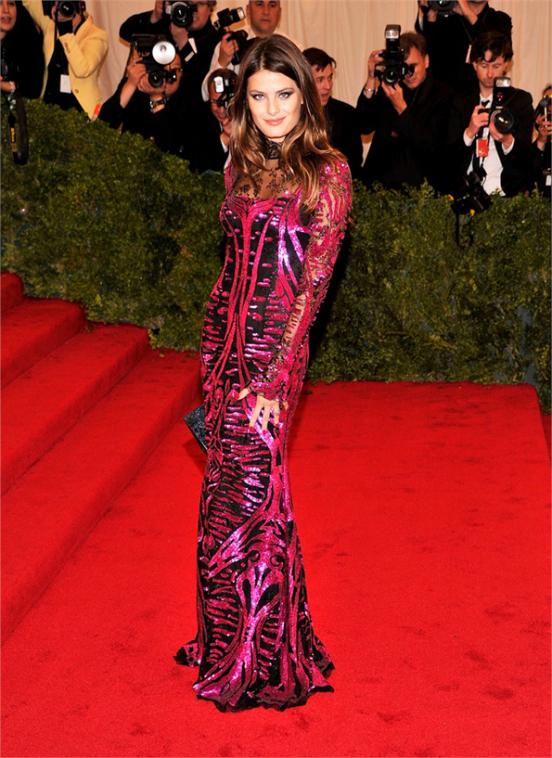 Isabel, I would have removed the sleeves and Kate Upton - head. Well, why you need so allocate blonde eyebrows? And in combination with red lipstick do they evoke thoughts of market traders of the 90th. Dress beautiful but spooky makeup spoils the impression.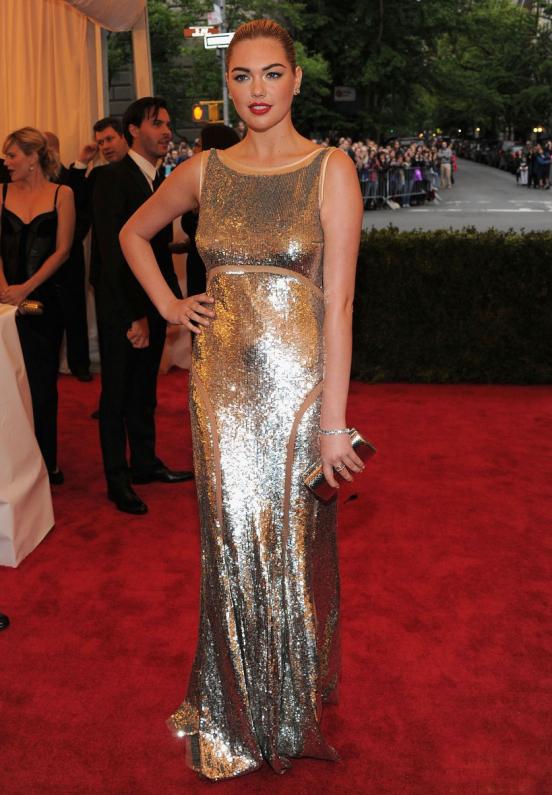 Model Joan Smalls arrives on the red carpet in the company of Olivier Roustan - creative director of the fashion house Balmain. Of course, Joan was wearing a dress created by Olivier, and she looked at it very attractive. Despite the fact that a lot of Balmain dresses such style (short skirt, dull-gate long sleeve), I really like these outfits due to the original finish. This time the dress was decorated with pearls and gold-colored metal studs - for original combination.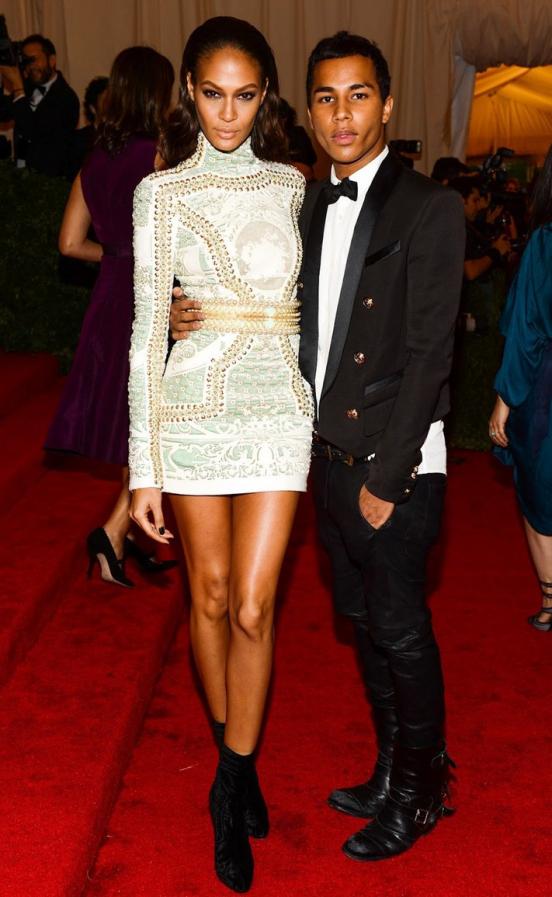 Well, then do not comment. Anja Rubik has forgotten that it is at a good event and dressed up in a dress with a neckline to the navel and a cut to the waist, showing gracefully through its weedy leg. Wait a minute, let's not even dress, and overalls - just one of the legs spared tissue. In my opinion, Rubik and she is not happy this fact.
Another thing - Rosie Huntington-Whiteley. She knows it is not necessary to put on display his naked body to show it. Rosie has demonstrated impeccable style and one of the best images of the evening appeared on the red carpet in a long-necked dress Burberry.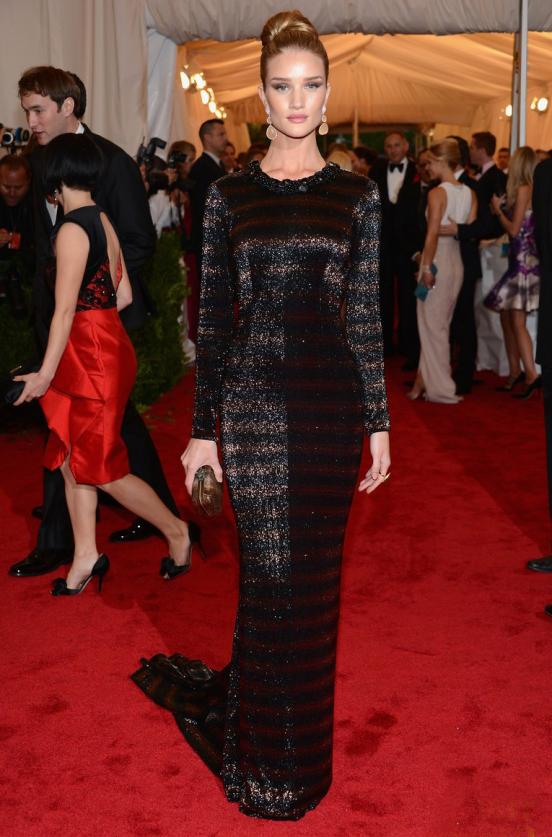 Constance Jablonski accompanied by designer Haider Ackermann - a big fan of scarves, in one of which he shook his unfortunate model. The combination of blue and green colors - just a luxury, but the fact that the girl came to the ball in a scarf over his naked body, makes us think about the times ... and morals.