In today's fashion-business appears more models from Asia. Chinese, Japanese and Filipino beauty par with European girls are fighting for the top places in the world rankings model. And now nobody will be surprised involving Asian models in shows international designers. Fashion for oriental features become global. The most popular Asian models presented in this post.
One of the newcomers of the modeling business - Xiao Wen Ju.
Despite the short period of work in the modeling industry, Xiao Wen has already participated in the show Hermes and Prada, shot for Chinese Vogue. The plans of the girls - to achieve even greater heights in the modeling career, but if does not work out, enterprising Chinese coffee shop will open.
Another successful model - originally from India. It can be called the most famous model from India. And it is - Lakshmi Menon.
One of the main achievements of Lakshmi - a contract with the fashion house Givenchy. She also appeared several times on the cover of «Vogue».
After participating in the contest Elite Model Look Ming Xi received an exclusive invitation to work on the show Givenchy Haute Couture, and it is considered a sure sign of a long collaboration with the brand. She also starred for advertising H & M and Diane von Furstenberg.
Seventeen year old Chinese woman Tien get into the modeling business and helped my mother. On the Internet, she came across an ad for a modeling contest and recorded a daughter. Tian took only third place, but participation in the competition was the start of her career.
Tian and participate in shows Sally LaPointe, Helmut Lang, Emerson, Jen Kao. Then Tien zabukirovali for Marc by Marc Jacobs, who became her favorite show. She also participated in shows Vera Wang, 3.1 Phillip Lim and presentations Rachel Zoe, making it noticed WWD. In addition, she co-starred for Vestal, Metal and magazine Elle.
Charo Ronquillo dreamed of becoming a model of adolescence. And her dream came true - in 2005, a young girl was awarded the title of "Miss Philippines", and in 2006 she won the 3rd place in the final of the contest "Miss World" and signed a contract for $ 100 thousand. With an elite modeling agency «Ford Models».
If it was not successful collaboration with photographer Steven Meisel, on this model, we could never find out. Wang Xiao - model from China, which has become particularly popular over the past couple of years.
During the year, the girl managed to shoot for the cover of Chinese Vogue, appear in editorialah iD, V and L`Officiel, and conquer the New York Fashion Week.
Japanese Tao Okamoto is often compared to the British model Agyness Deyn. Wu Tao slightly masculine style - short hair and boyish figure. Okamoto is the face of Emporio Armani, and last advertised D & G.
Sui He - one of the most attractive, in my opinion, Asian models.
Due to the fact that her appearance combines Asian and European features. Sui He makes a successful modeling career, often appearing at fashion shows as a model. She also became the world's first Asian model, which opened Ralph Lauren. In addition, the portfolio Sui few shots for Vogue, W and cover V, lukbuki Karl Lagerfeld and H & M.
One of the most notable girls c highly visible Asian appearance is Shu Pei Qin.
Over the past five years, she has made a major breakthrough in his career. She starred in both advertising and Hogan collection by Karl Lagerfeld. Chinese woman and never misses a fashion week and is working with cosmetics company Maybelline.
Du Juan - one of the most successful models of the East.
Now Du Juan appears regularly in the shooting for Vogue. Her career began with the debut on the show Chanel, later she became the face of Gap and David Yurman. Everything else, for Du Juan entrenched status of the first model from China international level.
Ai Tominaga - Japanese model and actress.
Ai has made a successful career in the fashion world. Onan only appeared on the cover of Vogue. But also participated in many shows, as Anna Sui, Christian Dior, Karl Lagerfeld, Gucci, Michael Kors, Ralph Lauren, Givenchy, Elie Saab, Valentino, and others. She was also the face of the advertising company Yves Saint Laurent, Gucci, Hermes, Tag Heuer, Banana Republic, and she is currently the face Moschino. Tominaga appeared in 2004 in the calendar Pirelli.
Chinese woman Feyfey Sun has no less dignity than her colleague. The debut of the girls was held at the Fashion Week shows in London.
This success came to her last year she became the face of Calvin Klein, Dsquared2 and DKNY, and later signed contracts with Chanel and Louis Vuitton. Fei Fei is still considered a rising star in the industry. Fei Fei often works with Givenchy, and also acted to promote H & M.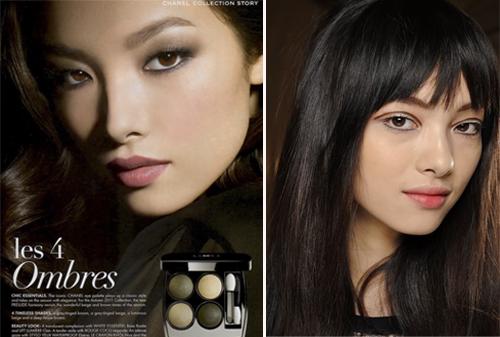 Liu Wen - one of the most famous models in the world of Asian model site.
Liu six years in the modeling business. Over her shoulders work with the brand Estee Lauder and 70 hits in a single season. In addition, she was honored to be the first asian, who took part in the show Victoria`s Secret.