Still, there are in our area Crazy-people who are ready for the most unexpected moments actions for the sake of glory! Citizen of Ukraine Vitaliy Sedyuk could disrupt the Oscars this year, if it is not stopped in time. In the evening the most important cinematic Sedyuk ceremony came to the red carpet Dolby Theatre in Hollywood, home of the award "Oscar" in a taxi, dressed in ... "swan dress" a la Bjork, with a basket of souvenir Oscars. Apparently, so he tried to merge with the crowd) But woe transvestite exposed security and called the police. Sedyuk was taken to a nearby station where his interrogation. Slavic homegrown humorist failed to prove guards of an order, they do not have sufficient grounds to detain him. According to him, he did not do anything illegal. Sedyuk novel was released with a warning will no longer appear in the mass ceremonies, however, are unlikely to heed the insistent recommendations of the Ukrainian policemen.
Vitaly is on its way to the "Oscar»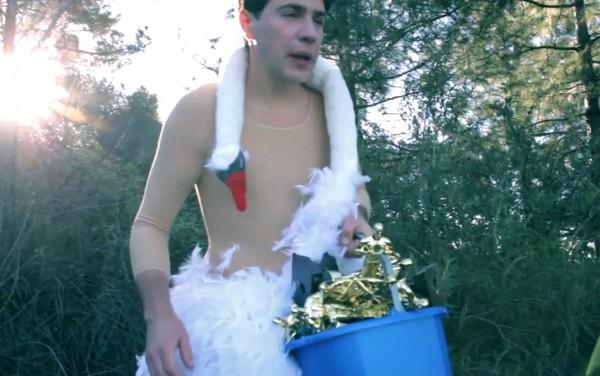 Vitaly Sedyuk - one of the most notorious fans of stars. So, in the final ceremony of "Grammy", he broke from the audience onto the stage to hug and congratulate her Adele with rewards. More Sedyuk - the same cheeky guy who got slapped by Will Smith while trying to kiss him at the premiere of the third "Men in Black"