Borondo - A young Spanish street artist. He graduated from IES Margarita Salas Madrid, then Madrid Complutense University. He is one of the most promising young street artists in Europe.
Street - art gallery on the walls of houses, fences, transformers and telephone booths - the canvas for painting. So look districts and neighborhoods of the city for the young Spanish artist Borondo, which is known for its specific approach to street art and graffiti is very unusual. Unlike other artists of street art, the artist works in the classical technique of painting, as if in front of him is not a concrete wall of an apartment house, attached to the easel and canvas, and in his hand he holds not a can of paint and a palette and a brush. Let it all sounds a bit strange, but finished work of the young artist is always very lively blend into the surrounding atmosphere, transforming a piece of dreary industrial landscape in the original work of art.
Why would decorate the streets instead of the traditional classical painting to the medium of graffiti? The answer to this question has been on the 23-year-old diploma Borondo, who recently graduated from a university in Madrid. There he studied art in general and painting in particular, has received a specialty of the artist, and is going to work in the profession. Paint the town, decorating his paintings, created directly on a concrete or brick surface, this kind of a hobby artist. So he tries to make the world a better, more beautiful, richer vivid images and impressions. Admittedly, he succeeds.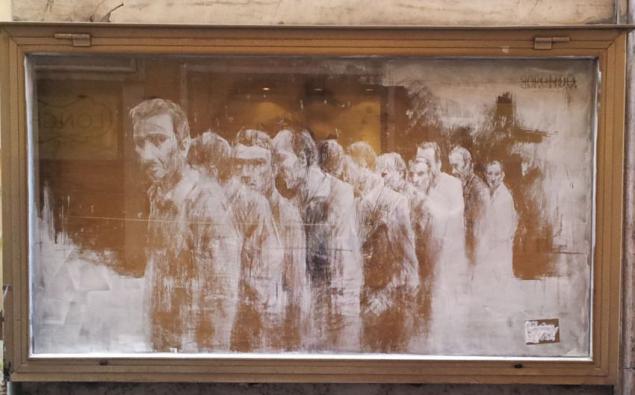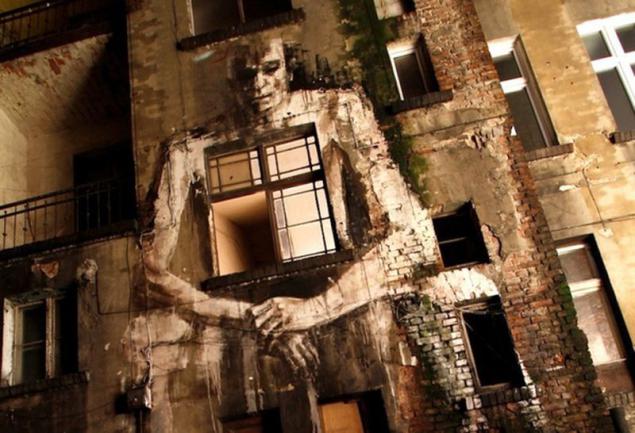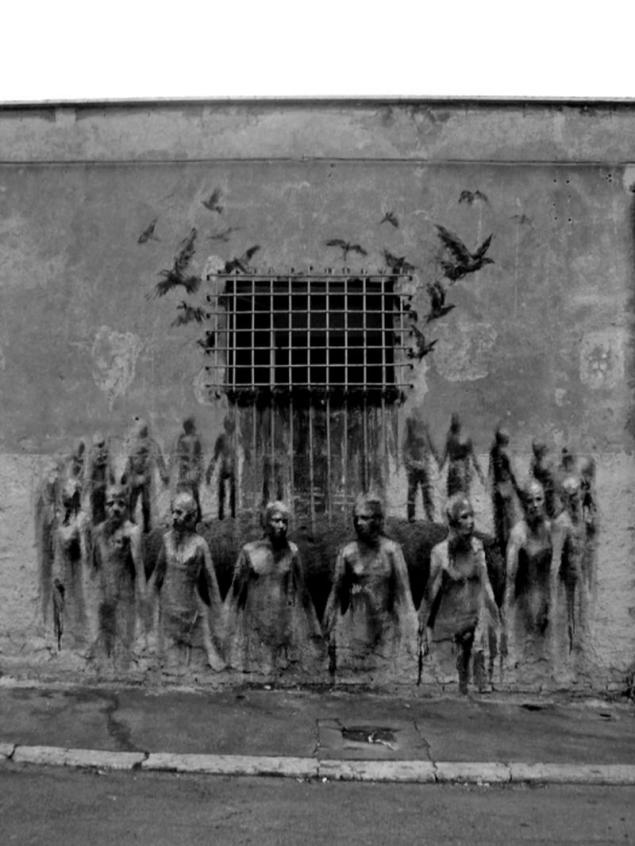 Calling street art by street graffiti Borondo not dare. Paintings, murals, decorative painting - these definitions seem to be more suitable for pictures of this level. By the way, for his 23 years, the author looks mature, experienced craftsman with a firm hand, an established style and handwriting, as well as high level of professionalism. Today Borondo - the young talent that is just starting to climb the career ladder and creative, to arrange solo exhibitions and presentations of their work. Nevertheless, his paintings, such as those exhibited in art galleries, and painted on the walls and fences, will give odds to the works of more experienced and well-known contemporary artists.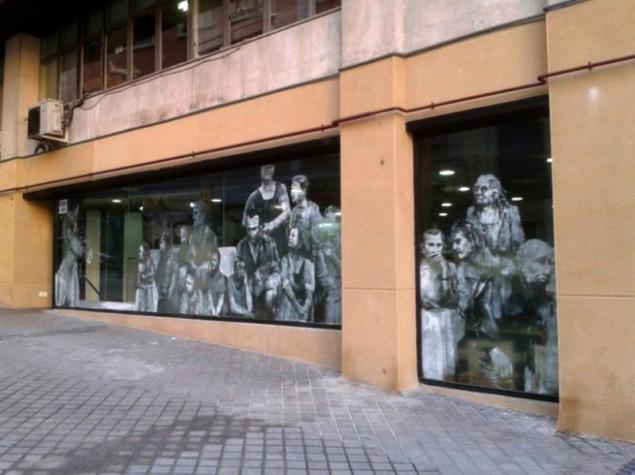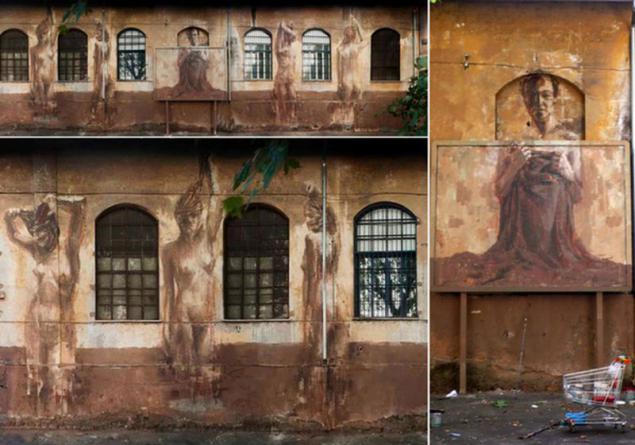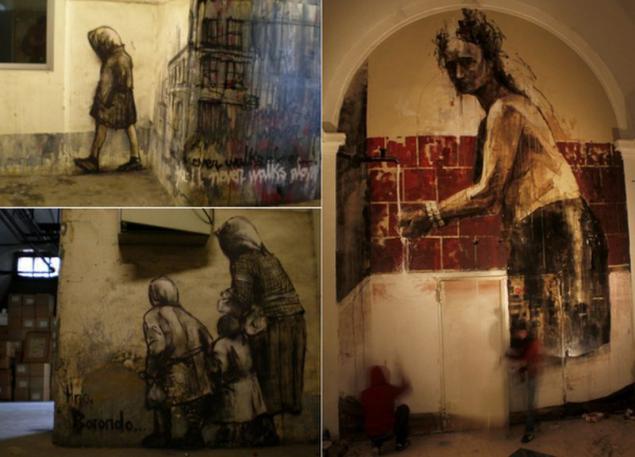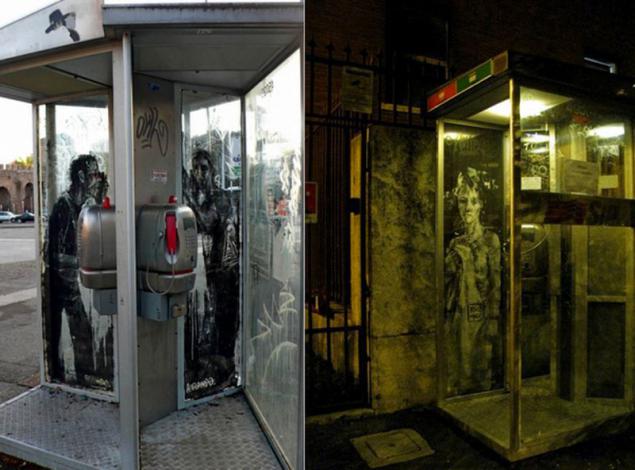 Borondo recently moved to live and work in Rome, where he had his first solo exhibition in the hall of the popular gallery 999Gallery.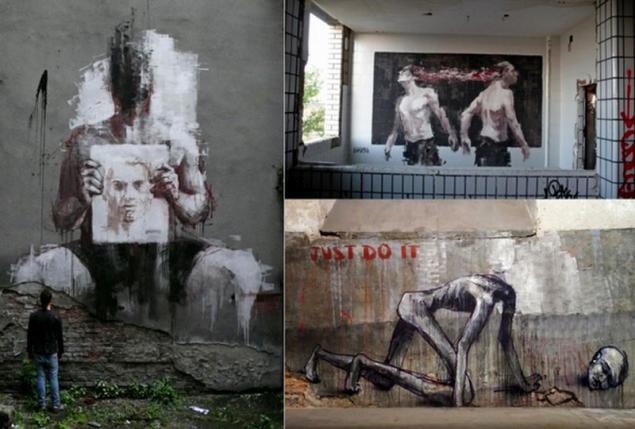 Source: kroshka77.livejournal.com