Yesterday in South Africa kicked off play-off stage of the World Cup. Opened the event the national teams of Uruguay and South Korea.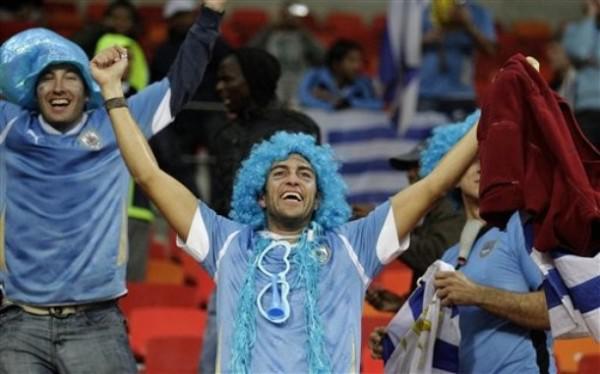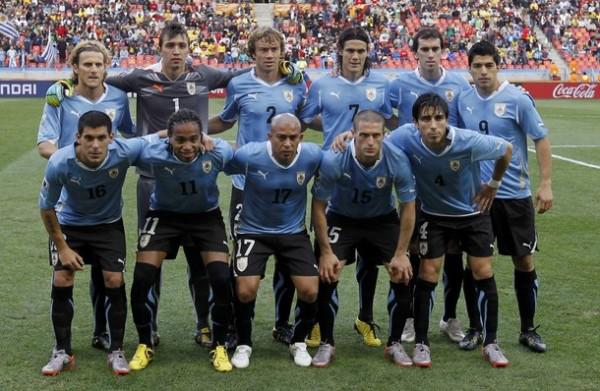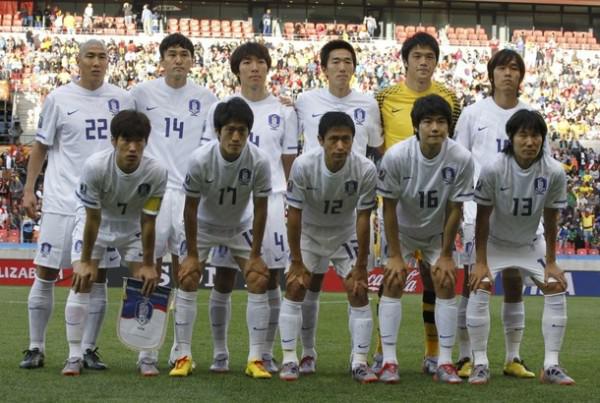 Wards Tabares began a very aggressive game and after nine minutes after the starting whistle to open the scoring. Diego Forlan (Diego Forlan) charged down the left and made a canopy along the gate. Some defenders of the Korean team did not go to the ball, hoping for a goalkeeper. But the goalkeeper decided it best to leave the ball outside the field. The problem is that at the far post waiting for the error to protect Koreans Luis Suarez (Luis Suarez), who shot an unprotected corner of the goal net.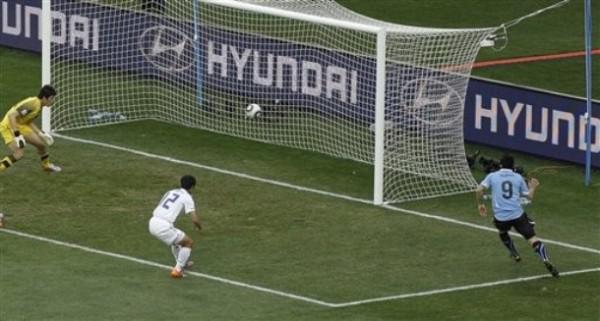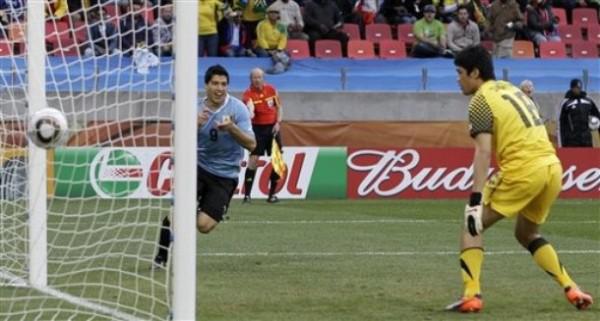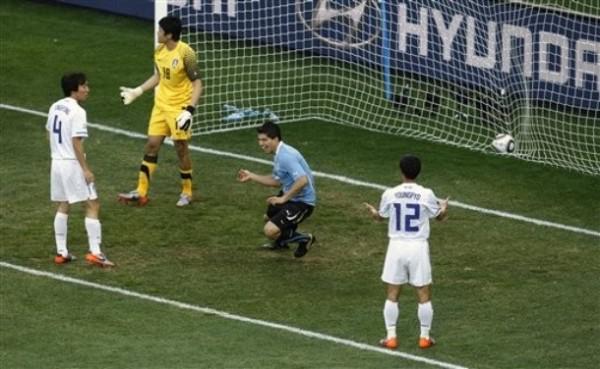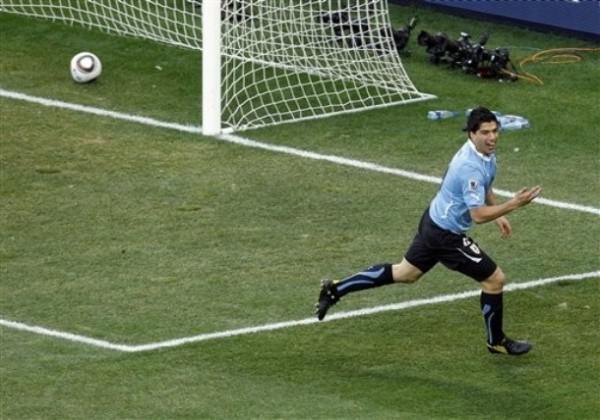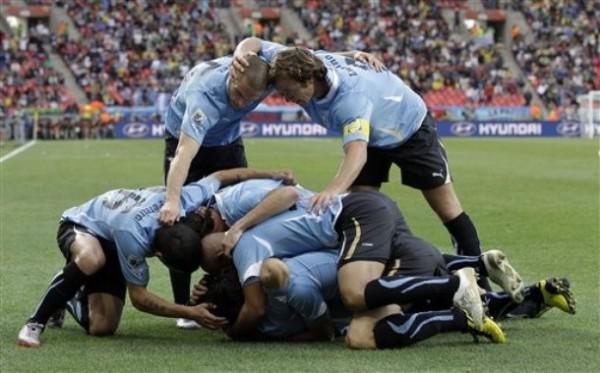 Koreans take a back seat a little bit, but not for long. A few minutes later the initiative in the possession of the ball has passed to the Koreans. However, while no dividend is not planned. Uruguayans are very confident playing in the selection of the ball on the approaches to the penalty area. The second half was a little surprised mood Uruguay, which stuck in their half and completely forgot about attacking actions. Koreans simply did not expect such a turn of events and simply confused by getting a ball control. But when the team goes on the defensive, it is a goal in its gates only a matter of time.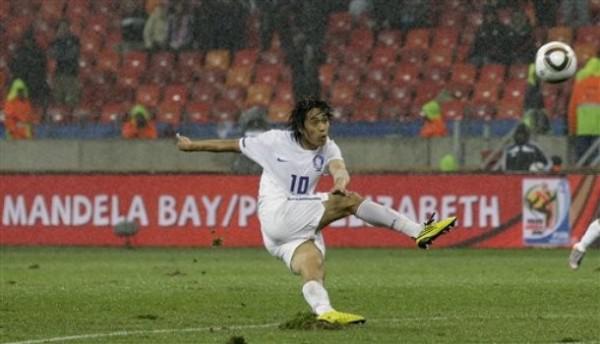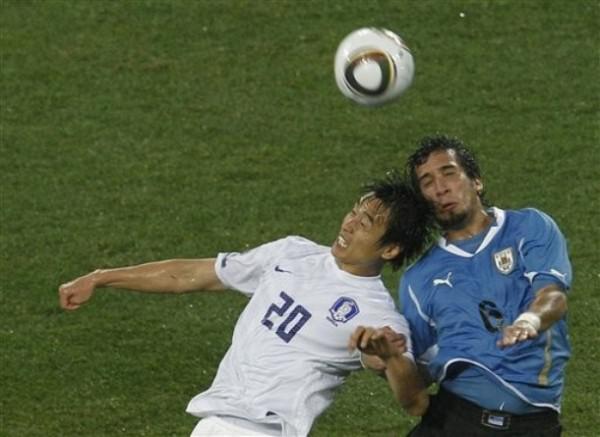 Actually, it happened. The South Koreans have proved to everyone that their main hobby - drawing of standard provisions. It happened at this time. Feed with a penalty kick, the goalkeeper played tentatively and as a result leaves Jon Lee Chun-way: Korean, ball and an empty net. Asian long thought about making a decision. The goal came in the 67th minute.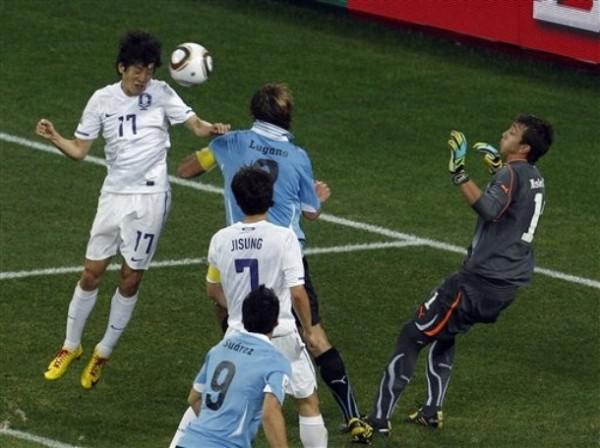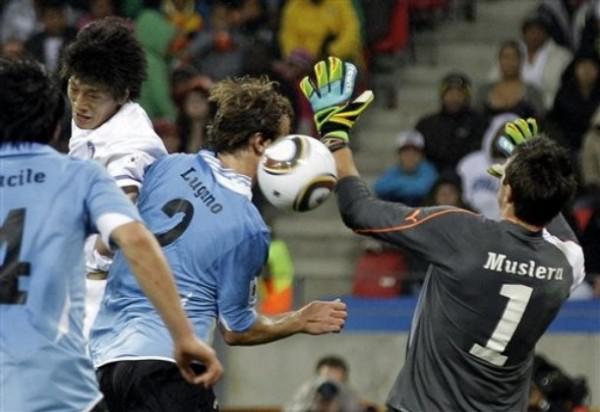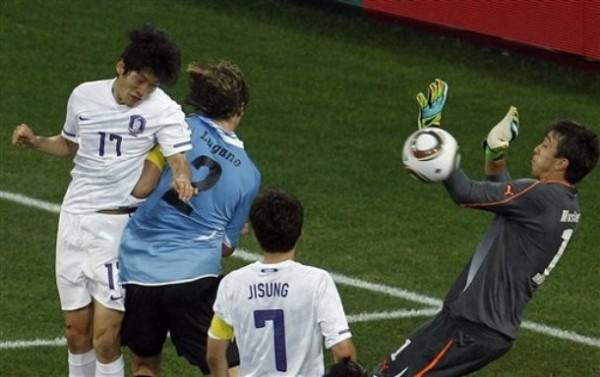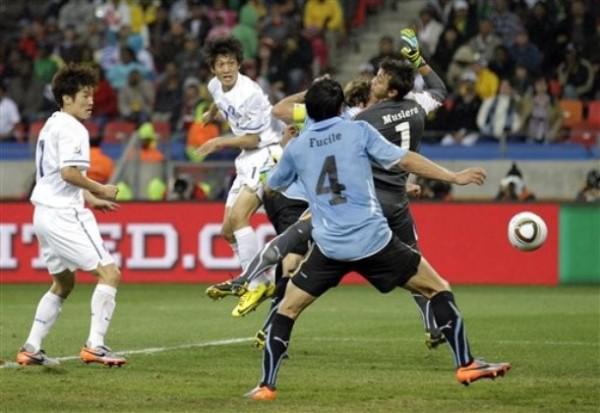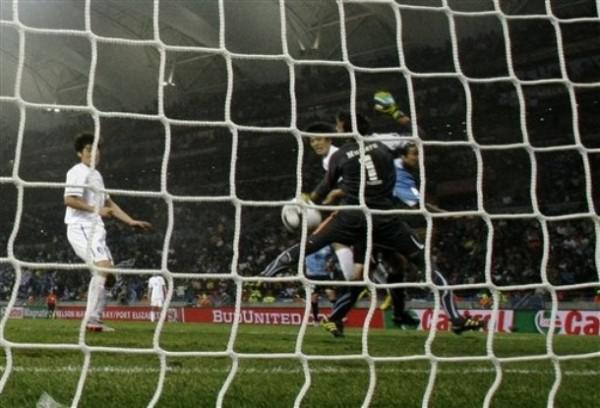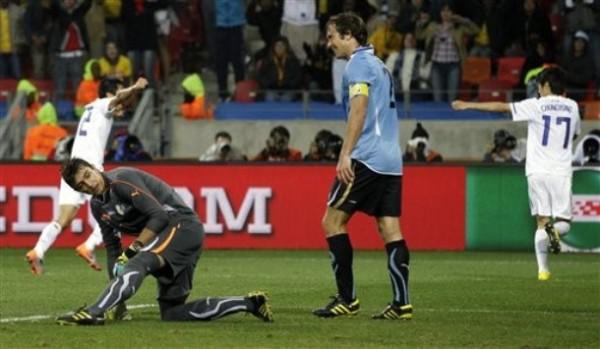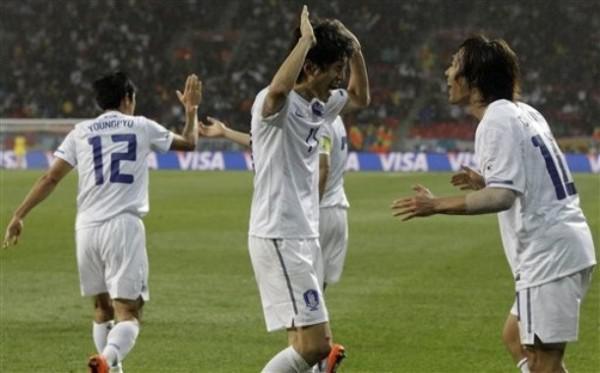 And here again the Uruguayans awoke! They went zealously to restore the lost advantage. Stadiums that time became so filled with very little "thanks" to the rain. Pressure Uruguay embodied in the masterpiece goal from Luis Suarez. After receiving the ball on the left flank of the attack, the player "Ajax" has shifted to the corner of the penalty area and stunning twisted beats ran the ball into the far corner without a chance for the goalkeeper. It was on 80 minutes. Uruguayans again relaxed and almost missed another ball. But the goal line Jabulani ruled defender.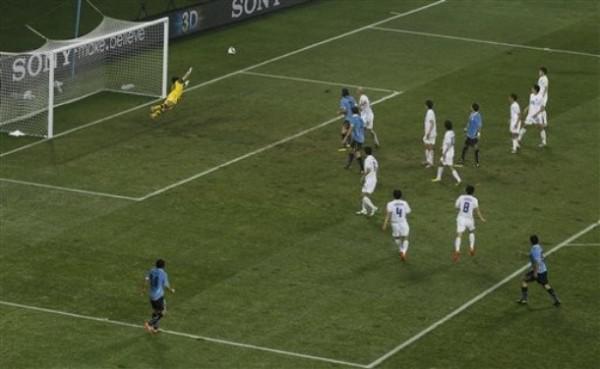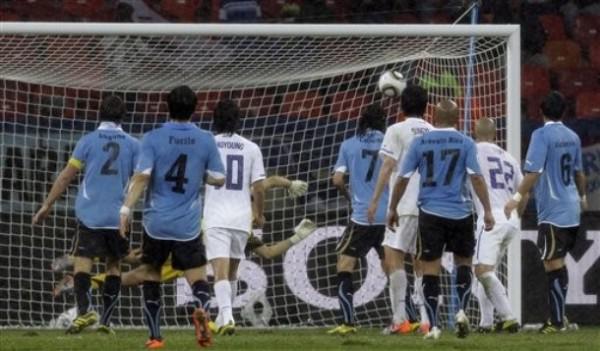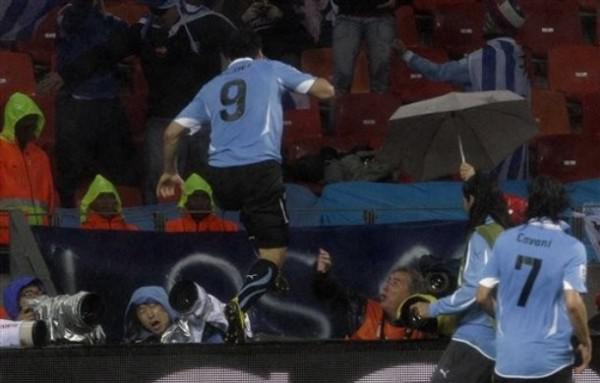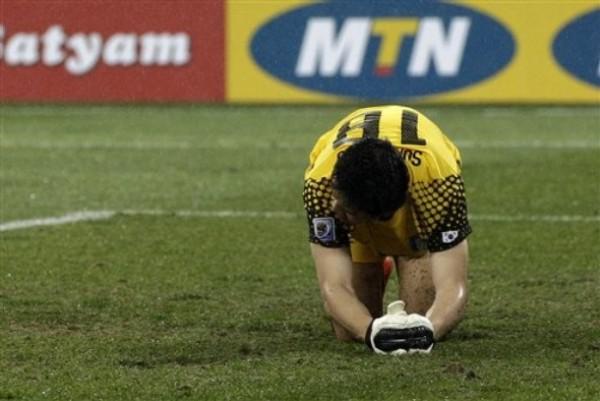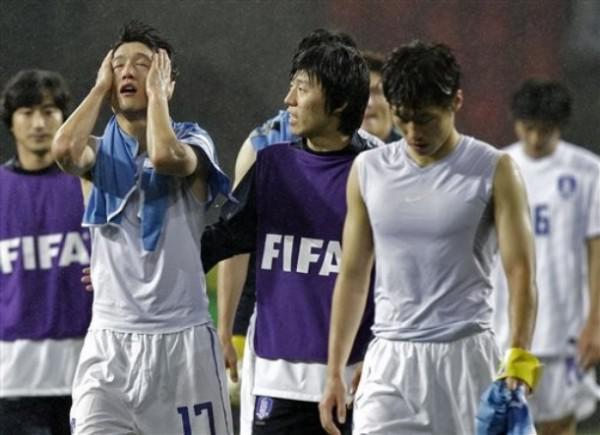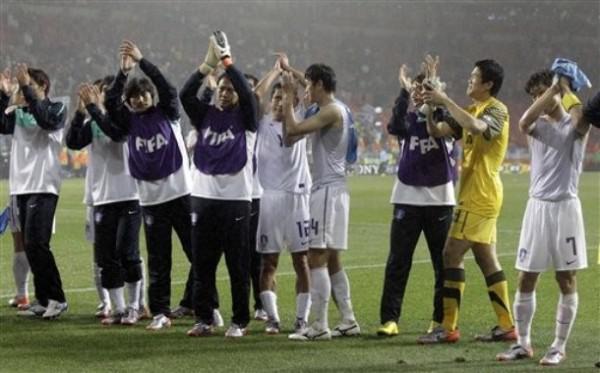 Photo: AP, Reuters
Uruguay - South Korea 2: 1
Goals: Suarez, 8, 80 - Lee Chung Yong, 67Urugvay: Muslera, M.Pereyra, Lugano, Godin (Victorino 46), Fucile, Rios Perez, A.Pereyra (Lodeyro, 74), Forlan, Cavani, Suarez ( Fernandez, 84)
Korea: Chung Sung Rhön, Cha Du-Ri, Cho Yong Hyun, Lee Jung-soo, Lee Yang Pyo, Kim Ja Sung (Lee Dong-gook, 61), Ki Sung Yong (Yom Ki Hong, 85), Kim Jung Woo, Lee Chung Jon, Park Ji-Sung, Park Chu Yan
Booked: Kim Jung Woo Cha Du Ri Ji Yong Hyun