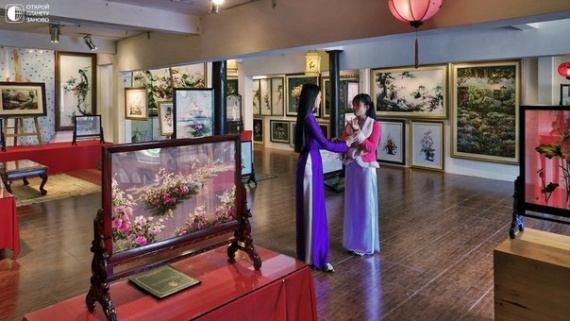 XQ factory in Vietnam is quite different from the factory, but it is very similar to a museum, which contains exclusive of its kind works of art and silk embroidered on silk. Strolling through the countless rooms and exhibition halls private factory in which silk paintings exhibited amazing beauty, struck hard work and talent of the masters.  
Basically embroider embroidery (but not as to which Europeans are accustomed to), make two-sided painting and "write" portraits. What's interesting - almost all paintings are three-dimensional effect of the image. Any of the exhibited paintings can be obtained at: As you organize and deliver to your country, and a special certificate with information about how and when the master embroidered cloth.
To work on the landscape may take several months of work: more than fabric and embroider more items in the picture, the more time and increases the value of the work. Masters can embroider How to invent their own pictures (pre-drawing of silk pencil on special technology) and transferred to silk picture of a person.
Since the silk threads are famous for the fact that never fade or lose color saturation, each picture being framed necessarily interesting lighting, fascinating and striking palette of shimmering selected master thread colors.
Silk factory in Dalat - not only the source of manpower unique embroidery, but also practically Institute for Noble Maidens. In school embroiderers get extremely difficult: here take only girls from very good families, who must comply and external data, and character, and to educate the high demands of local teachers. On learning the skill of embroidery silk leaves from 5 years and more.
In the exhibition halls can be seen the girls engaged in embroidery chat with visitors, to be able to watch the process. Embroidery work, without lifting his eyes from the embroidery. Due to the structure of silk thread, the color palette is more than a thousand shades. A multiple overlay different layers of strands contribute to a high realism of each painting that did not even understand what it is made of silk, not painted on canvas by the artist.
Workshop nurtures frames on the principle of one big family. Education Masters initially engaged by the founder, and then the more experienced masters began to teach newcomers. If someone comes to the time and the master dies, the workshop creates a special corner with the works of the deceased, reminiscent of his work.