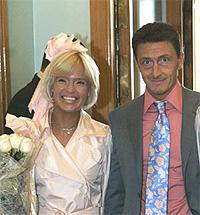 Glucose singer made a sensational confession: in its future plans the birth of twins, the newspaper «Life».
Twins are known, are born extremely rare, and therefore, decided not to hope for a lucky break, Natasha is going to resort to the help of medicine.
The singer decided to conceive with the help of the tube. This Natalia ions and her husband Alexander Chistyakov help American experts. Already a few days ago the couple are going to fly in the United States to advance in the clinic chosen to consult with experts and deliver all the necessary tests.
Thought to give birth to two children at the same time there was a popular actress in the family is not just. As admitted herself Glucose and Alexander are tired to argue, whoever they wanted more - a boy or a girl. The yield was found by itself: the couple decided that they needed a double. According to experts, the only thing that guarantees the spouses birth of twins - is artificial insemination.
"I want to give birth to twins at once! - Says Natasha. - And the names I came up with: Nikolay and Vera! »
Also Lidochka daughter, who appeared at Natalia and Alexandra in May 2007, the family has another child - an 8-year-old son Alexander Sasha.
"Even when he left for a short time, I called home several times a day to a daughter do not forget me, - says Natasha. - And in general, I do not like to leave Lidochka with strangers. I'm jealous of her, even to the nannies! »
By the method of artificial insemination resorted patients who have problems with the reproductive system. However, to get the child out of the tube are solved and those who want to have twins, because the probability to give birth to twins in a manner disproportionately. IVF (in vitro fertilization) took advantage of "Pretty Woman" Julia Roberts, who has just been born a boy and a girl. Pop diva Jennifer Lopez for two years trying to conceive a child, but to no avail. But after the treatment in the clinic and she successfully became pregnant from day to day will give birth to twins.