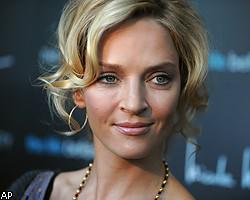 Actress Uma Thurman has sent a lawsuit against the cosmetic company Lancome, owned by the French L'Oreal SA, the world's largest manufacturer of cosmetics.
Actress required to compensate her $ 15 million. Due to the fact that the company, according to the suit filed, used her image in advertising after the end of the contract, which was signed in 2000. and expired in September 2004., reports Associated Press.
The actress believes that the use of her image after the expiry of the contract, the company continues to gain market position, earn a good reputation, as well as increase the volume of production.
Under the terms of the signed in 2000. contract between the actress and the company paid U.Turman 5, $ 8 million. for the first two years of cooperation and 3, 1 million USD. per year in the case of extending the contract for another 2 years.
Uma Thurman (Uma Karuna full name Metta Upekha Madita Thurman) - American actress. Born April 29, 1970. She starred in several dozen Hollywood films, including such well-known as "Henry and June", "Pulp Fiction," "Dangerous Liaisons," "Final Analysis," "Kill Bill" and others. For his role in "Pulp Fiction" nominated for "Oscar».
* top.rbc.ru *