Beat the elements came in the province of Sichuan,
already affected by the earthquake,
which killed 67 thousand people.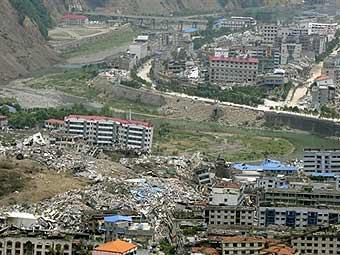 More than 420,000 homes were destroyed by two strong aftershocks that occurred Tuesday afternoon in previously affected by a strong earthquake China's Sichuan Province, AFP reported quoting the official Chinese news agency Xinhua.
The strength of the new earthquake in the area was Tsinchuan 5, 4, and 5, 7 points, they followed one after another at an interval of half an hour. On the possible human victims not reported.
After 7, 9-magnitude earthquake on May 12 south-west of China is constantly shaken by aftershocks. So, on Sunday in the district Tsinchuan also was a strong earthquake, which killed eight people and hundreds were injured, and during the day on Monday, about 182 smaller aftershocks were recorded in different districts of the province of Sichuan.
According to BBC News, about 80 thousand people were evacuated Tuesday from areas adjacent to the dam created by the earthquake in the river near the town of Tandzhiashan (Tangjiashan). Previously, these places have already been evacuated 70,000 people. The soldiers of the Chinese army all night digging a drainage channel to lower the level of water in the formed because of the dam lake. The authorities are preparing to blow up the dam, as they fear that otherwise it will break itself and cause flooding. It was reported that, according to experts, Tandzhiashan lake contains no less than 130 million cubic meters of water, and the flood zone may be over a million people.