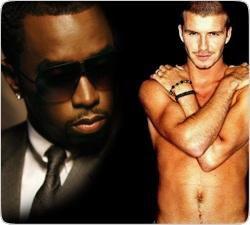 world of show business has always been generous to the original duo. The unexpected and brighter, the greater the likelihood of its success. There are rumors that soon the world will see another unusual tandem: the most popular rap artist and best-known football together will create a line of clothing.
The world-famous rapper P.Diddy said recently that gladly would have created a line of clothing with his good friend ... David Beckham!
"He's a very classy guy, and I'd like to release a line of clothing with him. David - a great friend and a very kind person. It would be delightful if we had a business together. Perhaps the purpose of our cooperation will be a charity "- shared rapper.
The singer and the soccer star has long reputation for being good friends. Not once P.Diddy noticed at parties in the company of David and his wife Victoria. At the moment Diddy has his own line of men's clothing Sean John. His design work has borne fruit, and has been awarded the prestigious award in the field of fashion. His perfume Unforgivable also made a lot of noise, mainly due to too blatant advertising that was not allowed on US television in its original form.
Trendy experience David Beckham is limited only by the user or a participant in a variety of commercials. In the winter of this year, the press have been rumors that the player is going to create a line of shoes with rapper Snoop Dogg. Great success, however, uses perfume that David released in conjunction with Victoria.