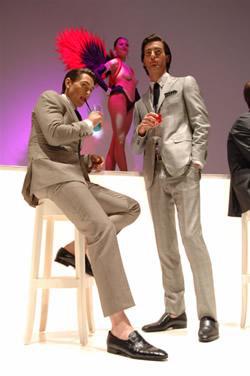 Surprisingly, some men manage to look like a million dollars even after a sleepless night and 30 "control" seconds before a mirror. At the same time they did not have to be James Bond: A strong half of humanity, too, have little secrets. One of them opened the New York Institute of luxury that has defined the most favorite luxury-brand wealthy men.
As it turned out, when it comes to luxury, no one can surpass the Italians. That Italian brands evoke wealthy clients of strongest feelings. Through a survey affluent Americans, Luxury Institute recognized brand name menswear number one.
Most of the men responded that the best clothes you can buy only Italian brand Ermenegildo Zegna, is considered a classic masculine elegance in the world. Today Zegna - virtually the only company in the market of luxury menswear, used in the manufacture of its own tissues.
"High rates of Zegna show that not necessarily be the most expensive brand, to be the most important," - says CEO of the Institute of luxury Milton Pedraza.
The company Ermenegildo Zegna was founded in 1910 by 20-year-old Italian Ermenegildo Zegna. By mid-century designer managed to achieve its main goal - the world's highest quality of wool production. Today, wool suits its brand considered the standard of quality.
The second and third places on the luxury index in the list were also Italians - Armani (2nd place) and Brioni (3rd place). In addition, its successful position in the market confirmed the brand Yves Saint Laurent, Dior, Prada, Dolce & Gabbana, Ralph Lauren, Canali, Burberry, Tom Ford, Michael Kors and others.
Recall that recently the Institute of luxury represented by the results of his research on women's preferences. Thus, the highest index of luxury brands of women's clothing went to the Italian fashion house Bottega Veneta. Other prize-winning position went to the French Hermes (2nd place) and Italian Valentino (3rd place).