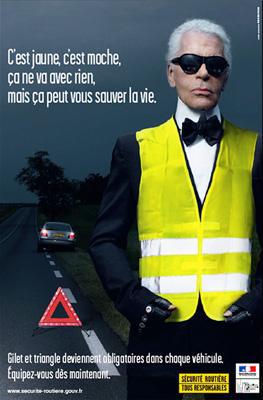 Remember Michael Schumacher fought for a responsible attitude to alcohol and for refusing to drunk driving? So, Karl Lagerfeld, the current head of Chanel, also expressed interest and concern regarding the car drivers. Only in a slightly different way.
Designer made for the presence of illuminated signs about the dangers on the road. Of course, a kind of choice of famous designers, but this choice is perfectly illustrates the fusion of fashion and awareness.
In the campaign, Mr. Lagerfeld wears neon yellow traffic vest. The picture is accompanied by the following text: "It is yellow, it is ugly, it is to anything not suitable, but it can save your life".
And this is not so ugly vest. In my opinion a very Karl Lagerfeld to face!
The purpose of the campaign is to prevent LoweStrateus.El dangers on the road and in saving the lives of drivers.